Pearlite KL – Bukit Jalil
Words: Christina Morgan
Photos: Rich Callahan
Pearlite, located directly across from Pavilion Bukit Jalil, provides a unique fine dining fusion experience orchestrated by the multi-talented head chef, Sau Xiang. Funky and truly one-of-a-kind decor differentiates this chef's-table-style dining room. Bright and full of colour, Andy Warhol-inspired Marilyn Monroe portraits in a variety of colour schemes line one wall. Opposite is a floor-to-ceiling glass case housing the co-owners personal collection of three-foot-tall anime characters, taking me straight back to childhood feelings of wonder at pursuing the offerings in my favourite toy shop. On top of the deliciously designed menu, chill piano music, posh omakase bar, quirky decor, and fun lighting make this a dining experience not to be missed.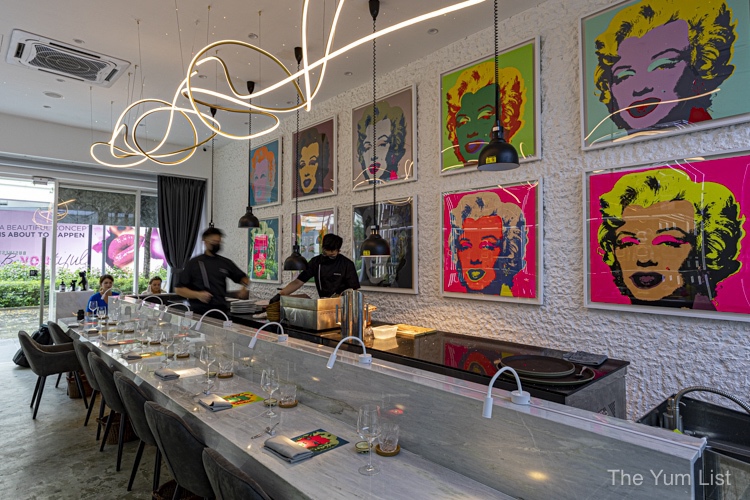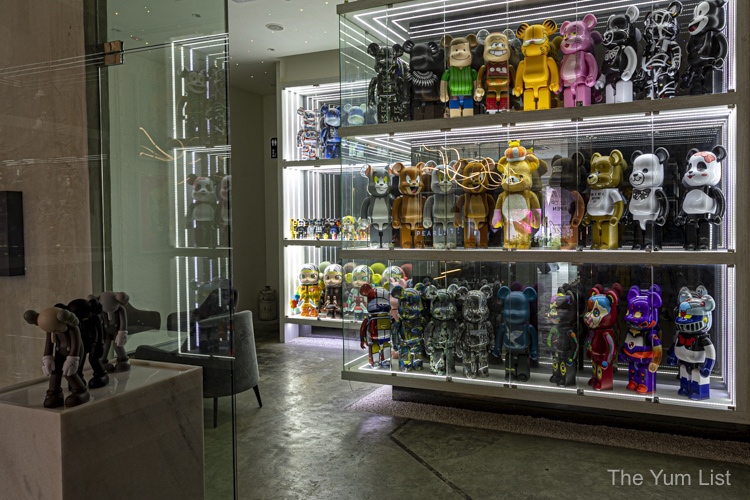 Pearlite – Bukit Jalil
After admiring our surroundings, we were seated at the chef's table as Chef Sau Xiang presented the show like the true thespian he is. The main lights are dimmed, and twinkling lights on the ceiling add a pop of funky colour. Individual reading lamps illuminate each diners dish allowing for those delectable Instagram food photos. Menus, each printed with a Marilyn Monroe portrait in various colour schemes, are provided to guide diners through their tasting journey and as fabulous take-home souvenirs. (We've even heard of customers returning enough to collect all 10, which are now framed and proudly hanging at home.)
Chef Sau Xiang entertainingly introduced each dish in the 9-course menu (RM488++) and gave the background on how the dish was given its creative name and the highlighted ingredients.
Pearlite KL Menu
The Complimentary Bread, a homemade sourdough, started our exotic culinary adventure. Light and crispy, it was accompanied by a fluffy homemade butter that had just a hint of salt and a slight undertaste of garlic and truffle but actually contained neither of these. The secret ingredient to this handcrafted butter was actually buah kulim – a jungle fruit indigenous to Southeast Asia. This unique ingredient is cooked for five hours to remove toxins and render it edible – an intriguing start to our meal.
The Amuse Bouche offered fresh and unseasoned pumpkin from Cameron Highlands that was baked and blended until silky. Wrapped in crispy popiah skin and topped with yuzu pearls, this dish blended the creamy fresh pumpkin with a kick of citrus neatly tucked into a crunchy wrap.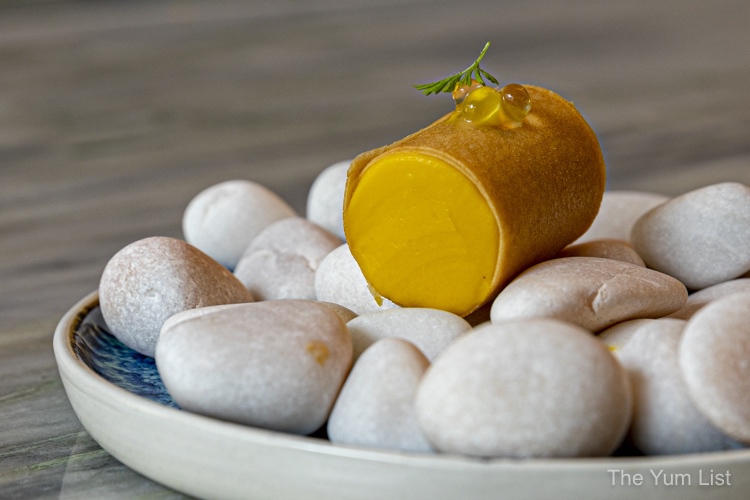 Lay on the Bay, our next dish derives its name from the marine look of the Nyonya Asam Pedas topped with wafer-thin sliced crudo. The chilled asam pedas-flavoured panna cotta acts as the sandy beach in this dish, while the crudo symbolizes marine life. Topped with just the right amount of chilli oil, the fish had a slightly firm texture that melded beautifully with the springy consistency of the pedas.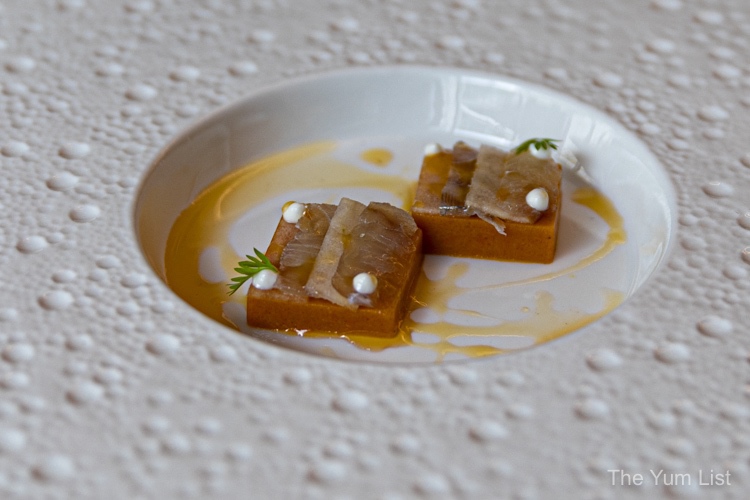 Enchantingly named, Sleeping Piggy, consisted of aged pork, a sweet basil mint sauce and a blanket of orange gel. The dried pork was aged for ten days creating juicy meat with a deep flavour, and was topped with baked pork skin for a bit of crunch. The orange blanket was so yummy I could eat it for dessert. The basil and mint sauce brought the dish a spark of freshness.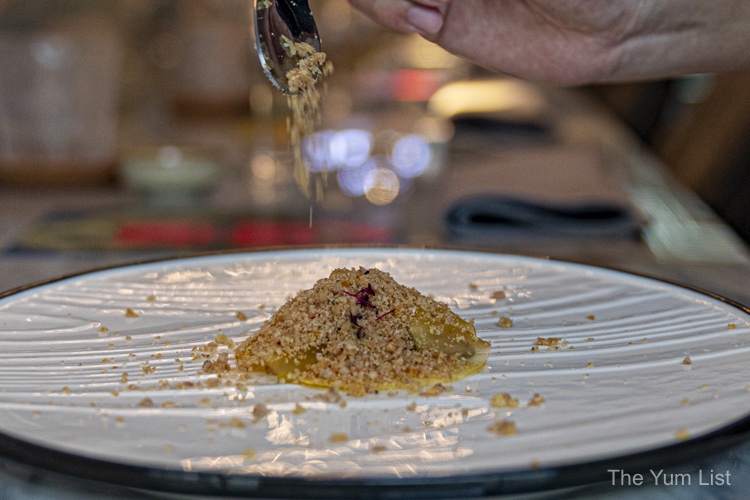 Lonely Thirsty Prawn saw fresh tiger prawn from Sabah, torched and set upon a bed of crunchy, slightly sweet, toasted oats next to a splash of tom yam infused for dipping. The tom yam filled our mouths, almost like a bisque and not at all spicy. It turned out to be my favourite dish on the menu because of its simplicity and freshness.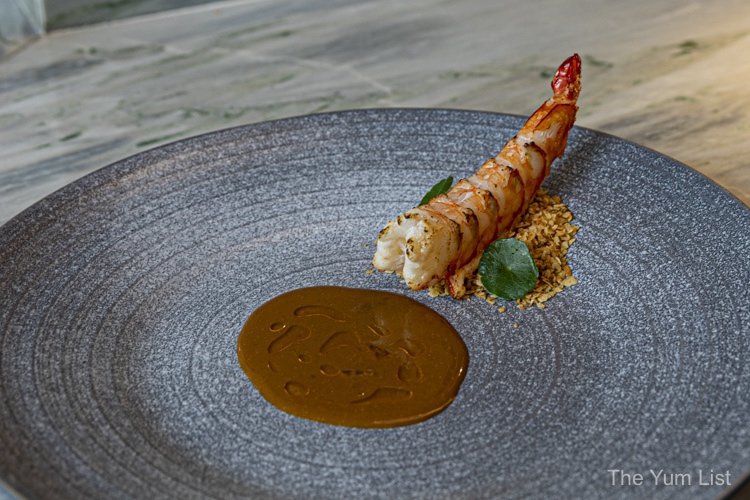 The Umami Trio brought together the catch of the day, a white sea bream with kombu and sencha, for an incredibly fresh and subtle dish. The soft fish was baked unseasoned in banana leaf, torched and gently placed in a bowl. Steaming sencha was poured over as the bowl was delivered. The fish was soft, buttery and delicate, intentionally unadorned to highlight its freshness.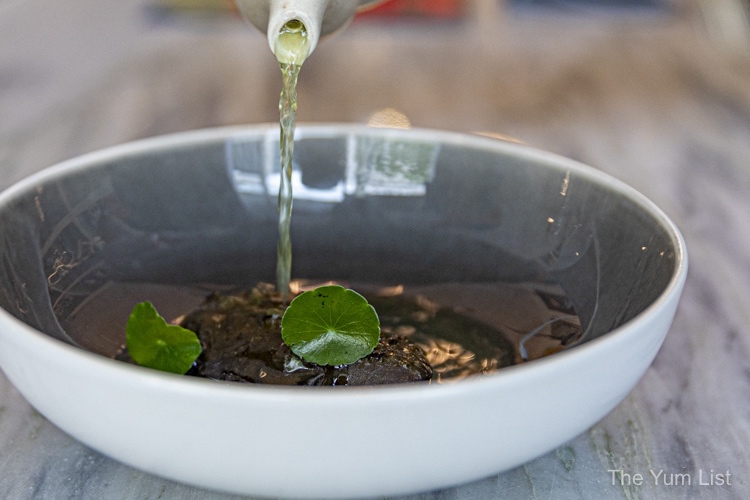 The Pinky Island, another marine-themed dish, was named for the mouth-watering combination of freshly seared Hokkaido scallops, pureed cauliflower and a gorgeously pink beetroot foam. This dish highlights the cauliflower, which was cooked with cream and slightly charred. This fantastic course was vying for the place of my favourite dish on the menu. How could I possibly choose?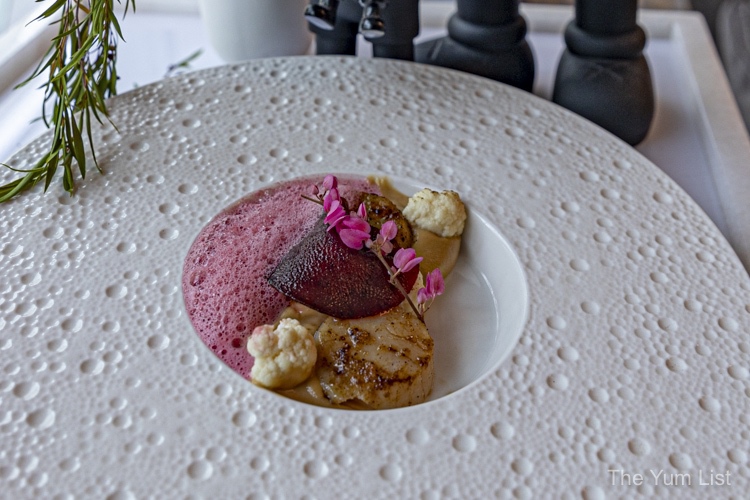 Moving on from seafood, our next dish, Two of a Kind, brought us two styles of foie gras paired with a savoury vegetable vol-au-vent. A traditionally pan-seared slice of creamy foie gras was served next to a foie gras nugget- foie gras coated in breadcrumbs and deep-fried for a tasty twist. The pan-seared foie gras was melt-in-your-mouth-delicious with a lovely grilled character. The deep-fried foie gras was indulgence in a bite – a crunchy crumb coating enveloped the practically melted liver, sinfully lip-smacking. The scrumptious vol-au-vent, lovingly decorated by the chef, who hand-selected a garden's worth of delicate edible flowers to adorn the fluffy puff pastry, was filled with celery and carrots sauteed with cream and punctuated with a splash of blackcurrant puree.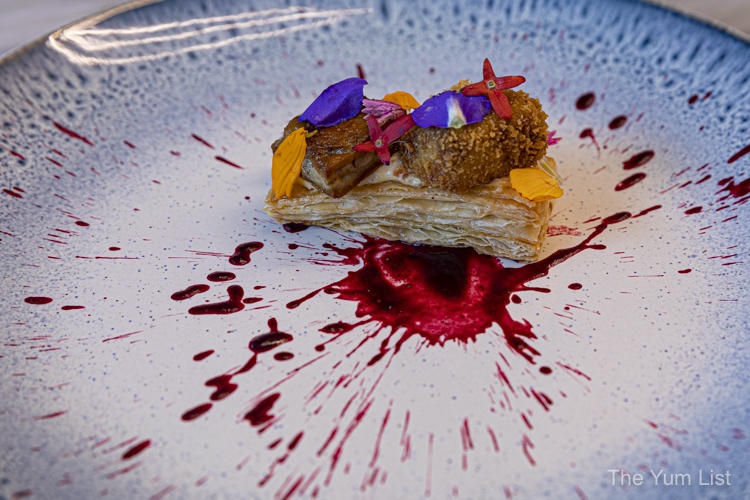 Presented in glass test tubes, the Palate Cleanser was a vividly green juice made from ambarella fruit with a hint of salt and offered a refreshing and bright interlude to our meal.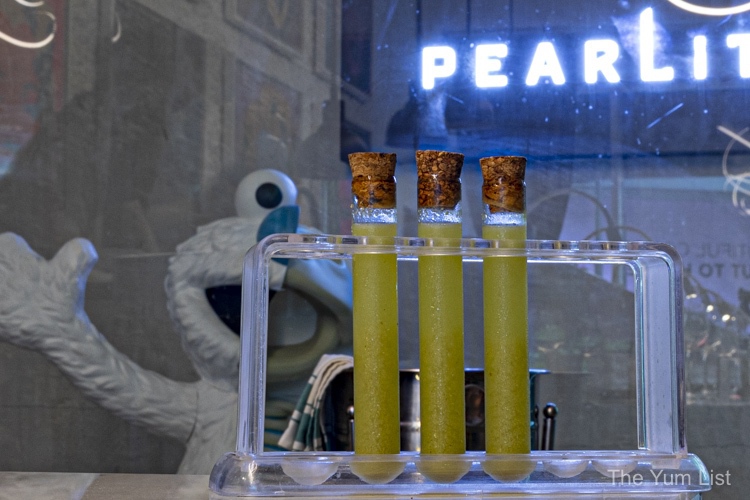 One main course option, Kingdom of Duckula, brought together a juicy two-week dry-aged duck with to-die-for mashed potatoes, blending in two types of cheese, apricot sauce and raspberry jam pearls. The duck had a tasty, slightly crispy skin and was nicely accented by the fruit. It's another contender for my most-loved dish on the menu! There is no way I will be able to choose just one!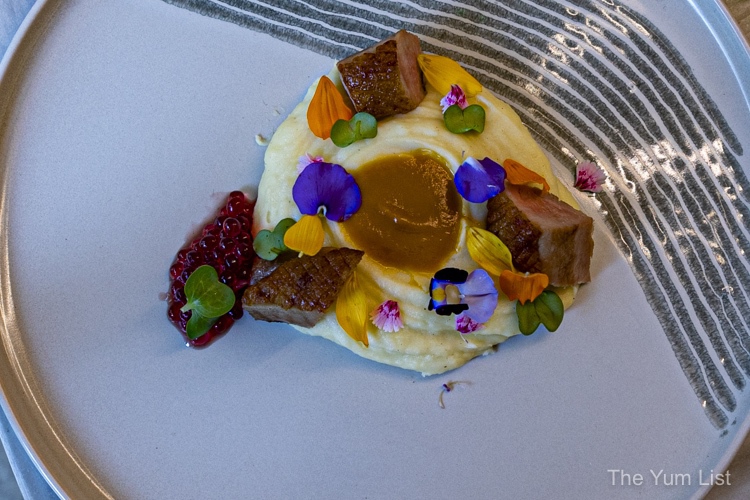 The second main course option was Dynasty of Aromatic. This tender grain-fed Angus beef (MB5) dish incorporated Chinese spices from the Sichuan province, rounded out with pureed mapo tofu, beef jus infused with Sichuan pepper and fried rice pressed into a thin crispy cracker. Each succulent bite was bursting with excitement, from the magnificently prepared beef to the wafer-thin fried-rice cracker and the tongue-tingling mapo tofu puree – I couldn't get enough!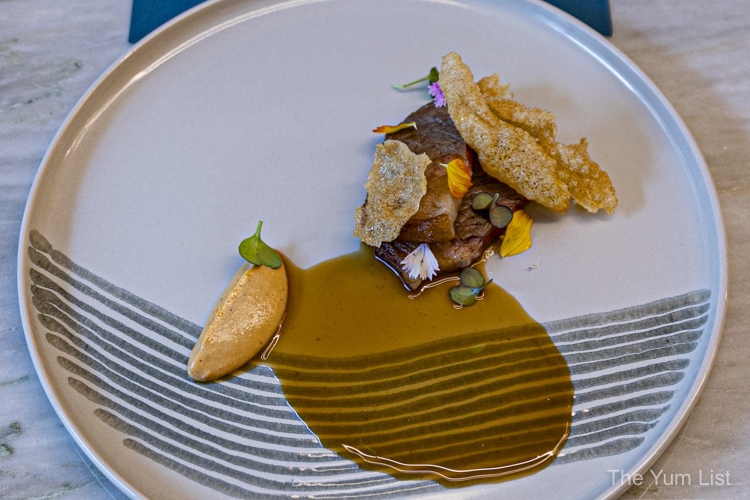 Dessert
The dessert course ended our meal with two gorgeous sweets, Violet Olaf and Snowy Heaven. Violet Olaf was a unique ball of taro paste, wonderfully chewy on the outside and soft within. The Snowy Heaven lived up to its name with minty-fresh, icy granita, a firm and tangy kaffir lime mousse, a delicious rose cookie and lightly charred, fluffy meringue. This zesty and refreshing dessert was an excellent finish to the meal.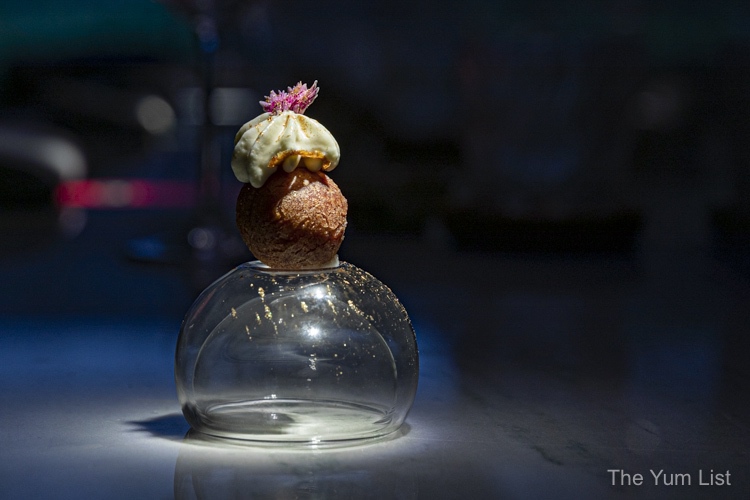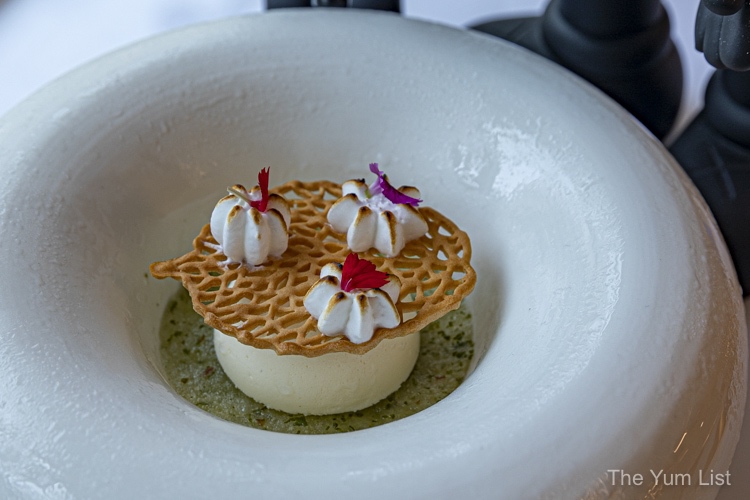 Adding the star to the tree, the Petit Fours was served in a stunning cut glass dish. Ribena-flavoured fruit de pate is a don to the chef's happy childhood memories.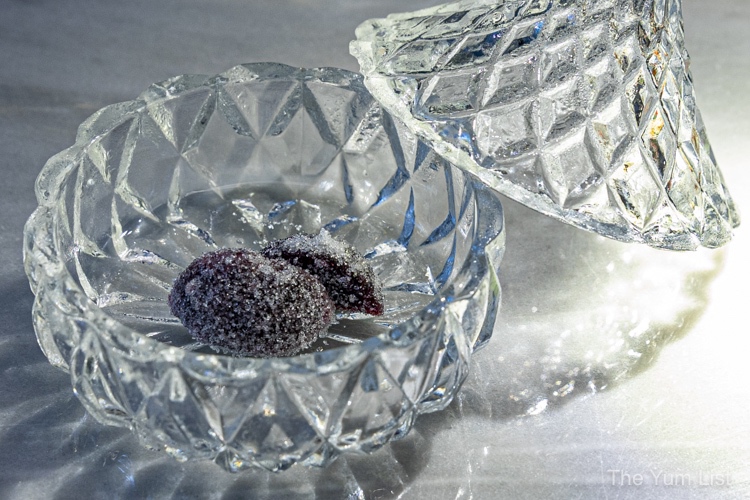 Reasons to visit Pearlite: We thoroughly enjoyed our chef's table adventure at Pearlite. The creative and funky decor and innovative menu, paired with outstanding customer service, created a unique dining experience not to be missed.
Pearlite, Modern Asian & Fusion Fine Dining Restaurant
C-5-01, Pusat Bandar, Persiaran Jalil Utama, Bukit Jalil
57000 Kuala Lumpur
Wilayah Persekutuan Kuala Lumpur
Instagram @pearlite.kl
+60 19 999 9508
Pearlite Opening Hours
Tuesday-Sunday
6:00-10:30 pm
*By reservation only
Check out other contemporary restaurants in KL here and stay up to date with the latest food and beverage happenings in KL here and here.