Dim Sum at Shang Palace – Michelin-Starred Restaurant, Hong Kong
Monica Tindall
Shang Palace at Kowloon Shangri-La, Hong Kong, is a place where diners can experience the exquisite flavours of Cantonese cuisine in a sophisticated and elegant setting. This Michelin-starred restaurant is known for its traditional dishes, impeccable service, and luxurious atmosphere, making it a popular choice for locals and tourists alike.
Upon entering the restaurant, we're greeted by warm and welcoming staff guiding us to our table. The interior of Shang Palace is tastefully decorated with intricate Chinese motifs and ornate furnishings, creating a sense of grandeur and elegance. The ambience is relaxed and cheerful. Carpets and fabric absorb the noise, so even though the spacious dining room has a lively buzz of happy diners energized by good food and fast service, it's not uncomfortably noisy.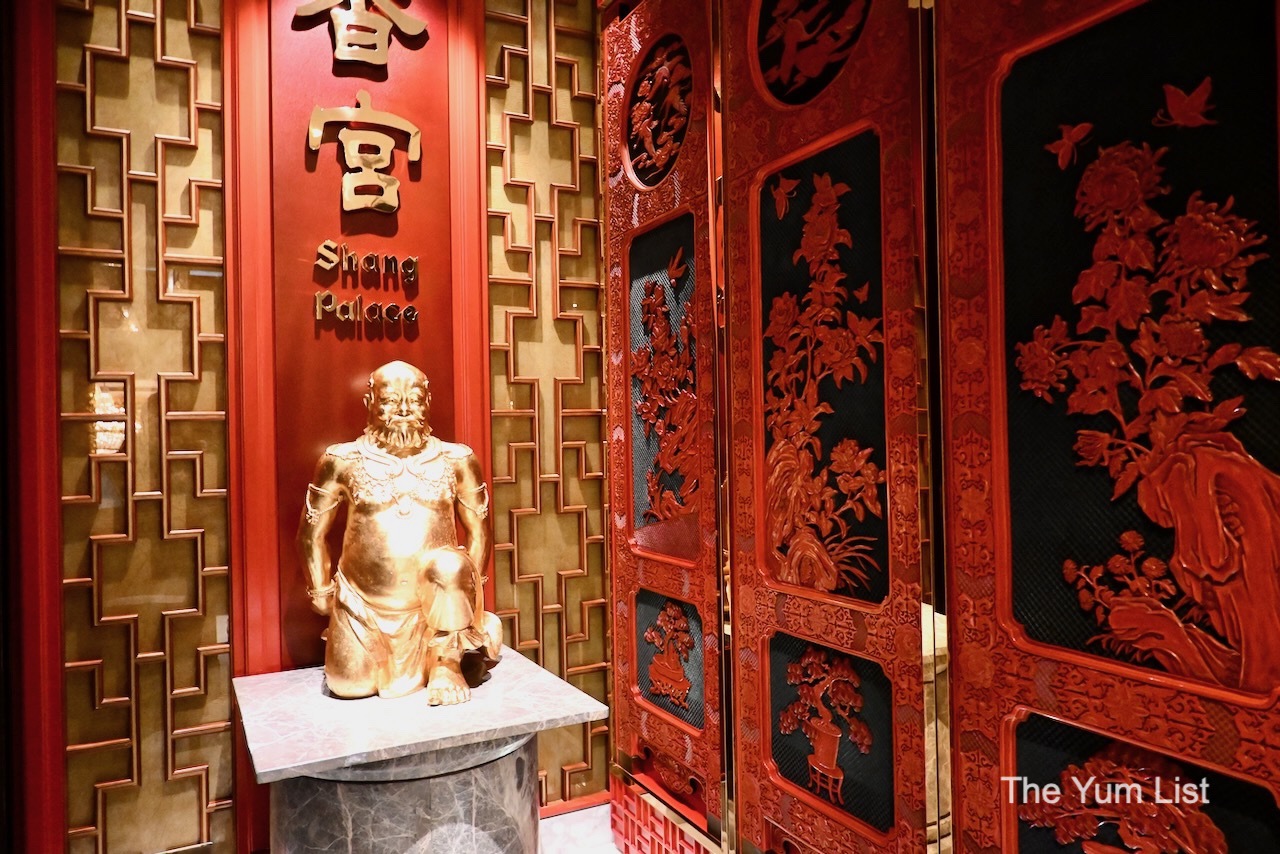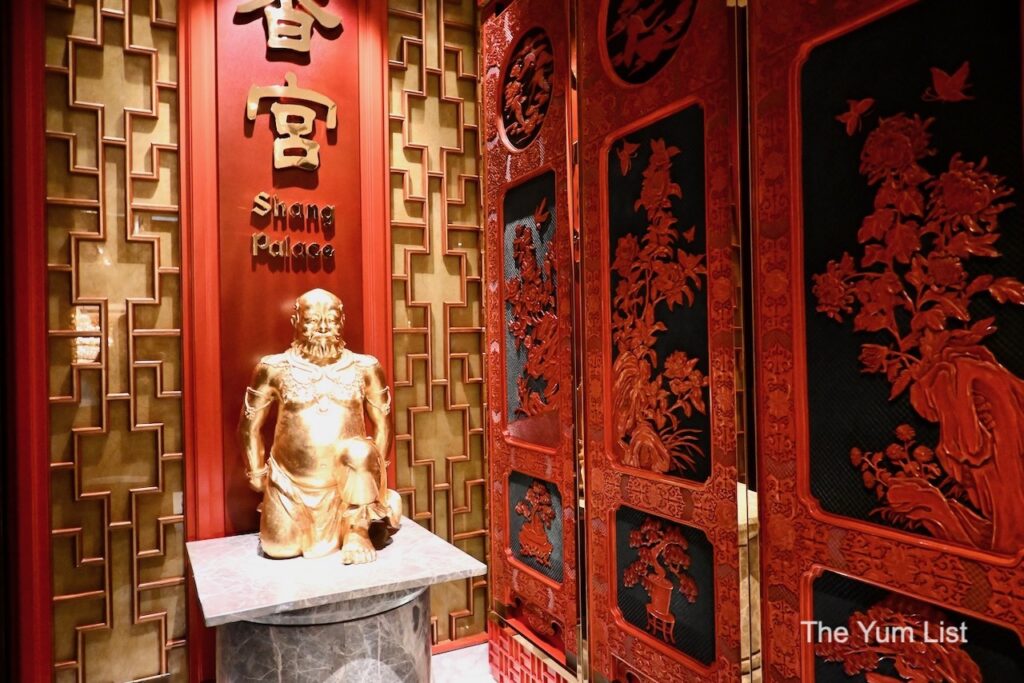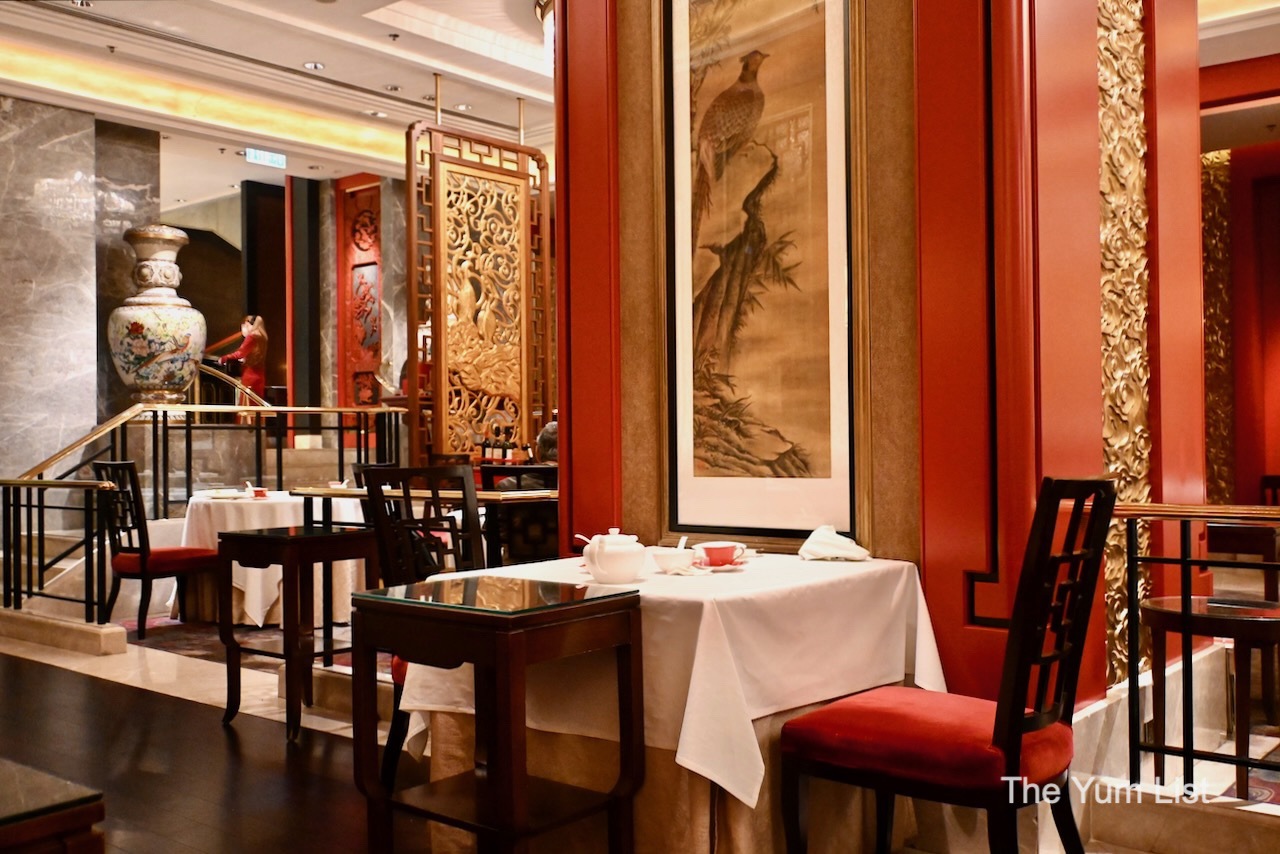 Shang Palace Hong Kong Dim Sum
The menu at Shang Palace is extensive, featuring a wide range of dishes showcasing Cantonese cuisine's rich culinary heritage. From steaming hot dim sum to succulent roasted meats, each dish is expertly crafted using only the freshest ingredients and traditional cooking techniques. In particular, the kitchen team is renowned for its dim sum menu, which features a range of classic dishes beautifully plated. If ordering from the menu, you'll usually be presented with small baskets and plates for sharing. However, we have a sampling menu today, so the first two courses are individually plated, western style. You can have this, too, if you make a request when booking ahead.
Tea Menu
To complement the meal, Shang Palace offers an extensive selection of premium teas and wines, carefully curated to enhance the flavours of each dish. The tea service is a highlight of the dining experience, with a wide range of teas available to suit every taste and preference. We begin with osmanthus and red Chinese tea served in petite cups to relax and prepare the palate for the meal. It's great to sip alongside the cashews that are also on our table, tempering hunger pangs as we anticipate the meal.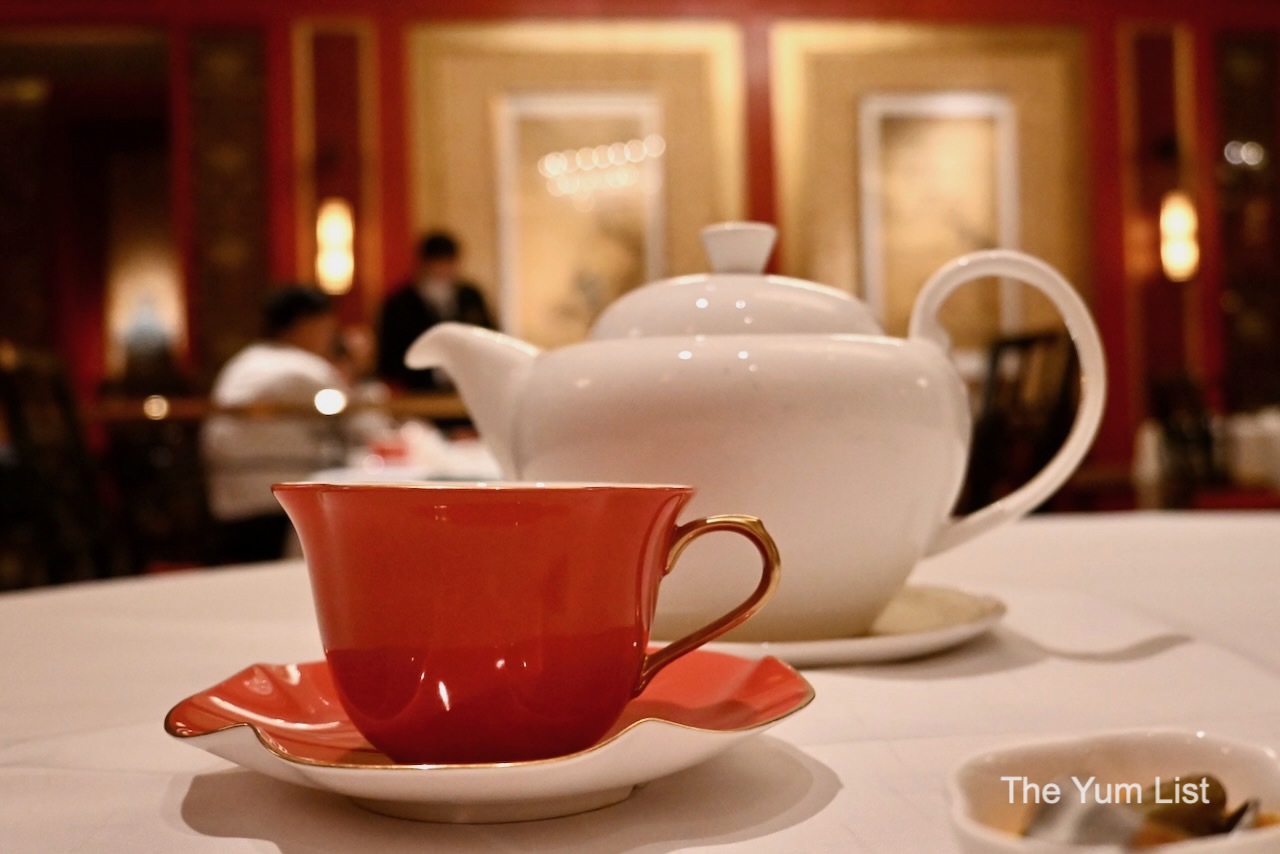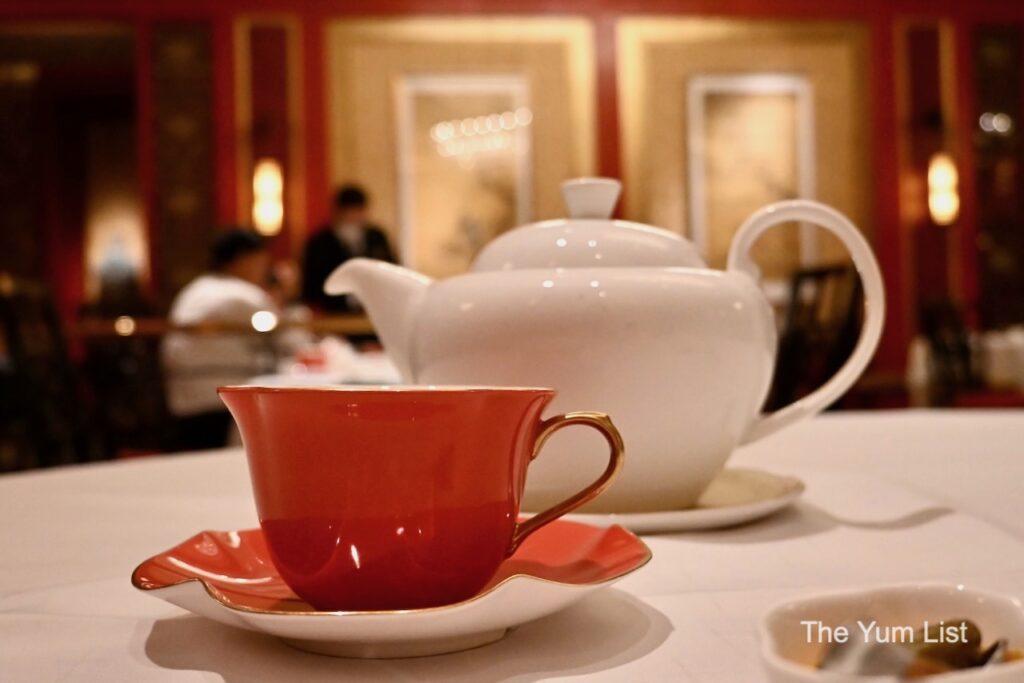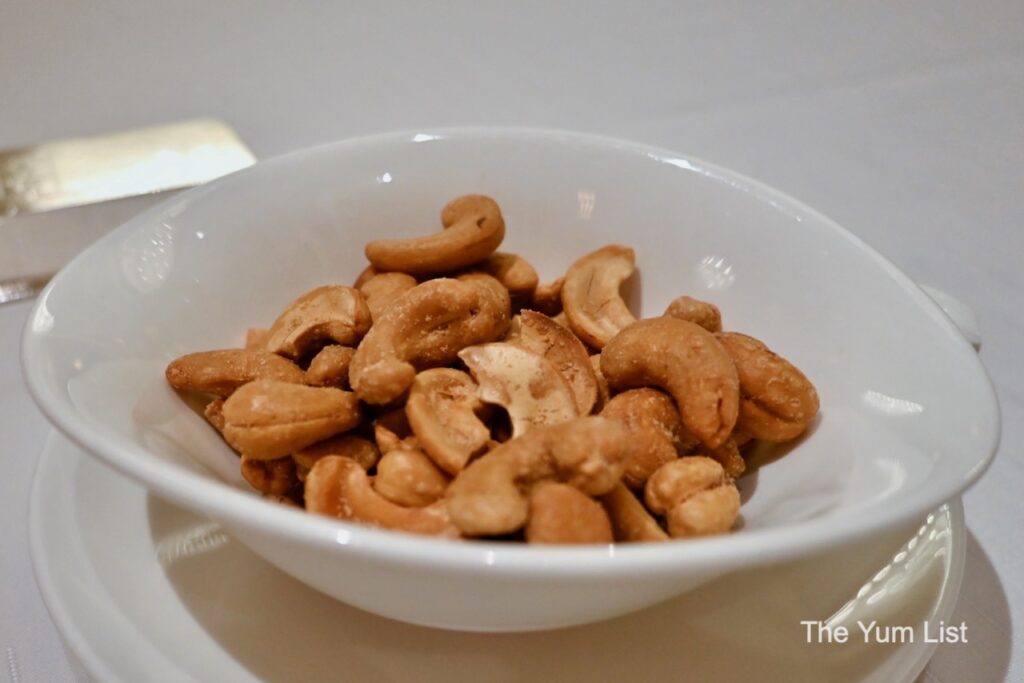 Table Manners
* A quick note on table manners: Notice the two sets of chopsticks on the table. One set is for taking items from shared plates, and the other is for your mouth.
Hong Kong Dim Sum
Our first course is a colourful presentation of three signature steamed dumplings. The one resembling an orange and white fish is filled to the edges with cod fish and the highly prized, Matsutake mushrooms. The fish is elegant, and the mushrooms offer a sweet spice aroma. While there are three types of chilli for dipping – mild sweet garlic, medium heat and spicy Hailam style – you might want to take this one on its own to appreciate the delicate flavours first. The yellow parcel is stuffed with crab meat and topped with bird's nest. The texture is another "real" flesh experience, proof of the focus on premium ingredients; no cheap fillers here. Lastly, a vibrant green package contains diced scallops, and the crown of bright orange salmon roe provides a distinct contrast both in colour and texture. The dumpling offers a nice bounce, and the roe's saltiness enhances the scallop's sweet taste. Clearly, each dim sum piece has been masterfully crafted, capturing several elements of taste and texture into a single bite.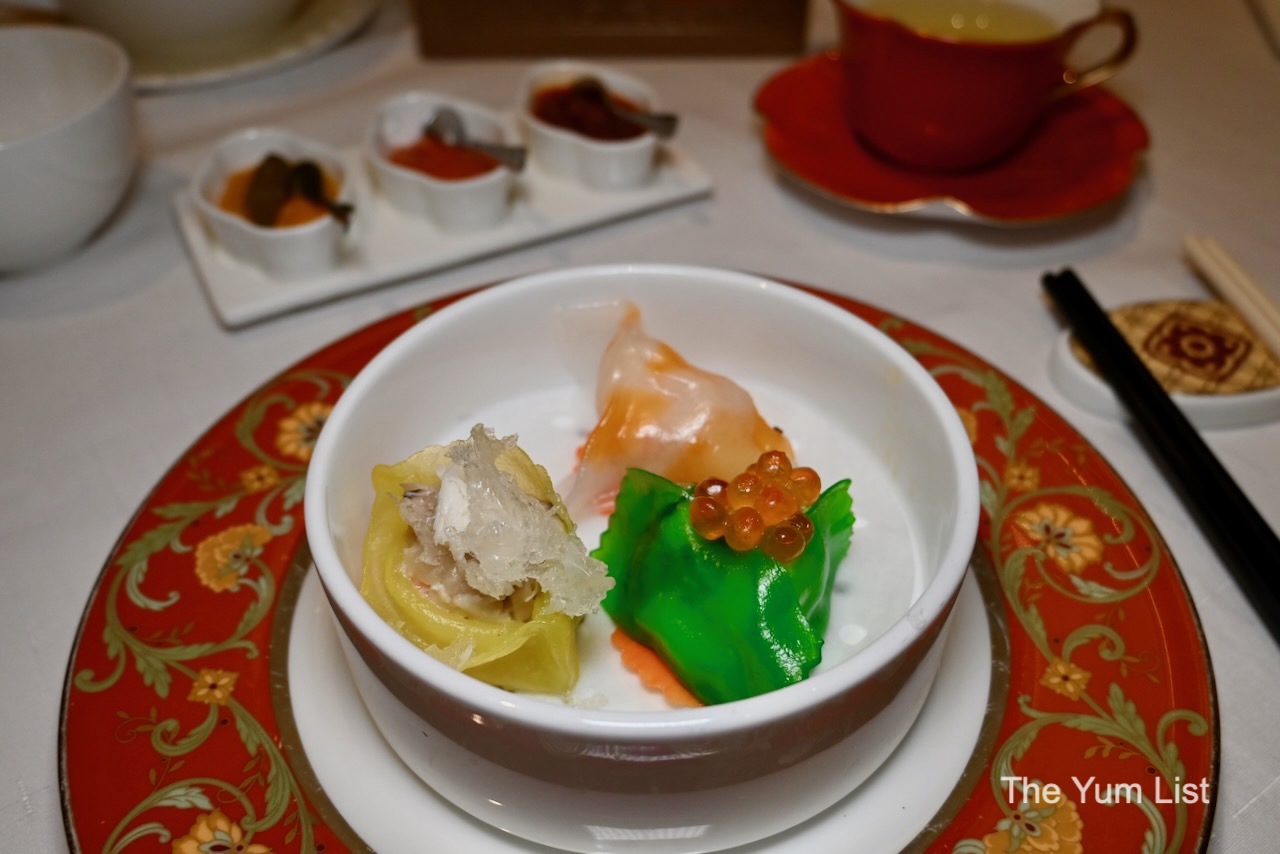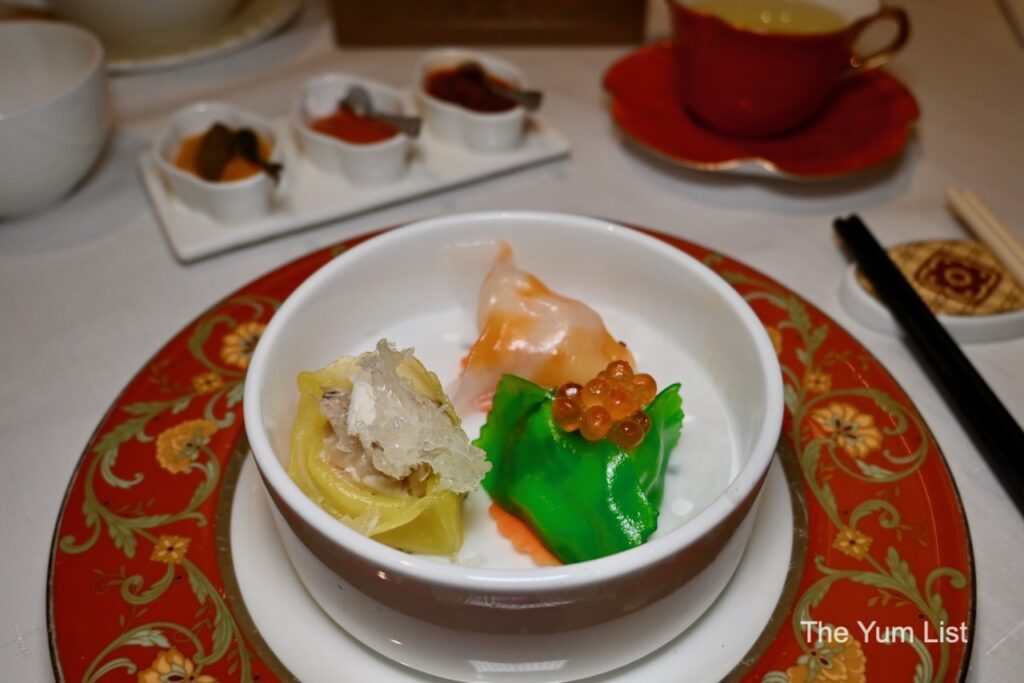 Dim Sum at Michelin-starred Shang Palace, Kowloon
While the first course inspired our imaginations with a playful show of creativity, the second round is a serious testament to the skill of the chef. One of the signature dishes at Shang Palace is the Steamed Shrimp Dumplings or Har Gow. These delicate dumplings are filled with succulent shrimp and wrapped in thin, translucent skin. The filling is perfectly seasoned, allowing the shrimp's natural sweetness to shine through. The seemingly simpler dumplings are the hardest to master. You simply can't skimp on ingredients.
Another popular dim sum dish is the Siu Mai, a pork and shrimp dumpling wrapped in a thin dough wrapper and topped with crab roe. The filling is juicy and flavourful, with the shrimp adding a hint of sweetness to the savoury pork.
Pan-fried flour rolls with superior soy sauce present the perfect opportunity to try out the trio of chilli sauces introduced at the beginning of the meal. The smooth, chewy rolls go well with the accompanying sauce, and the splash of heat offers a little pizzazz to the recipe.
The final item on the plate is a deep-fried mashed taro puff loaded with diced pork. Although my health preferences tell me that steamed dumplings are far better for me, I'm sure I could polish off a plate full of these.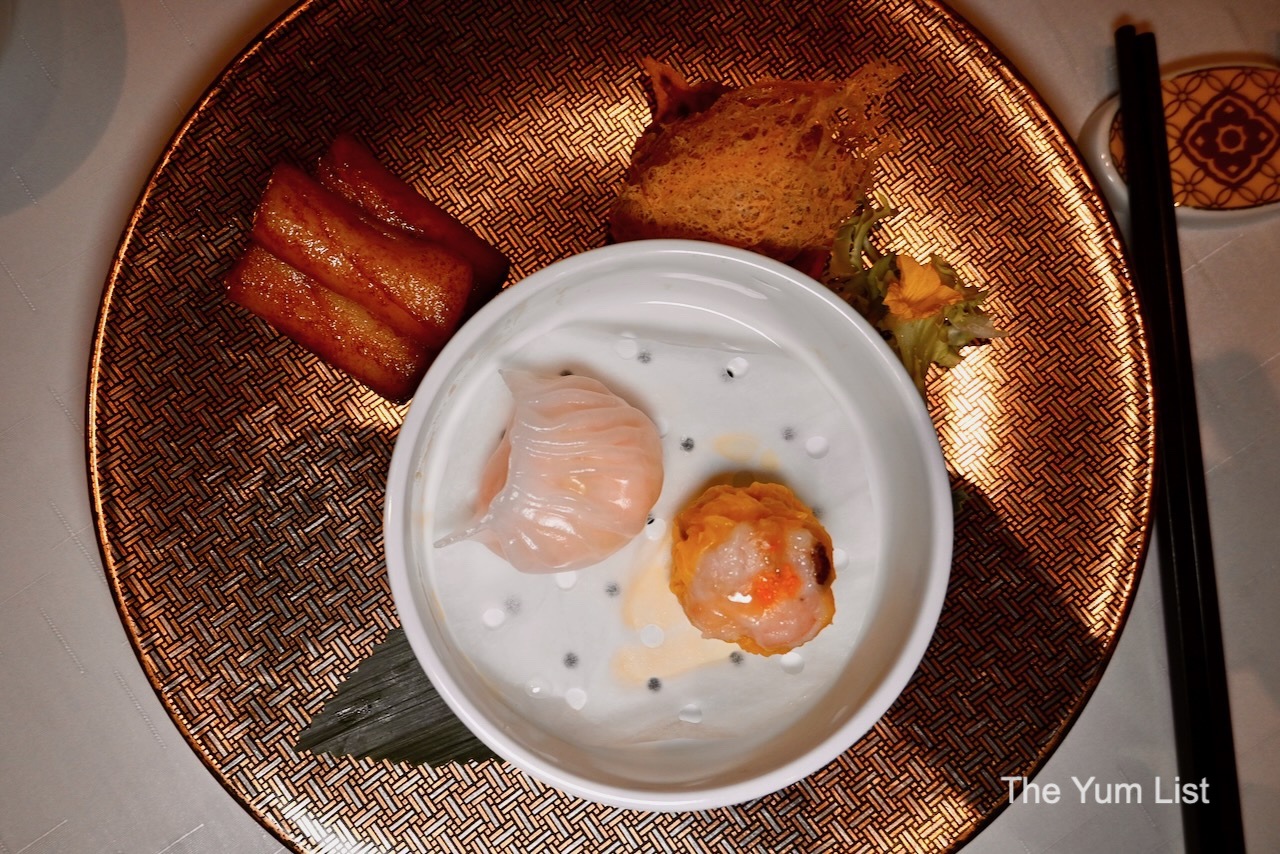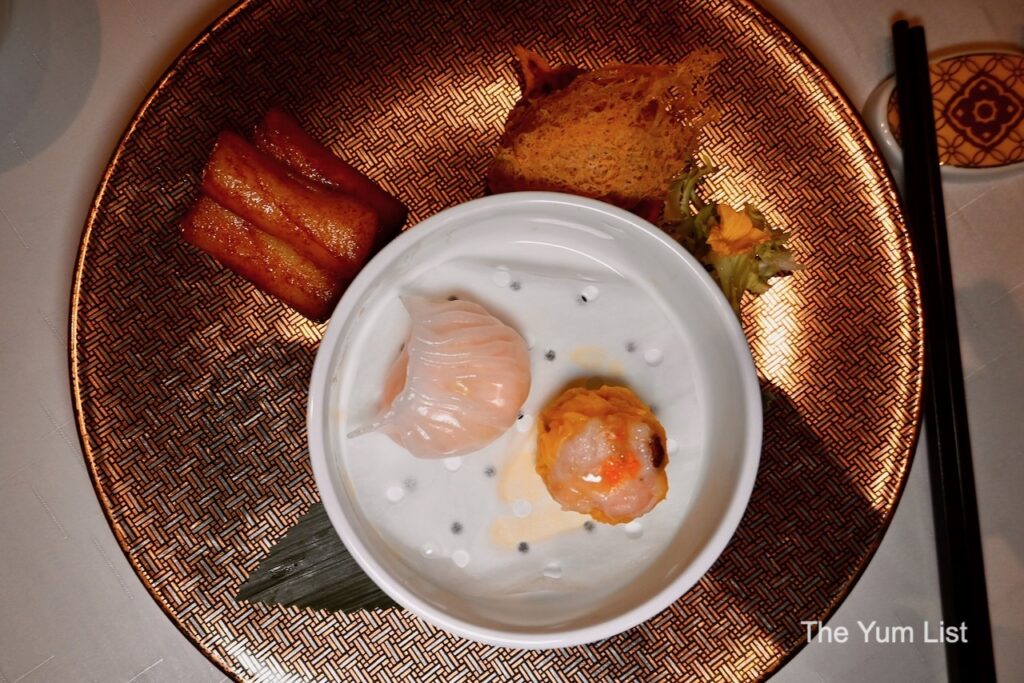 Pan-fried Turnip with XO Sauce
Pan-fried turnip with XO sauce is a must-order on any Cantonese dim sum menu. The dish features diced turnip that has been lightly pan-fried until crispy and tender, then topped with a rich and savoury XO sauce. The sauce is spicy and seafood-based, originating in Hong Kong, and is made from dried scallops, shrimp, and chilli peppers. The sauce is known for its umami flavour and adds a complex depth to the dish. Combining the crispy turnip and bold XO sauce creates a harmonious balance.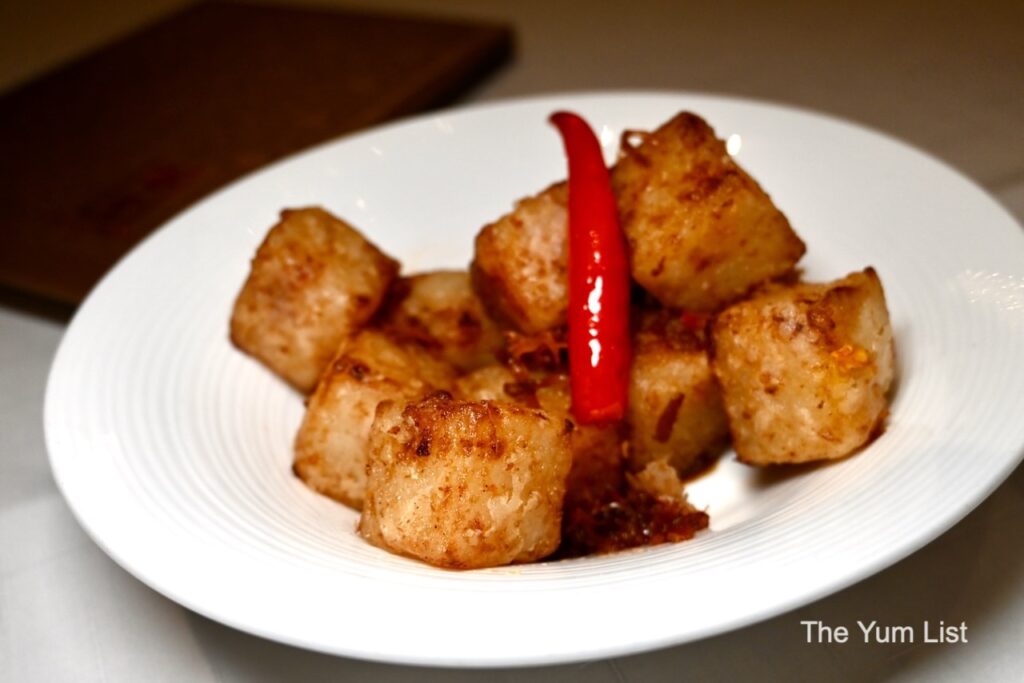 Double-boiled Silky Fowl Soup
Double-boiled silky fowl soup with sea conch and cordyceps is a nourishing Cantonese delicacy known for its rich profile and health benefits. The dish is made by simmering a whole silky fowl, sea conch, and cordyceps in a double boiler for several hours until the ingredients meld, creating a savoury and aromatic broth. Silky fowl, a black-boned chicken, is prized in Chinese cuisine for its tender meat and purported medicinal properties. Sea conch, on the other hand, is known for its high nutritional value. At the same time, cordyceps is a fungus believed to boost the immune system and improve vitality. Nutritional benefits aside, it's warm, comforting, and delicious.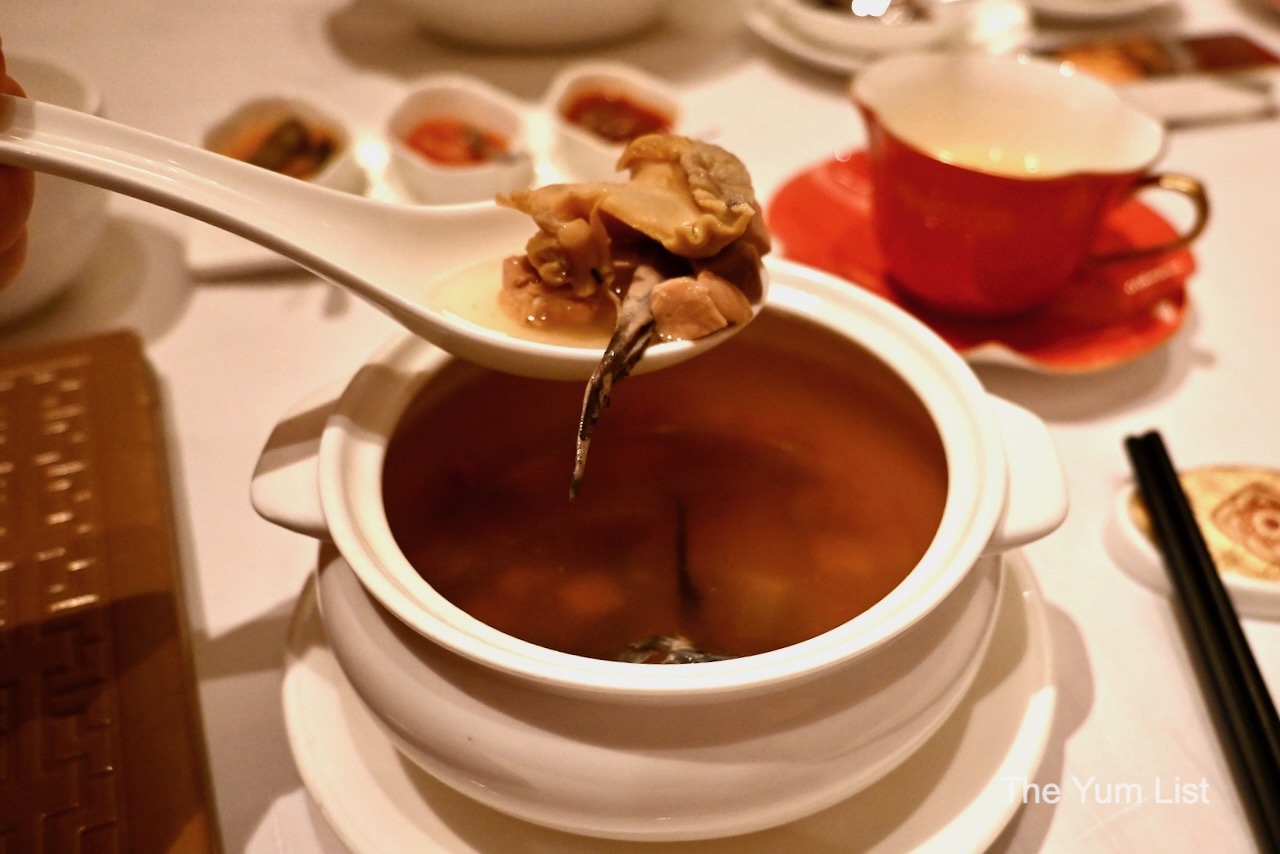 Fried Choi Sum with Garlic
Leafy green choi sum is lightly stir-fried with garlic in the final aromatic, savoury dish. The veg has a slightly bitter taste and is high in nutrients such as vitamins A and C. The garlic is cooked until it becomes fragrant and golden brown. Then the choi sum is added and cooked just long enough to become tender but still retain some crunchiness. It's great to finish with greens and feel good about ourselves before the dessert platter arrives.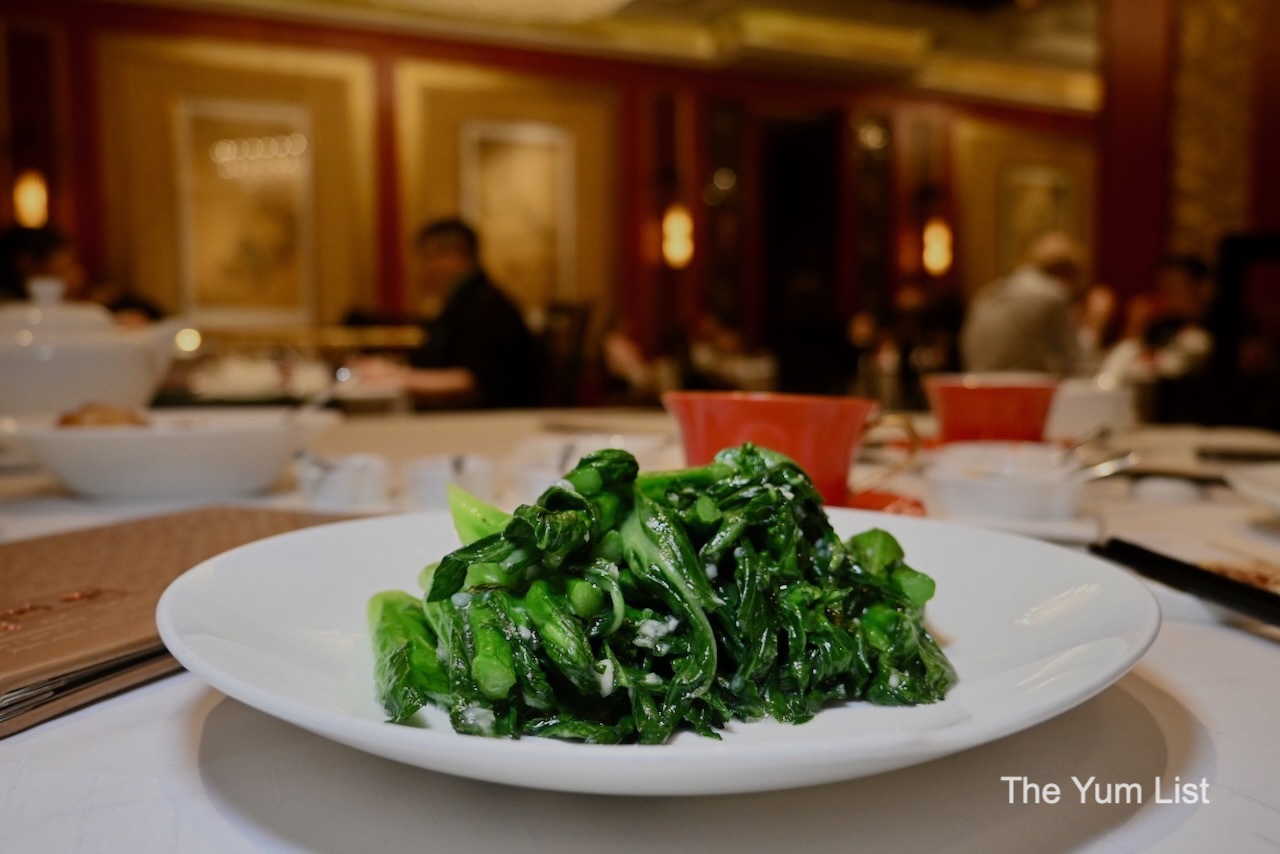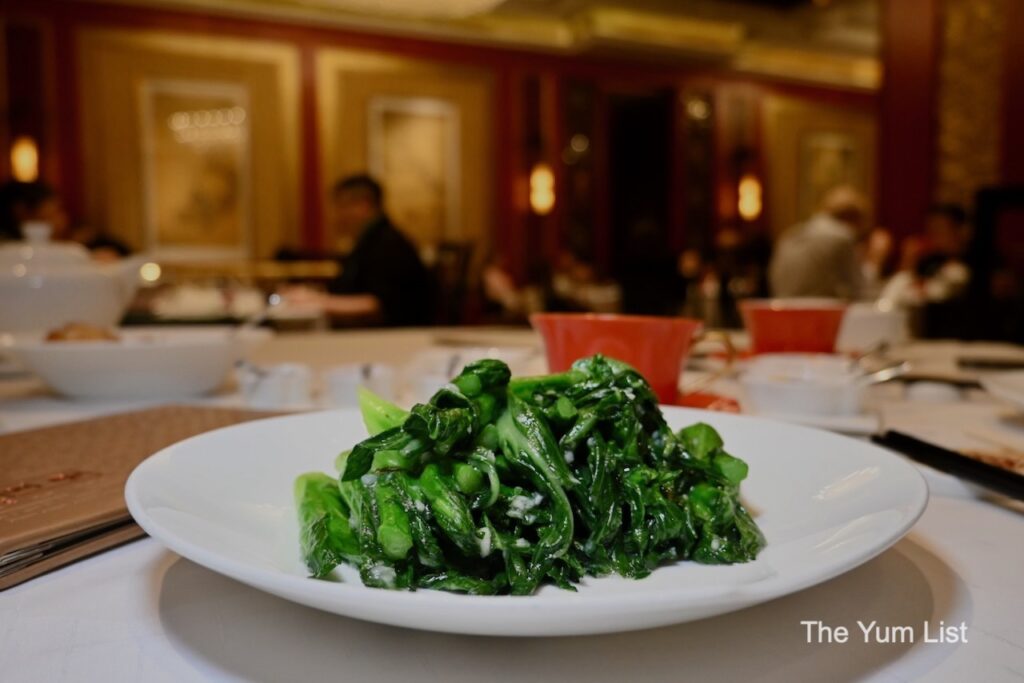 Dessert Platter
The dessert platter boasts a diverse array of sweet treats. While the sesame and milk roll with gold leaf topping is my least preferred, the rest of the desserts leave a lasting impression. The pineapple puff is a standout with its buttery pastry and sweet, tangy filling. The mango pomelo sago is a refreshing and bright treat that can be enjoyed like an espresso, sipped from a small cup. However, my absolute favourite is the deep-fried egg custard dumpling shaped like pink lychee. The warm and oozy filling makes for a delightful and indulgent experience, and the presentation is unique.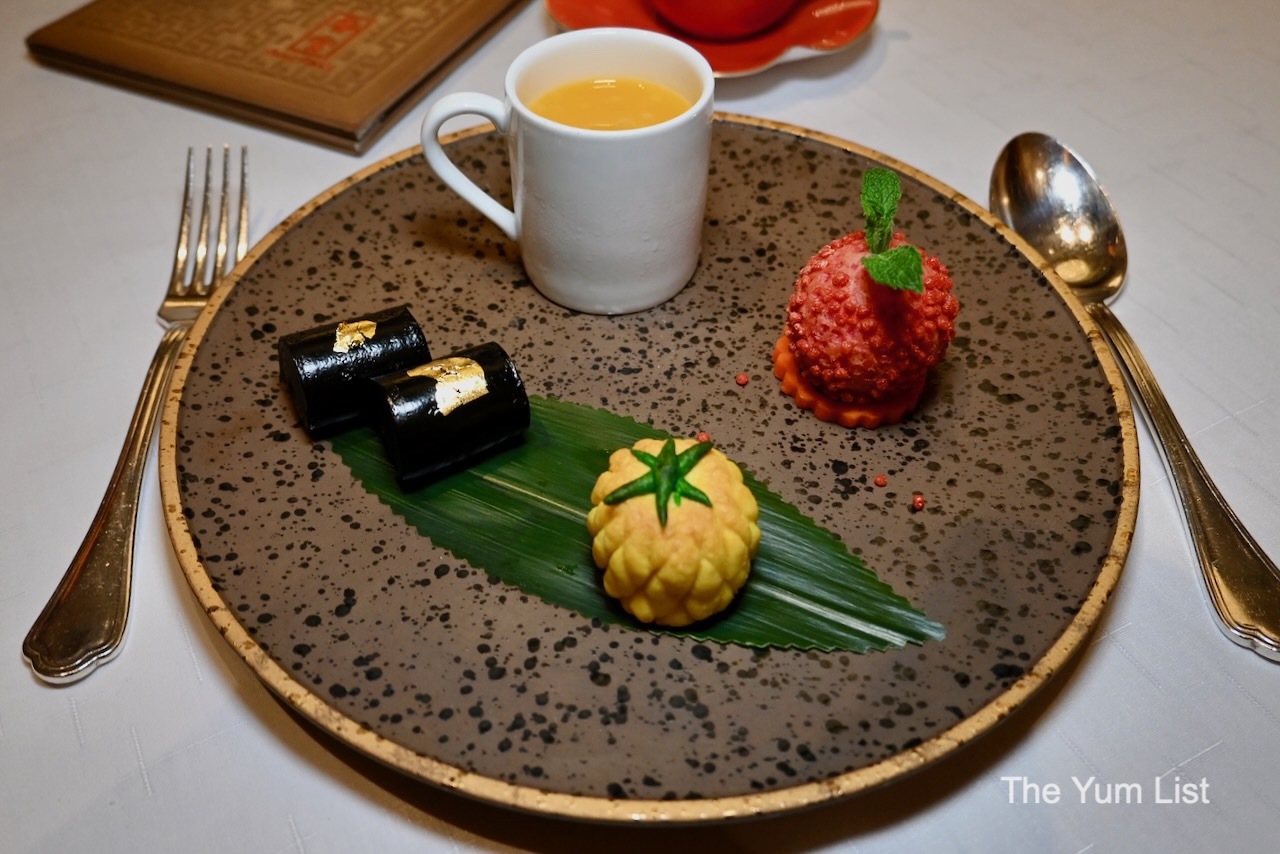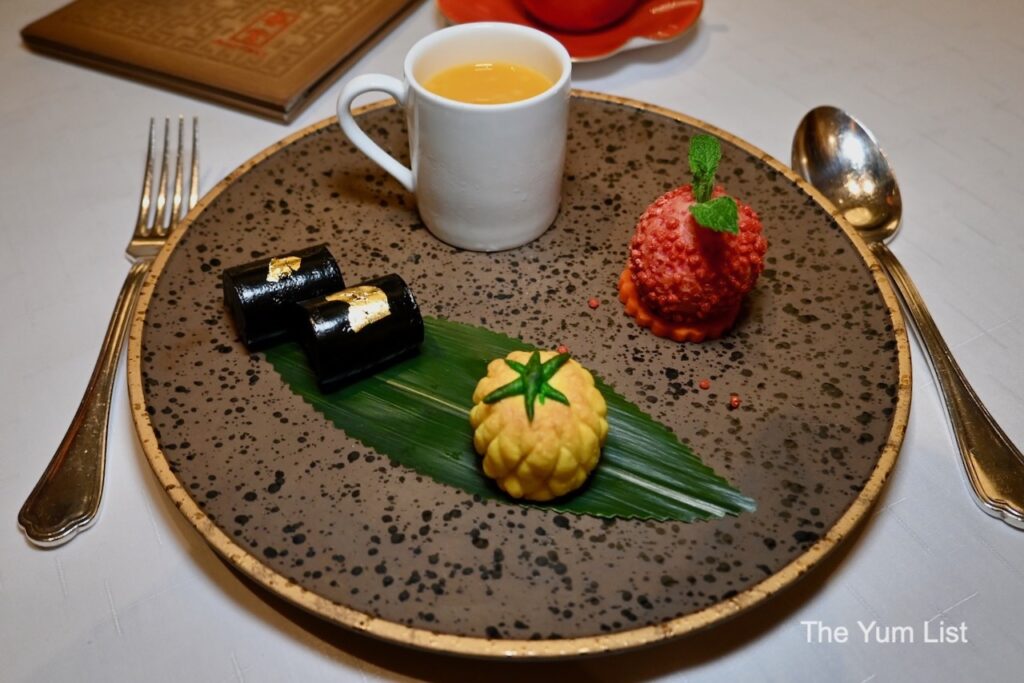 Dim Sum at Shang Palace, Kowloon
Overall, the dim sum menu at Shang Palace is a must-try for anyone who loves Cantonese cuisine. The dishes are expertly crafted, with attention paid to every detail, from the quality of the ingredients to the flavour and texture of each recipe. The dim sum menu is an excellent representation of the richness and diversity of Cantonese cuisine, and a meal at Michelin-starred Shang Palace is a dining experience that is sure to leave a lasting impression.
Reasons to have Dim Sum at Shang Palace, Kowloon Shangri-La, Hong Kong: a chance to try authentic Hong Kong dim sum from a Michelin-starred restaurant; lively atmosphere filled with the buzz of happy diners energised by good food and fast service; must order any (or all) of the steamed dumplings, taro puffs and end with an egg-custard dumpling as a sweet treat.
Dim Sum at Shang Palace
Kowloon Shangri-La, Hong Kong
64 Mody Road, Tsim Sha Tsui East
+852 2721 2111
www.shangri-la.com/en/hongkong/kowloonshangrila
Shang Palace Opening Hours
Weekdays: 12–2 pm, 6–10 pm
Weekends: 10:30 am–2:30 pm, 6–10 pm
Find more recommendations for gourmet travel to Hong Kong here, and stay up-to-date on the latest culinary happenings around Malaysia here and here.