Ceylon Crab House & Gara Bar – BSC
Words: Theresa Hogan Leahy
Photos: Han Sen Hau
Sri Lankan gastronomy is renowned for its distinctive fusion of herbs, spices, seafood, and fruits. Ceylon Crab House and Gara Bar in Bangsar Shopping Centre speak to this reputation with passion and care. The restaurant specialises in crab, as you may have guessed, but also has a delicious support menu and craft cocktails, meriting a second look.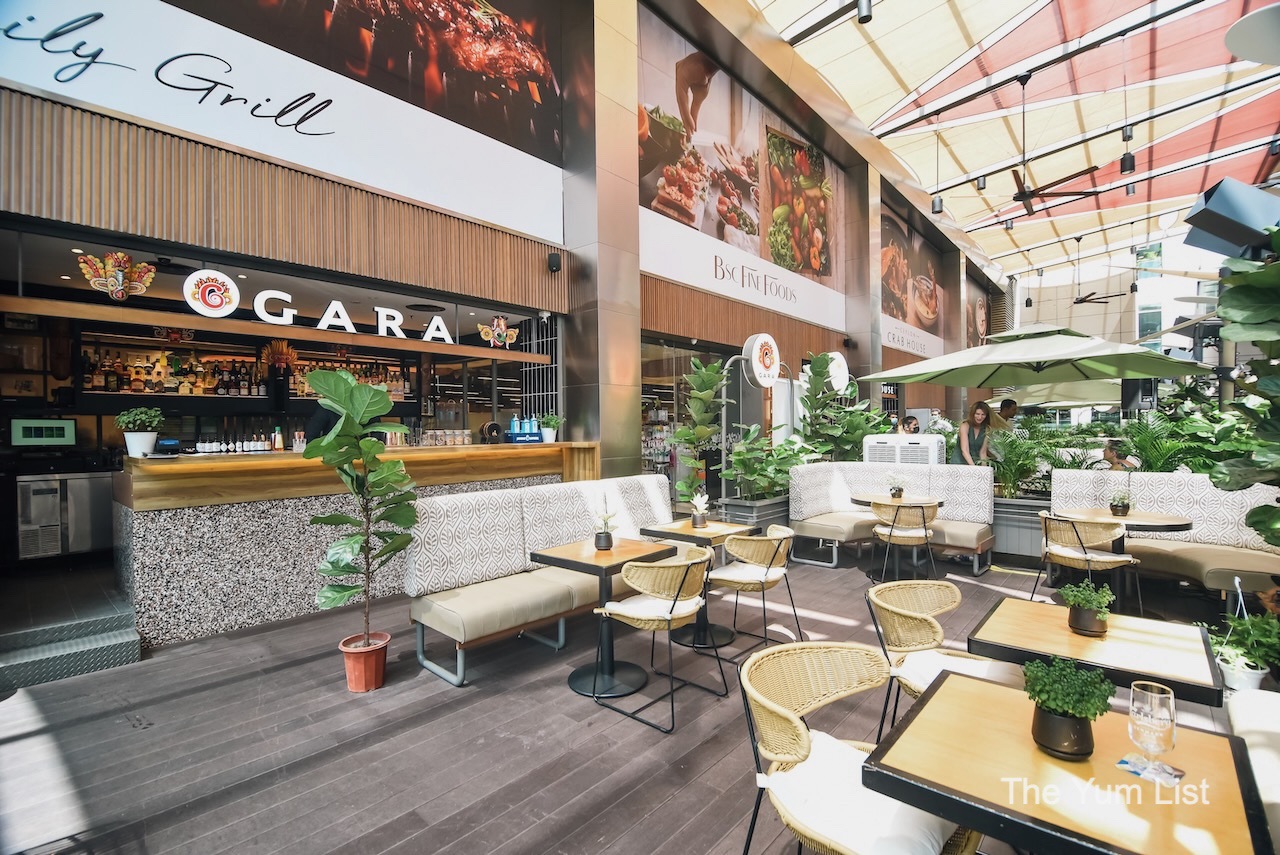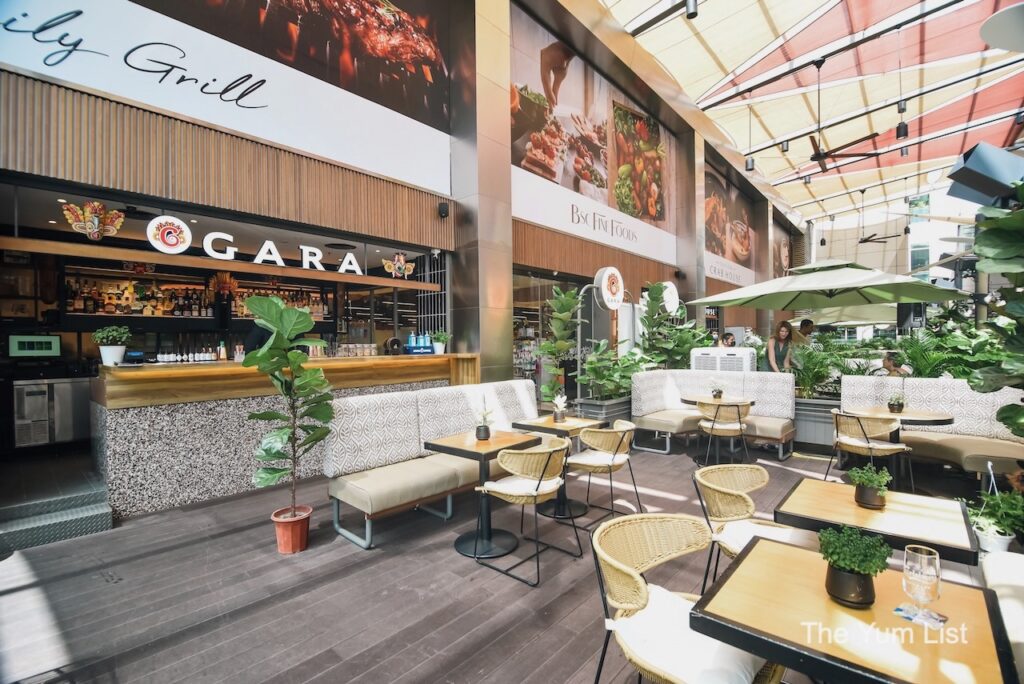 Ceylon Crab House & Gara Bar BSC
The fabulous semi-alfresco setting in Bangsar Shopping Centre is accessed by walking through the BSC Fine Foods grocery store on the ground floor. The restaurant is outdoors, sheltered by awnings and equipped with numerous fans that maintain an ideal ambient temperature. It felt like dining in a serene garden surrounded by lush potted plants. In this relaxed setting, I joined my fellow diners, Han Sen, Caning, and Monica, in placing our food orders while enjoying a splendid playlist that was evocative of my own youth in 80's discos long, long ago.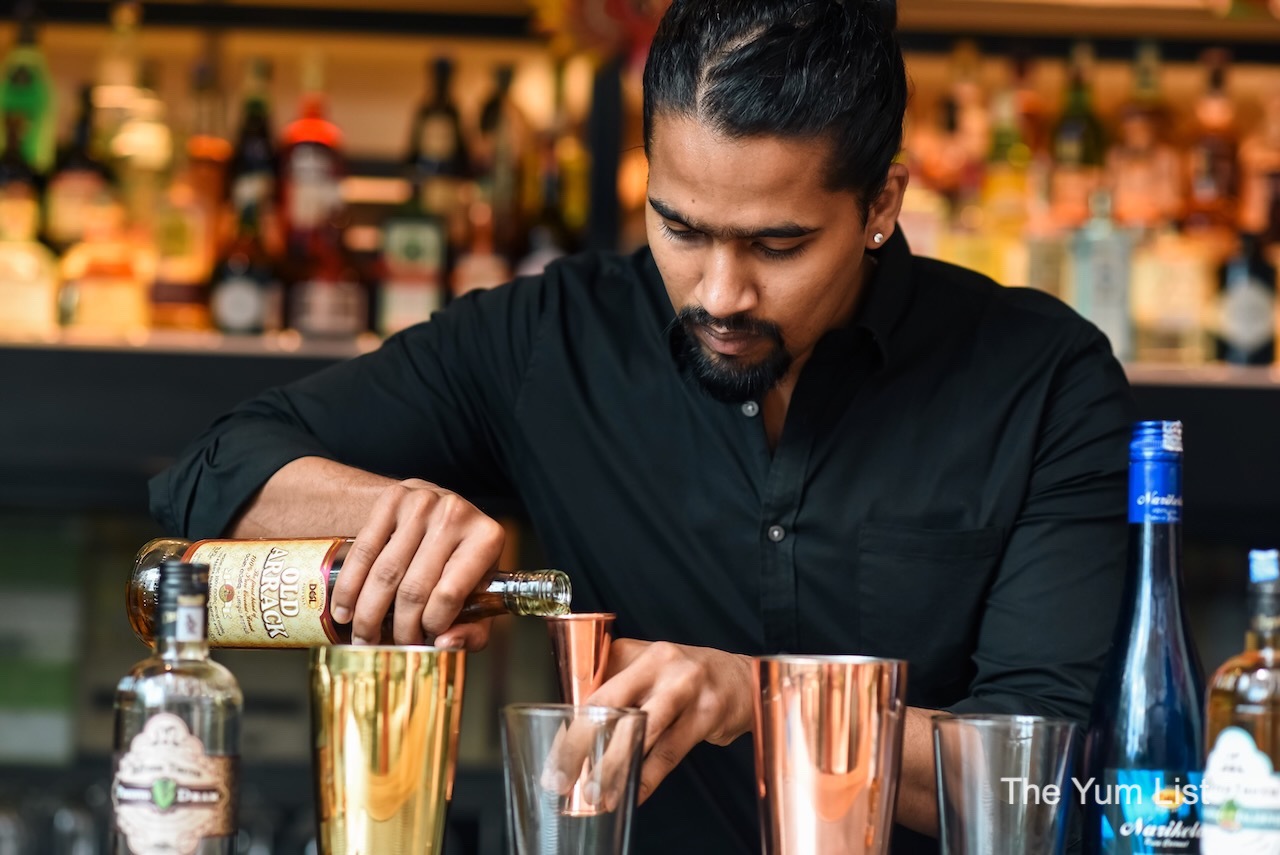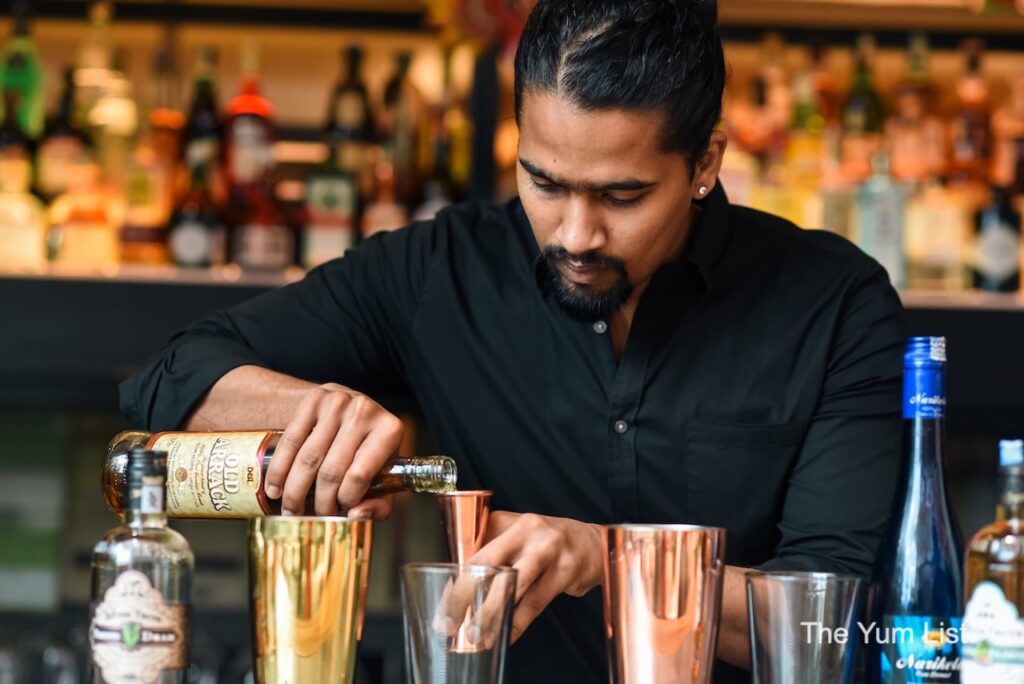 The Lankan Spirit – Gara Bar BSC
Adjacent to the restaurant, Gara Bar beckoned, where Isuru, our skilled mixologist, was busy concocting cocktails. We whet our appetites with the Ceylon Tusker (RM 40) and the Toddy Tapper (RM 30), featuring the homegrown Sri Lankan spirit known as Arrack, which is distilled from the fermented sap of coconut flowers or sugarcane. The Toddy offered a smoky cognac profile accentuated by bitters. At the same time, the Tusker delivered a more tropical flavour elevated by passion fruit and lemonade. Both cocktails highlighted the range of Ceylon Arrack, from the warm, earthy tones of the Toddy to the friendly fruitiness of the Tusker.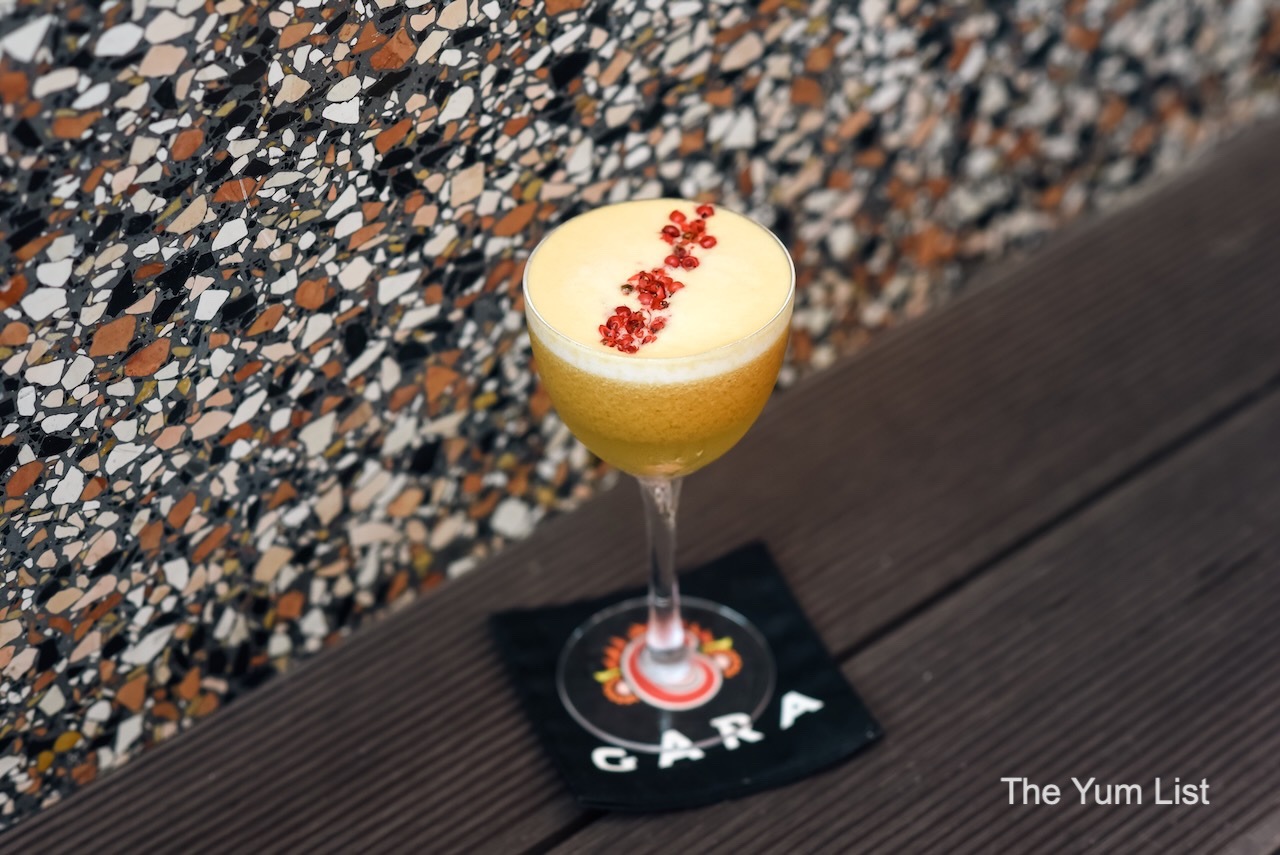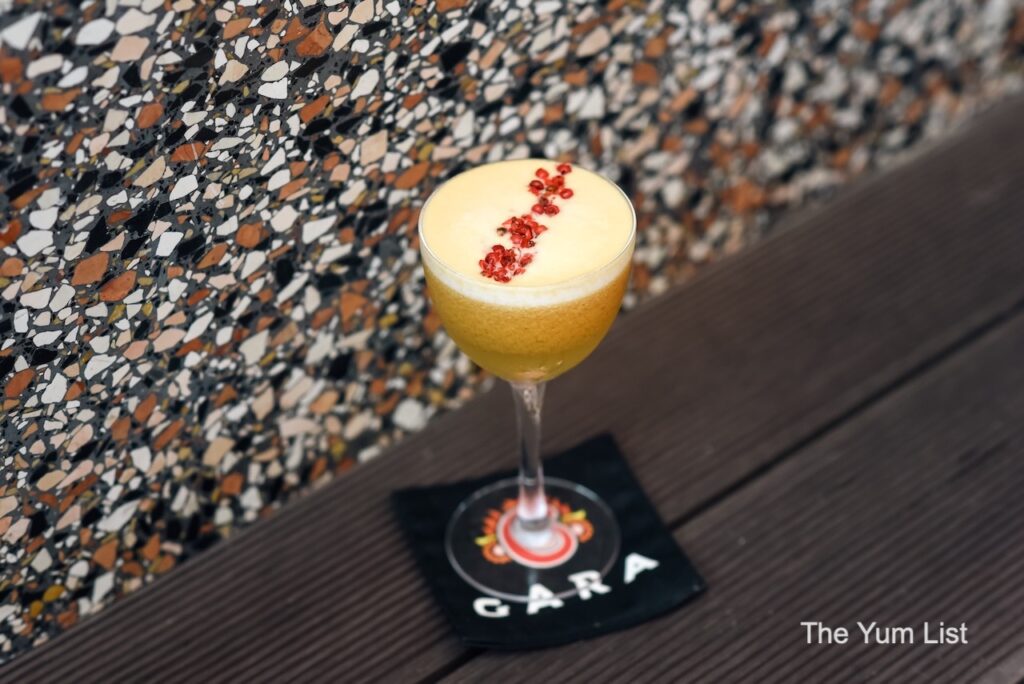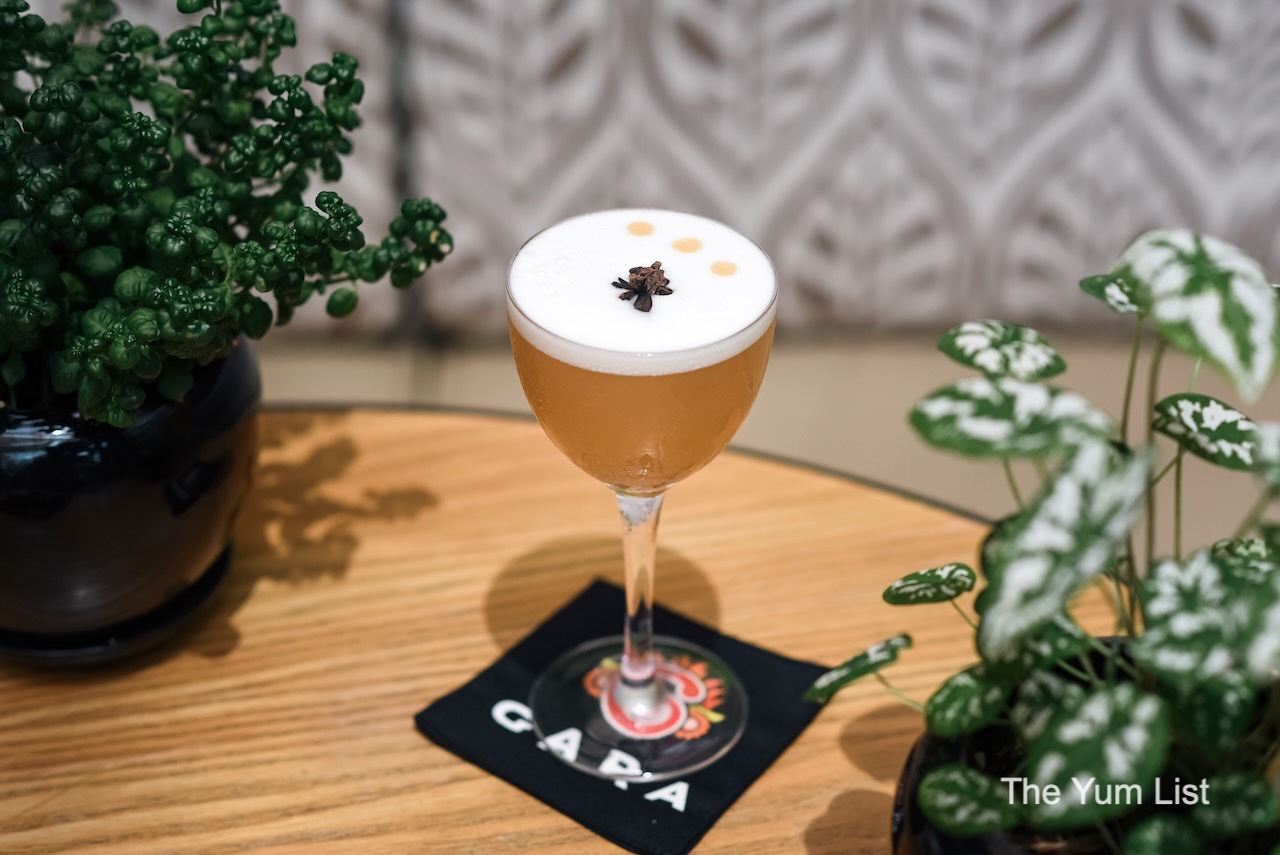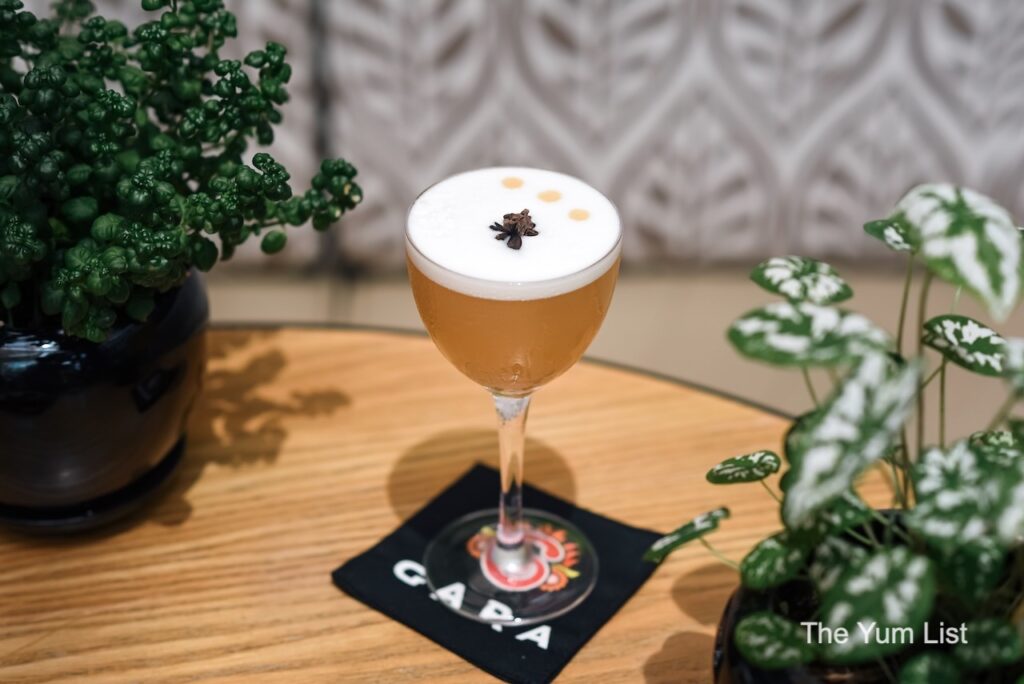 Bitesize Appetisers
Our appetisers, Rotti Chicken (RM 23) and Fish Cutlets (RM 22), arrived beautifully adorned with delicate flowers. These bite-sized portions were ideal for sharing and vanished swiftly. The perfectly prepared roti was generously stuffed with lentils, chicken, and just the right amount of spice to leave us yearning for more. The fish cutlets, resembling small croquettes, were equally irresistible, thanks to their authentic spice blend. To complement these delightful starters, Isuru prepared Strawberry and Mango Lassi (RM 20), a refreshing blend of yoghurt, water, spices, and fruit. Did you know that it's believed that regular consumption of lassi can help promote the growth of healthy bacteria and reduce the growth of bad bacteria in your gut? Well, if it is anything like what's served here, I'm happy to drink it all day, every day.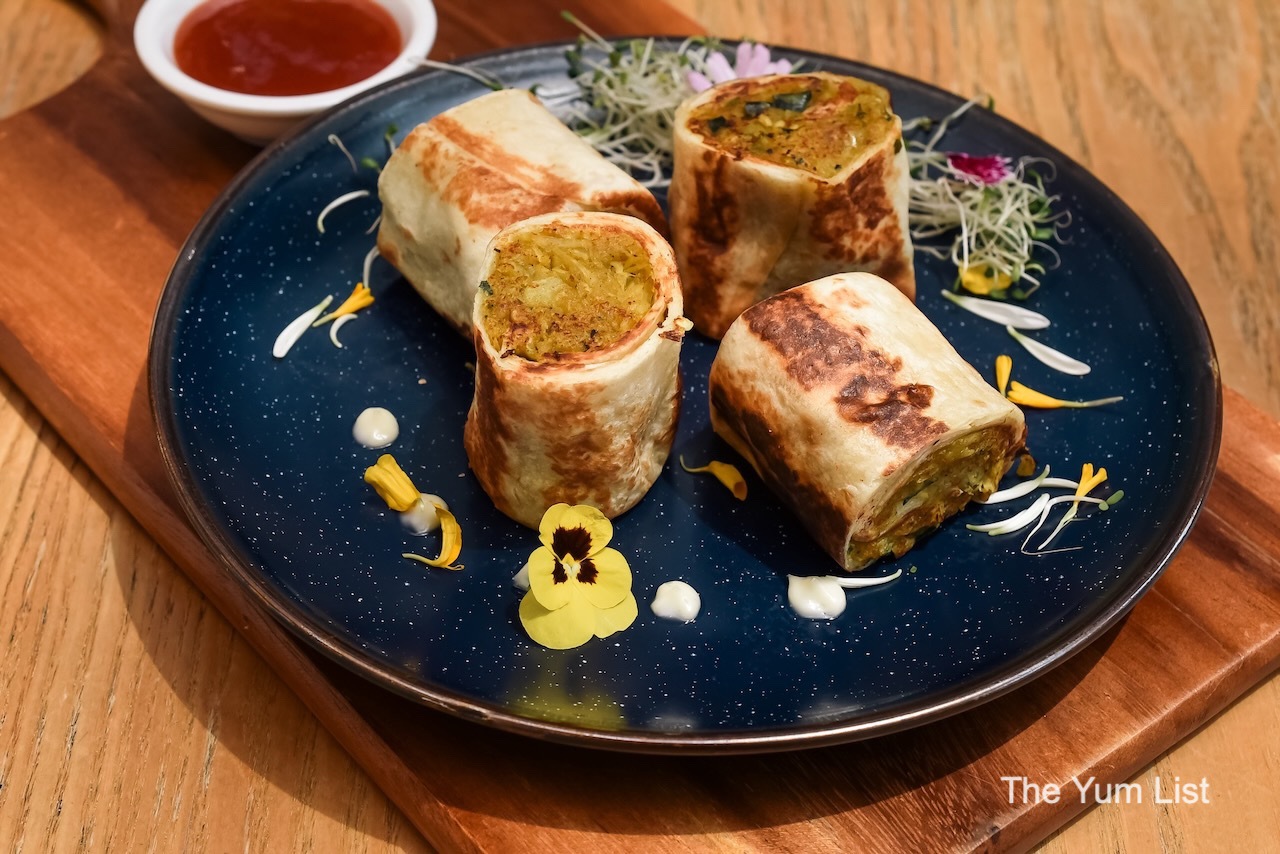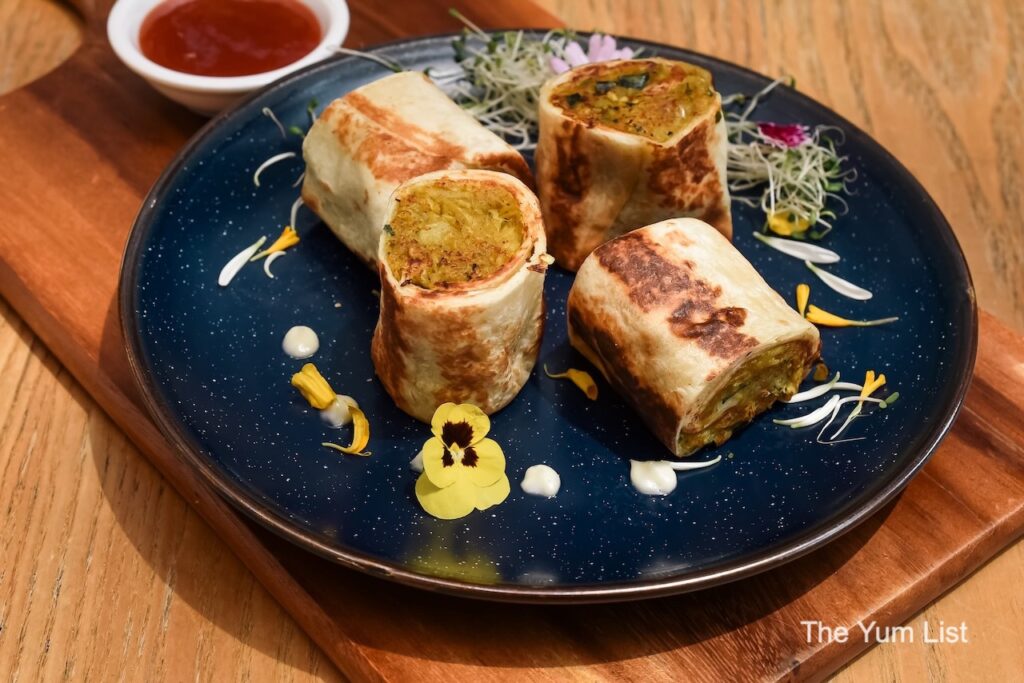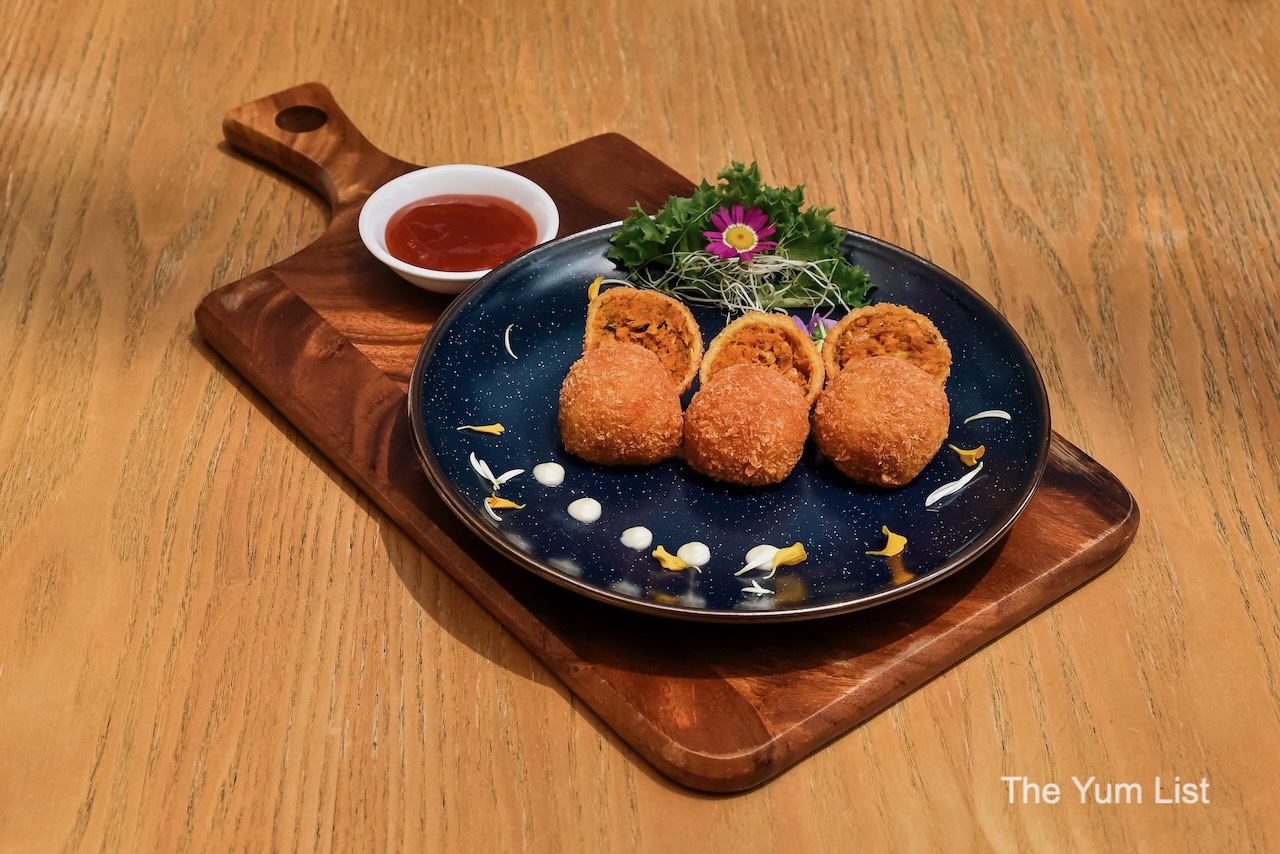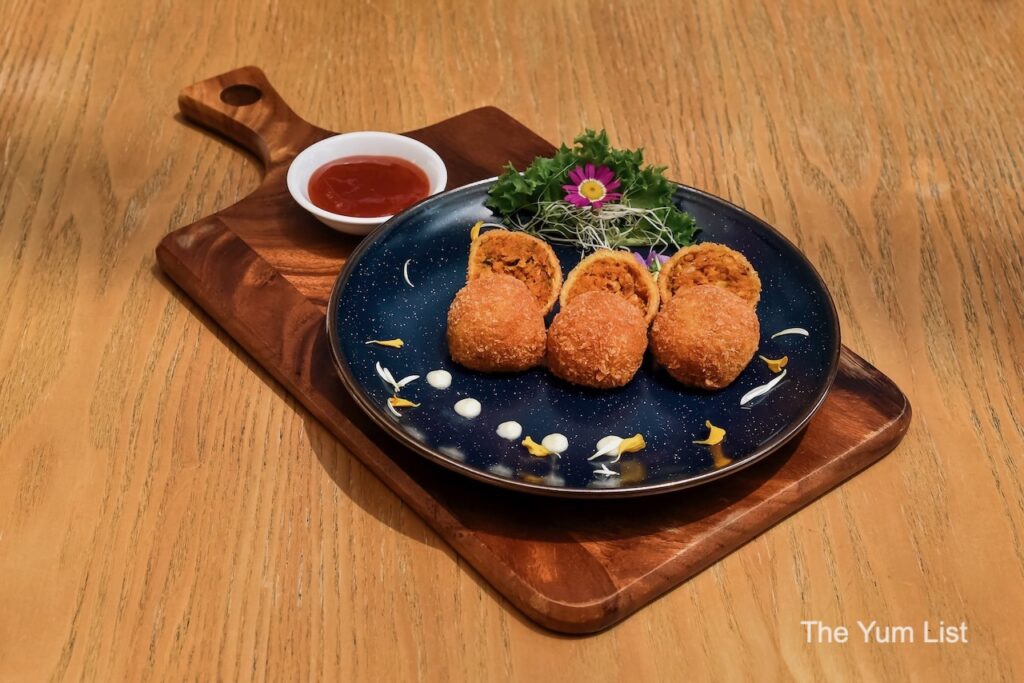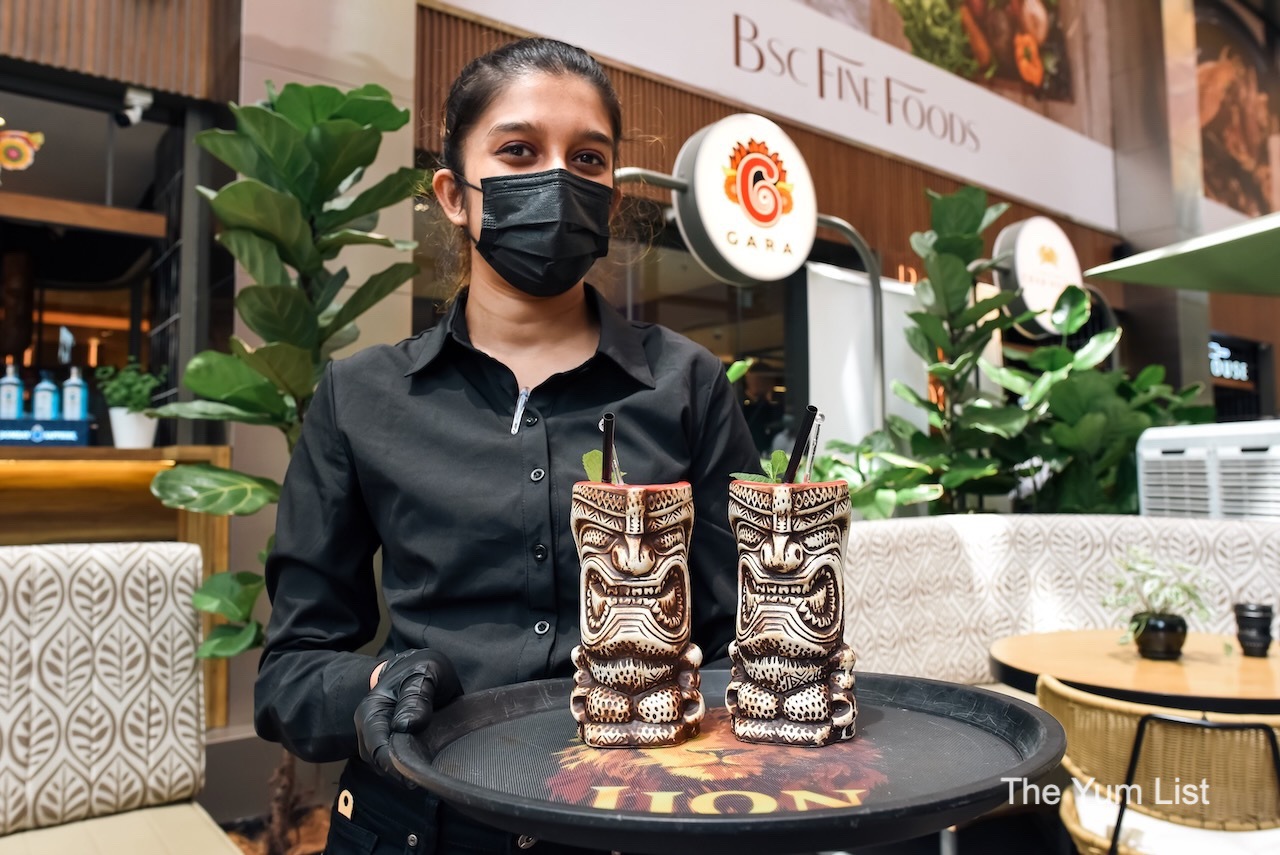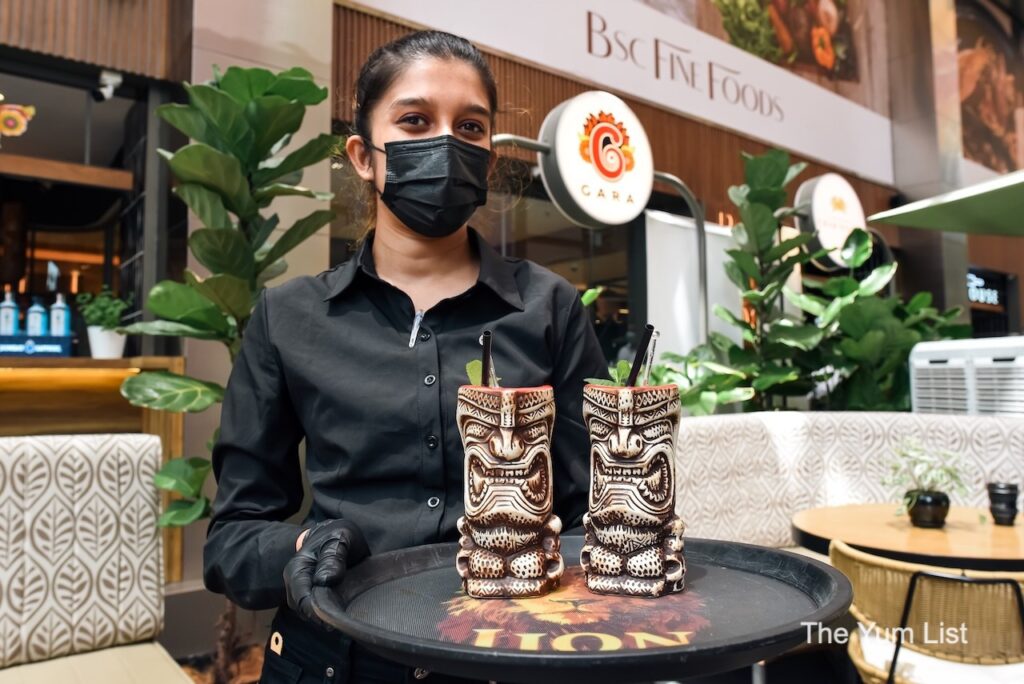 Historical Influences
Throughout our meal, we couldn't help but notice the historical influence of foreign traders, including Indonesian, Dutch and British, on Sri Lankan cuisine. The mains began with Chicken Ceylonese Stew (RM 28), served with Coconut Rotti (RM 12). This "Lankanised" stew boasted exotic flavours from ingredients such as turmeric and mustard paste, spices not present in its European counterpart. Yet, it also integrated British influences with the addition of carrots, potatoes and Worcestershire sauce. The thick coconut rotti maintained its firmness while absorbing the delectable sauce complimented by the sweet, infused coconut.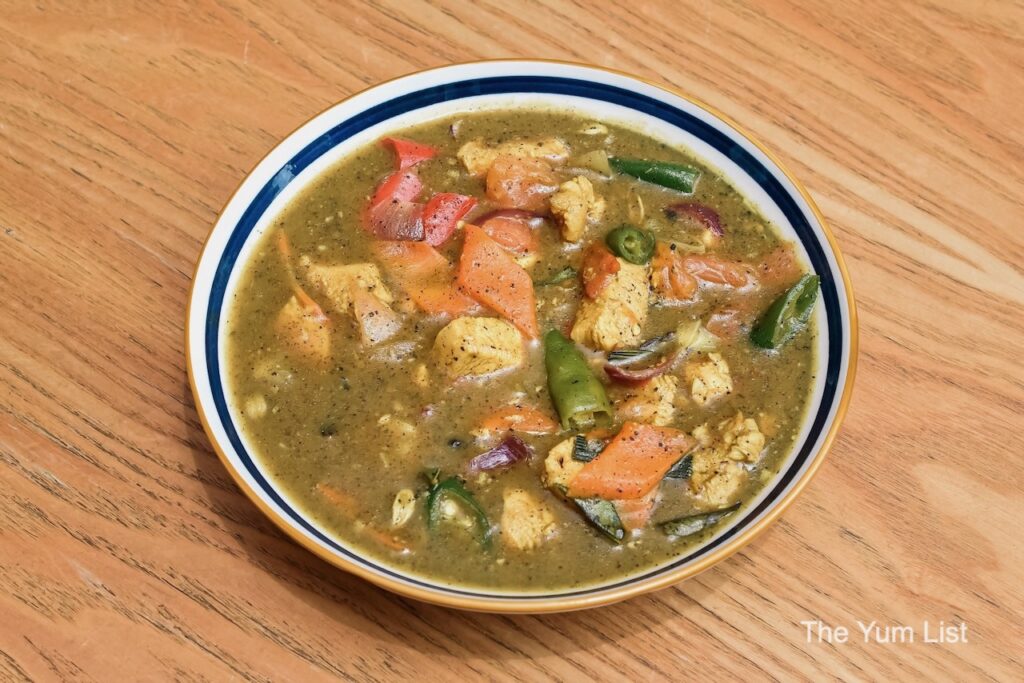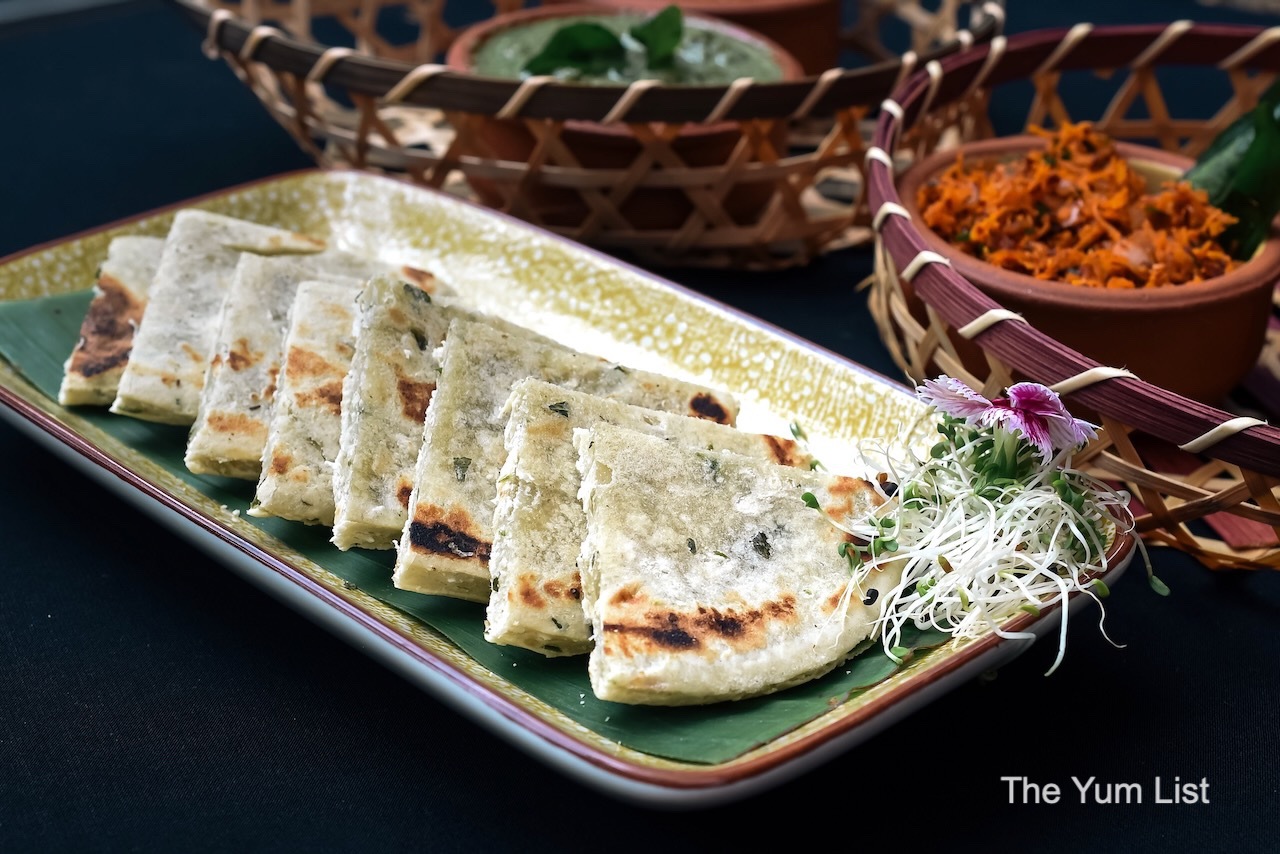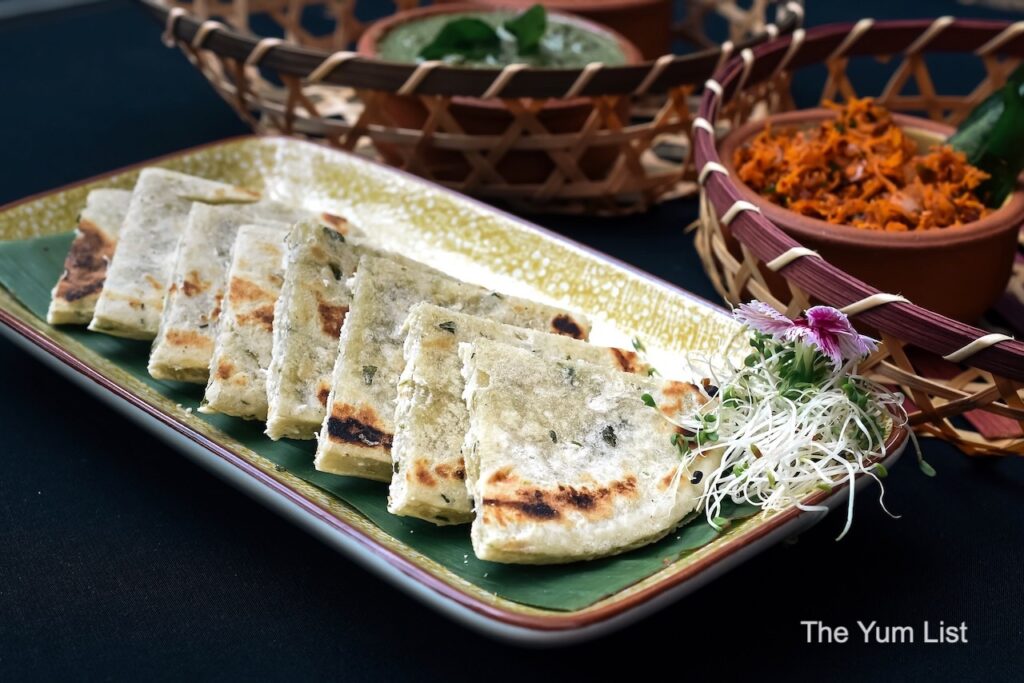 Light Plates
We savoured a plate of Calamari (RM 30) coated in rice and corn flour, then expertly deep-fried. Served piping hot, these calamari morsels were irresistibly crunchy and juicy. Once again, I had to exercise restraint to avoid finishing the entire plate, in consideration of both my waistline and the dishes to come.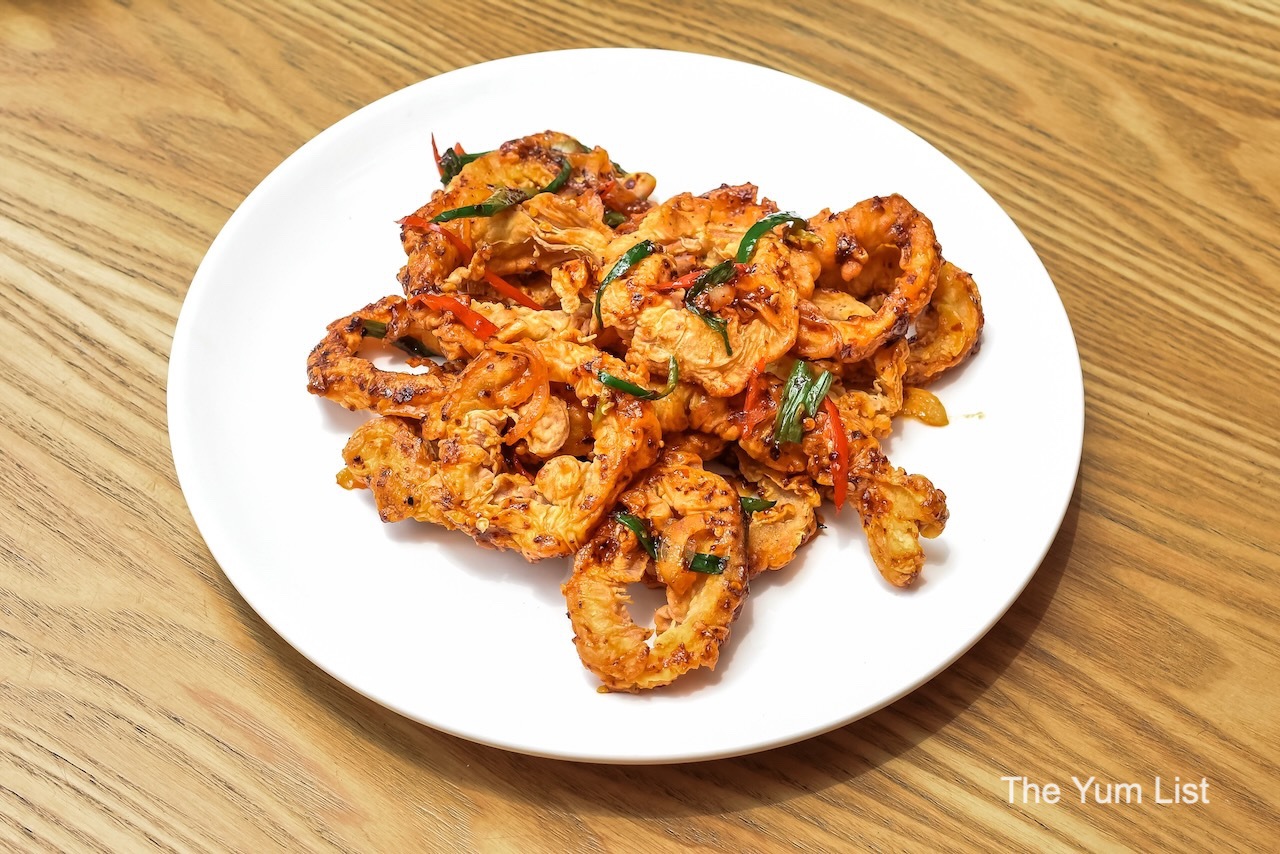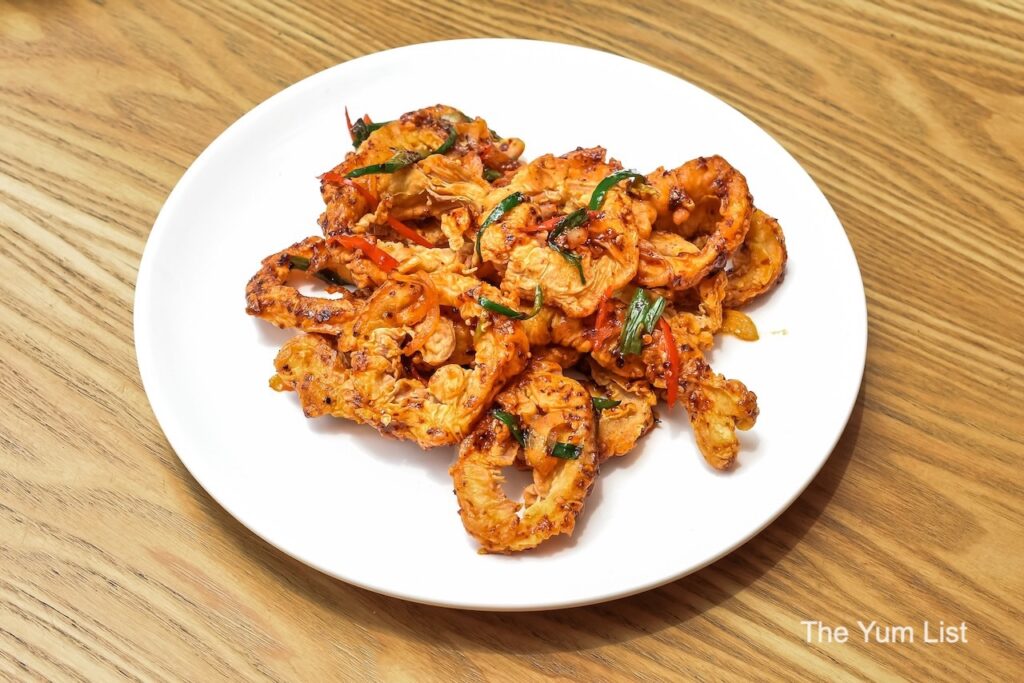 The Kandyan Green Salad (RM 18), featuring lettuce, cucumber, tomato, and onions, was dressed with Kandyan coconut vinegar sauce, offering a cooling counterbalance to the spicier dishes. It was sufficiently light, and I couldn't resist polishing off the entire plate. I have since decided coconut vinegar sauce is my new favourite salad dressing.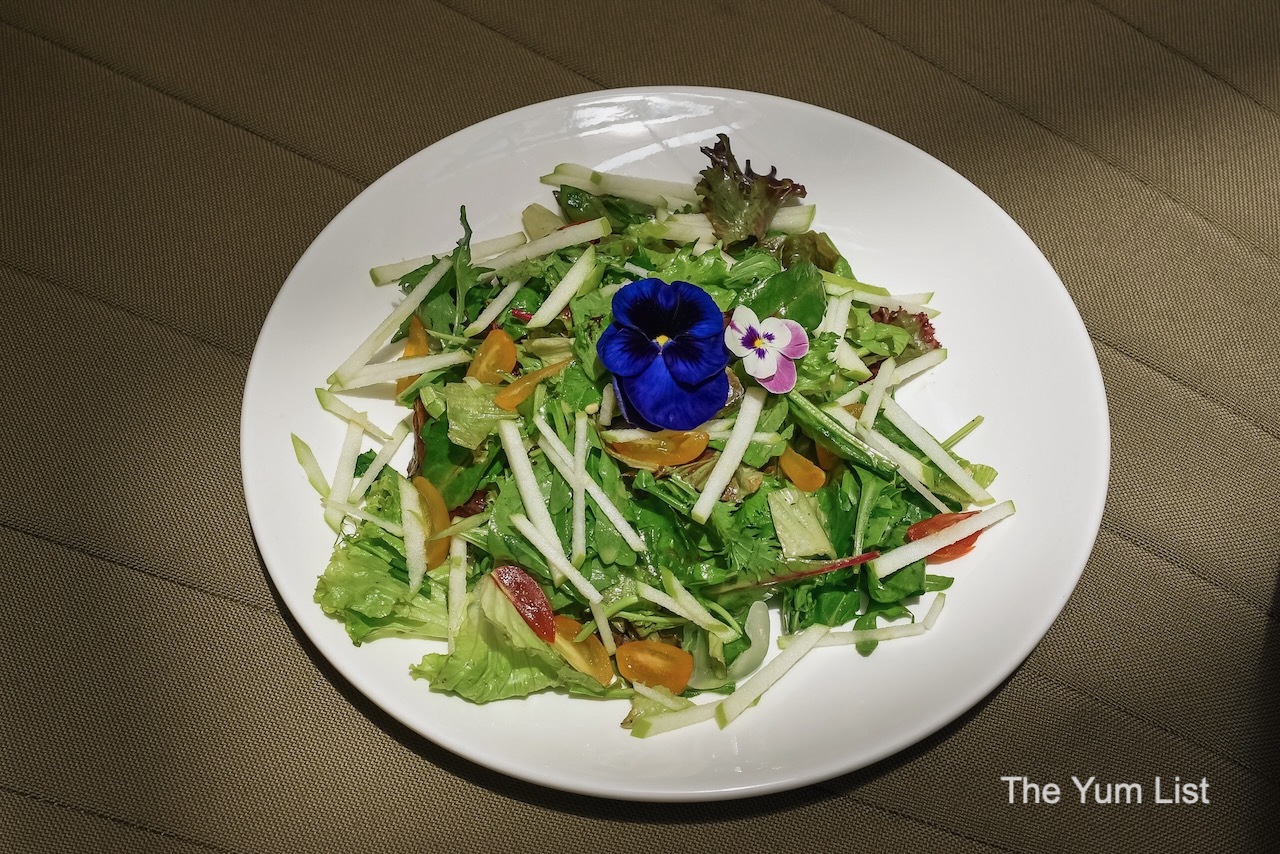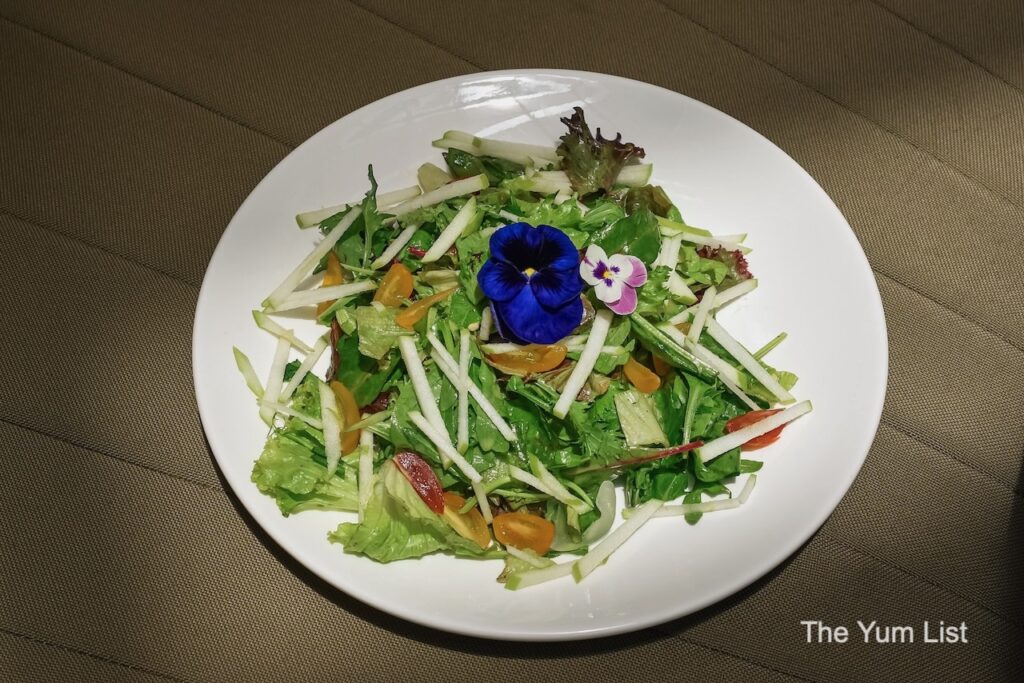 Vegetarian Menu – Ceylon Crab House BSC
Sri Lankans have a phrase "udetath bath, dawaltath bath, retath bath" roughly translates as "rice for the morning, afternoon and night". Many of their dishes mix vegetables, eggs, fish, meat, and even sugar with the rice to create a range of savoury and sweet flavours suitable for all meals; such as The Vegetarian Kandyan Packet (RM 25). In Sri Lankan households, when making Kandyan Packets, mothers gather leftover vegetables from their cooking pots, mix them with rice, bake them in the oven, and wrap them in banana leaves to lock in the flavour. I could see this in Ceylon Crab House's version of the dish. Because of first cooking the vegetables in a stir fry and then slowly cooking them again in the oven, the intensity of the tastes is doubled, and all the ingredients were vivid throughout the dish.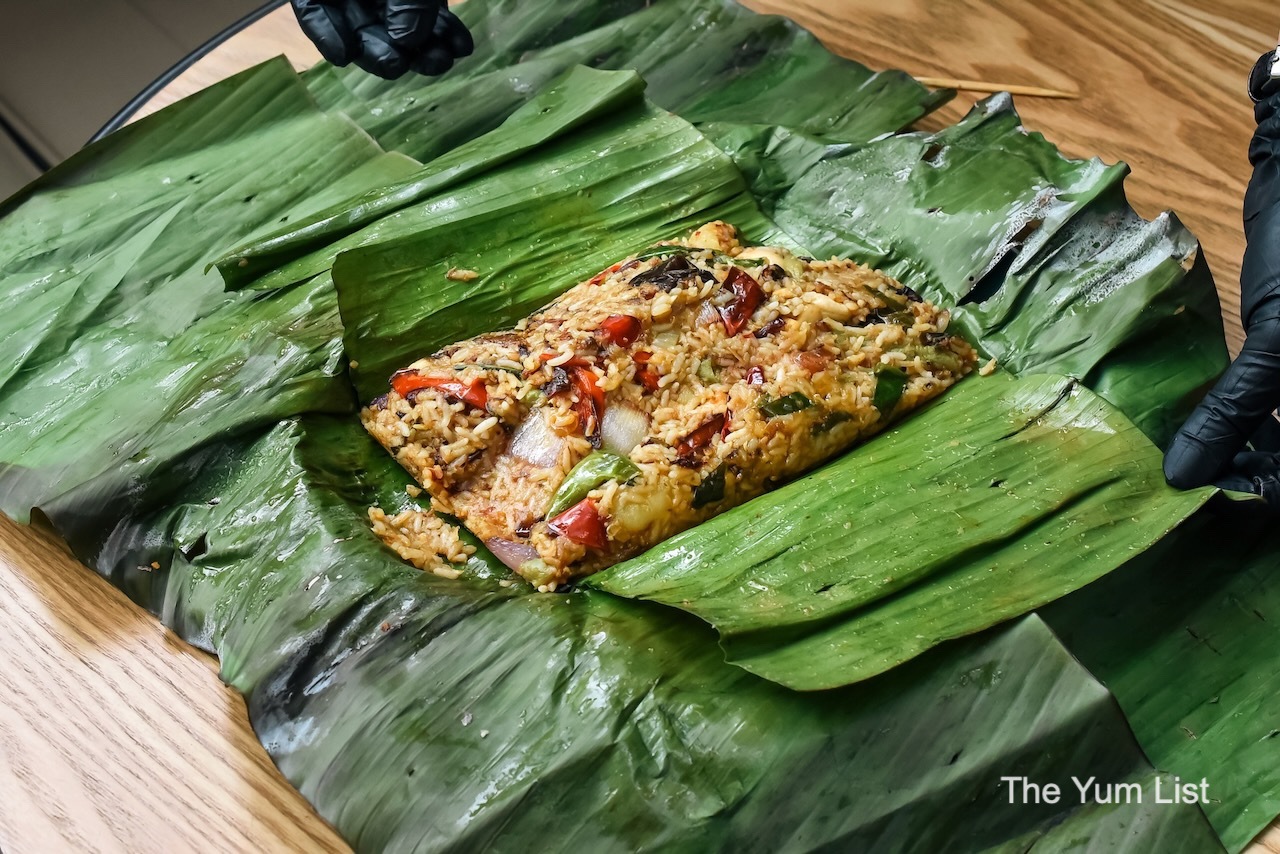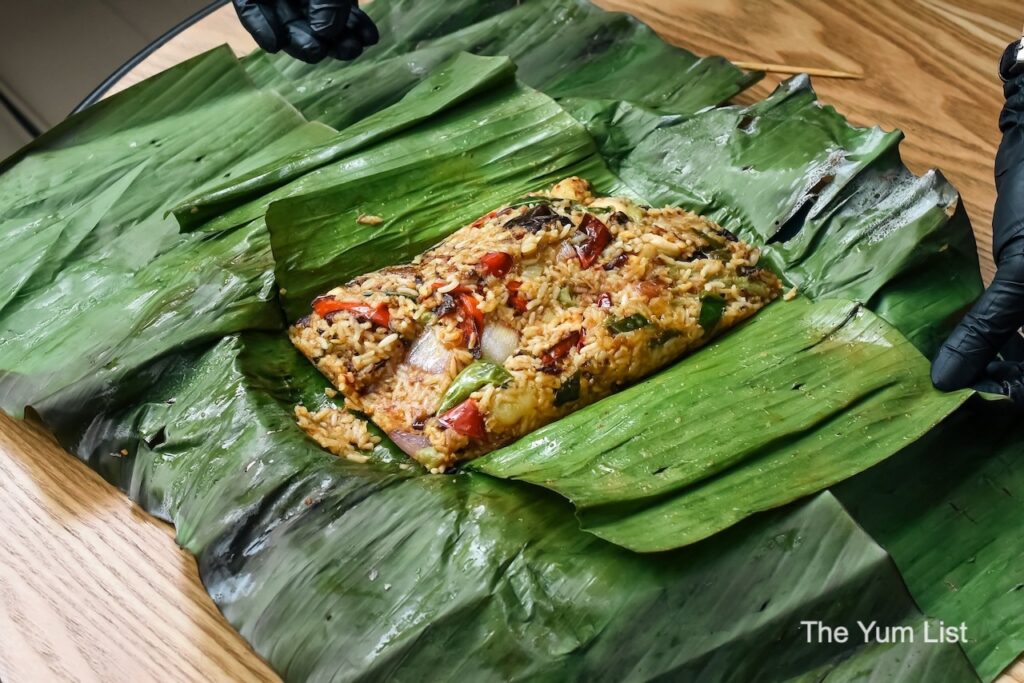 The Vegetarian Kottu (RM 26) is a spicy stir-fry of shredded roti bread, string hoppers, or puttu with vegetables. String hoppers are a type of thin rice noodle, and puttu is a rice coconut log cut into cylinders. We decided on the roti as we couldn't get enough of the stuff, and it paired so well with the kuttu's spicy curry vegetables. These two dishes are definitely comfort food, and I can imagine how Sri Lankans living far from home might hanker for them.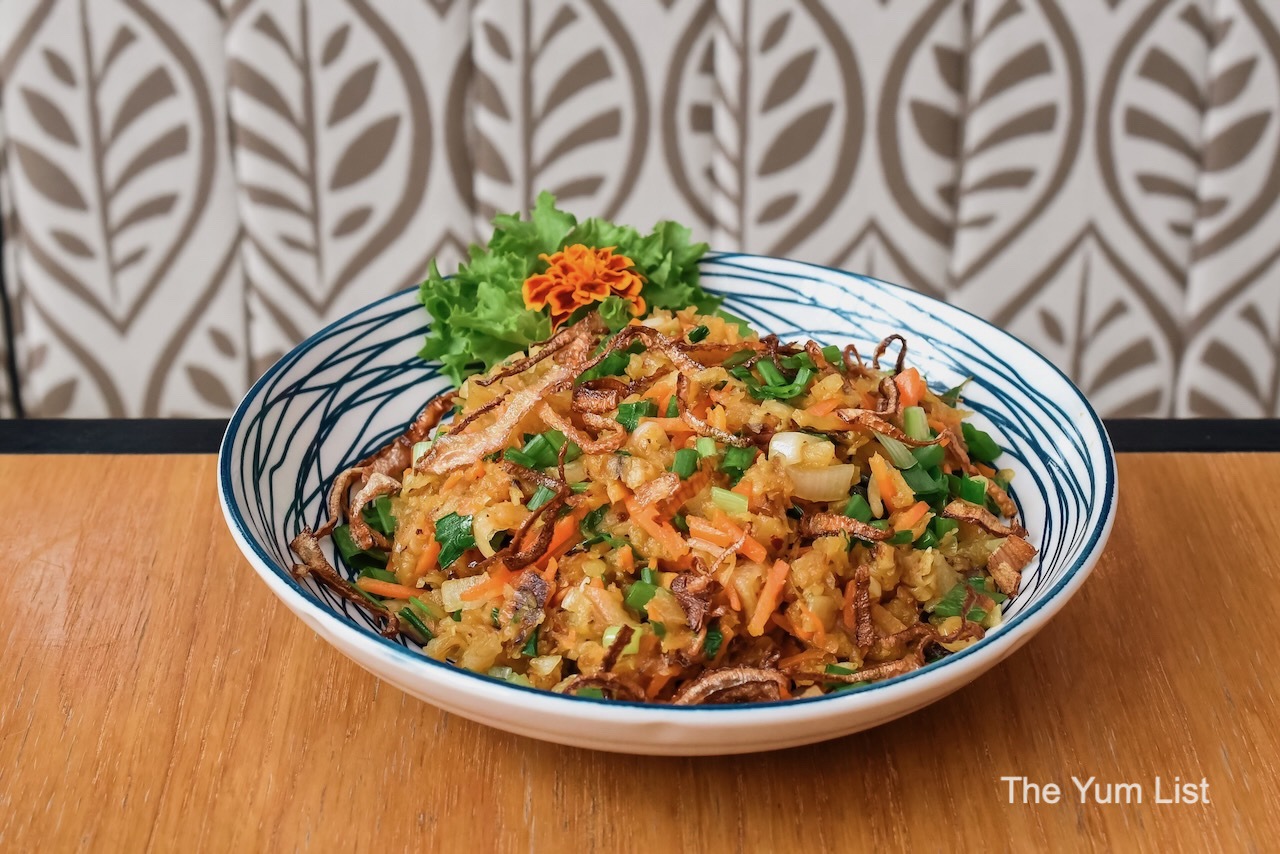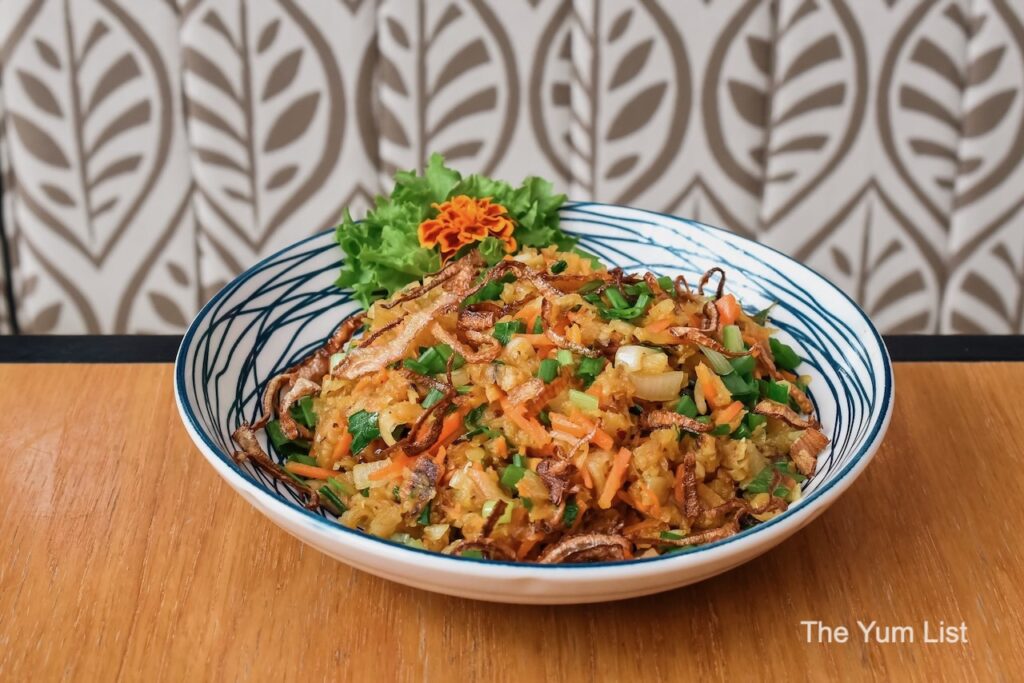 Fiery Mutton
The Paal Poriyal (RM 46), though unassuming in appearance, delivered a fiery punch. The mutton cubes were slow-cooked in fresh coconut milk, roasted curry powder and leaves, cumin seeds, tamarind juice, and lime. The tender, fiery meat melted in the mouth. Along with the lassi, the coconut roti proved to be an excellent accompaniment to temper the heat of this very tasty dish.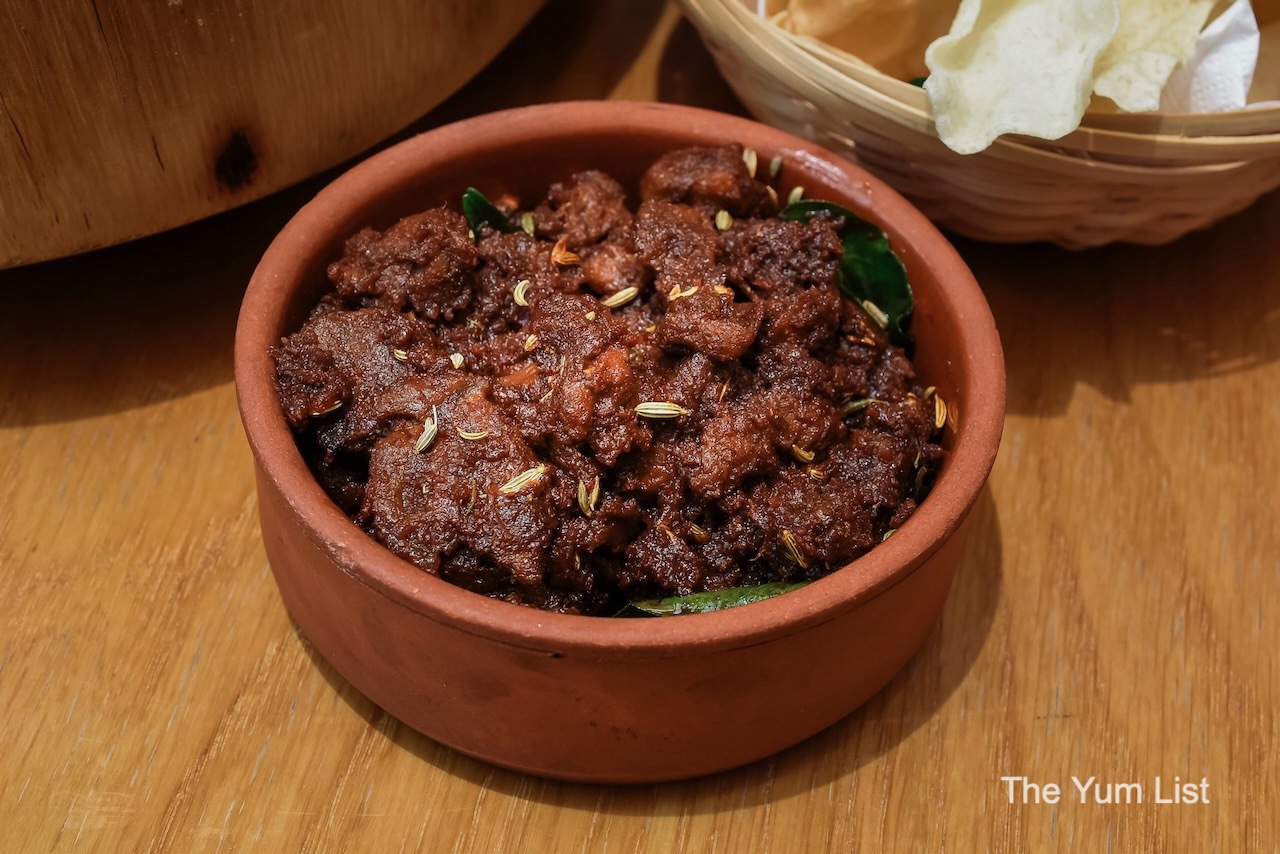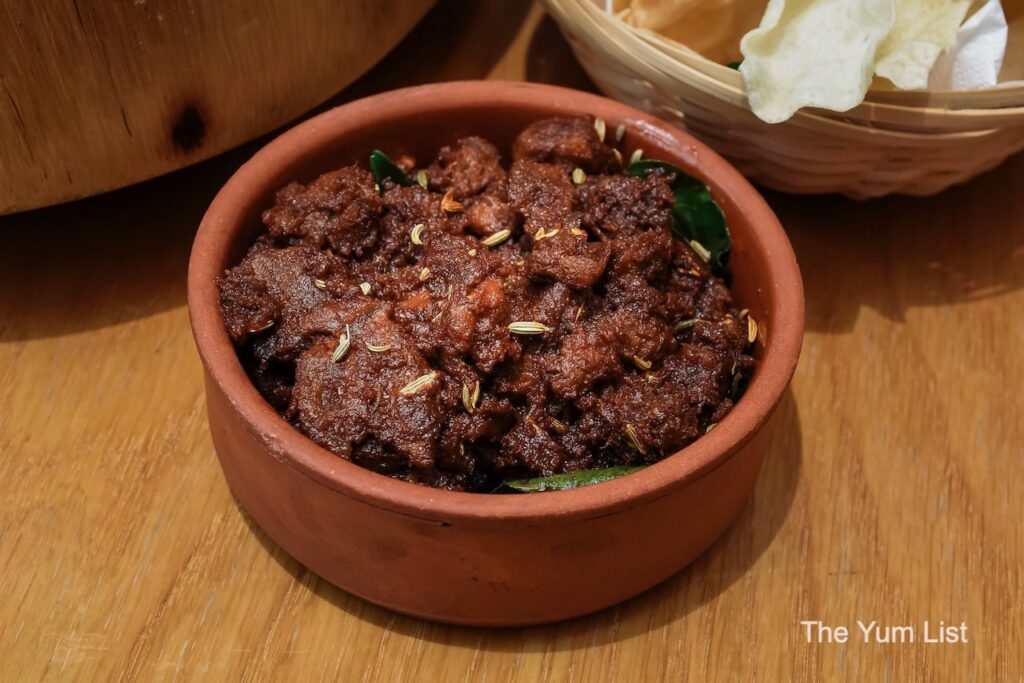 Sambal Varieties
As a lover of condiments, I was pleased to discover the Ceylonese Sambal Set, featuring four sambals: seeni, coconut, katta, and curry leaf, served alongside crisp poppadoms. Among these, the seeni sambal, with its blend of onion, sugar, tamarind juice, red chillies, and salt, stood out for its sweet and tangy taste. The coconut sambal, naturally sweetened and spiced with chilli, lime, and onion, provided a fiery kick. Katta sambal combines chilli flakes, dried fish, onion, and lime to create a balanced fusion of salty, spicy, and sour flavours. The curry leaf sambal, featuring garlic, chilli, ginger, mustard, salt, and pepper, showcased the quintessential Sri Lankan condiment with the added benefit of the healthful properties associated with curry leaves. Curry leaves can help strengthen hair and prevent hair loss because they are packed with beta–carotene, iron and vitamins B and C. All four sambals were welcome additions to our upcoming curries.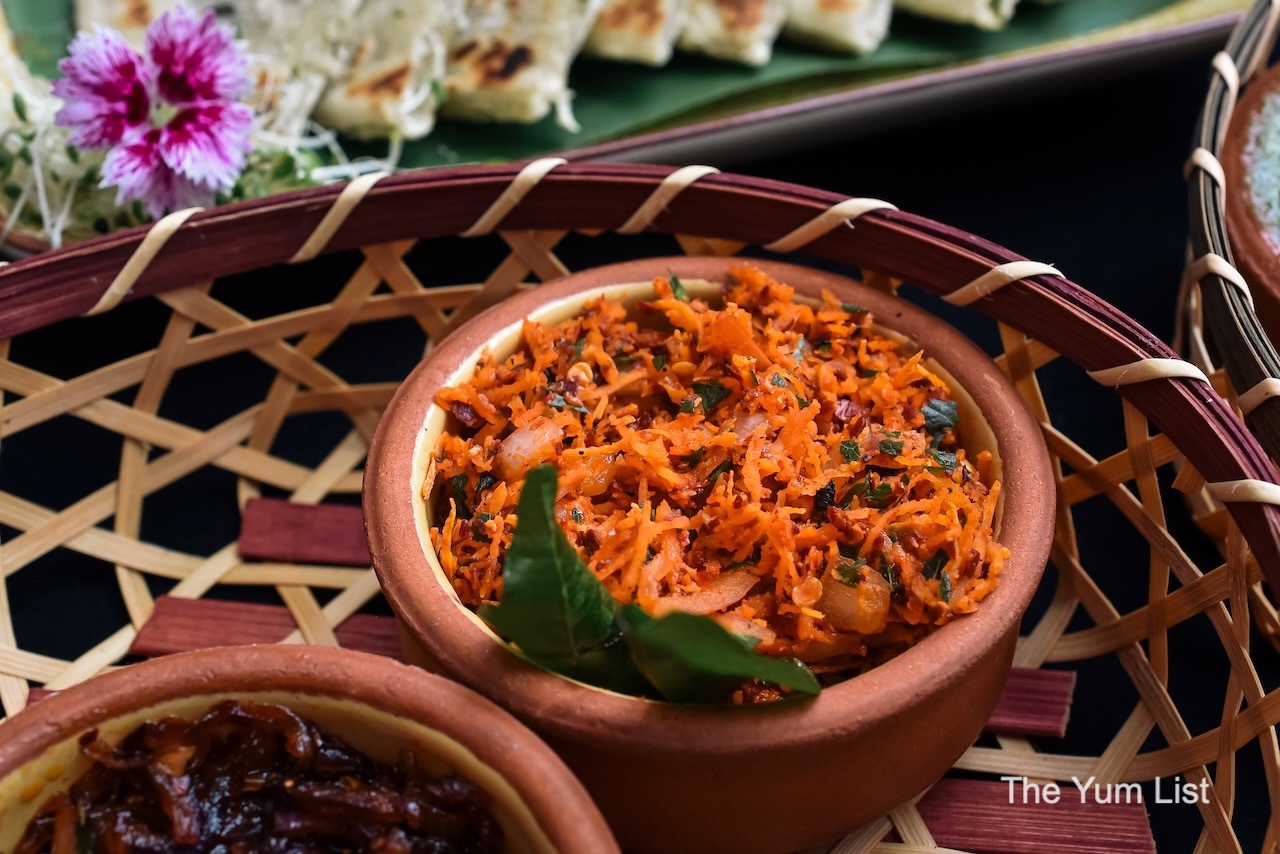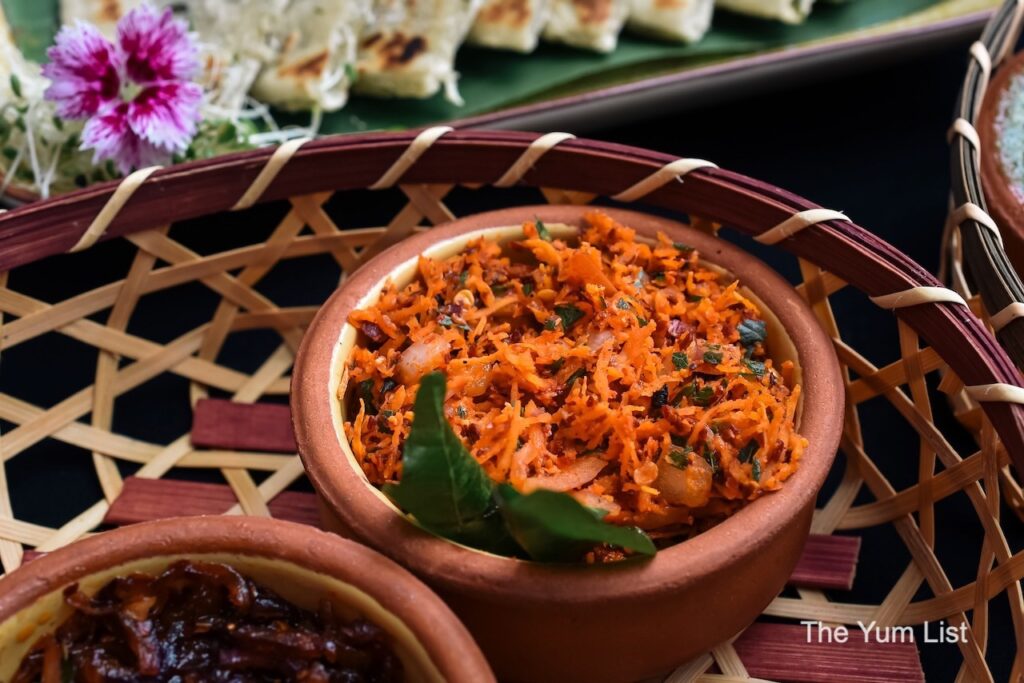 Signature Dishes – Ceylon Crab House
I had never tackled a whole crab before, and I felt a bit apprehensive when I noticed the array of crab utensils, a substantial bib, and disposable gloves. Fortunately, the staff kindly offered to crack open my crab, recognising that I lacked the expert crab-opening skills possessed by my fellow Yum List diners. For an authentic Sri Lankan crab experience, Ceylon Crab House exclusively utilises Sri Lankan mud crab, celebrated for its sweet, moist flesh. Customers can select from three sizes: XXL (RM20 per 100g), XXXL (RM22 per 100g), and Jumbo (RM24 per 100g). We opted for two signature curries: Negombo curry, a Sinhalese cuisine, and Jaffna curry, a distinct Tamil preparation. The majority of Sri Lankans are Sinhalese and represent what we commonly consider Sri Lankan cuisine. However, another element of Sri Lankan cuisine comes from the large Tamil population in the north, where they incorporate slightly different spices and ingredients into their curries.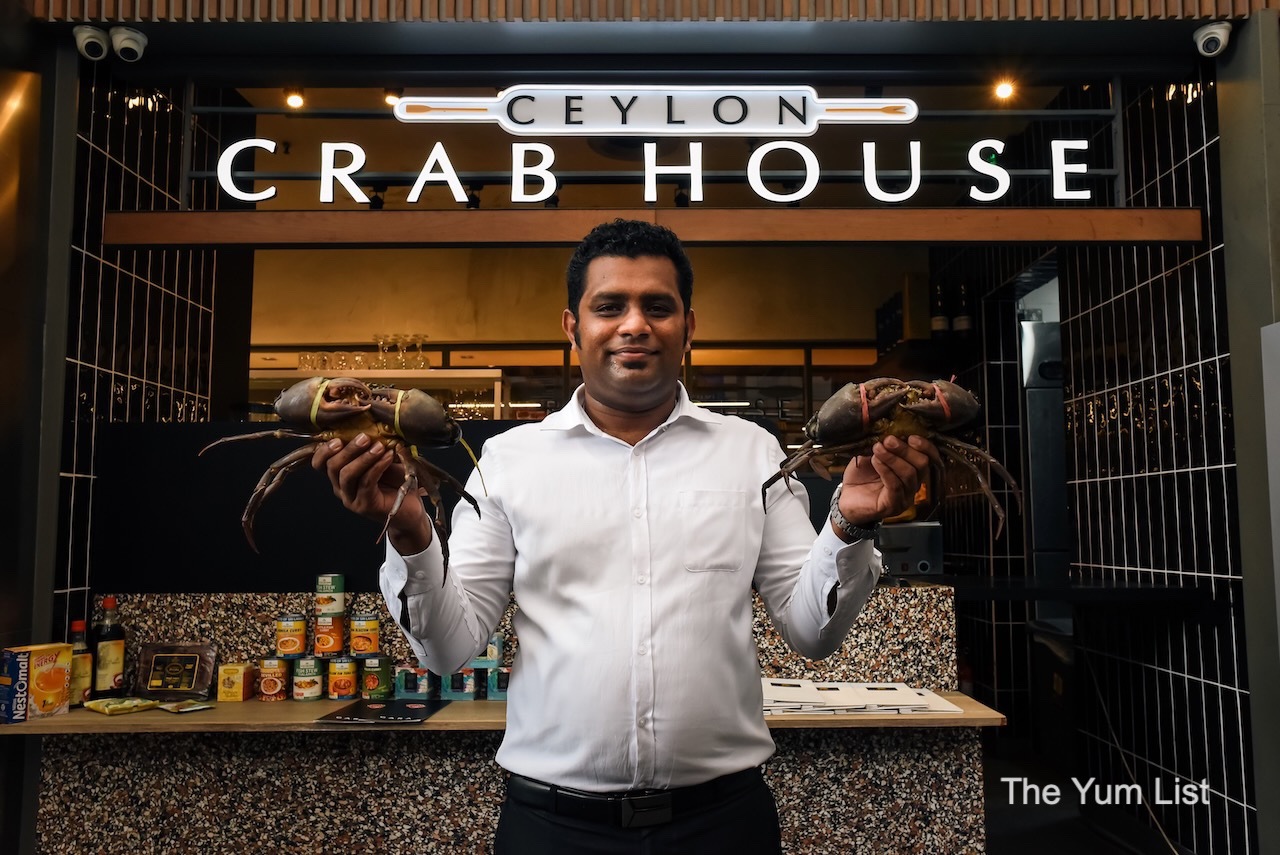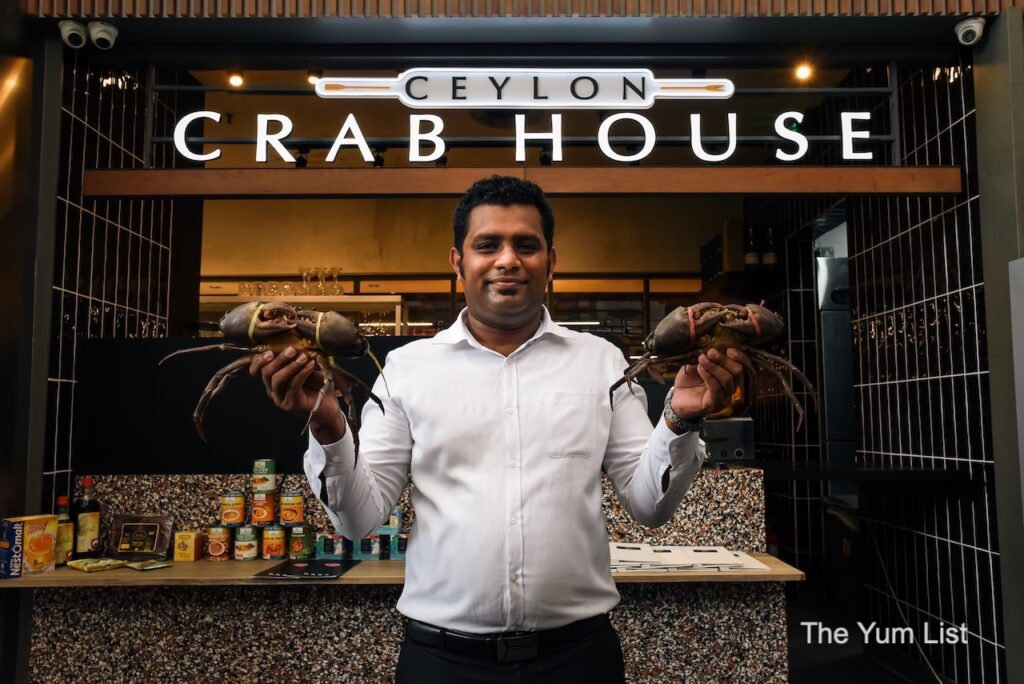 The Negombo Crab Curry (RM160/800g) comes from the Negombo lagoon in south-west Sri Lanka. The dish is cooked with Ceylon Cinnamon, known as Cinnamon Alba, a high-grade variety characterised by its pale colour, mild flavour, and delicate texture. It lacks the bitterness of the Cassia variety found in other countries and imparts an immediate sweetness followed by a bright tang. It played a central role in the lightly toasted curry, allowing the sweetness of the mud crabs to shine through. On the other hand, the Jaffna Crab Curry (RM 160 /800g), with its deep, fiery red sauce, is a Tamil recipe originating from Sri Lanka's Northern Province. It combines Jaffna spice (a toasted curry blend), coconut, and tamarind to create a delightful crab dish that is both moist and succulent.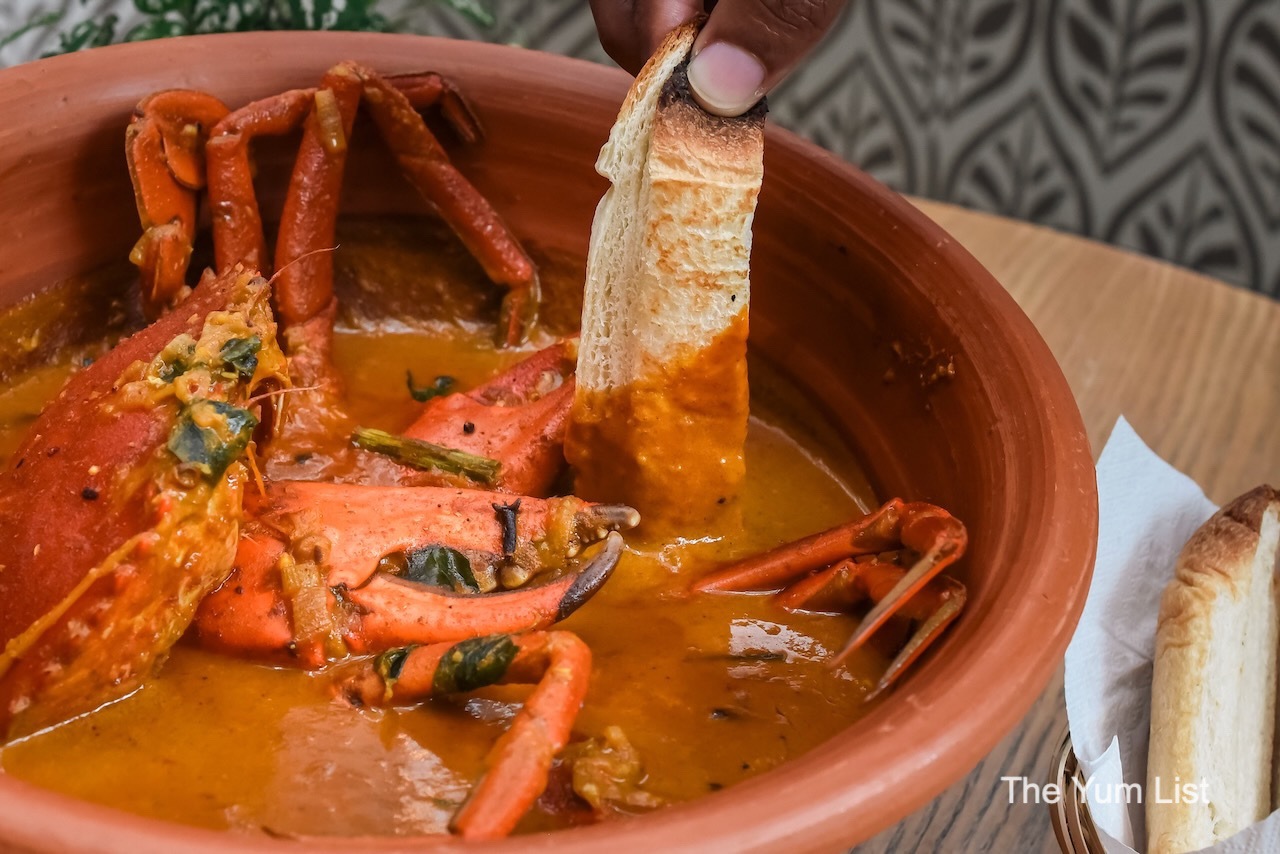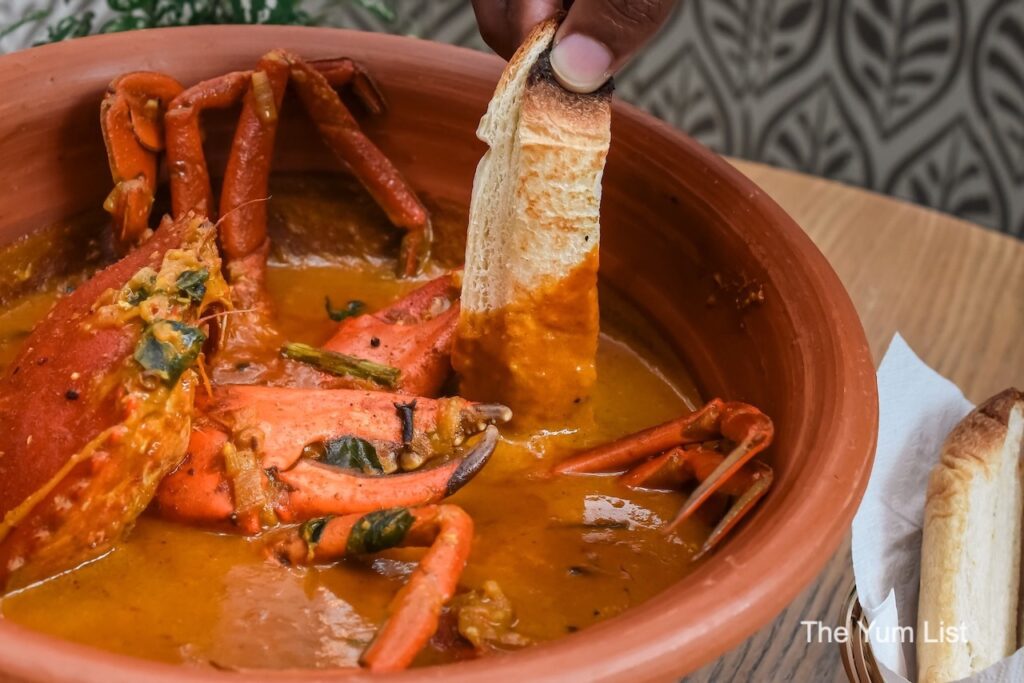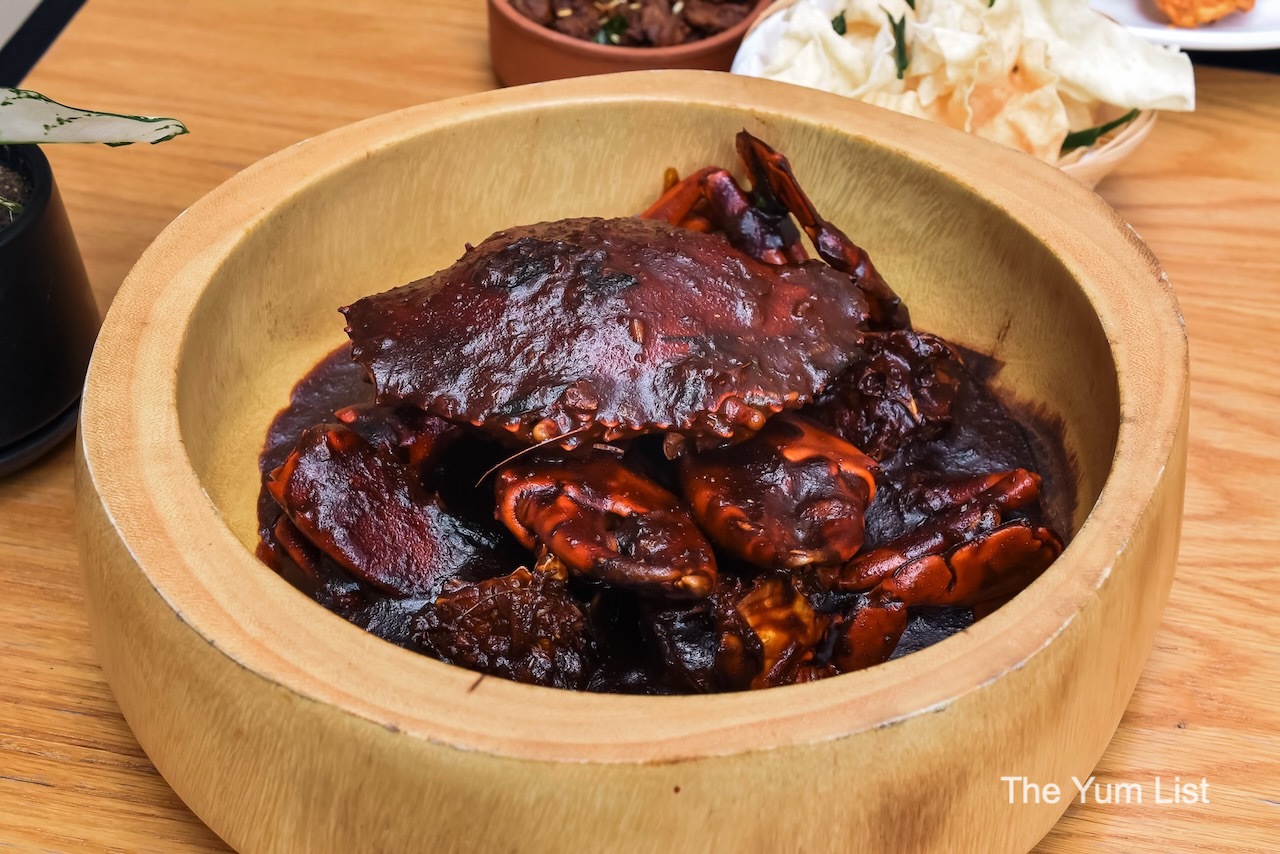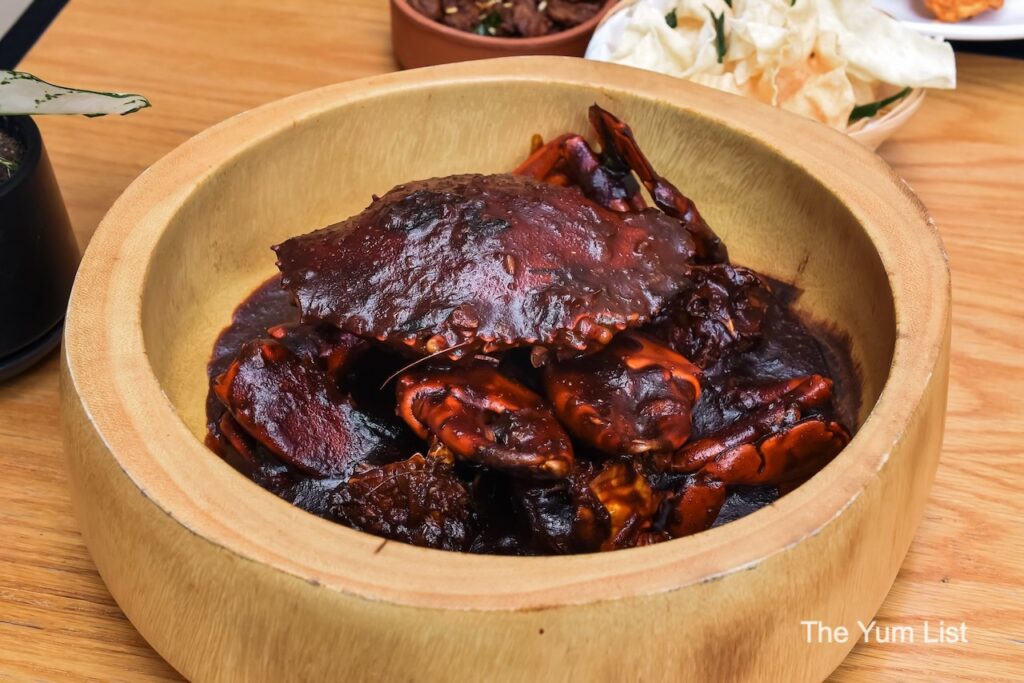 Tiger Prawn and Paan
Our delightfully helpful server, Sherin, graced our table with a large clay pot containing a Tiger Prawn in Yellow Coconut Gravy (RM 80). This gravy is known as Sothi and is made using coconut milk, turmeric, tamarind, fresh onions, and an assortment of spices. The enormous prawn, the size of a lobster, was cooked to perfection and was juicy, sweet, and meaty. But that's not all! As we scooped up the sauce, we discovered loads of smaller prawns throughout the curry – this is a great value-for-money dish. This was Caning's favourite, and it was made extra special with the Sri Lankan Roast Paan (RM 8). This soft milky bread is the ideal accompaniment to soak up that Sothi sauce. We unanimously agreed that the sauce and bread were a heavenly combination.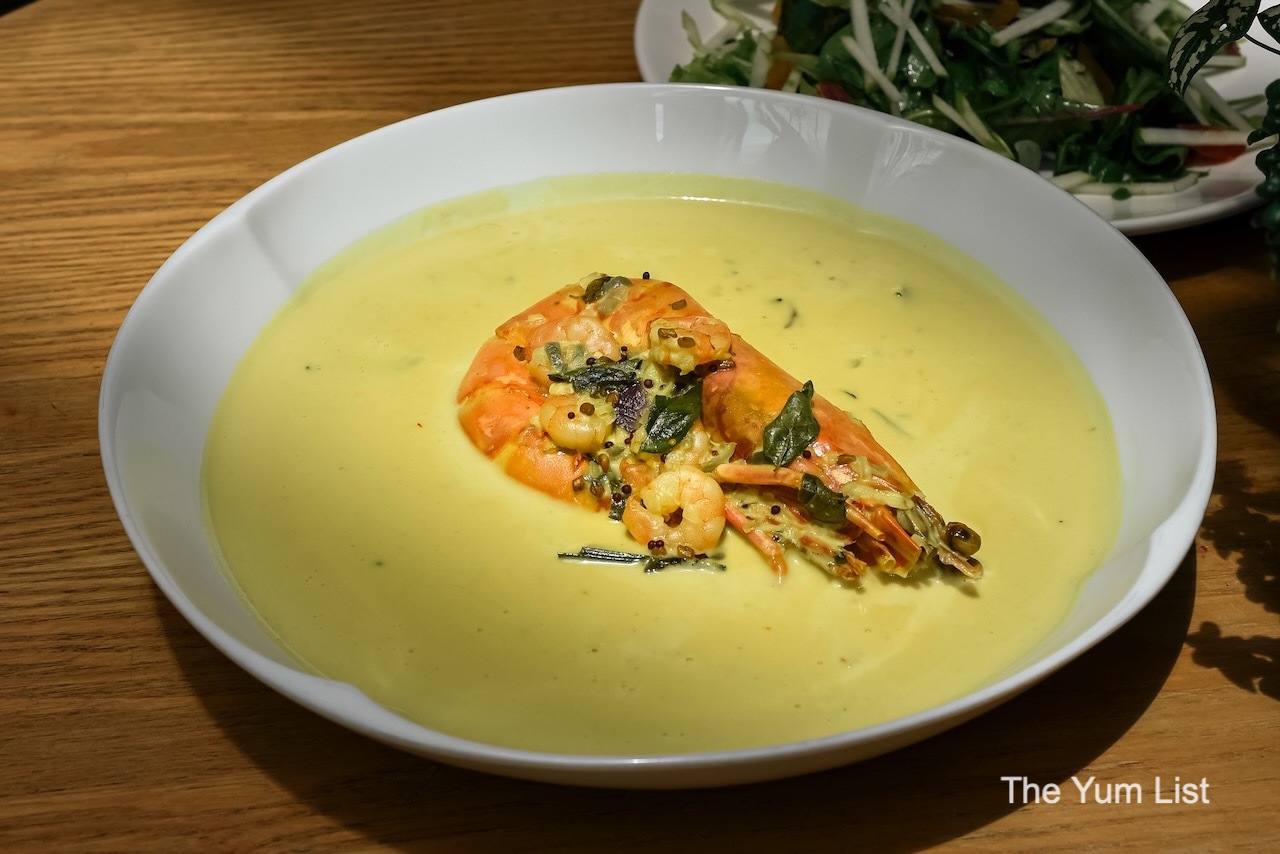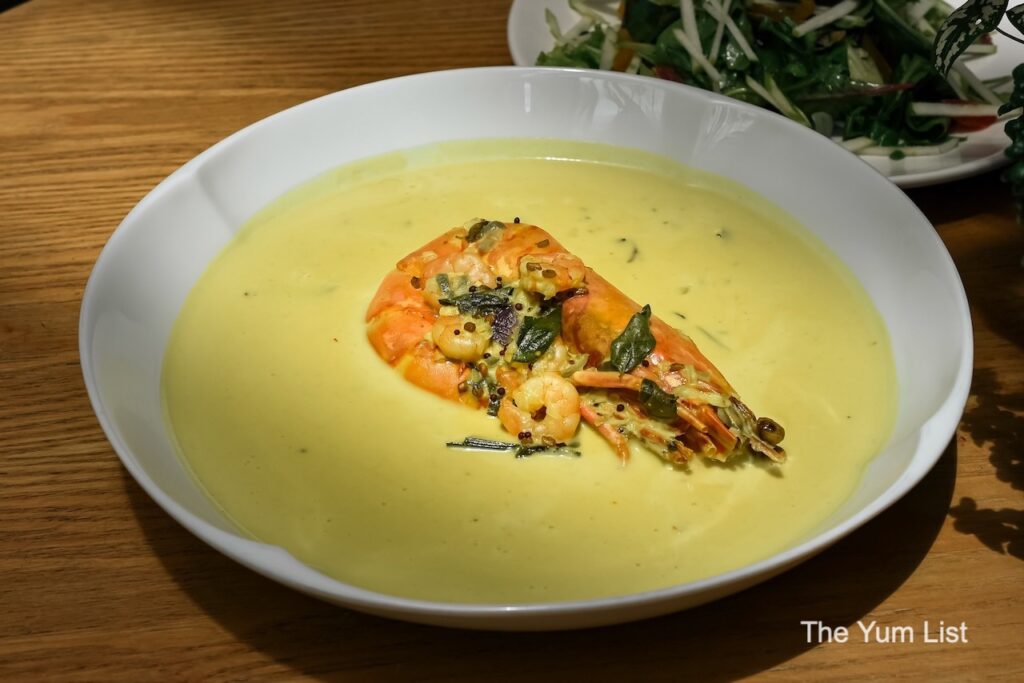 Gara Bar – BSC
After our initial refreshments, we couldn't resist exploring more beverages from the impressive cocktail menu. My choice was the Clarified Pina Colada (RM 45), which underwent a cocktail refinement process that enhanced flavour, texture, and appearance by removing unwanted particles and impurities from mixed drinks. This version featured Sri Lankan rum, offering a less sweet and more balanced taste, which I found very appealing. Monica opted for the intriguingly named "Drink Without Smoke" (RM 50), featuring a smoky Mezcal designed to substitute the desire to smoke a cigarette. Monica was enamoured with its unique taste. The Passionata (RM 40) was not only visually appealing but also delicious, blending fresh vanilla pods, sugar, vodka, and passion fruit into a very quaffable beverage that looked like a tequila sunset. It saddened us to finish it as quickly as we did.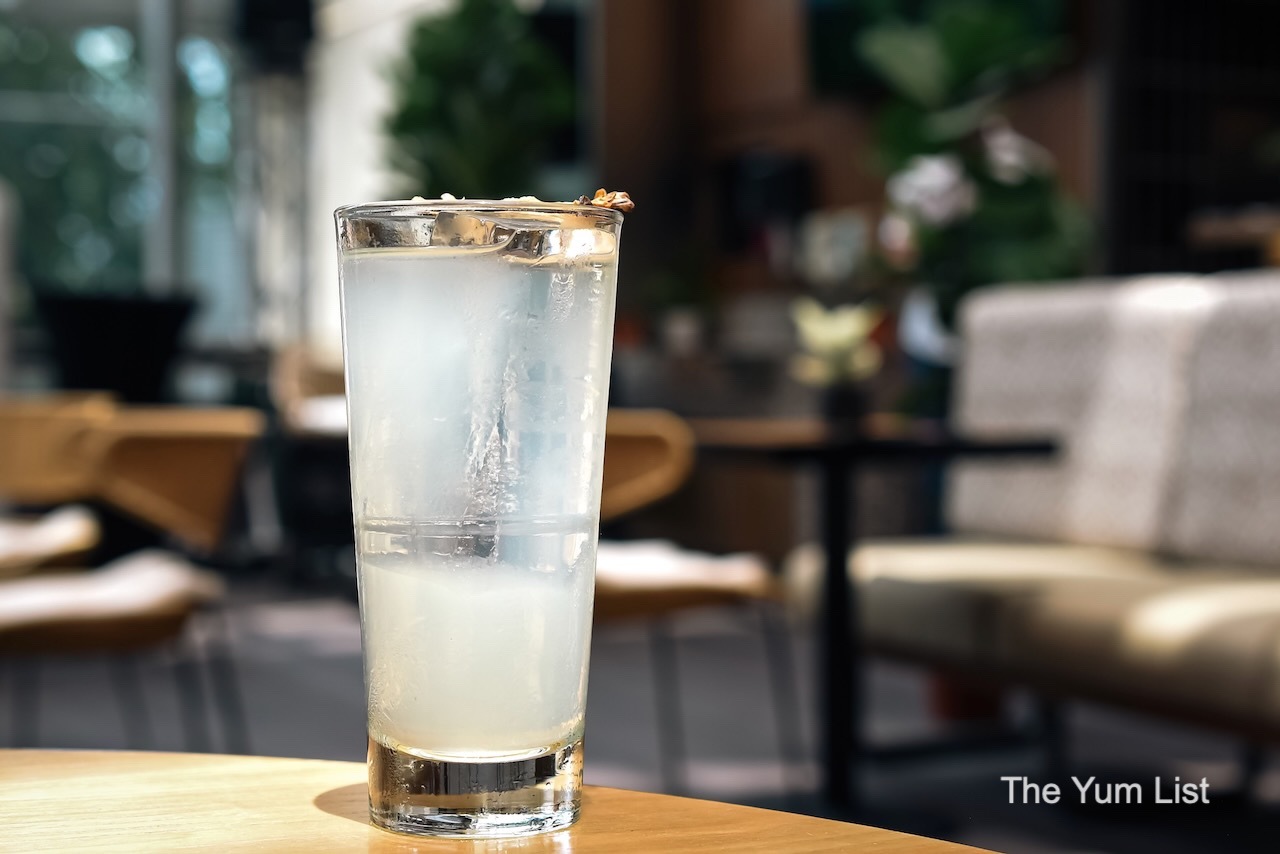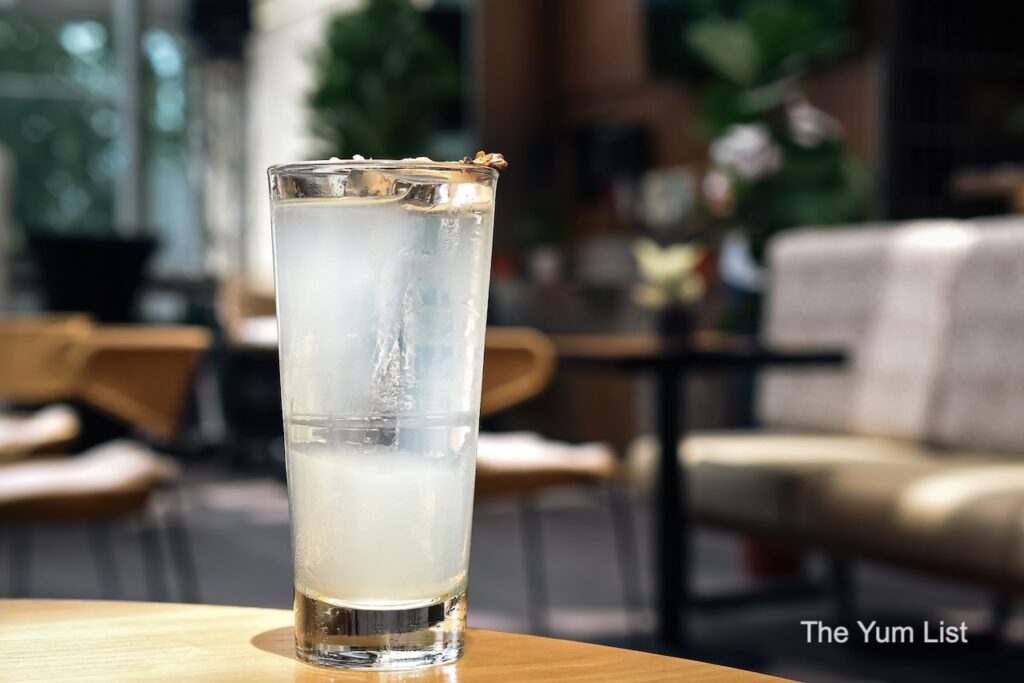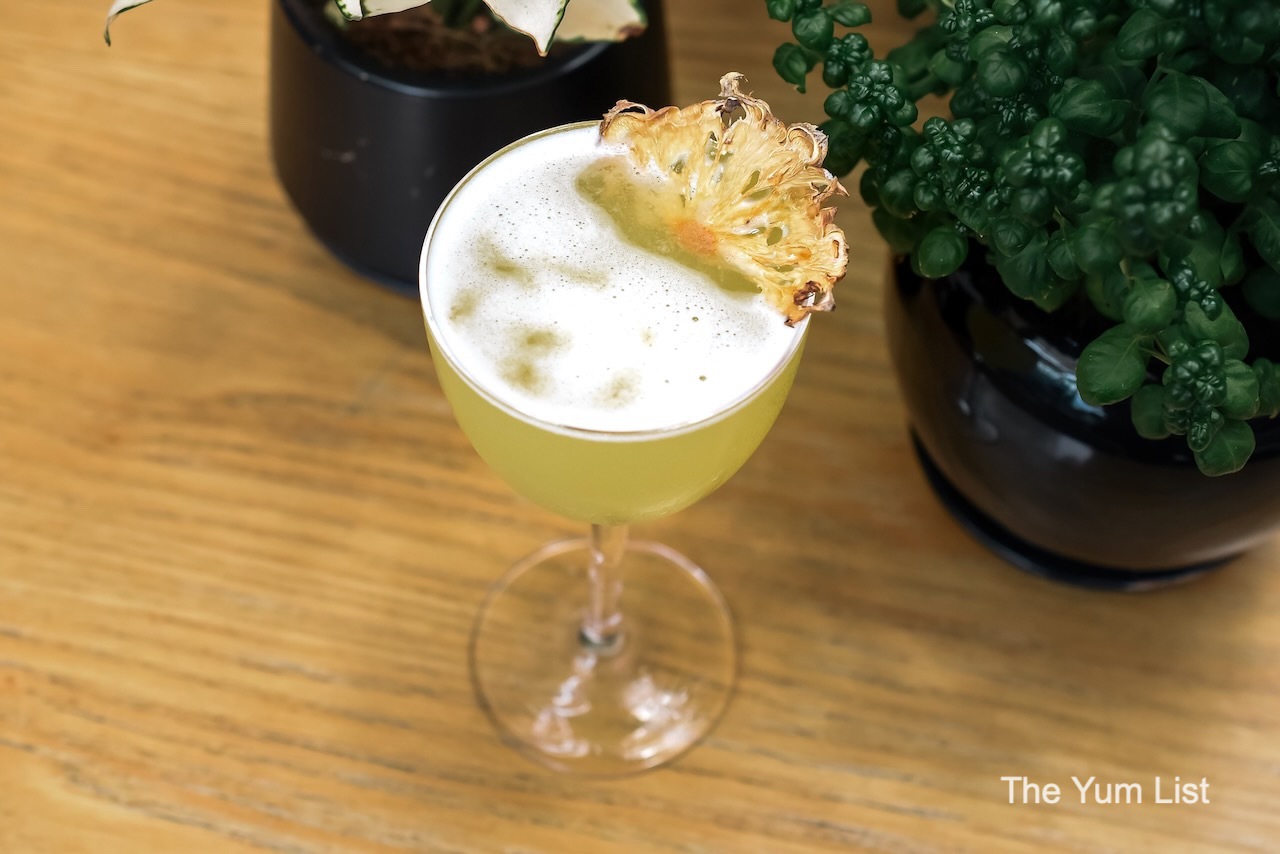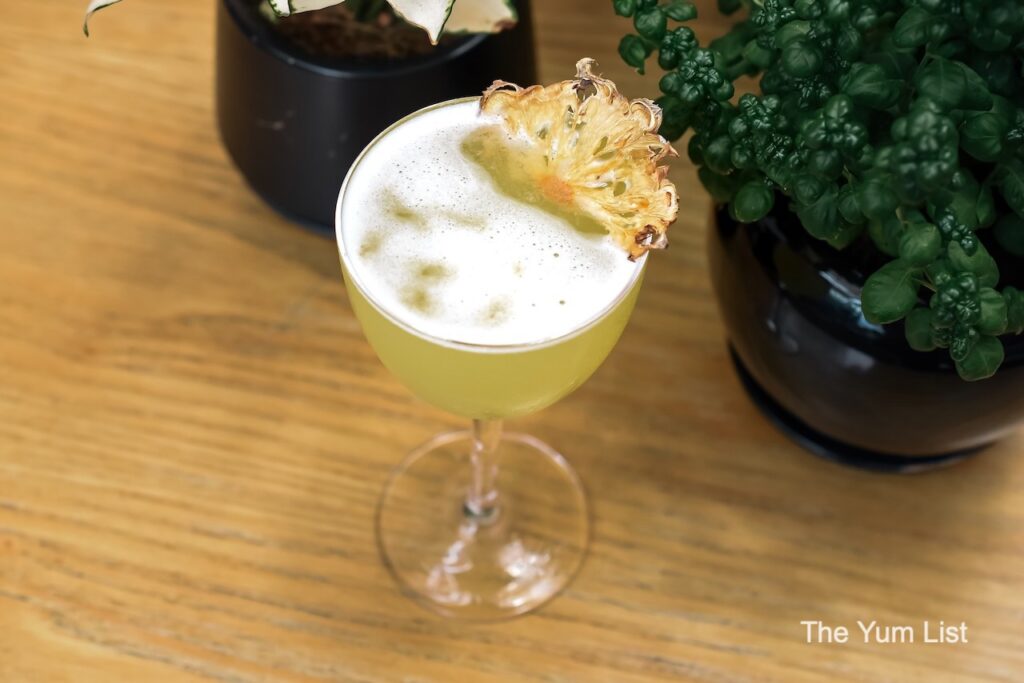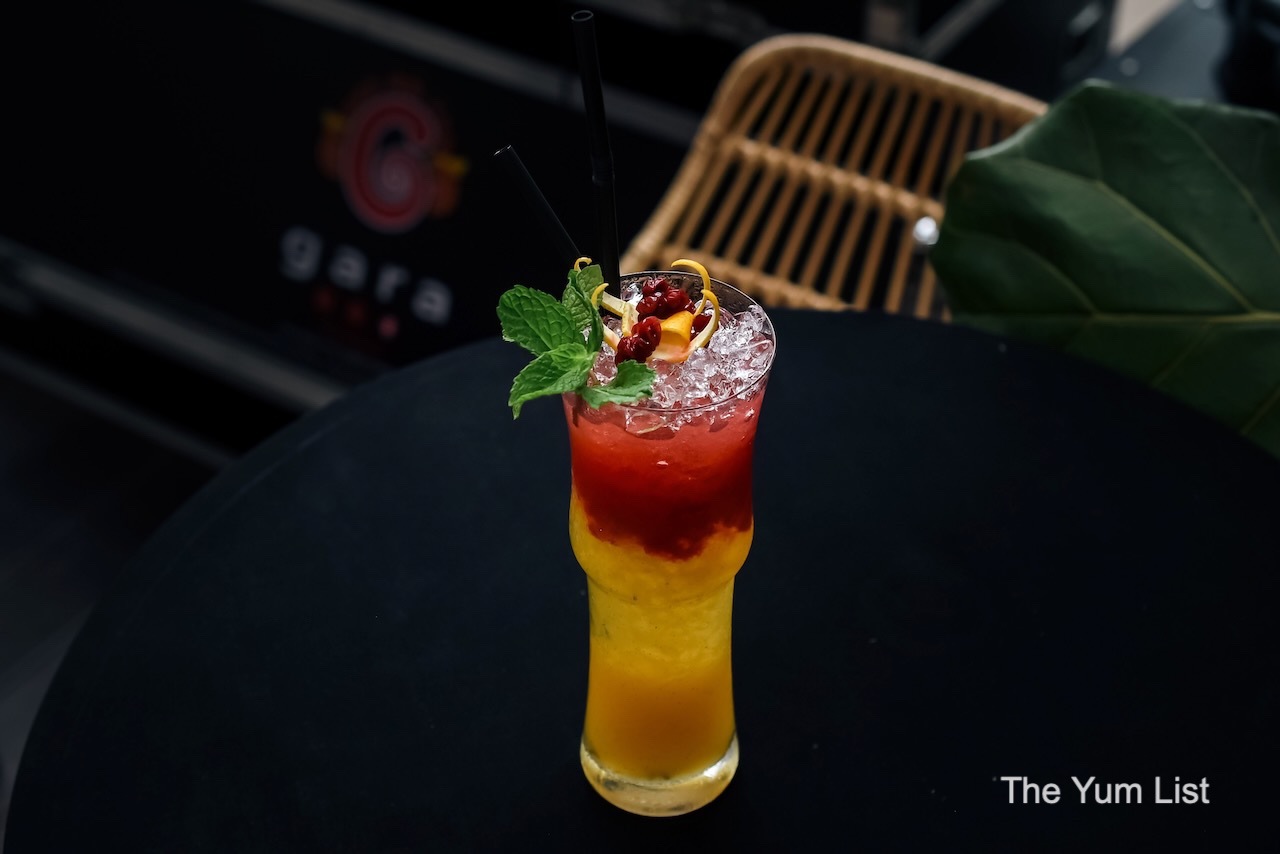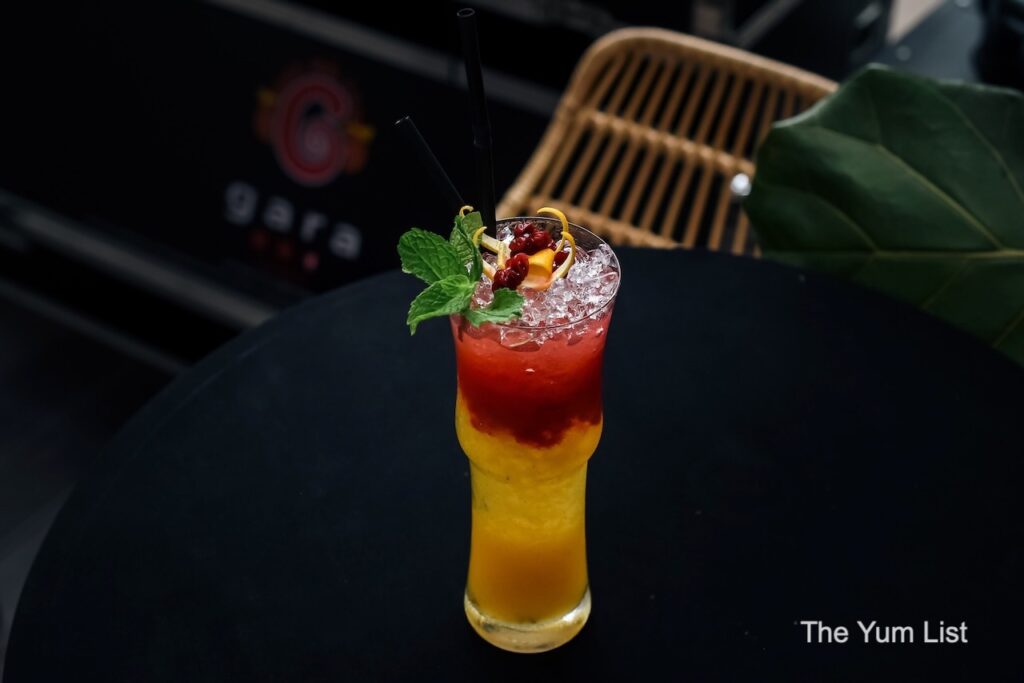 The Colombo Sour (RM 30) was reasonably priced, a mixture of cinnamon whiskey and fireball bitters, tasting like heaven with a touch of heat from hell. Another well-priced cocktail was the Pineapple and Cardamom Coupe (RM 30). The famous English mixologist Henry Besant created this cocktail where East (cardamom) meets West (pineapple).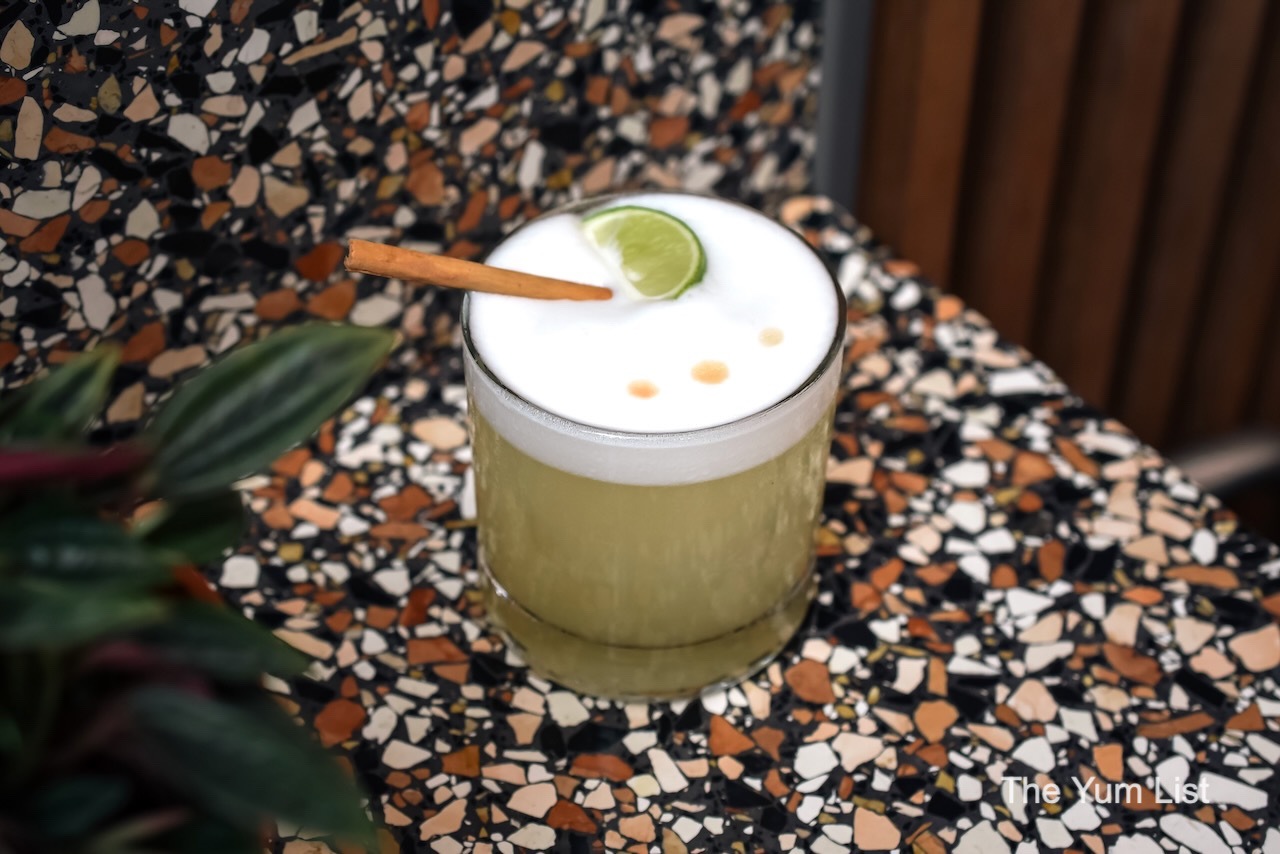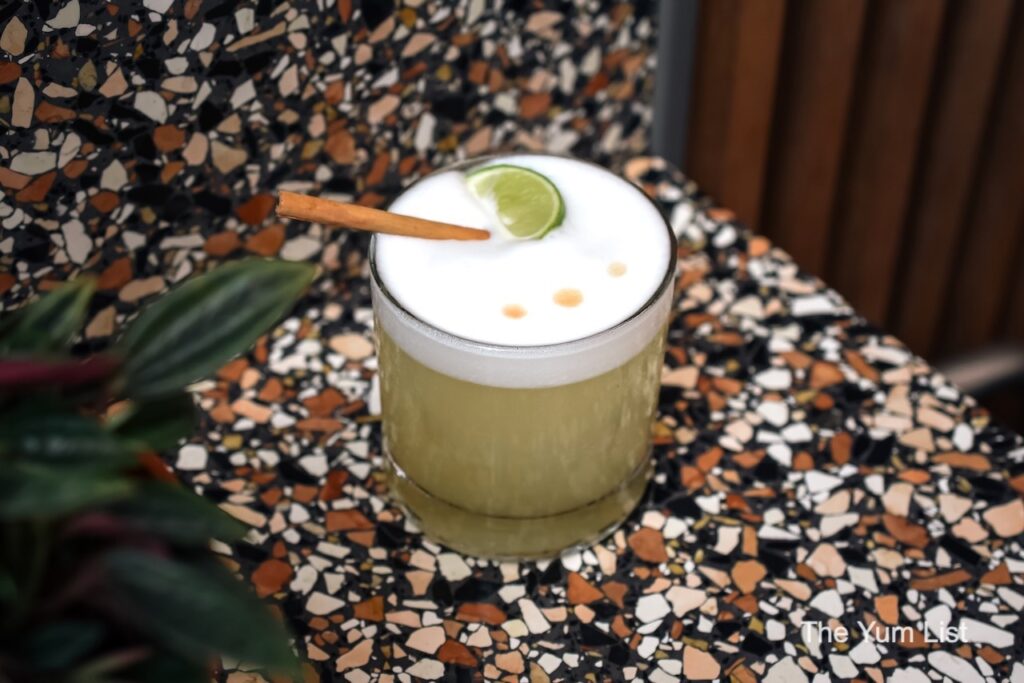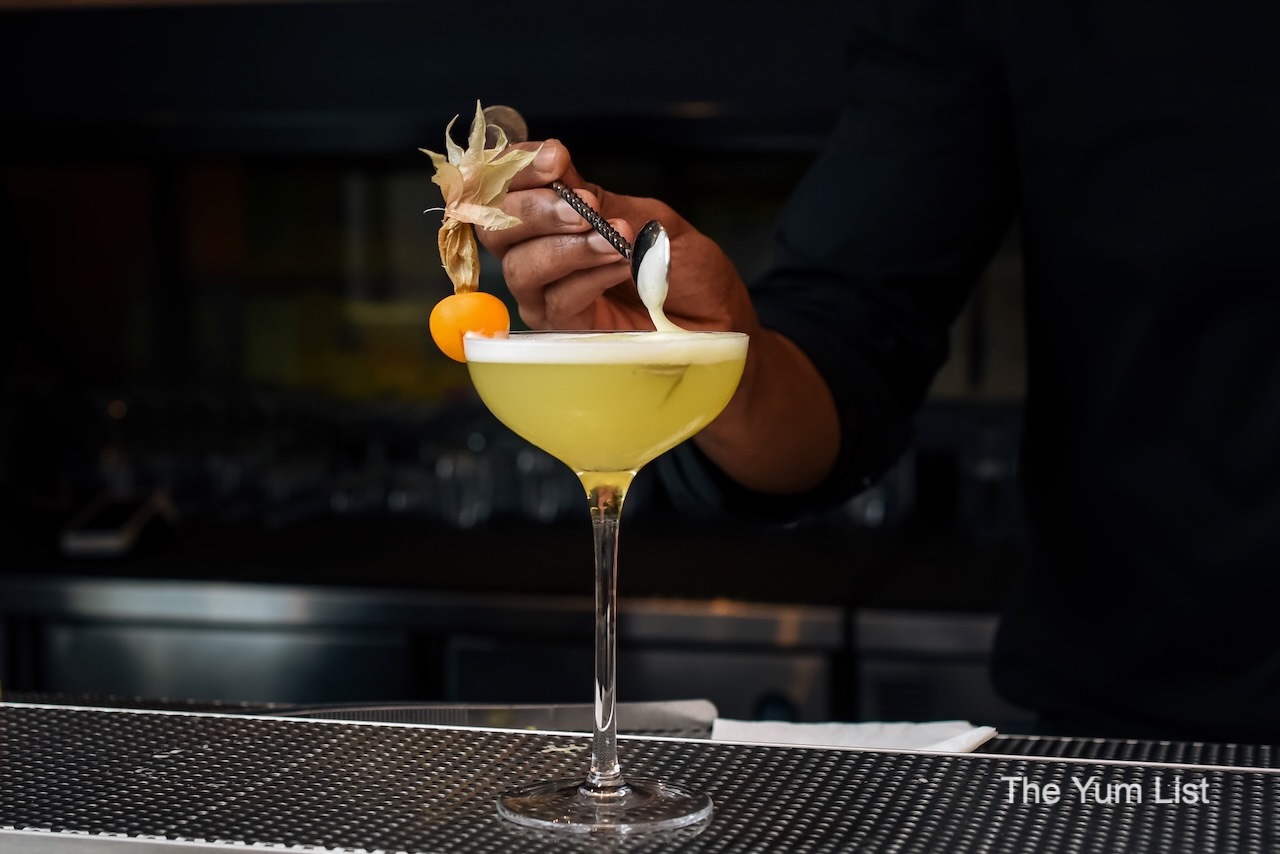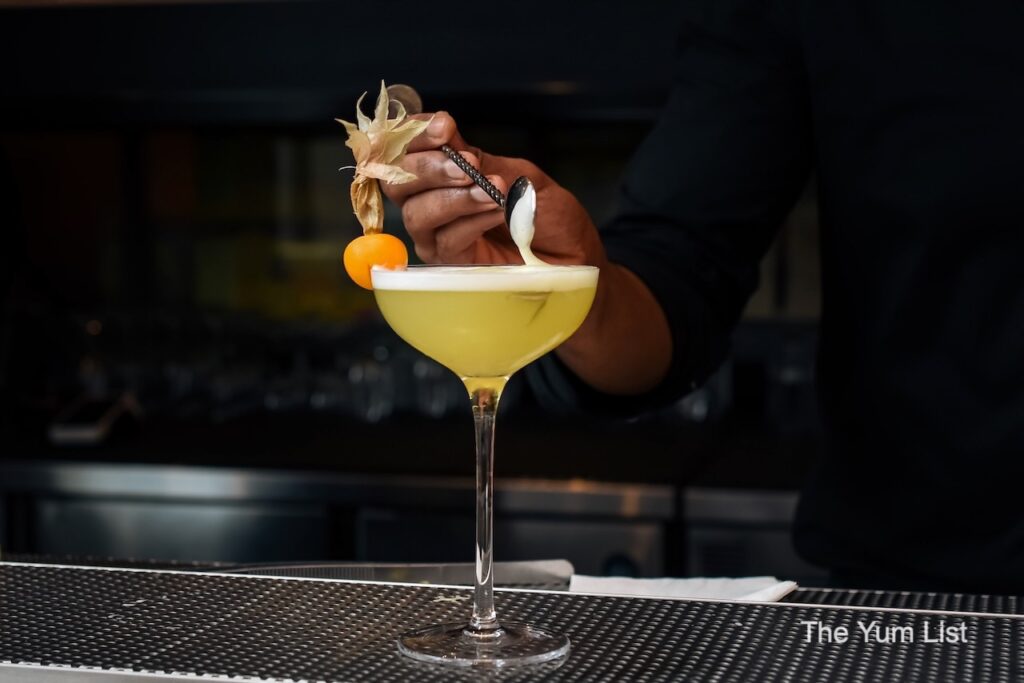 Ceylon Crab House Dessert Menu
Despite feeling relatively full, our second stomach was ready for dessert. We indulged in Watallappan (RM 12), a dessert popularised by Muslims on the east coast of the Sri Lankan island. Resembling a flan, it is made from coconut and features coconut palm sugar jaggery and usually cardamon, which keeps the dessert light while adding a touch of crunch with chopped nuts. This dessert is particularly popular during Hari Raya and for Muslim employees. It's traditional to bring this sweet treat to share at work. Sweet Appam with Brown Sugar (RM 7) was absolute deliciousness. The appam resembles a thin crepe with caramelised sugar. The appam also has a pinch of yeast that provides depth and makes it a much more interesting treat.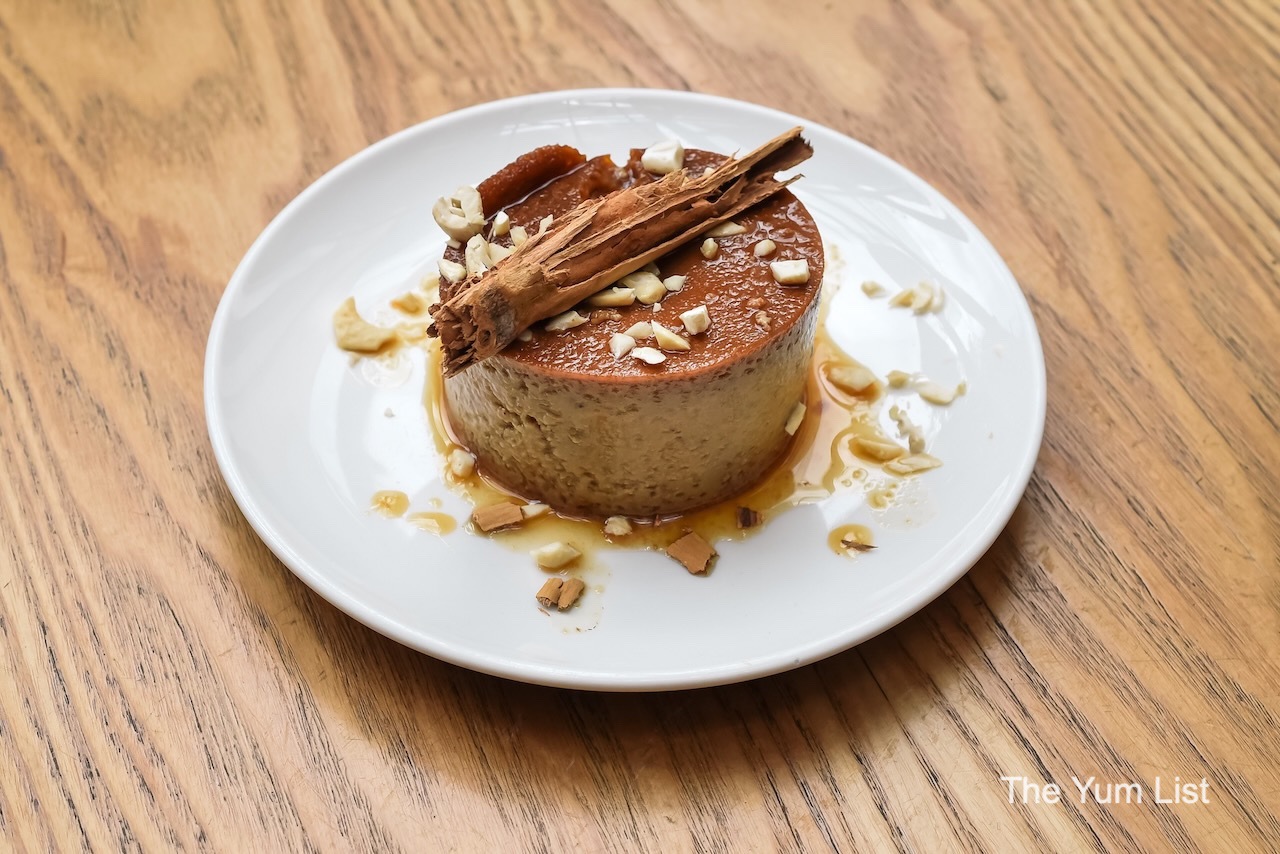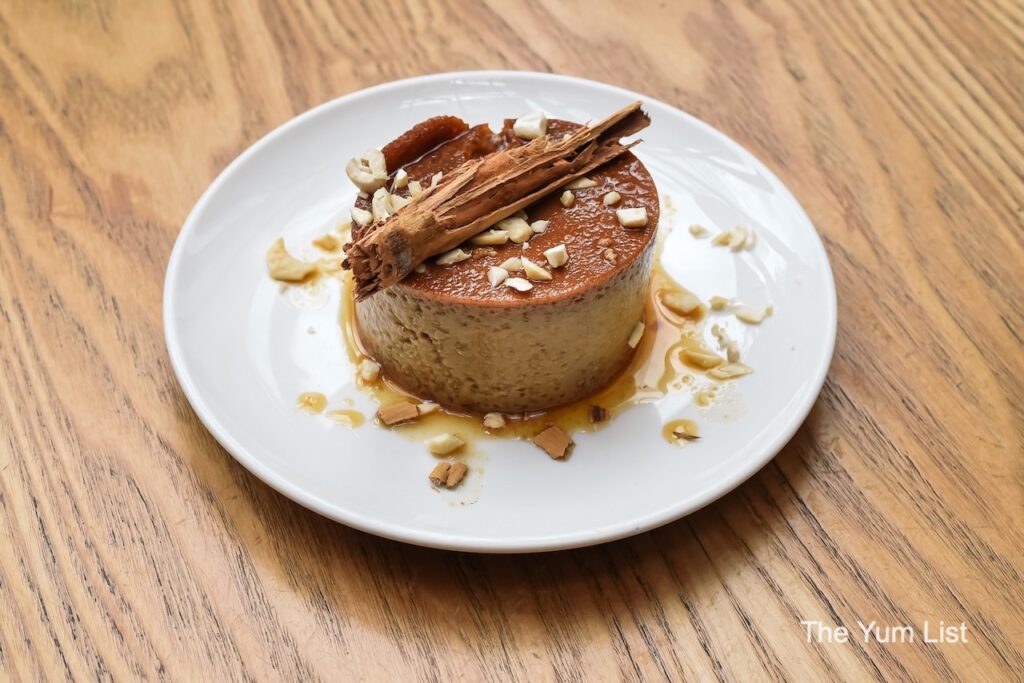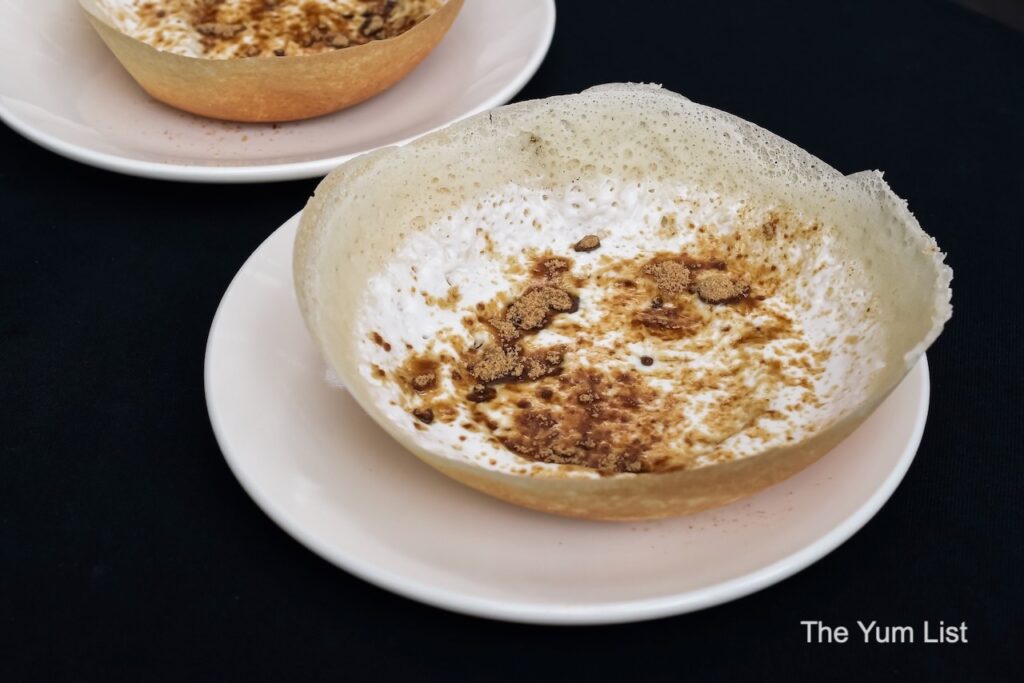 In conclusion, relishing Sri Lankan cuisine demands an appreciation for bold flavours, a hearty appetite, and a willingness to embrace culinary surprises, from the soft Sri Lankan bread to the fiery mutton, succulent prawn, crab, and, of course, those inventive cocktails. With its extensive menu catering to diverse dietary preferences, including plenty of options for vegetarians, generous portions, and impeccable presentation by the gracious staff, Ceylon Crab House is a culinary gem. The bar boasts a diverse cocktail selection, a range of beer and spirits, and non-alcoholic lassis and fruit juices. Until I have the opportunity to visit Sri Lanka, I will have to continue to satisfy my cravings by returning to Ceylon Crab House.
Reasons to visit Ceylon Crab House & Gar Bar: fantastic semi-alfresco setting; delicious Sri Lankan cuisine; we loved the Negombo crab curry, prawn sothi, and will definitely return for a cocktail or two.
Ceylon Crab House & Gara Bar
Lot G1 Ground Floor, Bangsar Shopping Centre
Jalan Maarof, 59000 Kuala Lumpur, Malaysia
*Walking distance from Pavilion Damansara Heights–Pusat Bandar Damansara MRT Station
** Undercover parking and valet parking are available in the mall
+6 03 2011 6882
[email protected]
ceyloncrabhouse.com
Ceylon Crab House Opening Hours
Daily: 12 pm – 10 pm
Gara Bar Opening Hours
Closed Monday
Tuesday – Sunday: 4 pm – 12 am
Find more places to dine in Bangsar here here and stay up-to-date on KL's food and beverage scene here and here.