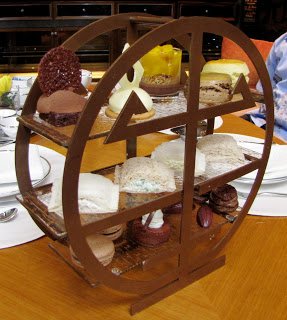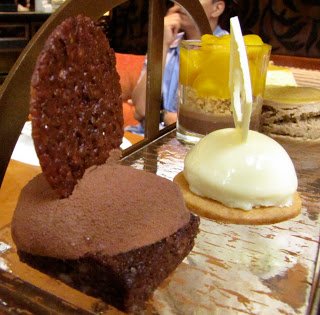 For an elegant afternoon tea, the Lobby Lounge at the Mandarin Oriental Hotel is a hard spot to beat. The newly renovated setting is refined and beautiful. Comfy lounges and dark wood tables are complemented by plush fabrics, subtle lighting and superb table dressings, creating a genteel atmosphere. The floor to ceiling windows invite natural light and offer views to the lush green park. A recently added outdoor patio opens up onto perfectly manicured gardens begetting an alluring locale for early morning coffee or sundowner cocktails.
Afternoon tea fun begins with your selection of tea or Illy coffees. There are well over 40 different types of tea available and most of them can be previewed via a sniffer box! Green, black, white, fruity, organic and herbal teas from around the world are awaiting trial. I went with the Argentinian Verbena – a light tea with a clean fresh lemony sapidity – perfect for cleansing the palate in between bites.
Once you've got your drinks sorted there are more decisions to make. Do you go with the traditional Royal English Afternoon Tea or Chef Holger's Chocolate themed selection? Both sets are presented on a three tiered intricate display with savoury, semi-sweet and sinfully sacchariferous layers. Both are composed of sandwich squares made with soft in-house baked bread filled with smoked salmon and horseradish cream, egg salad with chives, chicken and sweet corn, and cucumber and mint cream cheese. The semi-sweet layer proffers plain, raisin or chocolate scones harmonized with strawberry jam, marmalade, clotted cream or lemon curd. The lemon curd is worthy of a sentence all to itself – creamy with a little zing, not too sweet and clearly made with the freshest of lemons. With the first two layers being pretty much equal, the deciding factor between the two sets will be your dessert preference.
Both, of course come with a variety of miniature confections. Of note in the Royal English Tea is the Cambridge Burnt Cream – appearing like creme brulee topped with a fine layer of hard caramel but underneath a slightly different, unexpected texture of English baked vanilla custard, richer and creamier than that found in a traditional creme brulee. Also delightful is the Raspberry Mille Feuilles – soft raspberry jelly sandwiched between sophisticated layers of puff pastry and cream. In addition, the Marbled Cheesecake, Dundee Cake and Lemon Macaroon make this a scrumptious dessert platter. The Chocolate Afternoon Tea comes with its own irresistible temptations. Dark Chocolate Eclairs, White Chocolate Sacher Cake, Hazelnut Macaroons and Dark Chocolate Rasberry Truffles are a chocoholic's dreamland. Executive pastry chef, Holger Deh, regularly rotates his luscious creations giving repeat offenders a different decadent nirvana every visit.
Afternoon tea is available daily from 2:30 – 6pm at 78RM ++ per set. For weekend sinning be sure to make an advance reservation.
Lobby Lounge
Ground Floor
Mandarin Oriental
Kuala Lumpur
Malaysia
+6 03 2179 8881
www.mandarinoriental.com