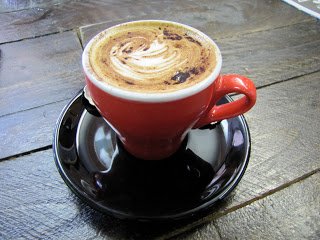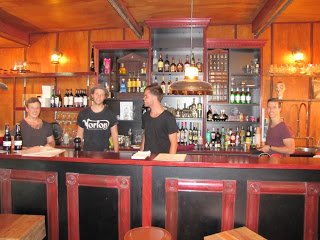 As usual a trip home to the Gold Coast is filled with the great outdoors, plenty of wine quaffing and fabulous food. On the 'good things to eat' side Black Coffee Lyrics was recommended by a number of locals. A funky cafe, located upstairs in a run down arcade, it seems to be one of the few spots with a bit of intelligent life left in Surfers. They serve strong coffee which was a winning start for me. But their specialty is cold pressed coffee where the grounds are left to steep through a contraption (pictured above) for 24 hours making a wonderfully strong brew. It is refreshing served over ice with a drop of maple syrup but also worth trying with a dash of milk. I think it tastes a little sweeter than a hot brew. They are currently using a blend of beans from around the world that is roasted in Byron Bay but will soon move to a mix that is all local.
Open for breakfast, lunch and dinner some of the menu highlights are: Breakfast Roll with poached egg, basil cream, bacon and cheese served on Turkish bread; Vege Stack with basil cream; Avocado and Chicken Salad with sun dried tomatoes, mixed greens, granny smith apples, red onion, feta, pumpkin and a sesame dressing; Beef Burger with mushrooms, pumpkin, cheese, greens and relish (try anything with relish – it's something special); Frutti di Mare Pizza topped with calamari and octopus with lemon, garlic and basil; Shawster's Own Pizza with olives, semi dried tomatoes, mushrooms, bocconcini & chilly RELISH. There are plenty of vegetarian options and a new tapas menu that looks worth trying too.
Black Coffee Lyrics just got their liquor license and will soon feature local and national wines plus their very own beer on tap. With a hip atmosphere, affable (and handsome 😉 service, and gratifying grub I'll be sure to revisit on the next trip home.
Black Coffee Lyrics
Shop 40 3131 Surfers Paradise Blvd
Gold Coast, Queensland, 4217
Australia
+ 61 0402 189 437