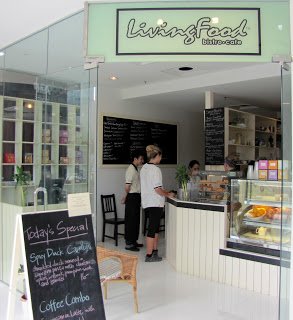 The entrance to Living Food (left) and international chef preparing raw granola (right). The buckwheat granola (above right and below) takes about a week to concoct as all ingredients are soaked, sprouted and dehydrated. This particular version with pumpkin seeds and cranberries was delicious – not the all too common overly sweetened version. It is a filling meal or snack that will leave you satisfied until lunch.
An unbelievably tasty sandwich topped with lettuce, avocado and in-house made sun dried tomatoes on dehydrated rosemary bread, served with fresh fruit and dried orange slices. For those of you new to raw bread, Living Food is the perfect place to open your palate as here it is done well, with a balanced consistency, being neither too crunchy or too chewy.
Raw banana pancakes – the day's special. I gulped these delicious rounds down but you'd be advised to linger a little longer to cerebrate the delicate intertwinement of flavours. The banana, almond and chia base is infused with lavender and topped with an amazing cashew cream imbued with ginger flower. The fresh strawberries and dehydrated oranges are the crowning embellishment.
Above, a platter of healthy and heavenly treats. From top left moving anti-clockwise; bon bon dip; raw granola bar; house baked whole grain bread topped with mango & passionfruit jam; soaked sprouted dehydrated almonds; bread topped with almond butter, organic French apples and raisins; savoury herb cashew cream; crudites.
Living Food sure is a welcome addition to the KL restaurant scene. Led by innovative, passionate and knowledgeable staff strap yourself in for a wholesome culinary adventure. What a delight to see a team going beyond the norm to create delicious and nutritious meals. Alongside the crowd pleasers of chicken pot pie and apple strudel you'll find plenty of gluten and dairy free options (even non-dairy ice cream) and a big bunch of whole and raw dishes. So far I've only eaten from the breakfast menu but am hankering to get back to try lunch and salivating just thinking about desserts that I won't have to guilt over.
Living Food Bistro Cafe
G-04 Ground Floor Menara Tan & Tan
50400 Kuala Lumpur
Malaysia
+6 016 888 9123
www.livingfoodmy.com