Allegra – meaning happy and also the name of Julie's grandaughter
 Gourmet products – many imported from Australia – they even stock REAL Tim Tams!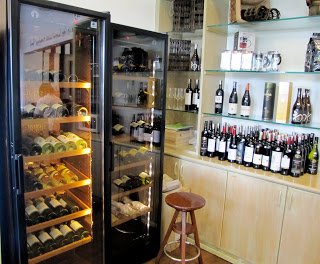 Wine available at retail prices can be enjoyed on the balcony  +  fresh produce
 Julie certainly has an eye for design – she says she just "threw together" these baskets and rope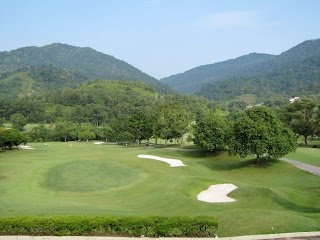 Peaceful verdant views – hours could easily be whiled away
 Don't you agree?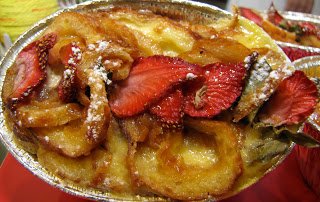 Sweet temptations
 Pistachio cake with white chocolate and pistachio cream
 Savoury pies – much more than a snack
 More sweet stuff
 Popular pastries
Lovely selection of baked goods – one of the few places in town (if not the only one) that you'll find home made bagels and rustic European style bread
 These wraps with a variety of fillers are best sellers – this one loaded with meatballs, beans and cheese is an epicurean's delight
 Mini burger – chicken, caramelized onion, pesto and cheese – bite size gourmet goodness
Yorkshire pudding topped with roast beef, caramelized apples and house made semi dried tomatoes
 Julie's version of moussaka – mince and cheese on top of half a tender eggplant
Chocolate hazelnut stick
Located at the Meru Valley Golf Resort, Allegra offers a host of extraordinary snacks, gourmet products, fresh produce and retail wines. You can see the above photos for descriptions of just some of the tantalizing temptations you can pick up. All are available for take away or to be relished on the back porch while taking in the sweeping virid views afforded by the resort. A refrigerated section is also fully stocked with ready made meals, such as lasagna, that only require a quick reheat at home to be ready. Judging by the steady flow of traffic from dusk to dawn, Allegra seems to be catering for a previously unsatisfied niche.
When asked what inspired her to bring about Indulgence and Allegra, Julie answers that her creative culinary adventures began upon return from her studies in England. It was there that she had learned to appreciate good coffee and hearty sandwiches made on excellent bread. She found that none of that was available in Ipoh so decided to engender it for herself.  She believes she probably had the first, if not the only espresso machine in Ipoh for many years. With Indulgence having a decent history over a number of years and Allegra opening in July last year, I'm sure there are many who are very appreciative of her efforts.
Allegra
Gourmet Essentials Produce
Meru Valley Resort
Off Jalan Jelapang
30020 Ipoh, Perak,
Malaysia
+6 05 526 2842