Julie has over 300 cakes in her repetoire and continues to create more based on what ingredients are in season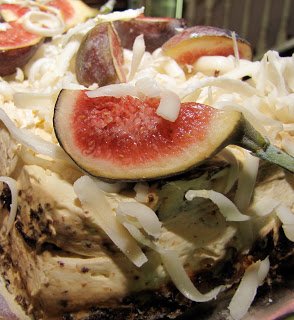 Coconut and pumpkin slice
Tiramisu – this version with alcohol – divine!   Savoury pastries – popular on-the-run snacks
Freshly made scones – only available Sunday as a special treat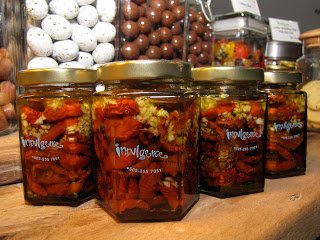 House made dried tomatoes, lemon curd, salted caramel, hibiscus curd and hibiscus pesto!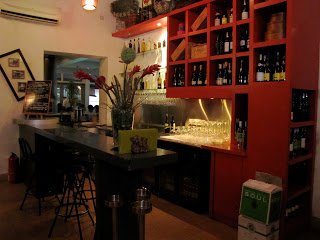 Different areas allow customers to choose their ideal ambience – this is the bar
 Specials change daily based on the freshest produce    House wine is excellent and portions generous
 To die for extra virgin olive oil from the Blue Mountains and sparkling water
House made bread with olives, tomato, onion and sea salt – crispy crusted and tender centred – made for tearing apart with your bare hands
 Heirloom Tomato Salad – cherry, red & green tomatoes, wispy tomato skins, deep fried basil, caramelized walnuts and balsamic dressing – allows you to appreciate the fine differences in taste and texture of the various strains
Duck & Fig Salad – pink hunks of flesh, sprightly rocket, caramelized figs and a trio of salsas – wonderful medley of sensations
Flaky King George Whiting Fillets with baby spinach, deep fried zucchini blossom, spinach ravioli and a sumptuous dill sauce – killer combination
Seafood Paella Pasta – made with orzo (rice shaped) pasta instead of rice, this dish is light yet packed with fish chunks, prawns and squid – Latino hubby loved it – so… thumbs up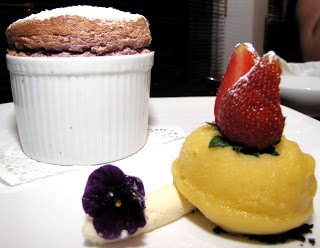 Feathery light Blackberry Souffle with Lemon Sorbet – a bite of each provides the perfect balance of temperatures, textures and sweetness      Coffee to finish
 It's all in the details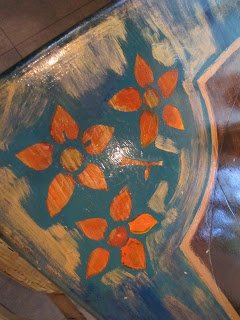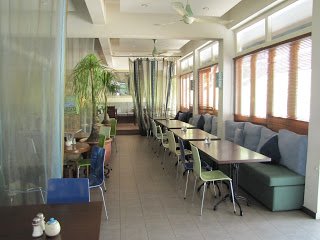 The bright airy dining room with soft curtains creating cosy spaces
One of the many qualities I find endearing in my Malaysian friends is the fact that they are willing to travel for food. Ipoh, being just two hours north of Kuala Lumpur on an excellent highway and with a reputation for its silky noodles, plump bean sprouts and pork satay, makes a popular spot to pop up to for a meal (or three). Even foreigners, who might initially hesitate with the thought of a four hour return journey, will soon be eagerly picking up their keys when they discover not only the local delights of Ipoh but also the highly esteemed Indulgence restaurant. A destination eatery in itself but also a boutique hotel, Indulgence is a gourmand's gold for a weekend getaway.
Run by the innovative and award winning celebrity chef Julie Song, Indulgence is charming, artsy and full of surprises. A fully revived colonial building, it is just as pleasing to the eyes as the menu is to the tongue. Julie, who styled the refurbishments herself has maintained the original charm of the structure while adding a vibrant creative dimension to the furnishings and decorations. You'll see high ceilings, and original cross beams, decorated floor to ceiling with a collage of colours, textures, lines and shapes. Artwork, knick knacks and refreshed antiques form a motley mix that will awaken your inner Picasso.Moving from visual inspiration to stimulation of all of the senses, the restaurant has an extensive menu. With so many choices to sort through my advise is to go with the daily specials – Julie whips up delights based on what is freshly available and her daily sparks of genius. The pictures above describe the specials we were blessed with on our evening of ecstasy. The menu is exciting, but so too is the range of retail gourmet products for sale. With a mixture of imported and locally made treats, be sure to put hibiscus pesto and home made lemon curd on your shopping list. Although also running a boutique hotel and gourmet goods store, Chef Julie is very much hands on in the kitchen. Getting up before dawn and retiring late in the evening, this artist's passion and innovativeness is contagious.
Another welcome wonderment is their small but excellent selection of wines ranging from 95 – 500RM a bottle. House wines are not your usual watery battery acid variety, but rather a well chosen pleasure. The two whites we tried celebrated all that is great about both old and new world drops. The Andrew Peace Masterpeace Semillon Chardonnay 2009 from Australia, displayed rich tropical fruits with a hint of oak leaving your entire mouth satisfied. The Bordeaux Michel Lynch Blanc from France offered a strong whiff of white flowers and a light crisp pineapply finish. House wine is 22RM per glass and I'd dare to say that the servings are twice the size of that in KL.
Julie, who has consulted for Malaysian Airlines first class menu, has a TV show celebrating the regional foods of Perak and successfully leads two restaurants and a boutique hotel, could be described as nothing less than a super woman. Stay tuned for future posts on her boutique hotel and gourmet goods store.
Open Wednesday – Sunday 9am – 11:30pm
Indulgence
14 Jalan Raja Dihilir
30350 Ipoh, Perak,
Malaysia
+6 05 255 7051