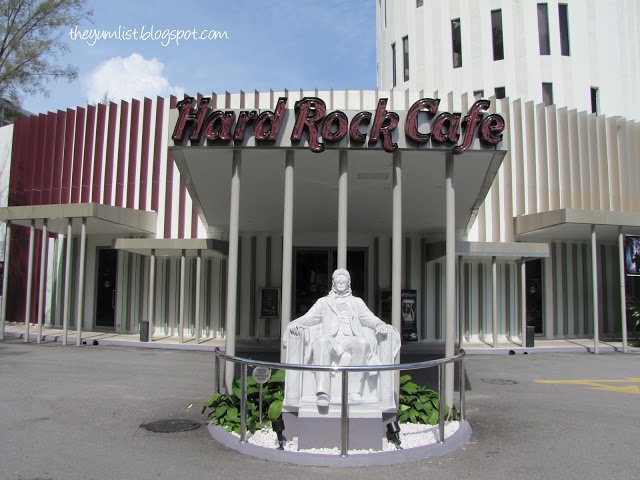 You can't miss the entrance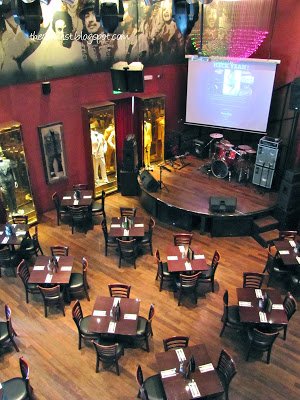 Dining tables are cleared later in the evening to make way for some hip swinging and toe tapping to the nightly rock n' roll band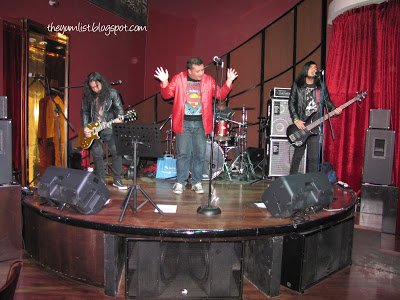 Acts change regularly and special guests are a frequent feature – this band from KL gave an hour show before the house band came on
Cocktails – yes please – X Ray Hypnotist and the famous Hurricane (pay a small amount extra and you get to keep the glass)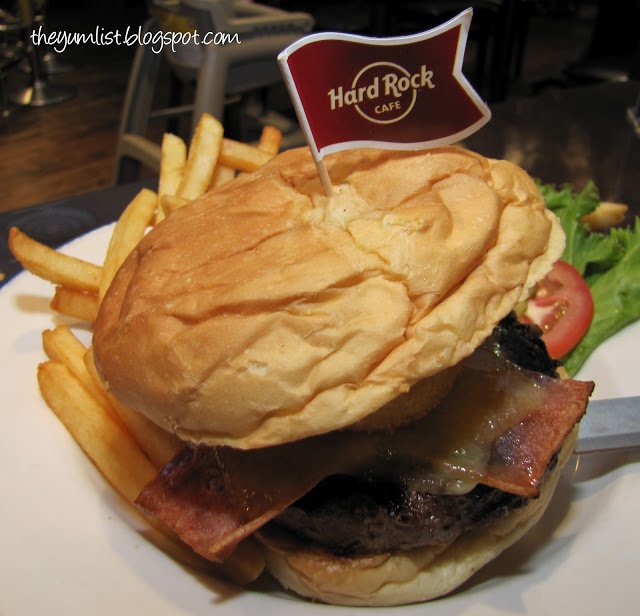 Legendary 10 Ounce Burger – 42RM – seasoned bacon, juicy patty, cheddar cheese, crisp fried onion rings, lettuce, tomatoes, pickles and crunchy fries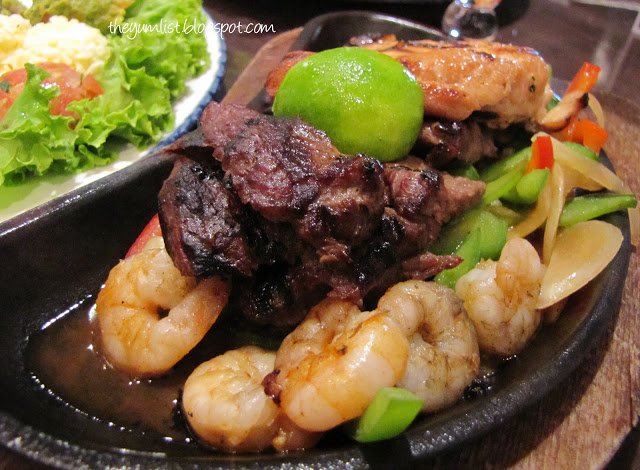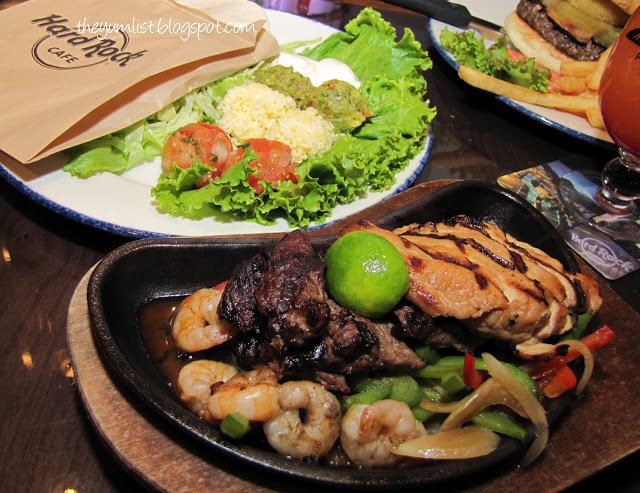 Famous Fajita Trio – 50 RM – shrimp, beef, chicken, pico de gallo, shredded Jack & cheddar cheeses, fresh guacamole, sour cream, lettuce, hot tortillas
Your feet start tapping from the moment you enter Hard Rock Cafe. If a live bland isn't playing, some energetic ambience music will be. Everyone, patrons and staff alike, seem to be in a constant state of motion, either doing the chicken with their head, shaking their foot, lip synching or jumping about letting it all hang out on the dance floor.
Glancing around the walls it's easy to believe you're in a museum of music, because you are! Hard Rock Cafe and Hotel Penang have over 500 pieces of original rock n' roll memorabilia. Time is transformed as you wander around gazing at the guitars and clothing imagining your beloved stars belting out their chart topping hits. Friday and Saturday nights draw large crowds but you can come any day of the week to benefit from some thumping beats from bands around the region. Hard Rock Cafe also presents international artists and recently played host to a slew of performers for the Penang World Music Festival.
The menu sees some hearty meals on offer with their burgers, ribs and fajitas being the most ordered. Come with a giant's appetite, or plan to share, as portions are full USA diner style sizes – grand! Both the meals we tried got a thumbs up for freshness, taste and quantity. We stayed three hours bopping to the music, sipping from a serious cocktail and liquor list and attempting to finish what we ordered. Some say the burgers are the best on the island and we just might be inclined to agree.
Reason to visit: rockin' ambience, juicy burgers, enormous meals
Hard Rock Hotel
Batu Feringghi
Penang
Malaysia