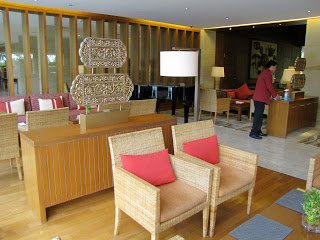 Sweet nutmeg welcome drinks on arrival to the Rasa Wing lobby.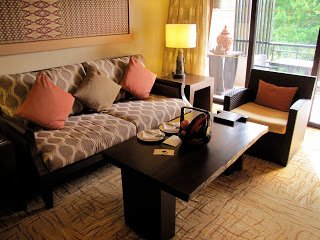 Spacious rooms with bed and living area divided by a fully equipped desk and separate bath and dressing area.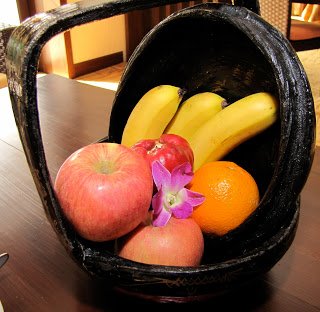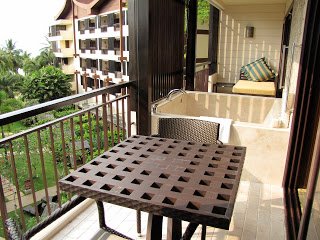 Generous balcony spaces with a day bed, jacuzzi and sitting area, all with a spectacular view of lush green gardens.
The view from Rasa Wing lobby. Guests staying on this side of the resort can enjoy all day refreshments and evening happy hour with gourmet nibbles, a selection of wines and cocktails.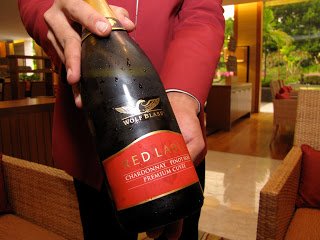 A variety of booze including red, white, sparkling, bottom shelf spirits and any cocktail you could dream up await you.
Not just any happy hour snacks, but gourmet platters. These change nightly and are sourced from the talented chefs in the Feringgi Grill.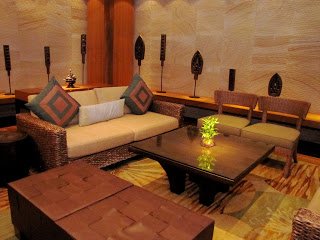 Shangri La celebrates local culture by honouring local every day items such as these Malay biscuit shapers on display.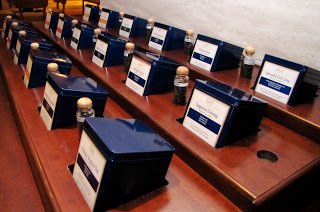 A sniffer box! Choose your tea by first having a whiff. Also more heritage showcased.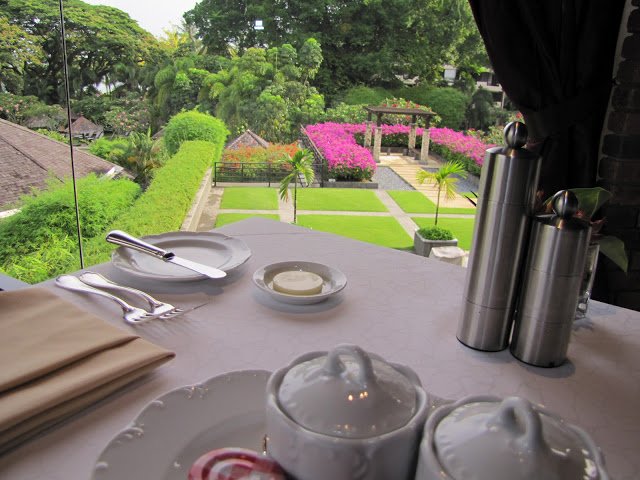 View from the breakfast table at Feringgi Grill – Rasa Wing guests can choose to eat either at Feringgi Grill or Spice Market Cafe – my pick – Feringgi Grill!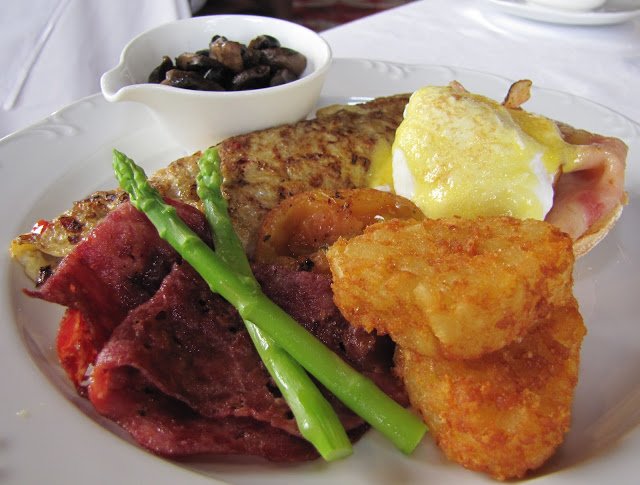 Breakfast is a semi-buffet with a choice of mains from the menu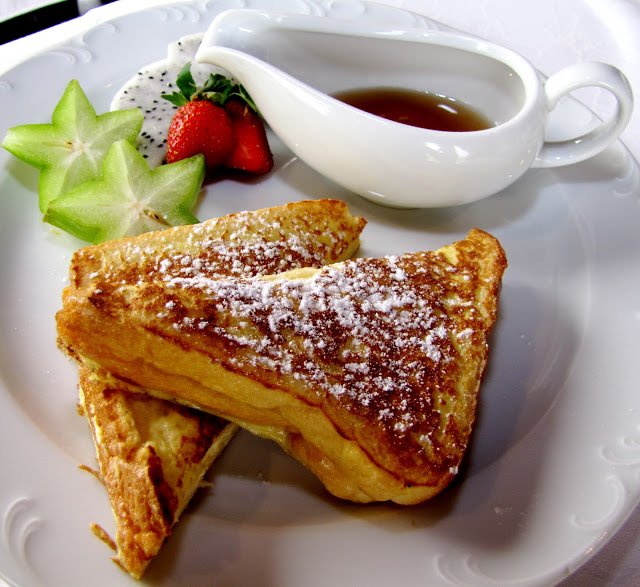 Cream Cheese French Toast!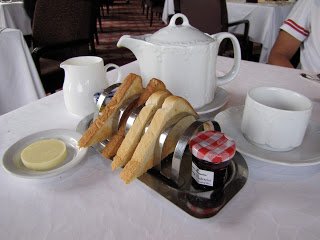 The extra touches make me smile.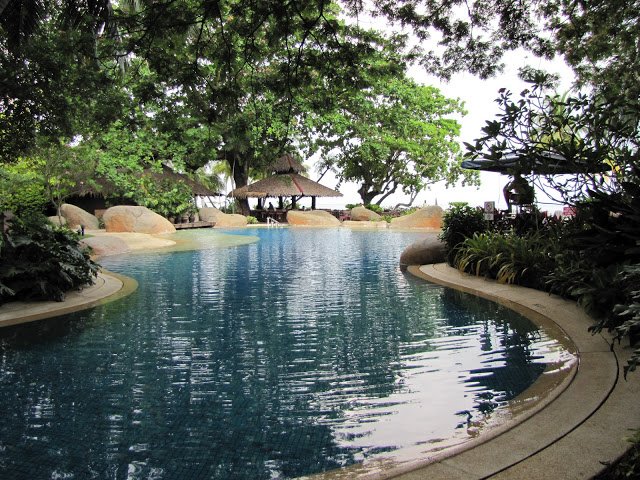 Pool with a view to the sea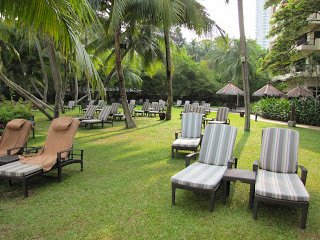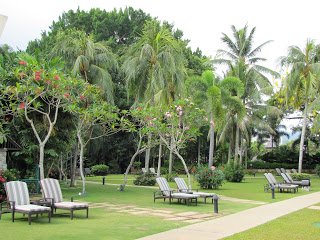 Plenty of seating in the shade or in the sun.
Don't you want to walk down this path?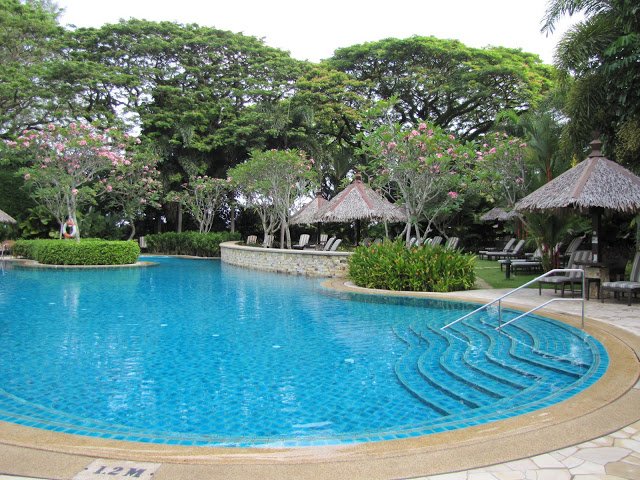 The Rasa Wing pool – reserved for use by guests over 16 years of age
Rasa Sayang is commited to operating in an "economically, socially and environmentally responsible manner."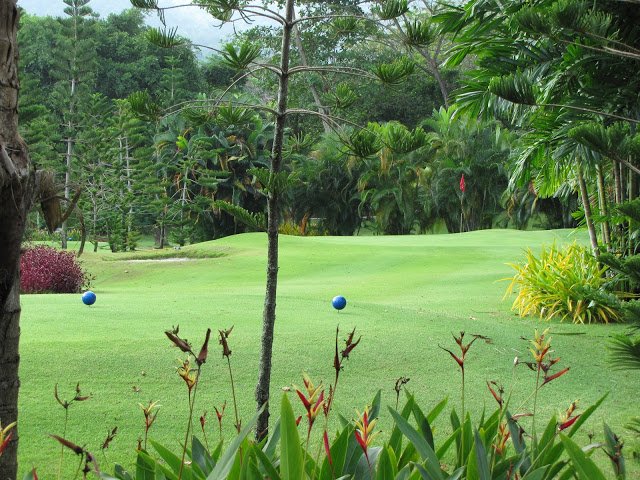 The whip around, chip and putt nine holer. Have you seen a more idyllic setting for practicing your short approaches?
Shangri La resorts world wide are playing their part in education and practices that lead to more sustainable living practices, but also that celebrate the local culture and environment of their host location. Rasa Sayang, or any hotel by the Shangri La, is my choice of stay, not only for its supreme service and gorgeous surroundings, but mostly for its fearless efforts in being socially responsible even in the face of a backlash from not so mindful clients. This group world wide have made a gutsy stand in refusing to sell shark's fin soup. Other endangered species, such as the Chilean sea bass and blue fin tuna, will also be phased out of menus over this year. Locally, Shangri La hotels are involved in working with the fisheries department and fishermen to encourage supportable habitudes. They have lost a number of customers in this brave stand for justice, but the losses have quickly been replaced with educated travelers who are turning to the Shangri La as they fulfill their wanderlust with experiences that have minimal impact on the earth.
Rasa Sayang recently established the role of Corporate Social Responsibility Manager as a full time position. This assignment looks not only to the care of our natural environment but also to the care of our human one. Two such programs with this goal in mind involve funding for a local orphanage and also raising monies for underprivileged children to have life saving surgical procedures they would otherwise not be able to. An onsite water bottling installation will soon both reduce plastic waste and increase customer satisfaction as water will be served in glass with both regular and sparkling available. Turtle conservation is another area in which an active part is being played in attempts to work with/ encourage local authorities to reduce motorized water sports in turtle breeding areas and to clean up the beaches. Both Langkawi and Penang are littered with jellyfish as a direct result of the endangerment of their natural predators, the sea turtle and sharks. With these two predators fast disappearing, jellyfish are running rampant. Shangri La is attempting to make a difference.
Rasa Sayang
Rasa Sayang
Batu Feringgi Beach
11100 Penang
Malaysia
+6 04 888 8888