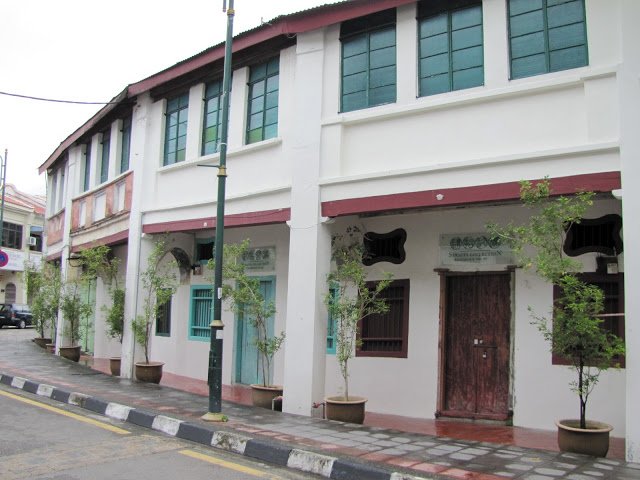 The entrance to the residences in Armenian St.
Living area of 95 Armenian St.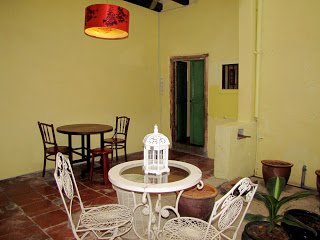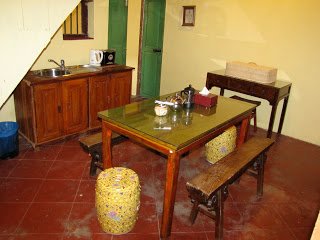 Kitchen and courtyard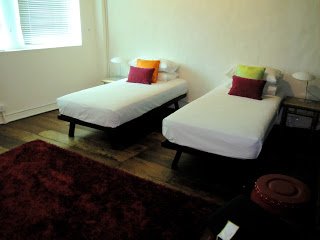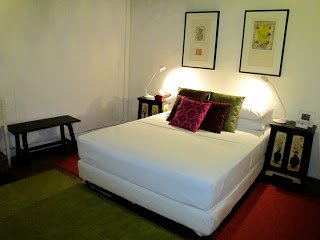 Two upstairs bedrooms – double bed & 2 singles
The semi open upstairs area leading to the shower room – fully equipped with rain shower and luxurious bath products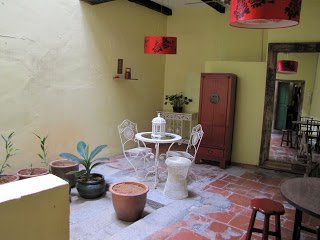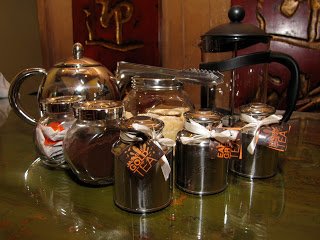 The details – gourmet teas, ground coffee for brewing and China House shortbread!!!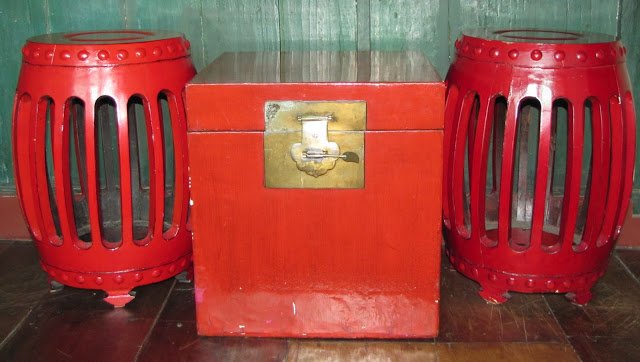 The talented team have a way with reviving and honouring the old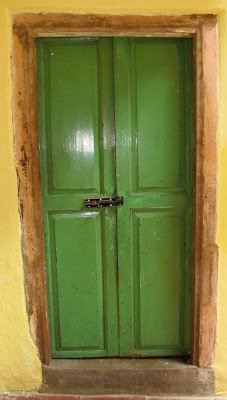 Celebrating the old by adorning it with the new, the Straits Collection Penang is the pinnacle of chic rustic. Located in Penang's heritage district, Georgetown, the Armenian St. Residences offer convenience, comfort and a homey environment for short or longer term stays in the area.
The talented team have a flare with refurbishing traditional structures and furnishings and fitting them with modern conveniences. Clever design featuring recycled materials such as gas company doors encasing the shower room and restored antique pieces are complemented by high tech amenities, for instance, cable TV, wifi, air conditioning, dvd player and basic kitchen appliances. Shelves lined with books, luxurious bath products, French press, freshly ground coffee and home baked shortbread from
China House
are added homely comforts, making it easy to see why many customers return. Original materials have been maintained which means there are cracks and airways throughout the building allowing the outside in. Mosquitos are combatted with air conditioning, ceiling fans and an endless supply of mosquito coils. During our stay though we escaped being bitten. Original structures also mean that rooms are not sound proof. The street is a quiet one however so by early evening this is no longer a concern for those sensitive to sound. In the core of the UNESCO World Heritage district of Georgetown, the Armenian St. Residences are a short walk to many of the sites and noted eateries. The famous, hole in the wall, Amelie's Cafe and,
China House
where all of your culinary and artistic needs are met under one roof, are steps out the door.
Covering two levels, 95 Armenian St. (four residences altogether) has a living area, kitchen, courtyard, two bedrooms, semi outdoor seating area and large bathroom. These aesthetic surrounds are spacious, handily positioned and good value for a family or group of friends.
Reason to visit: Chic rustic accommodation centrally located in world heritage district
Straits Collection Residences
86/86a, 89/95 Armenian Street
Georgetown
10200 Penang – Malaysia
+ 604 263 7299
http://www.straitscollection.com.my
Preserving culture and heritage is only part of the good work the Straits Collection strives to achieve. They are also active with animal protection and play a huge role in the The Langkawi Animal Shelter and Sanctuary Foundation which "is set-up to receive, rehabilitate and care for neglected, abused and needy animals. The organization also runs the Langkawi Island Animal Clinic – a charity project aimed at the sterilization of the stray cat population. Both are non profit ventures, staffed partly by volunteers and aimed at improving the lives of unwanted animals."