Wine lunch is paired with an easy drinking chardonnay and merlot from Australia. Bread is something special and they're very fussy about the butter selection importing a brand from France.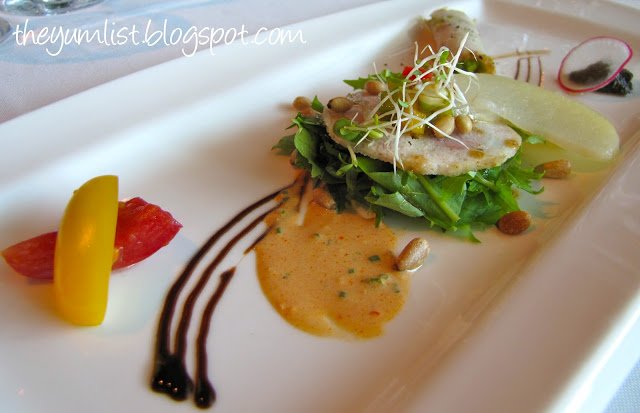 Chicken Pastrami with Packham Pear & Pine Nuts (Chicken pastrami rolled with avocado, accompanied with white wine poached packham pear and garnished with pinenuts) – paired with Oxford Landing Chardonnay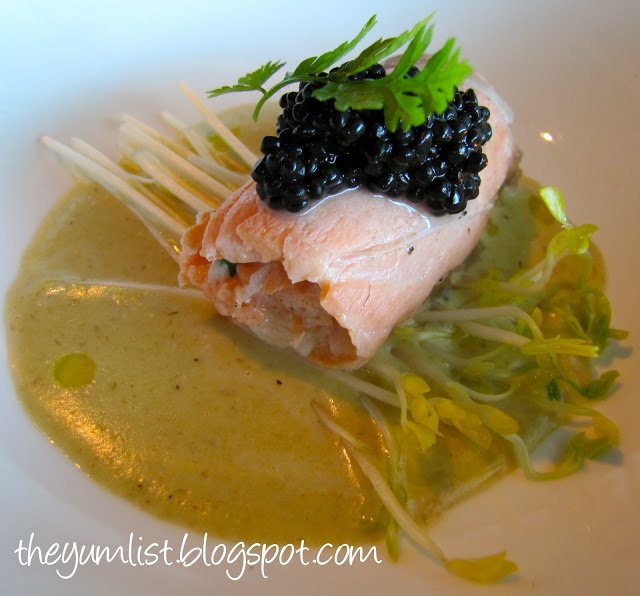 Smoked Salmon Royale in Vichyssoise Potato – Leek Veloute Pea Sprout Garnish and Truffle Oil (Smoked salmon and halibut wrapped with salmon loin and slow poached sits on a bed of potato and leek veloute) – paired with Oxford Landing Chardonnay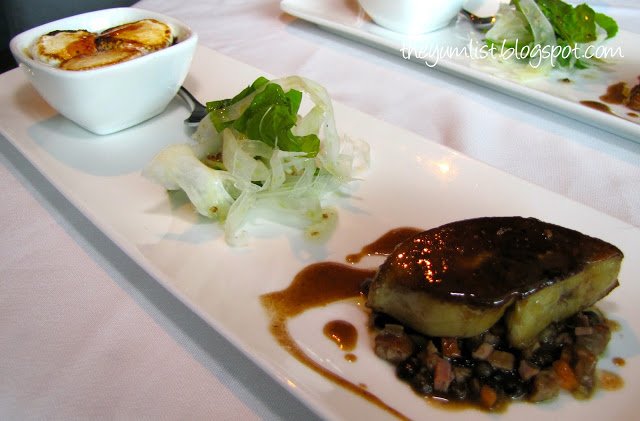 Not part of the set menu but something VERY special – Poele of Goose Foie Gras with Chocolate and Duck Liver Mousse Marshmallow, Fennel, Arugula and Port Wine Reduction (Pan seared goose foie gras sits on a bed of diced duck breast and duck liver mousse with chocolate and burnt marshmallow accompanied with shaved fennel salad)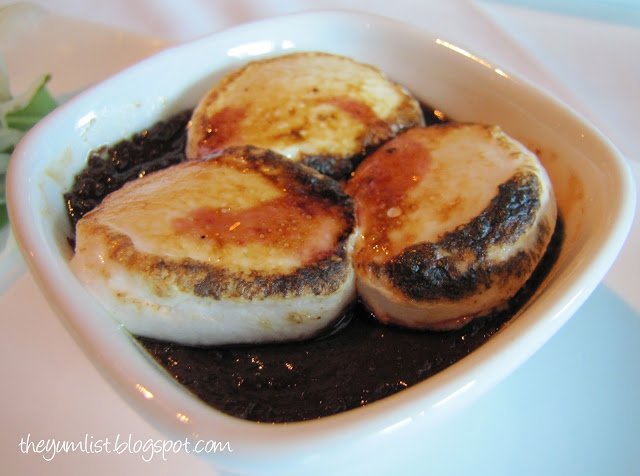 Chocolate and Duck Liver Mousse with burnt Marshmallow and Port Wine Reduction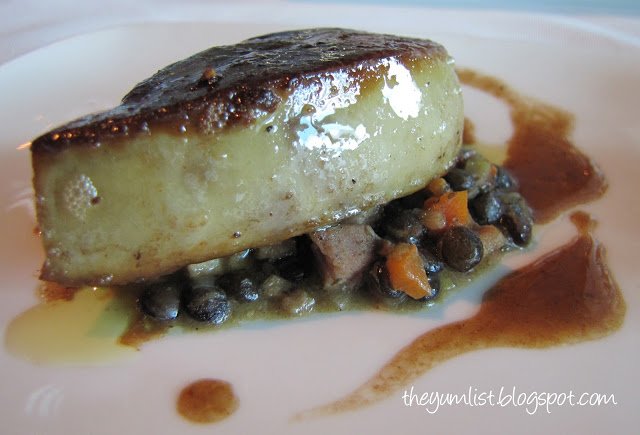 Pan Seared Goose Foie Gras sits on a bed of Diced Duck Breast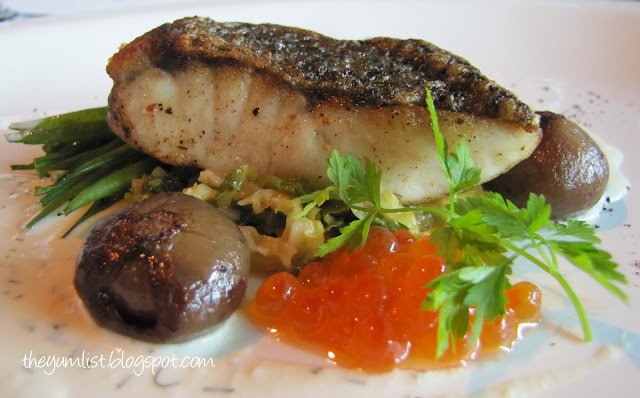 Pan Seared White Snapper Fish Fillet, Balsamic Poached Baby Onions in Dill Cream, (Pan seared Australian white snapper sits on a bed of savoy cabbage and fresh dill cream accompanied with baby onion poached in balsamic vinegar) – paired with Oxford Landing Chardonnay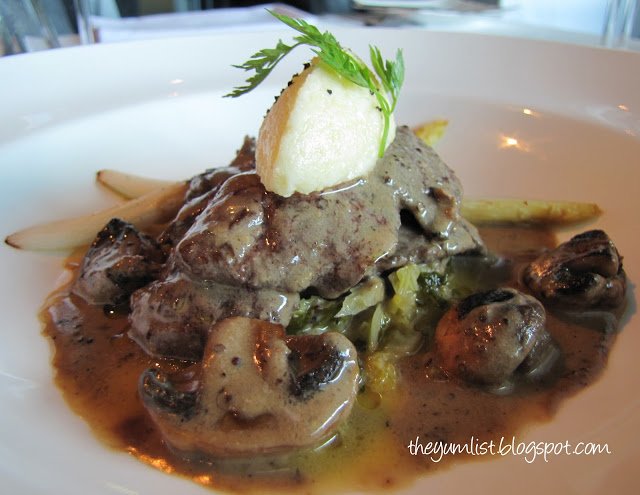 Clovis Grain Mustard Glazed Beef Tenderloin Strips, Parmesan, Polenta & White Asparagus
(Beef tenderloin cooked with clovis mustard grain, mushrooms accompanied with parmesan polenta and white asparagus) – paired with Yalumba Y Series Merlot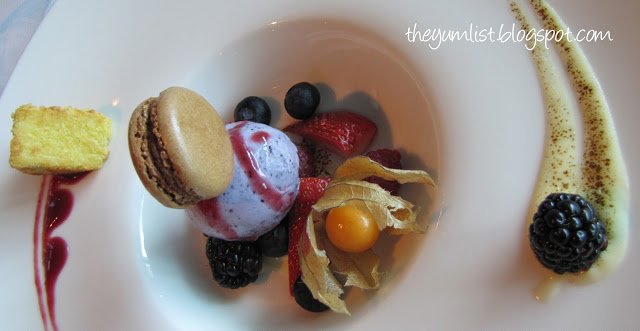 Crisp Fried Panko Brie Cheese Crumb, Raspberry Coulis with Vanilla Ice Cream (French Brie cheese breaded with panko bread crumbs, served with puree of fresh raspberry accompanied with vanilla ice cream)
Millesime has come to be a name associated with exciting cuisine, exceptional service and discreet ambience. Dishes change daily depending on the chef's inspiration but most importantly based on the best ingredients available. All decisions are founded on what is in season and fresh and only the highest quality produce is selected to be made into edible masterpieces.
While service is supreme, ambience soft and inviting, Millesime is still all about the food. Chef Max Chin has been wowing his customers for some years now and with the introduction of Wednesday and Friday set wine lunches his designs are now more accessible. Four courses on a Wednesday paired with wine, choice of the main and freshly brewed coffee and flavoured tea will set you back RM120 nett per person. A similar experience is available Fridays with 5 courses paired with wine for RM150 nett per person. No fuss business meeting, easy lunch with friends, romantic date, the headache of decision making is taken out of your hands and you can do exactly what you should at a restaurant, enjoy!
Reason to visit: Spectacular gourmet cuisine matched with wine for a very reasonable price
Previous posts: Gourmet Hour, Degustation Dinner
Millesime
G1-01-3 Menara Kencana Petroleum
Solaris Dutamas
1 Jalan Dutamas 1
50480 Kuala Lumpur
Malaysia
+6 03 6211 0648