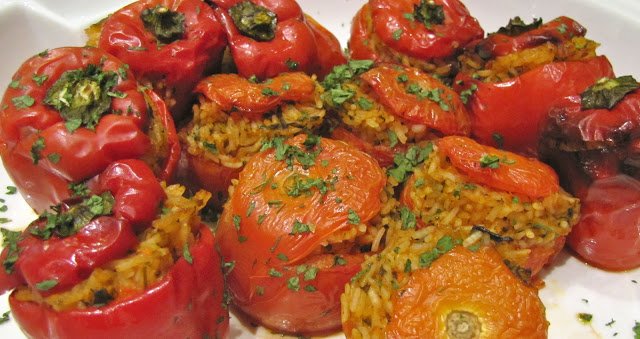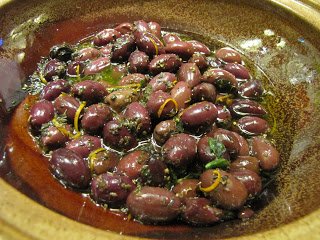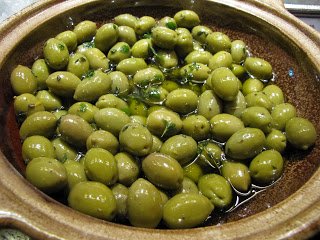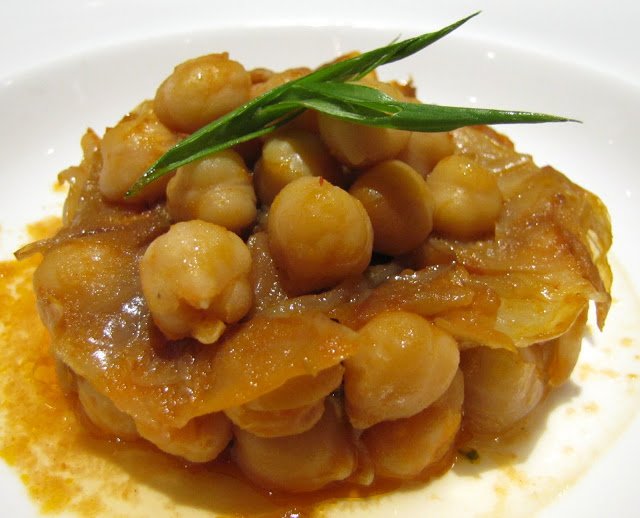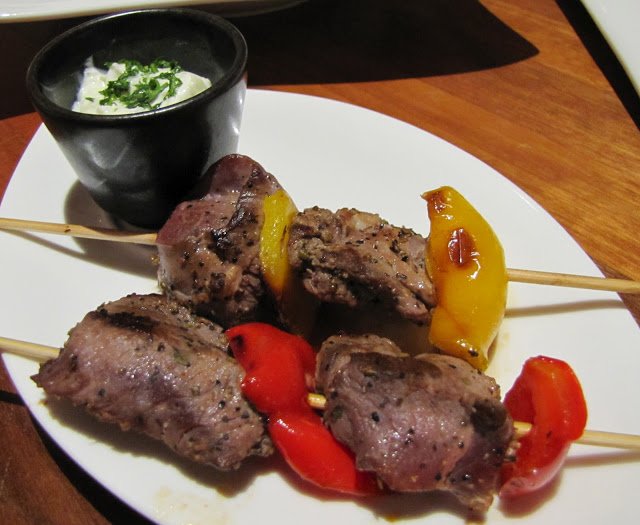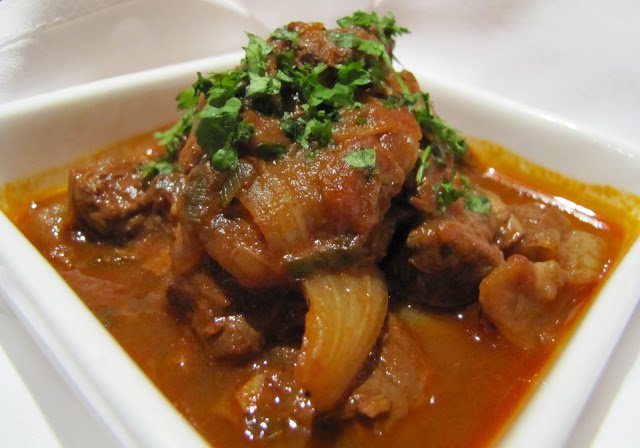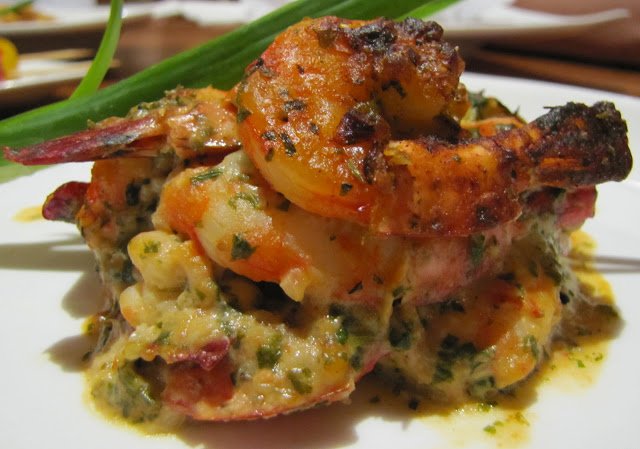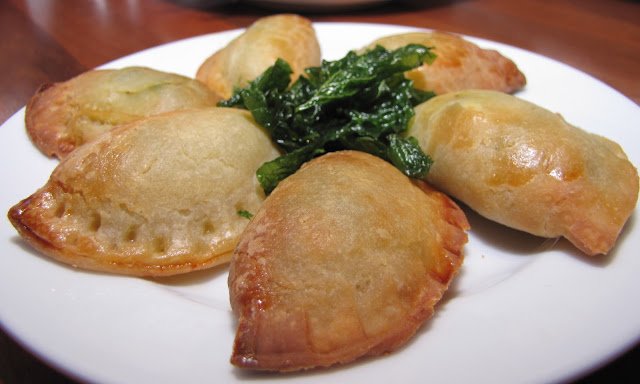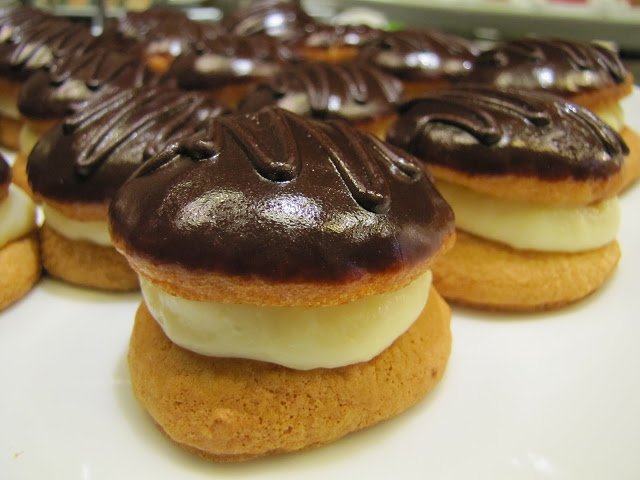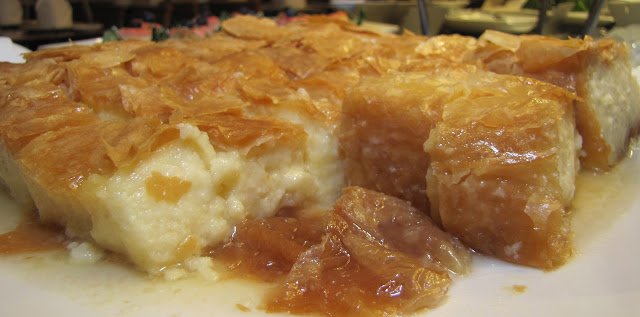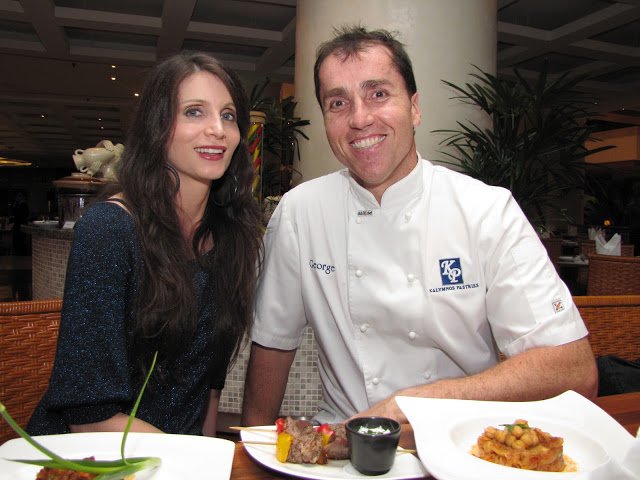 Chef George Diakomichalis and his new biggest fan
Chef George Diakomichalis, guest chef at Prince Hotel for the next 10 days, offers a unique opportunity to sample an extensive range of authentic Greek dishes in KL. Hailing from Adelaide, Australia, this executive pastry chef comes from four generations of chefs. Growing up in a family with a great appreciation of traditional food preparation, George also received training from his grandfather and uncles in Kalymnos, Greece. His patisserie,
Kalymnos Pastries
, is a roaring success and has won numerous awards.
With the chef's sweet background, starting with desserts is a must. His baklava, syrupy layers of nuts and filo pastry, is rich and moist, my pick. The galaktoboureko, baked custard wrapped in thin sticky layers of filo pastry bathed in honey with a light whiff of lemon, hubby's pick. You'll also find loukoumades, Greek doughnuts, drizzled with cinnamon and honey, toasted chocolate coated almonds and more.
If you have a less impulsive, more logical sequential brain, go ahead and start at the beginning with mezes. As would be expected an admirable melange of olives and feta bathed in various herbs and olive oil are on display. The pita bread softened with water is cottony smooth and like no other in KL. Top it with tzatziki – the yoghurt cucumber and garlic dip, or skorthalia – a garlic flavoured potato mash. Dolmadakia – rice, pine nuts and herbs rolled in grape vine leaves, and Khoriatiki, Greek salad – kalamata olives, tomato, red onion, cucumber and feta squares drizzled with olive oil are classic starters. Follow with the Fasolada – a hearty white bean soup with tomatoes, carrots, celery and olive oil, before moving onto some hearty mains.
To say you've truly had a taste of Greece, these three dishes are compulsory: Gyros, roasted meat on a spit, shaved and rolled in pita bread with tomatoes, onions and yoghurt; Moussaka, minced meat and eggplant layered and topped with a creamy white sauce and browned in the oven and; Souvlaki, grilled meat skewers with vegetables. These dishes will be out every night, while other lesser known specialties will be on a rotating basis. Look forward to stews, stuffed vegetables and delicious seafood recipes.
In true Greek style, Chef George, brings
his mum, Chef Poppy, to help out. On Mother's Day, May 13th, you'll be entertained and educated by Poppy who'll give a mother-son cooking demonstration at the "Mamma Mia" buffet brunch. Cost per person is RM75++, however, mothers, grandmothers and children under 12 dine free, and mums will receive a Sompoton Spa gift voucher.
Reason to Visit: A unique chance to try a wide selection of Greek cuisine in KL, incredible baklava
Greek Mediterranean Buffet Dinner – RM98++ per person
Children under 12 dine complimentary
Only available from May 10 – 20, 2012


For reservations and further information click here.
Eccucino
Prince Hotel & Residence
Jalan Conlay
50450 Kuala Lumpur
Malaysia