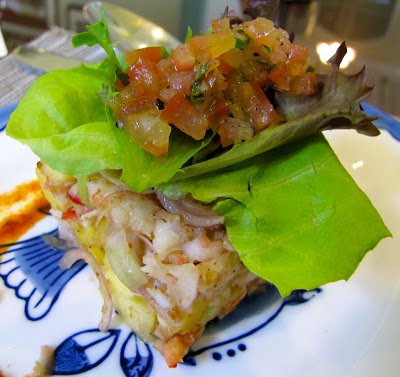 Kerabu Udang Pucuk Paku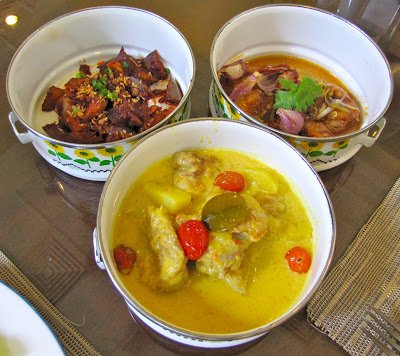 Three mains – Terung Sambal, Assam Prawns & Ayam Kleo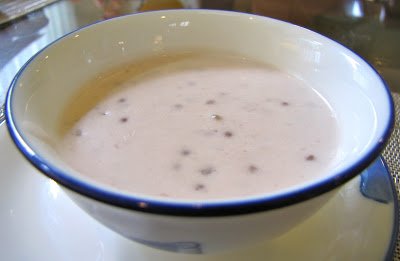 Bubur Cha Cha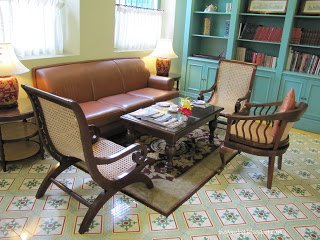 The Lobby Lounge and Library – although not an ideal spot to eat with a knife/spoon and fork, comfortable, cool and a very pleasant atmosphere
For tummies new to Malaysia and not yet willing to risk an upset stomach from street food, the Majestic Malacca provides a clean alternative. While not as inexpensive as a meal you'll find from a stall or small restaurant in town, you are guaranteed a hygienic kitchen, cool surrounds, excellent service and a decent taste of what good Nonya cuisine aspires to be.
The set Nonya lunch is taken in the Lobby Lounge providing an air conditioned and relaxed atmosphere. For RM55++ per person you can expect a starter, rice, three mains and dessert. The day we tried the set saw Kerabu Udang Pucuk Paku, marinated prawn and fiddlehead
fern with roasted coconut, starting the meal. Nasi Putih, steamed white rice, then came along to soak up the wet saucy mains. The Ayam Kleo, braised chicken in rich coconut gravy, was a winner with both hubby and myself. The Assam Prawns, deep fried prawns tossed with tamarind juice, ran a close second. While we both enjoyed the Terung Sambal, fried egg plant with nyonya chili paste, our low foreigner spice tolerance only enabled us to eat it well mixed with lots of rice. Bubur Cha Cha, a light cream of yams and sweet potatoes,
sago, gula Melaka, caramel and coconut milk won hubby's heart and I ended up having to hand over half of my bowl to stop the saliva from seeping out the corner of his mouth as he hopefully watched me eat mine.
Reason to visit: a chance for uninitiated tummies to sample Nyonya cuisine from a hygienic kitchen, classy elegant surrounds, excellent service
Majestic Malacca
188 Jalan Bunga Raya
75100 Malacca
Malaysia
+6 03 2783 1000