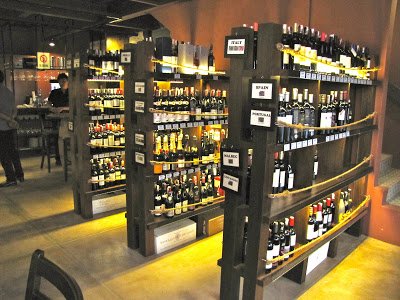 One of the principle reasons for a visit to Vintry is an excellent selection of wines available at retail prices. You'll find bottles ranging from RM55 – RM700.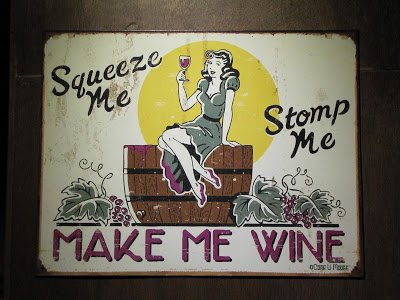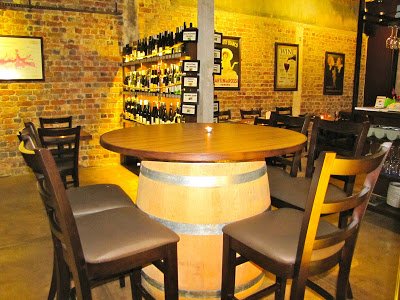 A variety of seating areas upstairs, downstairs and outdoors. High tables, traditional dining settings, lounges and a bar. Segregated spaces make for a more intimate environment.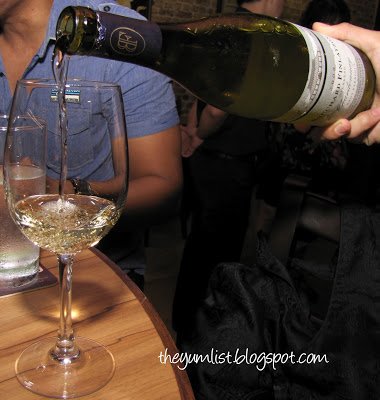 This South African chardonnay, chosen by our knowledgeable host, is typical of the types of wines you'll find in Vintry. Every bottle is hand chosen from wineries around the world, often smaller boutique wineries, and most not available on the supermarket shelf.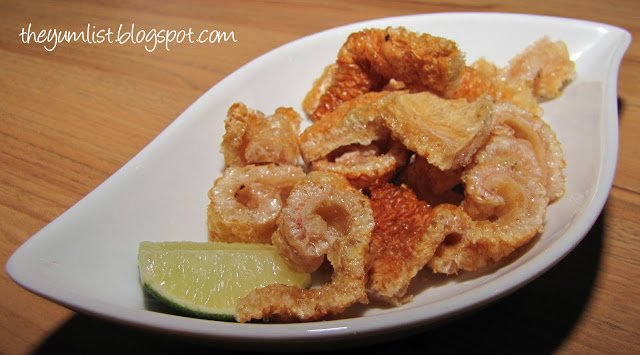 Crispy Roasted Crackling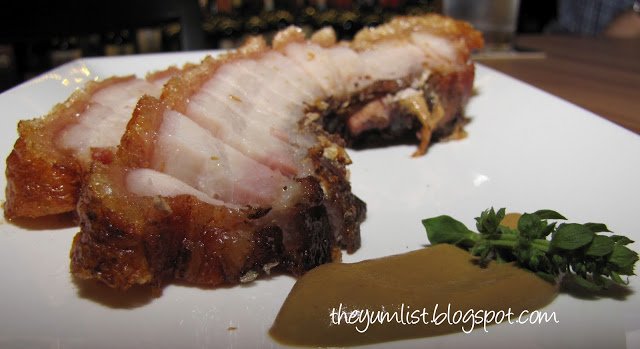 Roast Pork – Three distinct layers are achieved with tender meat, juicy fat and crunchy skin. Using mum's family recipe has been so successful so that the method has not changed in the six years the group of restaurants has been opened.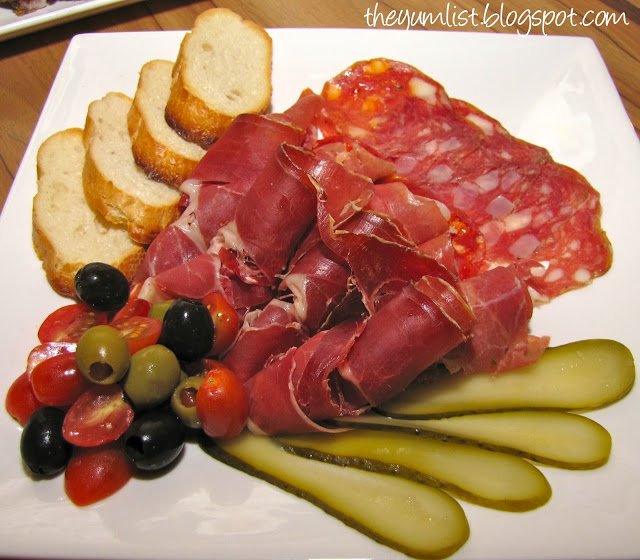 Cold Cuts Platter – soon you will be able to purchase these, as well as cheeses, to take away too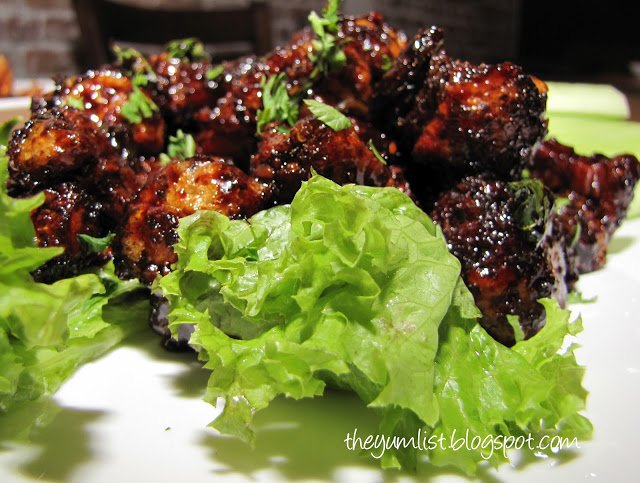 Spicy Roast Pork – Bite into the sweet caramelized outer layer to find a tender middle and feel a touch of heat at the finish. Cleanse the palate with the cucumber side and pair with anything rich and fruity, such as an Aussie shiraz, oak chardonnay, Chilean merlot or even an Argentinian Malbec.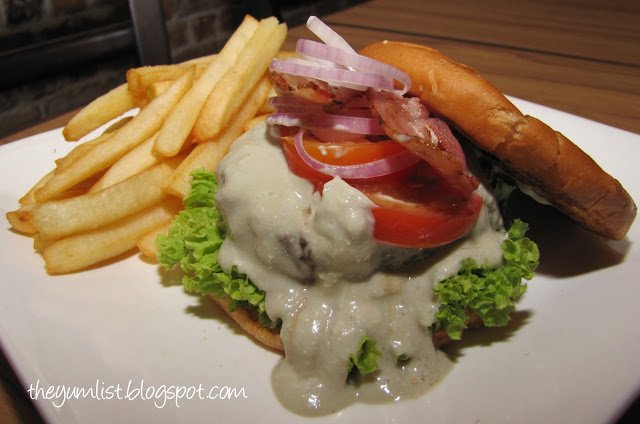 Blue Cheese Pork Burger – With pork patties made daily on site and the mix of strong flavours, this burger has become popular with many expatriates living in the area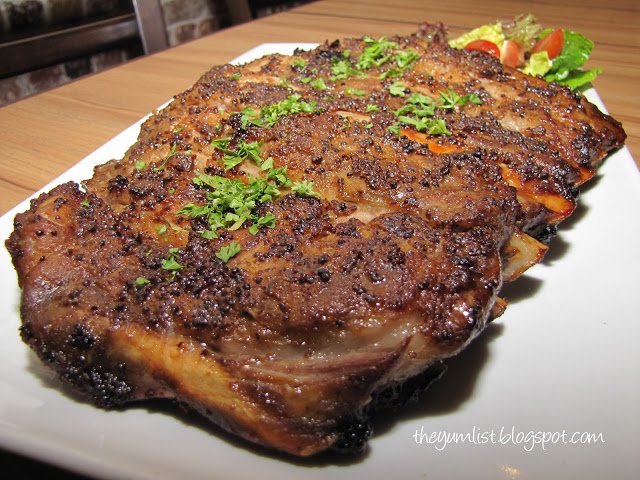 Honey Mustard Spanish Iberico Pork Ribs – This 1kg rack, the house special, is their signature dish and usually only available on weekends.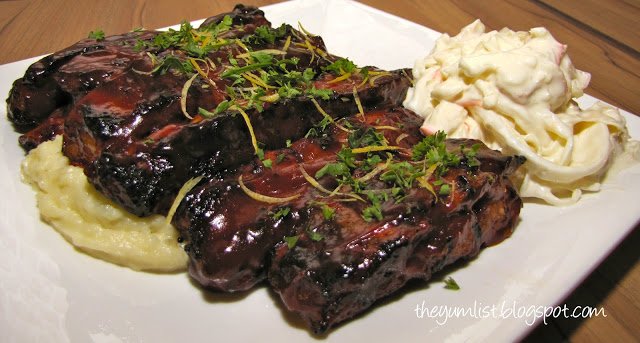 Barbecue Pork Ribs – served with mashed potato and coleslaw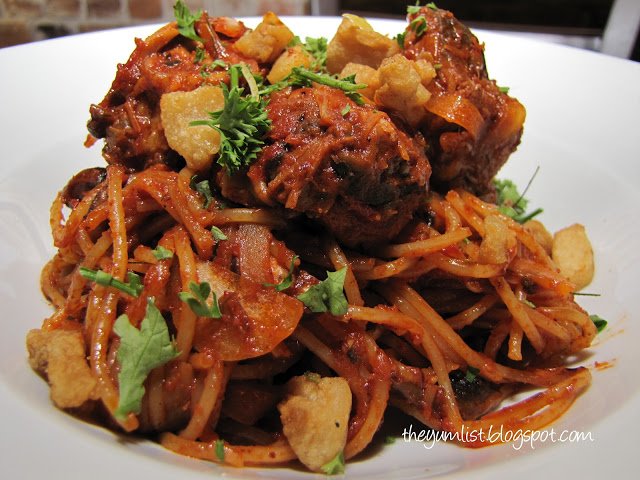 Tom Yum Pork Meatballs & Spaghetti – This fusion meal has become a bit of a cult dish amongst local customers. Spicy, porky, a taste explosion.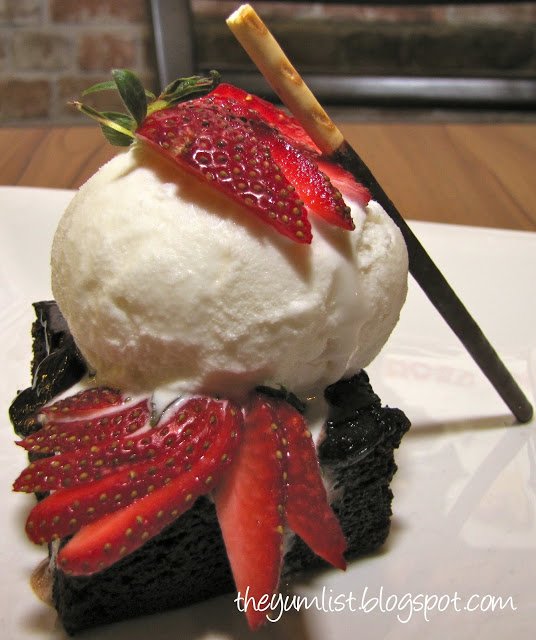 Warm Chocolate Brownie with Vanilla Ice Cream – somehow there is always room for dessert
Ampangites will be very pleased to see a Vintry on their side of town. Providing an excellent wine list, flavourful food and a cosy relaxed climate, Vintry Ampang is set to become a regular rendezvous for the neighbourhood. A variety of dining areas provides a befitting ambience for sipping a nectarous drop in the lounge, appreciating some light snacks and a glass or two at the bar, or settling in for the evening meal paired with a more than adequate choice of suitable wines.
Founder and managing director, Yin-How, has years of experience in the wine industry both personally and professionally. Currently studying a Master's of Wine, if he gains the title he will be one of only 300 people worldwide to hold this prestigious degree. Qualifications aside, based purely on the recommendations Yin-How made on the night we dined, I'm content to leave the care of my gustatory cells in his hands. The wine display is divided into old and new world wines and further again into grape varietals. Part of the fun is browsing the bottles yourself, but an expert is also close at hand to give advice. I asked Yin-How to recommend a few favourites in different price ranges to The Yum List readers, so here are some of his trusted suggestions:
Sparkling
Conti Neri Prosecco (Italy) @ RM65
Moet & Chandon Champagne NV (France) @ RM283

Reds
Peter Lehmann Reserve Shiraz 2009 (Australia) @ RM73
Guigal Cote du Rhone Rouge 2009 (France) @ RM93
Ornellaia Le Volte 2009 (Italy) @ RM127

Whites
St Clair Vicar's Choice Sauvignon Blanc 2011 (NZ) @ RM83
Domaine Faiveley Chablis 2009 (France) @ RM151

Sweet
Royal Oporto Tawny Port NV (Portugal) @ RM91
Konrad Riesling Sauvignon Blanc 2008 (NZ) @ RM131
The highlights of the food menu are definitely carnivorous. Not many diners manage to order without at least one rack of ribs or a pork dish on their table. The Signature dish is the 1kg Spanish Iberico Rack of Ribs. Flown in from Spain, pigs from this region are allowed to roam and graze naturally until not long before slaughtering when their diet is limited to primarily acorns producing the highest grade meat. Iberico pork tends to be more tender, labeled as the pork version of wagyu by some. Unable to fault any pork dish we sampled, I'd have to recommend them all. Each packed a powerful flavour punch and each fused a flawless parity of textures. Open from 2pm, and with relaxed seating areas, Vintry Ampang is also an indefectible spot for a post meridian thirst quencher. Touted accessories to a an afternoon drop are crispy crackling and honey fried cheese.
Once discovered by the Ampang community, Vintry is sure to thrive.
Reason to visit: succulent ribs and scrumptious pork, hand picked collection of ambrosial wines at retail prices
Open 2pm – midnight
Vintry Ampang
24 Persiaran Ampang (between La Risata and Denise Wines)
55000 Ampang
Malaysia
+6 03 24252 8262
www.vintry.com.my