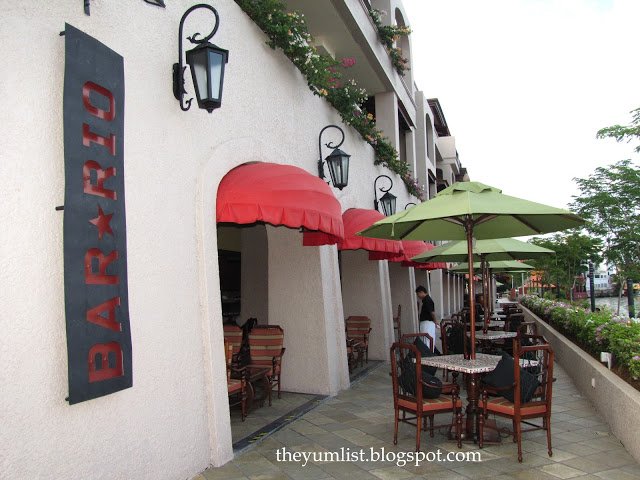 Bar Rio with its Mediterranean feel is a bewitching setting for light meals and drinks by the river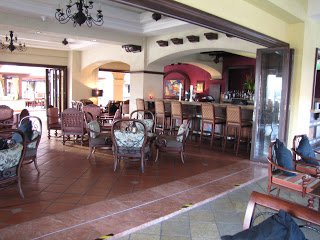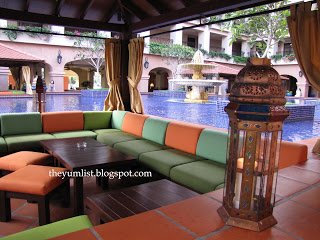 Lago side cushioned pagoda out or air conditioned comfort within
Spritzer – Champagne & Aperol topped up with soda & decorated with an orange swirl
Ginger Drop – ginger infused vodka, sweet & sour, home made ginger syrup RM32
Riverside tables present town centre views and a cool breeze at sunset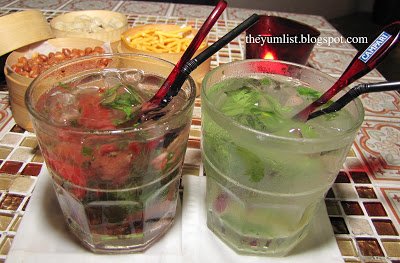 Strawberry Mojito – house infused strawberry rum, fresh mint, brown sugar, lime, soda RM32
Classic Mojito – rum, fresh mint, brown sugar, lime, soda RM32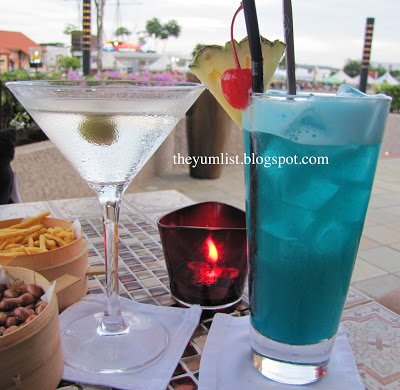 Cocktail of the day – Choc Mint Martini – Sky Vodka, white crème de cacao, crème de menthe RM32
Laguna Azul – vodka, blue Curacao, pineapple juice and sweet & sour RM32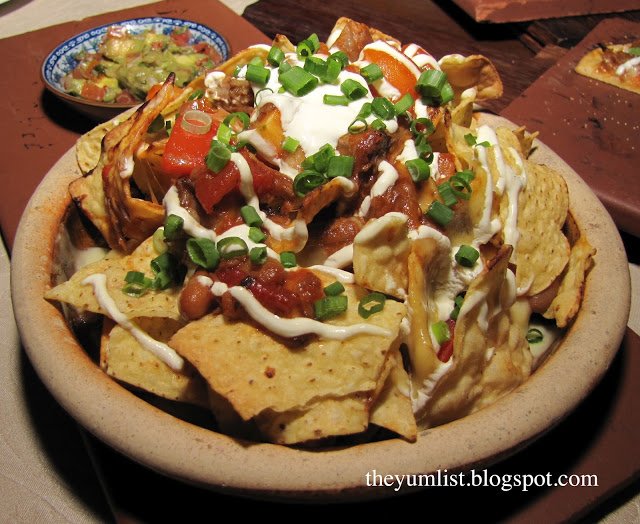 Gourmet style Nachos – slow cooked lamb shoulder, cheddar cheese, chunky guacamole, beans, spring onions and sour cream over oven baked corn chips RM28. This popular dish pairs well with their house shiraz from Pearly Bay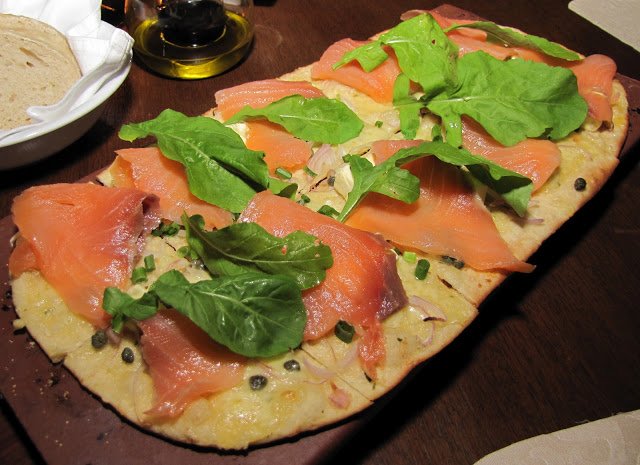 Lust pizza – salmon, cream cheese, fresh rocket, capers, onion RM32. Couples expertly with their 60 Drops Sauvignon Blanc

Greed pizza – meatballs, cherry tomatoes, fresh herbs, mozzarella, parmesan, striped with sour cream and dotted with oregano RM32. Mates ably with Bar Rio's house red, the Pearly Bay shiraz
Forget chicken rice balls and satay celup, Malacca has a new reason for foodies to visit. Well, you can keep those local treasures on your list of 'must eats' but you'll want to add a stop at Bar Rio to your agenda. Delivered piping hot on stone plates, their super
thin crispy crust pizzas are so enticing you'll consider a trip to Malacca just for these beauties alone. Themed around the Seven Deadly Sins, take your pick of Greed, Lust, Envy, Gluttony, Wrath, Sloth or Pride Pizzas. Equally wicked would be to devise your own with lists of Naughty and
Nice toppings from which to glean.
Feeling Lustful and Greedy we chose our peccancies. Lust, lavished with salmon, cream cheese, fresh rocket, capers, onion and paired with 60 Drops Sauvignon Blanc proved sufficiently corrupt. While Greed, splurged with meatballs, cherry tomatoes, mozzarella, parmesan, sour cream, fresh
oregano and matched with their Pearly Bay shiraz was equally immoral. Meriting comparable coveting are the Nachos. Oven baked corn chips are showered with slow cooked lamb shoulder, cheddar cheese, beans, spring onions and abetted with ripe chunky guacamole. This meaty dish also partners finely with the Pearly Bay shiraz.
While on the topic of alcoholic imbibements, Bar Rio offers a slew of temptations worthy of transgression. A solid wine, liquor and cocktail list beckons through happy hours and an enticing scene. River views and chill music seduce you into passing hours happily engaged by the sights, sounds and tastes and service is affable and accommodating.
Reason to visit: thin crust pizzas served on piping hot stone plates, gourmet lamb shoulder nachos, a relaxed Mediterranean ambience by the river perfect for beholding the transition from day to night
Open Sunday through Thursday from 4pm – midnight
Friday and Saturday 5pm – 1am
Bar Rio
Casa del Rio Malacca
88 Jalan Kota Laksamana
75200 Melaka
+6 06 289 6888