Toasted baguette and tomato salsa. Wild Rock Sauvignon Blanc.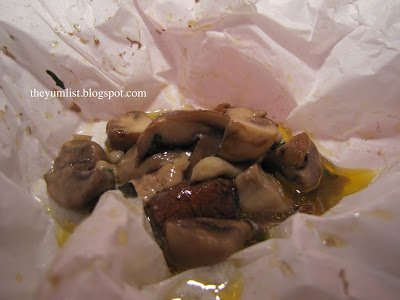 Mushroom Cartaccio with Foie Gras
Oxtail Cocido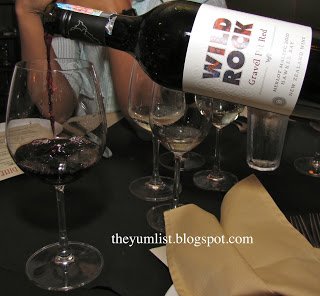 Wild Rock Gravel Pit Red Hawke's Bay Merlot Malbec 2010 + Craggy Range Te Muna Road Pinot Noir 2010
Setas de Pierna de Cordero & Grilled Prawn
Spanish Cheese Platter and Noble Riesling 2008
The Craggy Range and Wild Rock wines presented for the wine dinner
Cava, meaning wine vault in Spanish, bestows a warm enclosed feel, a little bit grotto, a lot underground cellar. High bar stools and cocktail tables outside, dressed dining tables inside, jazzy artwork and intimate corners define the space. Wine bottle lined parametres, dim lighting and walls built of stone amplify the subterranean mood. Serving Spanish and Mediterranean cuisine, known for tapas, paella and steak, we sampled none of these the evening we dined. What brought us to Cava was a wine dinner featuring Craggy Range and Wild Rock wines from Martinborough, New Zealand. A big fan of new world wines, the chance to sample some paired with a four course meal at a reasonable price was irresistible.
Craggy Range claim to be the "creators of the new world classics from the world's most naturally gifted wine growing areas," while Wild Rock's tag line proposes that they have "the best vineyards, sustainably grown, talented people and the most pristine environment in the world." Whatever they say, we were impressed by the wines presented and came home with a couple of new drops added to our list of likes. The menu and wine pairing went as follows:
Pre Dinner: Wild Rock Infamous Goose Sauvignon Blanc 2011 – 'Very pale straw streaked with green hues. Lifted aromas of red currant, passionfruit and spearmint combine for an intense bouquet. The palate has prominent fresh acidity which is balanced by an intense core of fruit where characters of lime and apple come to mind. The palate is seamless and refreshing.' New Zealand sauvignon blancs have been one of our preferred hot weather drinks for a while now. Coming from Australia, my tastes buds have a predilection towards New Zealand wines which plague our bottle shop shelves and offer good variety at reasonable prices.
Starters: Mushroom Cartaccio with Foie Gras – button, portobello and enoki mushrooms in white wine and herbs wrapped and baked in a parcel of greaseproof paper. The smooth texture and butteriness of the mushrooms paired well with the Craggy Range Fletcher Family Riesling 2009 – 'Very pale green straw in colour. Mandarin and lime citrus notes, white florals and a hint of peach and beeswax are present in the aroma. The palate is all about purity and focus, with juicy mandarin, citrus blossom, stonefruit and talcy mineral flavours. A thread of fine limey acidity, the faintest touch of natural sweetness and a delicate wet riverstone textural quality give a wine of poise, balance and lingering flavour. '
The second starter gave us a chance to try a red with an Oxtail Cocido – braised oxtail with caramelized onion, roasted sweet potato and grilled asparagus. This matched nicely with the Wild Rock Gravel Pit Red Hawke's Bay Merlot Malbec 2010 – 'Deep vibrant colour. Fresh aromas of blackcurrant and blackberry with floral notes and some subtle oak. The palate is smooth and rounded with rich ripe fruit nicely coated with some fine dusty tannin. The wine has a long refreshing finish.'
Mains: Setas de Pierna de Cordero & Grilled Prawn – roasted lamb leg stuffed with foie gras, pimento and mushrooms served bathing in a red wine and pink peppercorn sauce, with Tuscan beans and grilled butter king prawns. Served first with the Wild Rock Cupid Arrow Pinot Noir 2009. 'Limpid garnet colour with crimson hues. Lifted cherry and raspberry fruits mesh with wild thyme, gun-smoke, and cinnamon notes. The palate has fine silky tannins that envelop the ripe fruit and provide the texture for a long, complex finish. ' Followed by the Craggy Range Te Muna Road Pinot Noir 2010.' A medium ruby colour. Bright aromas of cherry, raspberry, dried sage and a hint of smoke make for an enticing nose. On the palate the taut, focused fruit tannin sits seamlessly in this medium weight wine with a silky savoury finish.' These two pinot noirs were served back to back for a chance to compare a blend from a variety of vineyards versus a more upper range wine sourcing the best grapes from a single origin. The Craggy Range Pinot Noir was the highlight for both ourselves and our fellow diners. The clear distinction from good to great was easily seen in the comparison of these two makes.
Dessert: Spanish Cheese Platter – Manchego, San Simon, Iberico Cheese, fresh and dried fruits, nuts, crackers and berry compote. The dessert wine pairing was a surprise added by the provider and enhanced the flavours of the cheese by providing a sweet contrast the salty savoury dairy – Craggy Range Noble Riesling 2008. 'Vivid yellow gold colour. Aromatically a mixing bowl of dried apricots, orange rind, pears, mango and spicy ground ginger. The palate is rich and viscous in style, with flavours of marmalade, dried fruit, cardamom and gingerbread. The hearty residual sweetness is balanced by a combination of fine acidity and a soft powdery texture. Finishes long and rich with an abundance of flavour.'
Reason to visit: an intimate cellar ambience, good value wine dinners
Cava
71 Jalan Bangkung
Bangsar
59100 Kuala Lumpur
Malaysia
+6 03 2093 6637
www.cava.my
* The notes in quotations are directly from the wine maker. I make my own evaluations before or after each wine.