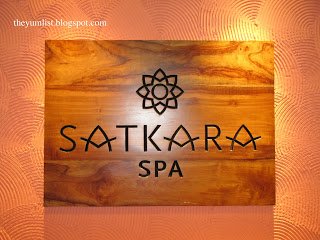 Satkara Spa at Casa del Rio, Malacca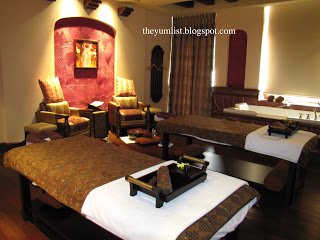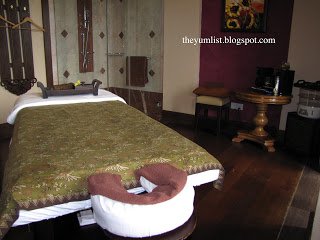 Treatment rooms at Satkara Spa, Casa del Rio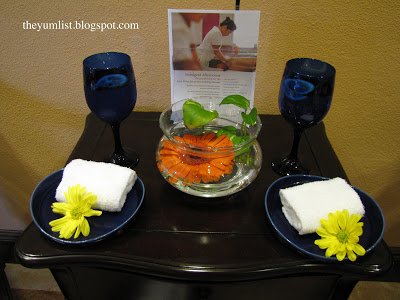 Satkara Spa welcome – cold scented towels and iced lemon water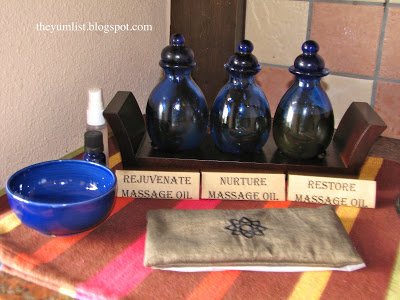 Choose your massage oil – Rejuvenate was to my liking with a nutmeg aroma.
Cool, serene and organized, Satkara Spa at Casa del Rio Malacca, is quite the opposite of the sweaty narrow cacophonous streets in the city centre. A modest but sufficient area allows three treatment rooms, including a large suite for a couple accommodating two massage beds, king and queen's chairs and a bathtub just waiting to be filled with soothing salts and warm water. Natural tones, laundered fabrics and Peranakan touches adorn all rooms. Personal treatment is at the forefront of business with every detail considered from start to finish.
Arriving for our appointment we were immediately greeted, seated and refreshed with cool scented towels and lemon water. Our shoes were exchanged for the softest spongiest slippers ever and when ready we were escorted to the treatment room. Facilities were explained and we were left to disrobe and redress with a sarong and disposable panties. Sounding the one bar xylophone indicated to the therapists that we were set to embark.
Every spa therapy at Satkara begins with a Peranakan ritual. You sit like royalty while your feet are washed, massaged and scrubbed. By the end of the beginning the grot of the historical laneways is close to forgotten. Personal preferences are further decided as you whiff the aromatic massage oils to choose one of your liking – Rejuvenate appealed to me with its nutmeg scents. Therapists undergo training in Bali with regular updates to refine technique and their professionalism was evident throughout. The ladies quietly carried on their work with occasional check-ins regarding comfort and pressure. I had their Signature massage which takes the best from a number of reputed techniques and combines them into one experience – focusing on pressure points, muscle and relaxation. Hubby benefited from the traditional Malay rub down with long kneading strokes and pressure applied at significant sites. Both were excellent choices and the routines were some of the best we've been fortunate enough to judge.
Finishing off we were again given privacy. I chose to rain shower and hubby decided to leave the luxurious oil to soak a little longer into his skin. Changed we returned to the meeting room concluding with hot ginger tea and an exchange of slippers for
shoes.
Avoiding Malacca on the weekend not only has the benefit of eluding crowds, but also gifts you with off peak rates. In this case, a stellar afternoon of luxury for RM99. Making an appointment between 2 and 5pm Sunday to Thursday allows you a one hour relaxation massage with the highly regarded foot and relaxation rituals.
Reason to visit: foot pampering ritual, Signature massage, excellent price during off peak periods

Satkara Spa
Casa del Rio Malacca
88 Jalan Kota Laksamana
75200 Melaka
+6 06 289 6888