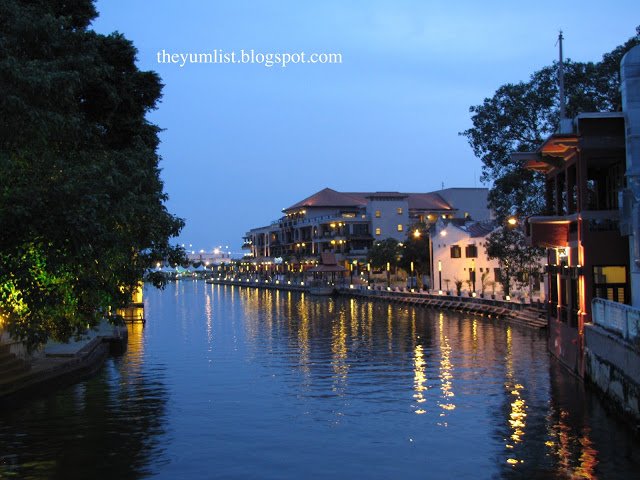 Casa del Rio – a home by the river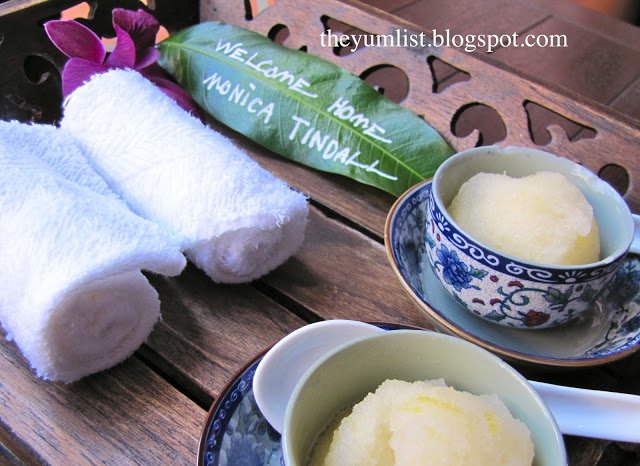 Welcome – cold towels, ginger and lime sorbet and a personalized leaf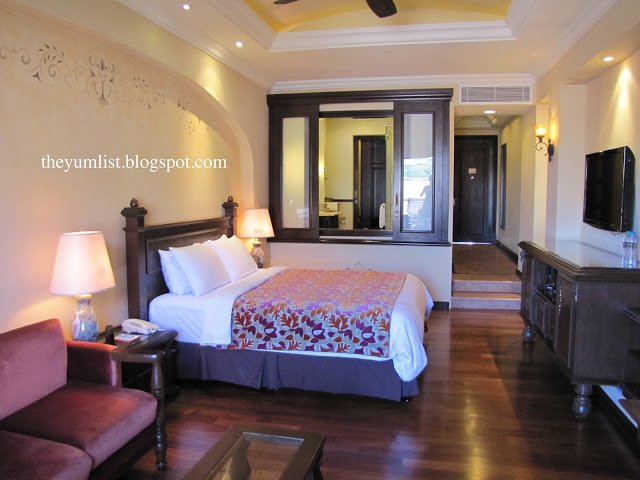 Deluxe Lago Room – spacious and airy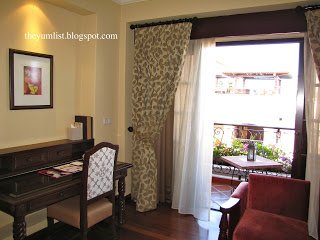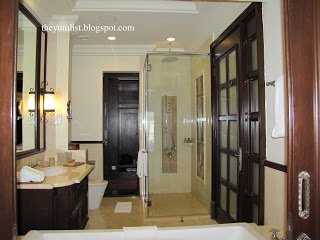 Bathroom and living areas with a fanned and garden patio overlooking the lake with glimpses of the river and sea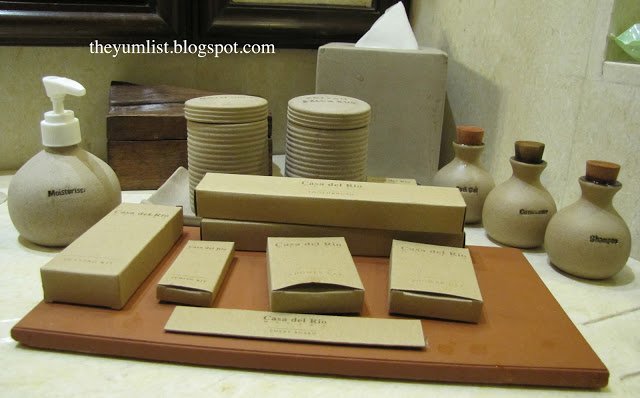 Refillable bath products and recyclable packaging on disposable items reduces garbage by the tonnes. Contribution towards river cleaning and maintenance also add to their growing Corporate Social Responsibility endeavours.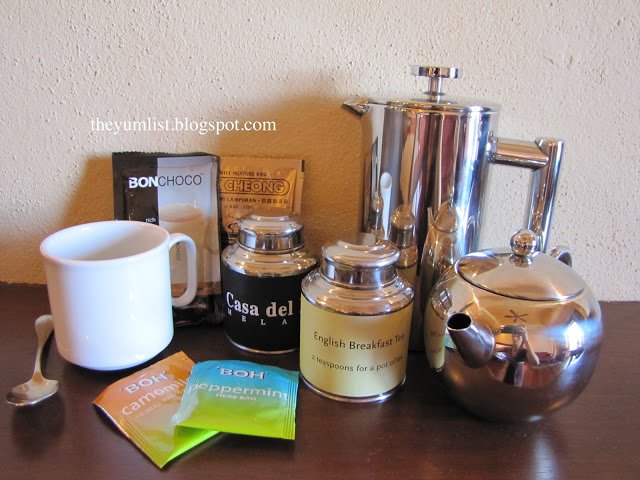 Gourmet tea bags, local speciality coffee, hot chocolate sachets, loose leaf tea & coffee to brew freshly in the plunger provided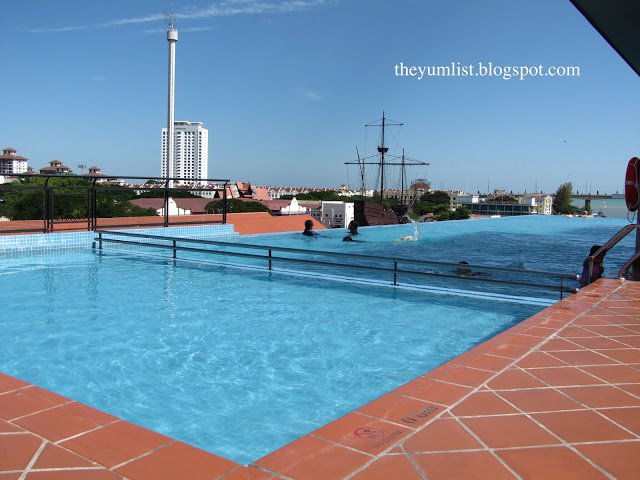 Infinity pool overlooking central Malacca – river, town and sea views from the roof top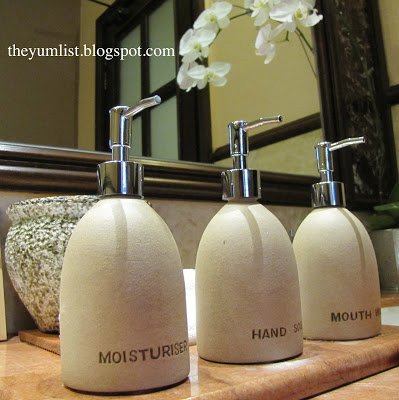 Elegant touches even in the public areas – this bathroom is equipped with moisturizer, hand soap, mouth wash, fabric towels and a bouquet of orchids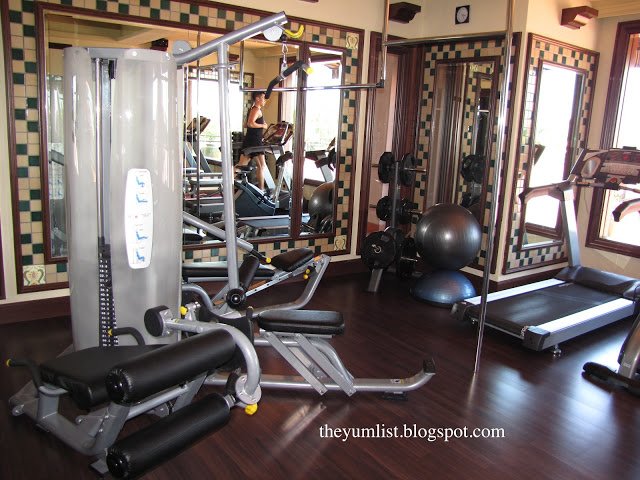 Small but well maintained gym overlooking a Malaccan roofscape
The lago (lake) in the centre of the complex helps to provide natural cooling just as in a traditional Moroccan home. Mediterranean architecture adds to the holiday ambience.
Your 'home by the river', or Casa del Rio, is a name taken seriously by the team at this property in Malacca. From the moment of arrival to the second of departure guests are handled with tender care and attention implicative of genteel hospitality from times long gone. The striking Mediterranean architecture inaugurates your senses. Water touched drafts lift off the central lago (lake) abating the heat while frangipanis and bougainvillea scent the air. The lake is only one natural cooling system eliminating the need for overuse of air conditioning. High ceilings, wide walkways, arches and open wrought iron walls also capture breezes in an otherwise sweltering town. Stone washed walls, dark wood trimmings, and floor to ceiling windows are adorned with tiles, lamps and vibrant paintings. Hues of deep blue, turquoise and ochre add splashes of colour to the warm wooden furniture and salmon washed walls. The colonnades seem to whisper holiday, relaxation and fun.
Spacious is an understatement to describe the area afforded in even their basic room (Deluxe Lago) where we stayed. It is bigger than some apartments in which I've lived! Separate balcony, living sleeping, bathroom and storage areas can be closed off or opened up providing more or less intimacy as desired. Each of 66 rooms annexes a private balcony with either lago or river views. Gardens frame the outskirts and ceiling fans the porches according each occupant privacy and a pleasant space to roost. Wi Fi throughout the hotel and in room LAN cables mean connectivity day or night. Screen and audio addicts will be pleased with a 42″ flat screen TV, DVD and CD player and iPod docking station. A firm bed base, with soft upper and luxurious cotton sheets ensure a good night's rest. The feeling of home is further extended through a coffee plunger with ground coffee and loose leaf tea – you'll find no nasty instant Nescafe here. The Library houses a pod espresso machine where you can fix yourself a cup as desired. A local touch too is provided with the addition of the famous Malaccan two in one coffee packets and Kebaya Tales – a novel by a local author. A rubber ducky keeps you company in the bath and salts (scents changed daily) soak away your worries. A turn down service sees mosquito coils and candles lit at dusk. Walls are tastefully adorned with colourful oils, lamps and textured fabrics. Details surprise you in every corner from the cleverly disguised-as-books remote holders to the thoughtful nightly notes with the next day's weather forecast.
The location could not be more convenient. On the river banks in the heart of
Malacca you're only steps away to the sites. The infinity pool and all of their food and beverage outlets award views of the meandering river as it leads out to sea, the old Dutch boat, restored buildings and the illuminating spectacle as the evening lights awaken and begin reflecting back from the water. Pool, gym, spa and talented chefs might make you consider staying put and just watching the attractions from your cool perch. With the addition of this phrase by our helpful baggage carrier, "anything you desire is just a call away," you seriously might be tempted to stay in. Even after we checked out the unmistakable service of Casa
del Rio followed us. Arriving to our car we found that our windows and mirrors
had been cleaned for a 'safe and comfortable journey home'. Casa del Rio Malacca, home by the river, is 100% class.
Reason to visit: hip resort feel with pretty river views, meticulous attention to detail, central location, excellent spa and, tasty F&B outlets
Casa del Rio Malacca
88 Jalan Kota Laksamana
75200 Melaka, Malaysia
+6 06 289 6888