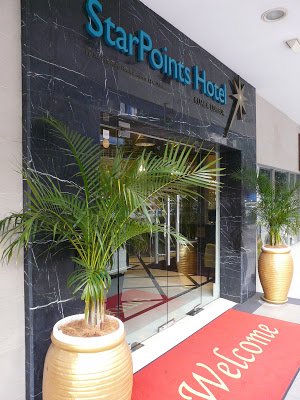 Hotel Entrance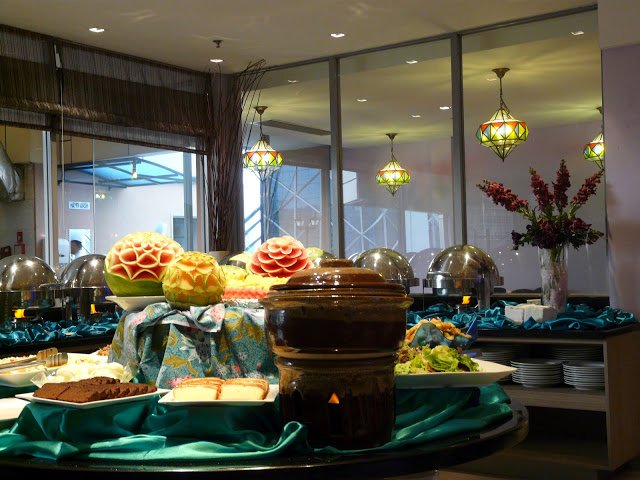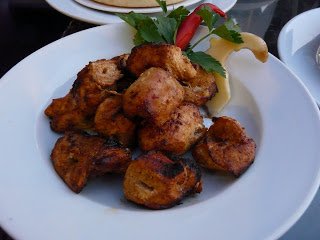 I've had the good fortune to preview several Ramadhan Buffets recently, and each has been unique. Photographer Vicki Fennessy and I were wondering what would be in store at the StarPoints Hotel, nestled in the heart of the Masjid India area. The entrance was not imposing, and the place was quite difficult to find, so I wasn't holding out too much hope. But after taking the elevator to the 14th floor, I was thrilled to find that Kababish Restaurant will be offering Pakistani delights during Ramadhan, and it was these dishes that I had the been invited to try. Executive Chef Samson Victor competently heads a staff of six, three chefs from Pakistan and three from Malaysia. Together they produce a myriad of dishes, incorporating a slight tweak of spices, no curry leaves but extra coriander, tantalizing differences that set Pakistani food apart from its North Indian cousins.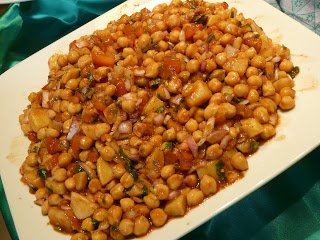 I began my dinner by sampling various Chaats. The number of dishes with the inclusion of the word Chaat was a little confusing, and it was only later that I realised that this means appetizer or snack in Urdu. No wonder they were so diverse. I tried three varieties that were based on chickpeas and potatoes, each with a unique twist. One was made with more tomato, another had dark red lentils and the third was mixed with a yogurt sauce. Each was delicious, but I found the tomato version most pleasing. With plenty of chilli and coriander leaves it reminded me of a nice, fresh salsa.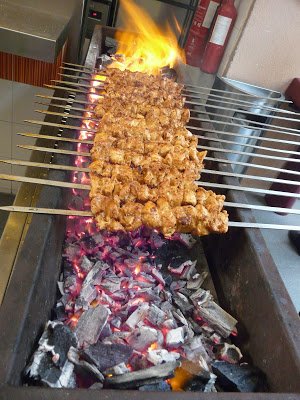 Chicken Boti Tikka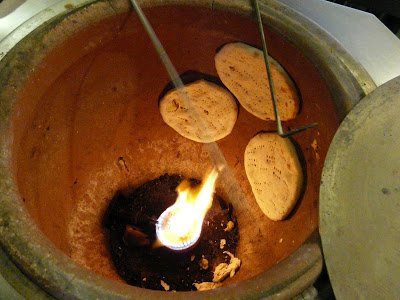 Paratha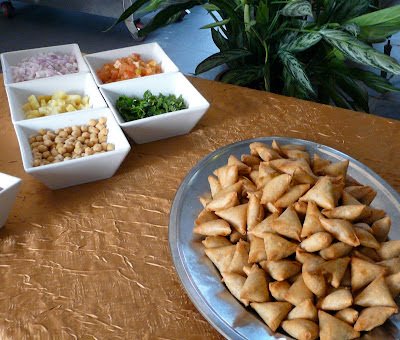 Samosa Chaat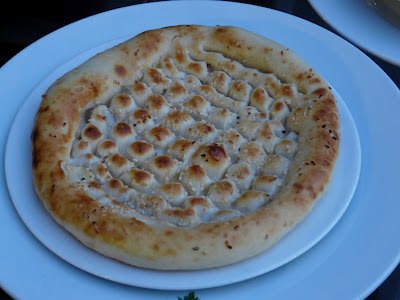 Roghani Naan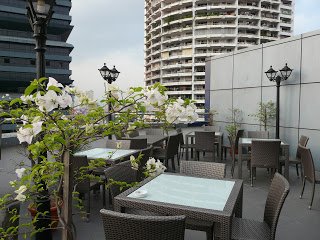 Al fresco dining
The Restaurant has outdoor seating that is perfect
for breakfast or a cool evening. It
was outside that I found the Samosa Chaat, crisp little savoury bites served
with a hot sauce of chickpeas and tomatoes (hot both in temperature and in
spice) and condiments such as potato cubes, raw onion, tomato and
coriander. There were also lovely
chutneys that were highly desireable. The large balcony allowed plenty of space for two of the
chefs to show their skills. Chef
Hussain was busy at the tandoor oven making yet another form of Chaats –
Paratha and Roghani Naan. I enjoyed the potato-stuffed
Paratha straight from the oven with the piquant chutneys, really a wonderful
combination. Chef Ghaffar fired up
the barbie and very soon began to sear long skewers of Chicken Boti Tikka,
which resembled Shish Taouk, and Lamb Kofta. Soaking the chicken breast overnight in a marinade ensured a
juicy finished product, cooked to smoky perfection. I can never resist melt-in-the-mouth, lean meat so I must
confess I went back for a second helping.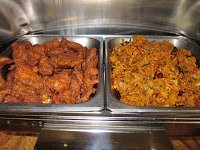 Lahori Fish and Pakora
I went back for more Lahori Fried Fish too, pieces of
well-marinated red snapper cooked in a light batter and served with a zingy
mint chutney, another lip-smacker that tingled my taste buds. Battered yam, bananas and cempadak, and
Mixed Vegetable Pakora rounded out the Chaats. Obviously there was plenty of variety just with these
snacks, but it was time to return inside for the mains. Several dishes looked and tasted
familiar: Aloo Palak (potatoes in spinach, rich and full of goodness), Asparagus
in Oyster Sauce, Qeema Matter (peas and minced mutton in a clove infused
sauce), Sotong Sumbat (stuffed squid) and Beef with Ginger. The Biryani Rice was lightly spiced,
and it paired well with the Chicken Badami Korma, tender stewed chicken in a rich
curry sauce thickened with ground almonds.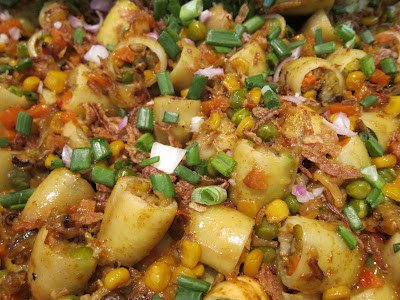 Sotong Sumbat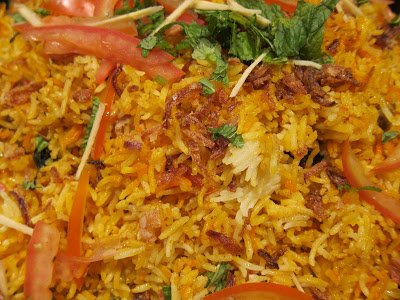 Chicken Biryani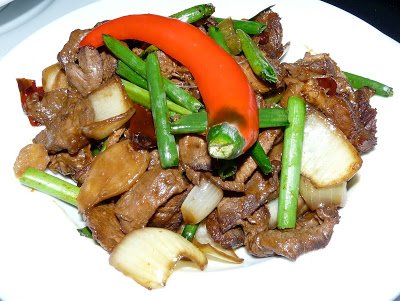 Gubger Beef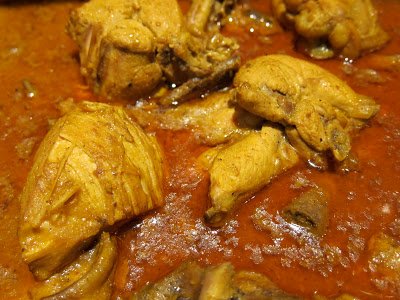 Chicken Badami Korma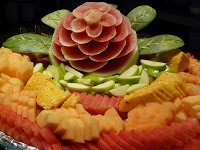 By this time I'd eaten quite enough, but how could I
write about the desserts without trying them? Vicki and I shared half a hot Gulab Jamun each, oozing with
sweetness and half a cold Rasgulla,
a ball of Paneer soaked in sugar syrup.
I must admit that I could have eaten more of these goodies, but I
managed to control my sweet tooth and felt all the better for it later. There was also a salad made of apples
and cucumber in mayonnaise, a rose blancmange and plenty of fruit. To drink there was an unlimited supply
of orange juice and the more traditional rose syrup with milk.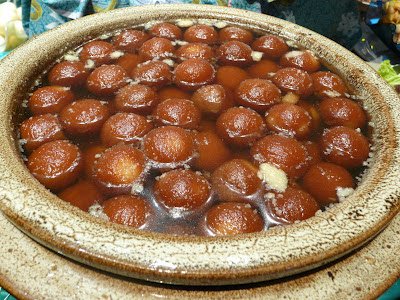 Gulab Jamun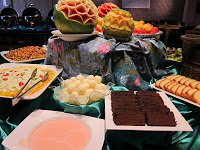 Add caption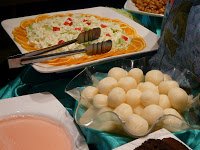 Rasgullah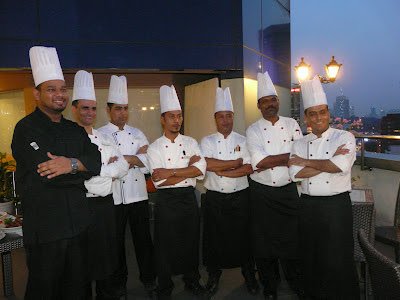 The chefs at Kababish…Chef Samson on the left
The Ramadhan Buffet will run from July 20 to August
19, 2012, between 6pm and 10pm, with a different menu for each day of the week. It is priced at RM60 nett and RM30 for
children aged 6 to 12. There's an
early bird promotion from July 20 to 27.
Kababish Restaurant also has an extensive a la carte menu, which
includes Western, Pakistani, Malay, vegetarian and barbeque options. Outside the festive season, there is a
lunch and dinner buffet at weekends only.





Reason to visit: Super-friendly service and authentic Pakistani food.
For reservations
call Rostardino: 603-2698-1866 or 016-393-9142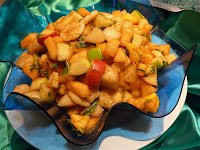 Fruit Chaat
Kababish
Restaurant
StarPoints Hotel
149
Jalan Masjid India
50100 Kuala Lumpur