House Marinated Green Olives – Mouth Bombs! A must try.
Agua Platter
Paella Valenciana
Bread and Butter Pudding
White Chocolate Trifle
Lemon Merengue Pie and Vanilla Ice Cream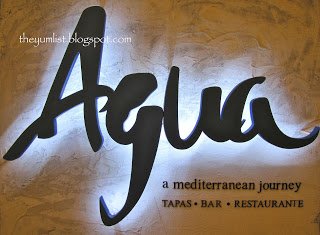 Taking advantage of the only marina mall in the country, Agua at Straits Quay further complements the feel of the sea with its Mediterranean themed menu. Fresh, healthy, tasty food served in a vibrant friendly atmosphere – 'A Mediterranean Journey' – is what they offer. Turquoise, salmon pink and ochre walls are jived up with Spanish artwork. Painted wooden furniture, benches with cushions, soft comfortable more formal chairs too offer seating variety. Al Fresco shaded areas provide a close up inspection of the yachts at dock. The U shaped bar invites you to stay for a drink and large cement plant pots refresh the corners. Owner, Karen Tan, wanted to not only bring this style of food to Penang but also the Mediterranean concept of eating – meal times are not just to fill the stomach but should also be a ritual involving conversation and enjoyment. Through weekend jazz and regular jam sessions throughout the week, she attempts to create an energy where people come to graze, eat, enjoy, relax and hang out.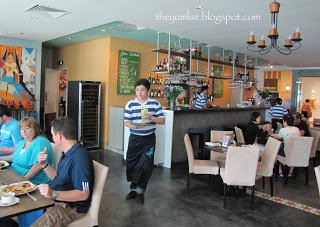 Characterized by use of fresh fruits, vegetables, grains, poultry and seafood with abundant use of herbs for seasoning, Mediterranean cuisine is typically lightly cooked and healthy. A foreign executive chef (not wanting to be named), former owner of a 3 Michelin star restaurant in Spain, now semi retired and living in Penang, did the original menu formulation for Agua. He set up kitchen protocol and led the training of staff. While now taking a step back, he continues to consult a few times a week ensuring the menu is kept true to taste and maintaining consistency. In accordance with the freshness of a Mediterranean meal, 90% of food is prepared daily on site.
A perfect starter or afternoon nibbler is the Agua Platter – a tray of Spanish cheeses, cold cuts and dips. This platter won my approval from the first bite with Queso Manchego, a personal favourite from Spain leading the way. Chorizo, jamon iberico and lomo had hubby humming and the hommus was a treat too – made a little chunkier and fuller taste than the common middle eastern variety. The house marinated Green Olives were an explosion in the mouth! Chef's unique marinade, packed with garlic, olive oil and fresh herbs is sour and tangy and will make you salivate for more. These little bombs merit a visit all on their own.
A friend of any cold cuts platter is a good glass of wine. In this case, the Taja Gran Reserva 2003 from Jumilla, Spain. A blend of monastrell, tempranillo, cabernet
sauvignon and merlot, this red is big and buxom with elaborate spicy aromas. Hints of wild berries, coffee and chocolate tickle the palate upon airing. This wine carried us from starter to paella with ease.
Agua's signature Paella Valenciana combines seafood, chicken and pork with saffron rice in a cast iron dish producing a taste from Spain made for sharing. Allow a minimum
of 25 minutes for this dish as it is made fresh on site. Paella must be eaten hot and is best with a squeeze of lemon on top. Remember to
scrape the sides! The bits grasping the pan have the most intense flavour and
chewy texture – a race to the end often ensues in our house as the last spoons are emptied. If you're interested in bringing some Mediterranean flavours home, every third Wednesday of the month, Agua holds a Paella Cookout where chefs demonstrate how to make
this special dish. Booking in advance will not only award you with a discount but also a glass of sangria to sip while watching the demo.
A sexy Sangria made with red wine, gin, brandy, lime and lemon juices, lemonade, orange and apple slices goes down smoothly in the warm island weather and is a suitable transition from main to dessert. The classic Spanish Bread and Butter Pudding reminded me of grandma. Around Christmas time, when panettone is in season look forward to this dish made with the seasonal bun. Orange peel and sugar crystals on top give an added zing and crunch. The Lemon Merengue Pie and White Chocolate Trifle with brandy and cherries, while not necessarily traditional Mediterranean desserts, are crowd pleasers all the same.
My experience at Agua epitomizes a perfect afternoon for me. Seaside dining, good friends, a vibrant relaxed setting, slow eating, shared food and excellent wine.
Penangites love a bargain and Agua offers a variety of specials to please. Set lunch menus run daily for RM38 and RM45 for two to three courses. A three course set dinner including a glass of house wine is a reasonable RM58. RM120 will buy you six tapas and a bottle of wine or five bottles of beer.
Worth noting is that Agua will soon be involved with their own Corporate Social Responsibility Projects. Recently committing themselves to work with a local organization, House of Hope, they believe in the idea that if you can change the mother you have hope of changing the whole village. The goal is to educate single mothers, giving them confidence to not tolerate abusive husbands, giving them training and work opportunities. At this beginning stage, Karen from Agua helps to raise awareness and funds, but in the future also hopes to provide training and jobs.
Reason to Visit:
Paella Valenciana, Sangria, Taja Gran Reserva 2003, colourful lively
ambience by the marina, house marinated green olives
Open 11am – 11pm seven days
Agua
3 AG18 – 19 Straits Quay Marina Mall
10470 Penang
Malaysia
+6 04 890 8668
[email protected]
www.agua.com.my