Both still and sparkling water will be available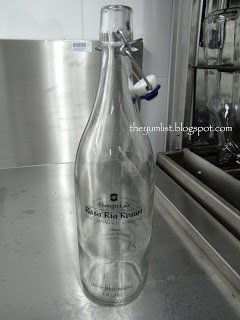 Shangri-La's Rasa Sayang Resort and Spa, Penang, unveiled its in-house bottling plant recently. The bottling plant will serve both Shangri-La's Rasa Sayang Resort & Spa and its sister property, Golden Sands Resort. The resort is the first in Penang accorded this bottling license.
The 1.0 liter glass bottles packaged drinking water will replace the plastic mineral water bottles. Both resorts use approximately 1.65 million plastic drinking bottles a year. This would mean a reduction of approximately 4,708 kg of plastic drinking bottles which is normally recycled a year. The water source is treated pipe water from Perbadanan Bekalan Air Pulau Pinang Sdn Bhd (Penang Water Supply Corporation). Two bottles will be placed in each resort room daily for guest consumption for the duration of their stay. The resort will serve both carbonated and stilled water.
Corporate Social Responsibility Executive, Amelia Lim said "The setting up of the resort in-house bottling plant is a quantum leap towards a more sustainable future. We will be able to reduce the number of plastic bottles which we have to recycle, which in turn will reduce the energy required to turn the recycled material into a new form."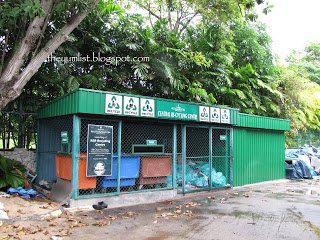 "We are extremely pleased to be able to share this historic moment with our colleagues, business associates and valued guests. Our sister properties in Sabah, Tanjung Aru Resort and Rasa Ria Resort have already set up their own in-house plants and it is also timely that our Penang resorts do so. Companies must progress with the times and we hope to be able to pioneer and promote self sustainability among Penang hotels," said Elaine Yue, general manager of Shangri-La's Rasa Sayang Resort and Spa, Penang.

While taking a tour of the bottling plant I noticed too a recycling shed and questioned our host engineer. He informed us that Shangri La had been recycling for quite some time now, but the future plan is to add composting to their list of activities. The futuristic thinking of using organic waste as fertilizer for the garden and the methane gas (a by product of composting) as a cooking fuel is to be applauded.
How long until other hotels and resorts follow these responsible practices? As consumers we need to voice our concerns. Three cheers to the Shangri La for again leading the way.
Shangri-La Golden Sands Resort
Rasa Sayang Resort
Batu Feringgi Beach
11100 Penang
Malaysia
+6 04 888 8888