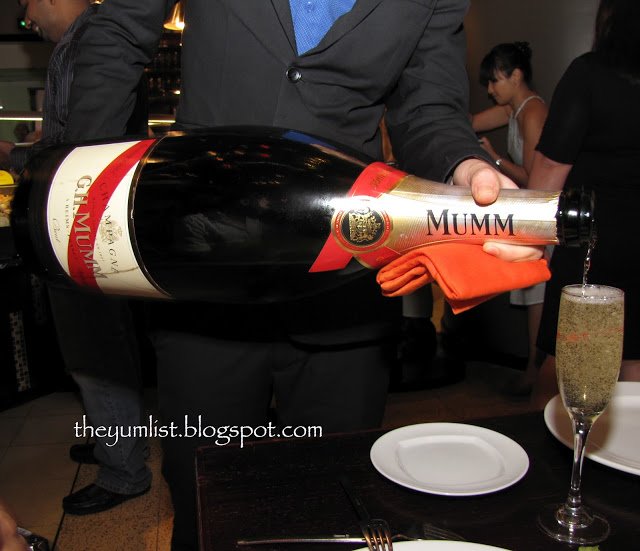 Prego's Bubbalicious Brunch could come close to being the most fun you can have on a Sunday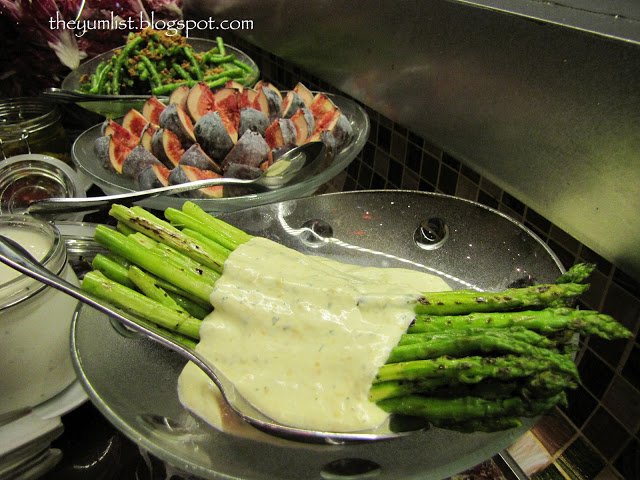 The selection of starters is unique in KL. A range of Italian antipasto, interesting salads such as chick pea and roast capsicum, fresh figs, cold cuts and a wonderful selection of cheeses line the walls.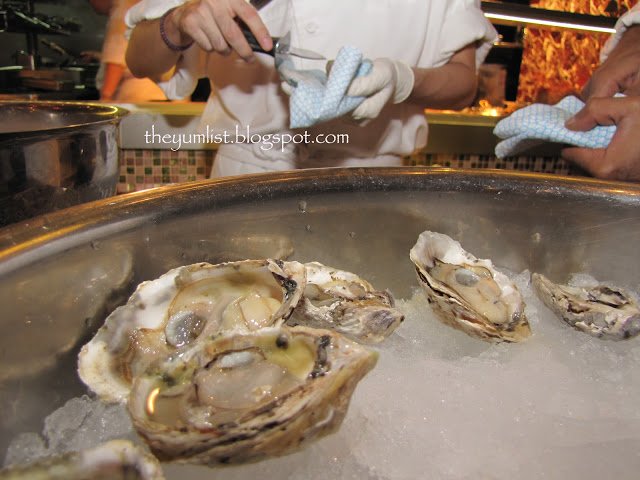 Oysters shucked on the spot
Seafood galore
Items hot off the grill are brought around to guests as they are ready.
Chicken and Beef Sausages
Roast Beef
Straight from the kitchen, diners have their pick of risottos, pastas and pizzas
Squid Ink Gnocchi & Mushroom Risotto
Pizza Time!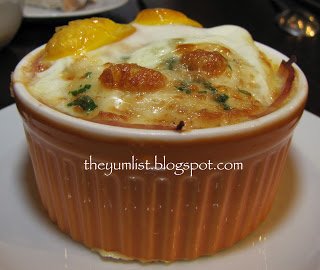 Eggy Brunch Dishes
While the adults are carousing, the kids are too. A separate area is packed with games and toys. A kids' size buffet awaits including a "make your own milkshake" station. Trained nanny's ensure the little ones are safely supervised. Bubble Girl above was a hit!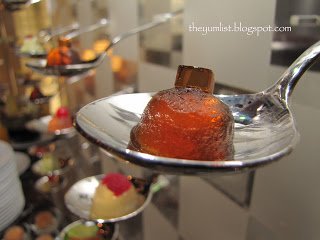 Alcohol inspired desserts – Jello Shots and Dessert Cocktails topped with shaved liquor-ice and a side shot
Rows and rows and rows of desserts!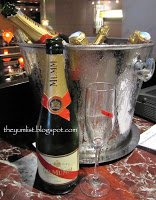 Mumm Champagne
Prego's Bubbalicious Brunch is anything but refined and conservative. It is, instead, an extravaganza of jollification and diversion. The crew kick off with a group cheer, Bubbalicious flags are raised and the unmistakable sound of champagne bottles popping charges the air. The harlequin dining area is lined with molecular desserts, shots, test tubes and a scrumptious line up of fresh seafood, salads and cheeses. Polychromatic lanterns hang from the ceiling and chefs almost dance through the open kitchen as flames blaze and steam simmers from pots. Mentalists, magicians and living statue performers amuse the adults while children are tucked away in an adventure playground of their own filled with bubble girls, make your own milkshake stations, games and a child size buffet. Metal serving trays are fumbled clanging to the floor and the staff erupt in a round of applause and 'woot woots'. Guests are greeted with cocktails and the show is only just beginning.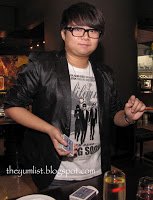 Magician
Italian themed cuisine is the foundation of this culinary escapade with bubbles, alcohol and molecular experiments suffusing the offerings. Fresh figs, bean salads, antipasto, imported cheeses and hand-shucked oysters accentuate the starter sideboard. A science centre, adorned with test tubes, bunsen burners and the mysterious fog from liquid nitrogen is where your instant ice cream is assembled. It is here too, that you can turn your glass of champagne into an icy cold slushy. The desserts smorgasbord is effervescent with bubble infused inventions. Take a jello shot from the wall of spoons or try a Classic Cocktail Dessert Shot – a twist on traditional potations where sweets are topped with shaved frozen liquor and sided with a complementary booster. Much merriment can be found wandering around but a more idle approach can be favoured too. Chefs promenade the tables with pastas, pizzas, risottos, soups and items hot off the grill. This not only means you don't have to leave your seat, but it sidesteps the common downfall of many buffets of the messy group scoop and parched hot dishes.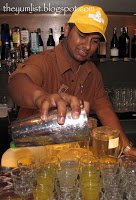 Cocktails Freshly
Shaken
Staff seem to have just as much fun as guests. Camaraderie is evident as mishaps are celebrated with a boisterous hoopla and even the bosses partake in the party games. Glasses are topped without delay, cocktails are shaken in team unison and the gang are only too keen to noisily encourage you in a drinking challenge. Birthday celebrants beware! Giant sized champagne glasses and lay backs await you.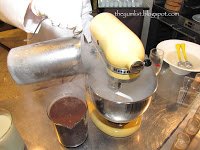 Instant Ice Cream
Bubbalicious Brunches are every Sunday at Prego from 11:30am – 3pm. Guests can take advantage of special prices valid until the end of August – RM168++ for free flow of non-alcoholic beverages, RM198++ adds on beer and wine and the truly Bubbalicious package is RM268++ which includes spirits and Mumm Champagne.
Reason to visit: the most fun champagne brunch in town, excellent kids club, an exciting collection of bubbly themed dishes and delicious Italian cuisine