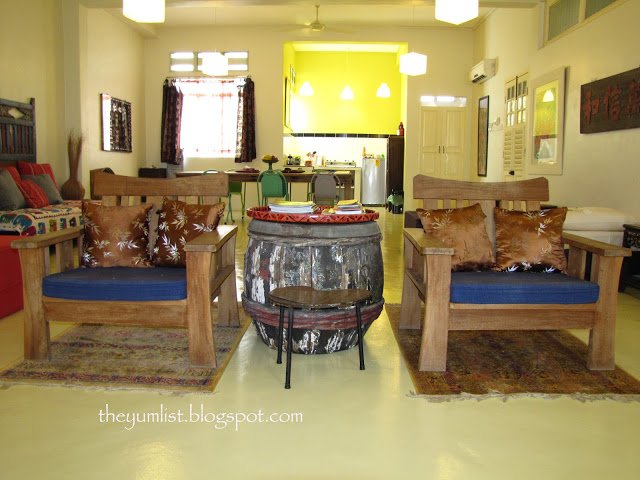 Just part of the enormous living space of a China Tiger apartment
The Bathroom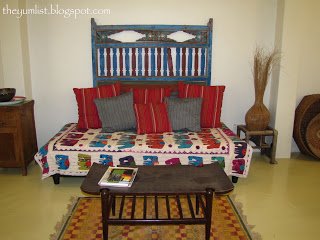 Various seating and sleeping areas – colourfully decorated, happy and spacious
The Double Bed
Dining and Kitchen Area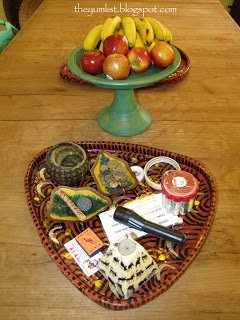 Spacious, artistic, family friendly and in the heart of Little India, China Tiger is ideal accommodation for those wanting to experience historical George Town with the comforts of a self-contained apartment. Run by the artist, Rebecca Duckett (who has her studio downstairs), thoughtfulness is the only world that truly encapsulates the experience. A stay at China Tiger, feels like a friend has lent you their apartment. The fridge and kitchen come stocked with breakfast foods, snacks (fresh fruit, biscuits, Maggi Mee, even local ice cream – Potong) and hot drink making facilities. The cupboards are supplied with cutlery, crockery, glassware and cooking utensils. A stove top, coffee plunger, toaster etc all give you the convenience of independence. Bathrooms are supplied with linen cabinets brimming with towels and articles you might need such as diapers and women's sanitary products. Shampoo, conditioner, soap and toilet paper are all in abundant supply. Change left on the table, alongside matches, candles, torches, emergency numbers and recommended spots to eat make you wonder if your mum called ahead to make sure that you are taken care of.
The whopping apartment in which we stayed had a double bed and three singles (which could be used as sitting areas or set up as beds), plenty of seating options, arm chairs, day beds and an eight seater rustic wooden dining table that deserves to be adorned with a bottle of red wine and crusty bread. A TV, draw full of DVDs and books, magazines and travel guides scattered around the shelves and tables provided plenty of in house entertainment. A separate bathroom, shower and toilet was another large appreciation of space. The huge open living area was creatively adorned with recycled materials, a colourful mix of fabrics, textures and artworks. With the artist's studio influencing your thoughts below and, living in this inspiring space, you might start having grand thoughts of clearing out your own home and returning to artistic simplicity.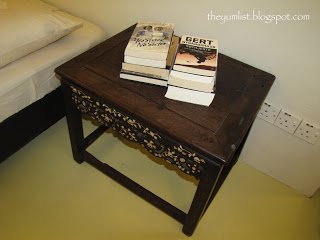 Within steps of the front door you find Indian, Chinese and Malay culture,
food and religion. A vibrant sweaty mix of heavily scented incense wafting from
the temples, smoky tandoori teasing your nose hairs, and sharp chili smoke
hitting the back of your throat. Exploring the old town centre is like hiking has become for me these days. I love to be out there in
the grime getting dirty as long as I have a clean air conditioned haven to return to, to cleanse,
cool and rest. China Tiger is a peaceful, oasis in the heart of heat laden, narrow streets in the mix of spanking new refurbishments and old crumbling decay.
Reason to visit: enormous thoughtful artistic space perfect for families or groups in the heart of Georgetown, Penang
China Tiger
29 Lebuh China
10200 George Town
Penang, Malaysia
+6 04 264 3580