Mushroom Quiche
Tomato Soup
Gorgonzola Beef Tenderloin
Black Cod with Pommery Sauce
Herb and Vege Snapper
Flourless Chocolate Cake, Floc de Gascogne
Warm Apple Filo Pillow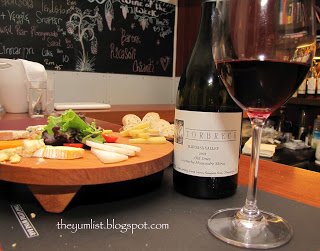 Sitting at the U bar, browsing a solid, affordable wine list, an expat beside me strikes up a conversation. "If you're looking for a lovely red, let me suggest the Torbreck from the Barossa Valley. The bartender convinced me to give it a try a few weeks ago and I've since ran them out of stock twice. Ho! Ho!" He motions to the bottle and offers a glass. I gladly accept and the colloquy continues. A glance around the subtly lit wine bar and I notice relaxed faces, small intimate dark wood tables for two and rouge cushioned seating both high and low. I swirl, observe, sniff and sip the 2008 Grenache Mourvedre Shiraz blend and decide that Terry, as we've now established, might be worth listening to. Absorbing the cool jazzy notes of the background music I learn that the chef's home made sausages with sauerkraut and potatoes are a comforting dish and that the beef tenderloin is supreme – this Texan claims that even in his home state none can compare. My introduction to That Little Wine Bar could synopsize my entire experience – unostentatious, affable yet chic, an apposite den to enjoy a glass of wine with good food. Soon after, a bevy of locals and expats weave in. We shift positions. I begin my review.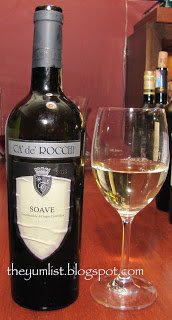 The lovely Louise (owner and wife of Chef Tommes) takes Terry's spot wondering what I'd like to drink. She sees my indecision and suggests a white she herself has been enjoying that evening, Ca de Rocchi, a 2010 Soave. She describes it as, "easy drinking, not too dry, works well for a first go to wine, whatever mood you're in it works." I sip my second wine for the evening and decide to leave all future evening's choices in the hands of That Little Wine Bar. Then out come the dishes…
First up, Mushroom Quiche, Chef Tommes' speciality. Marinated mushrooms are layered on top of the pastry and under the egg custard rather than mixed in. His own creation came about from some left over ingredients of something he had been making for a friend's housewarming. It has been on the menu since opening and is one of the most ordered items.
Black and White Sesame Seared Tuna is up next. Edible jasmine flowers from their own garden adorn the dish. Slivers of paper thin daikon radish marinated in a soy sauce broth underlays the delicate fish. A herb mayonnaise dots the plate and a young ginger, soy sauce, honey and sherry vinegar is for dipping on the side.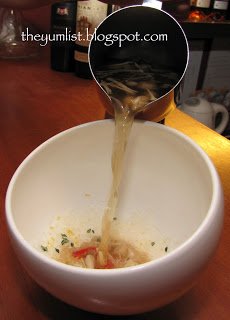 The stage show of the soups is next on the program. Each bowl comes with the solid ingredients in the bowl and the hot broth is dramatically poured over the top. The Tomato Soup, made of cherry tomatoes, and 'secret ingredients' is streamed over a tricolour of raw capsicum, garlic and thyme croutons. As the spoon enters my mouth and the thick rich liquid envelops my tongue and cheeks, I wonder, "Could this be the best soup in the world?!!!" The Wild Mushroom Soup, with five different kinds of mushroom, in a vegetable nage, is presented in a bowl of shredded parmesan, lemon zest, thyme leaves and red Thai finger chili. While acceptable, it is no comparison to the show stealer, the Tomato Soup. Can tomato soup really be this good?
The infamous Gorgonzola Beef Tenderloin follows. On a bed of caramelized onions, topped with gorgonzola and a side of potato and carrot mash, the flesh bathes in a merlot reduction. Quickly pan fried to caramelize the exterior then baked in the oven to trap the juices, this technique ensures tender meat that could almost be sliced with a spoon. Chef Tommes describes it as a 'manly' dish because the flavours are woody or earthy – brown. Louise pairs it with a Tupun Valle de Tupengato, Reserve Malbec 2009 from Argentina. The beef brings out the fruit in the wine, and the the wine accompanies the blue cheese adeptly.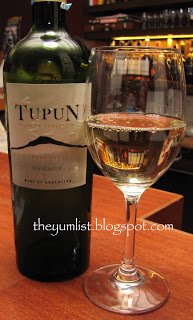 Switching wines, but staying in the same vineyad, I try their Argentinian white, the 2011 Tupun Reserve Voignier – a touch of sweetness and very aromatic. This is a good chance to take a break from tasting, so I pick up my glass and return to conversation with Terry and the current flow of bodies that have washed in. This group too seems to frequent That Little Wine Bar with this their third visit this week – sometimes coming for a complete meal, but other times coming for a light nourishment such as pizza and on other occasions popping in solely for a glass of wine. I'm drawn back to my seat by the promise of fish.
Black Cod with Pommery Sauce arrives, seared on the skin side and then baked in the oven, a prime example of the chef appreciating the flavours of quality ingredients. He uses no salt and no pepper, only oil in the frying pan. A cauliflower puree and a pommery sauce tweaked with vinegar are designed not to overpower the fish, giving a nice extra. On the side are pea sprouts, diamond tomato shapes and grated nutmeg (Penang touch). On top is potato straw. The use of young fish and complementary, not dominating, companions creates a light dish that is traditionally heavy. It pairs well with a big white Spanish Sanz Sauvignon Blanc which is fragrant and fruity, full and rich with touches of tropical fruit and a long lingering finish. A light red such as pinot noir would do equal justice to the dish.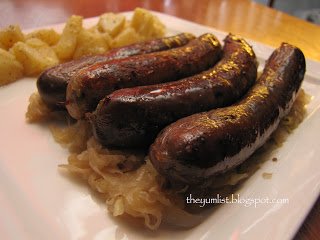 Chef's Home Made Pork Sausages and Sauerkraut is the last main dish. The cabbage has been boiled in chicken stock with juniper berries and bay leaves giving a distinct flavour. As mentioned earlier, it's an expat favourite and I can see why as this dish has a comforting homey feel. I've had enough wine by this stage but ask for a suggestion anyway and Loiuse tells that a medium to full bodied red, one of their French wines such as the Rive Haute 2010 Merlot Tannat would go nicely with this dish.
Unlike many restaurants where the bulk of the energy seems to have been spent on the mains and the desserts come as an after thought, Chef Tommes as paid just as much attention to satisfying our sweet cravings. The Apple Filo Pillow is the chef's personal take on apple strudel. He makes individual pillows from super thin pastry filled with, what smells like Christmas, with a macadamia nut vanilla ice cream and whipped cream on the side. His signature dessert is a wonderful combination of warm and cold. Pairing well with a traditional sauterne or muscat such as the M Chapoutier Muscat de Beaumes de Venise from the wine list. The Flourless Chocolate Cake is dense and rich and ends the evening with a heavenly pairing aside the French Floc de Gascogne, a fortified sweet wine, best served cool.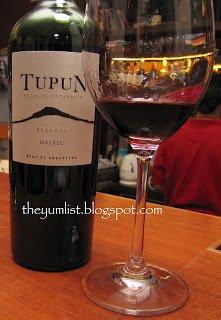 Wines range from RM80 to RM1088, with most hovering around RM128 – RM148 per bottle. Eighty percent of the wine they import themselves so prices are kept reasonable. The menu is easy to read including wines from around the world with a description and points awarded if appropriate. This European style wine bar and restaurant is a non-intimidating setting with wine classes and staff on hand to help with selection. The food too is approachable. You'll see items from pizza to foie gras on the menu and prices from RM10 for the Chocolate Cake to RM48 for the Beef Tenderloin. It's clear to see why customers quickly become regulars. If I lived in Penang, I might become part of the furniture too.
Reason to visit:  quality selection of affordable wines stored and presented well, intimate suave but friendly ambience, tenderloin, flourless chocolate cake, apple filo pillow, tomato soup, mushroom quiche
That Little Wine Bar
54 Chow Thye Road
Georgetown, Penang
Malaysia