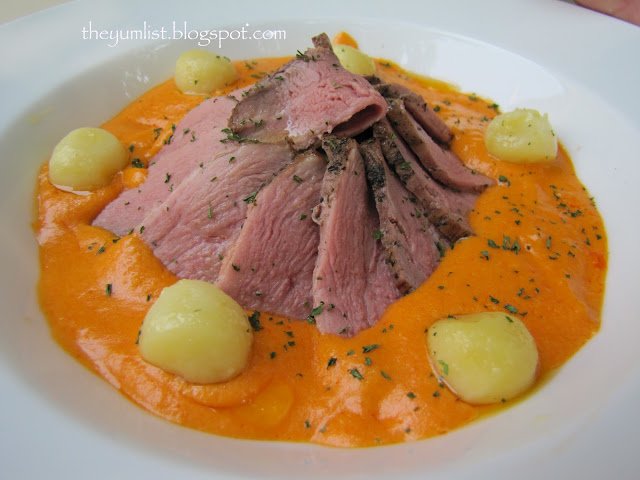 Duck Legumes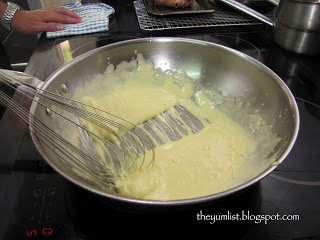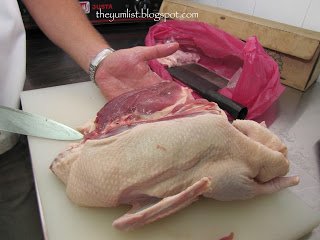 Preparing the duck and making hollandaise sauce
A private culinary cooking experience with the legendary Chef Tommes of Chalk and Cheese is nothing short of a privilege. This TV chef and owner of That Little Wine Bar and Irrawady Fine Foods in Penang trained under not one, not two, but three different Michelin Star chefs! In only two years of opening, That Little Wine Bar has tallied up a number of awards including second place for Best Casual Dining, a top Five in Best Western Cuisine Chef and three other top 10s along with Gold awards in the regional Hospitality Asia Platinum series. It was amongst preparations for the filming of a second TV cooking show that I was blessed to be asked if I'd like to have a private class with this extraordinary chef. My answer…YES!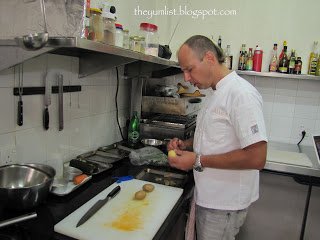 The first thing I noticed walking into the master's kitchen is how
shiny clean it was. EVERYTHING had its place. Chef Tommes seems to be fastidious
with orderliness and cleanliness. Even
the signs in his kitchen decree the perfectionist this character is. "Our Food
is the Best! Make sure of that – excuses are for losers" – hovers a sign above the kitchen entrance, autographed with skull
and cross knives for extra emphasis. A hand written note pasted atop the prep area declares that mistakes stay in the kitchen and failure to follow the instruction results in death. "Fun, fun, fun," I thought as I nervously stepped further into the taintless sanctum. I was quickly distracted though by the smiling, wild haired, Tommes as he explained the dish we'd be making together.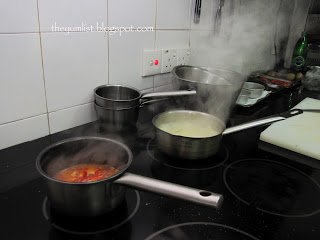 Duck Legumes was the dish of the day. The end product sees thin slices of duck meat blanketing a hill of eggplant, zucchini and carrot, surrounded by a moat of hollandaise sauce mixed with a tomato and capsicum blend with potato balls circling the core. The fascinating thing about this dish is that seven different vegetables were used and ALL were cooked separately. This ensures each product's flavour is maintained so when combined at the end, the character of each remains distinct. Over the next three hours, Chef Tommes explained and demonstrated the process from start to finish. Learning cooking tips along the way, I was also treated to history, chemistry, science experiments, life philosophy lessons and even riddles. The amount of information packed into our session could have filled a semester of university courses. The more questions I had, the more he happily answered. Stay tuned for Chef Tommes upcoming TV show where the basics of the kitchen will be unveiled. If my culinary journey with this master chef is anything to go by, it should be an entertaining series.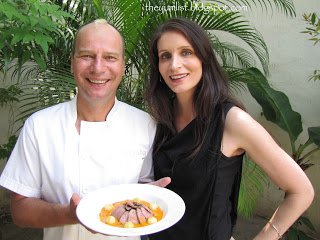 Finally, after three hours of kitchen work, I was able to try the finished product, Duck Legumes. Fabulous! Tender slices of duck mixed with the decadently creamy sauce was complemented and made more complex with the slight tang and change of texture added by the potato balls and vegetable hill. While devouring this dish, I learned that what took me close to three hours to achieve, chefs do in 20 minutes! A trip to That Little Wine Bar is warranted just for this dish. Pair it with the French Madiran AOC Maestria (which by the way is from the same area that is famous for French ducks) and you're in for an incredibly scrumptious meal. Thank you to Chef Tommes and the team at Orchan for arranging this enlightening lesson.
Reason to visit: Duck Legumes! A chance to meat celebrity chef Tommes
That Little Wine Bar
54 Chow Thye Road
Georgetown, Penang
Malaysia