Duck Liver Mousse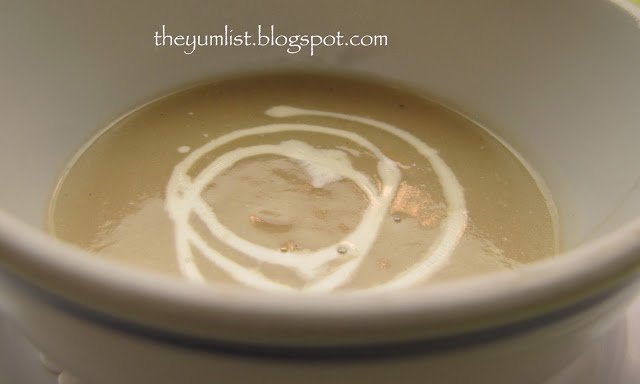 Du Barry (Cauliflower) Cream Soup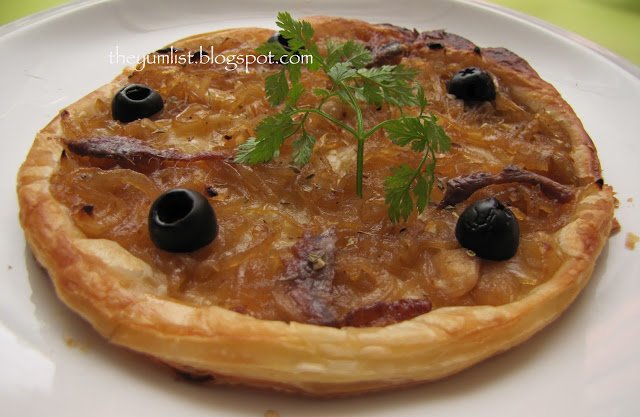 Rotissaladiere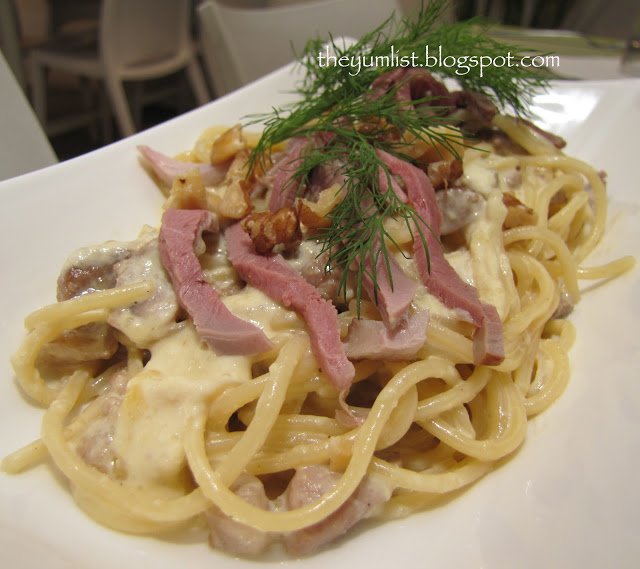 Pasta like Carbonara with Smoked Duck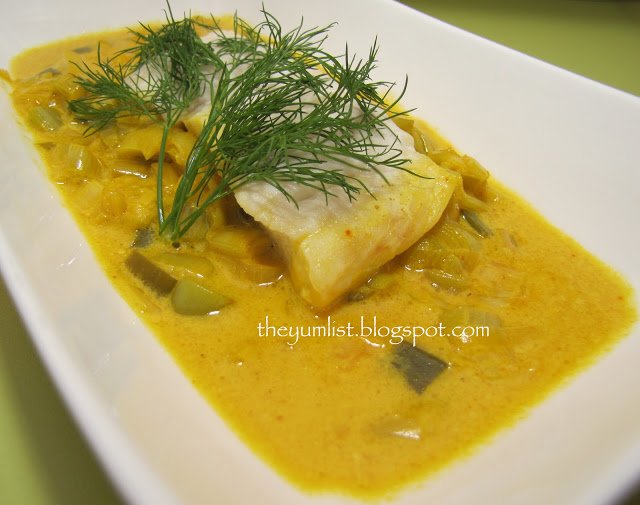 Seabass Leeks Fondue
Ducky Patty with Beans like a Cassoulet
Duck Breast with Garlic Cream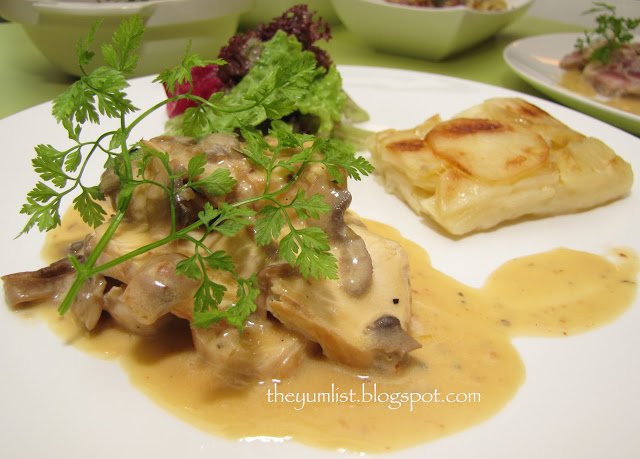 Chicken Breast with Mushrooms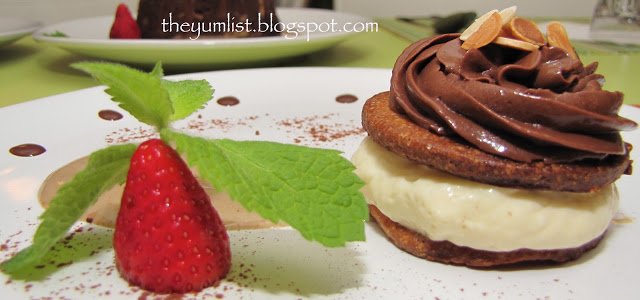 Sables duo Mousses and Morello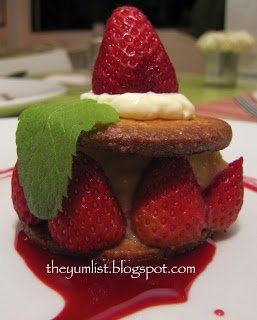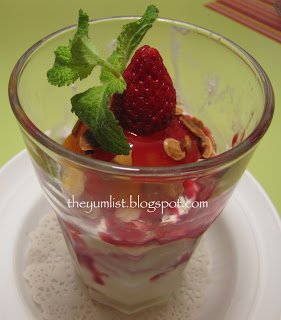 Peach Melba and Sable Assorted
Fruits Patissiere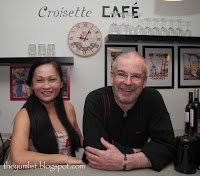 Owners Michelle and Pierre
"Best value French
restaurant in town," says my foodie girlfriend. "Sexy, cosy, homey," smiles my
neighbour's aunty. "Healthy, organic and plain old yummy," declares my business
buddy when they tell me about Café Croisette, a French café hidden in a residential
building not far from Bangsar Shopping Centre. French Chef Pierre is the man
behind the food and local Michelle is the woman (true to her gender) who takes
care of everything else.
Cutting costs by locating themselves
in a condominium as opposed to an expensive piece of commercial property, the
rumour is that the savings they make through a lower rental in this location
are passed onto their customers. With their current business lunch promotion it
seems that this just might be one rumour that has more truth to it than
fallacy.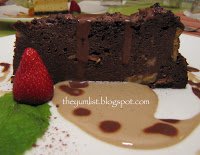 Chocolate Banana Pudding
Tuesday to Friday from 11:45am–
2:00pm guests can fill their tummies with a choice of one of three starters, one
of three mains, one of three desserts and a bottle of water for RM30 nett. We
tested out a number of these dishes and were blown away by some and quietly
satisfied by others. The knockouts of our trial session are as follows.
Of the starters don't miss
the soups. Both the Pumpkin and the Du Barry (cauliflower) versions are rich
and creamy. The Rotissaladiere is also a must. If it doesn't on appear on the
set menu for that day it is worth ordering on its own. The Malaysian version of
this Southern French classic is based with roti canai giving a light flaky
pastry foundation for the savoury onion, olive and anchovy topping. This interpretation
is known as a 'white' pizza for its lack of tomato sauce. A fusion type, however,
can be found on the regular menu in the form of a Margarita with tomato, pesto
and cheese.
Passion Indulgence Slice
The principle plates are all
valued at around RM30 if you order directly from the menu, yet the portions
remain the same as part of this excellent value for money lunch set. The Chicken
Breast with Mushrooms is one of the most succulent I've sampled. The Ducky
Patty with Beans like a Cassoulet more than pleased the French and English (who
has fond memories of family summer vacations in the south of France) diners at
our table and the Seabass Leeks Fondue was just as much of a hit.
You might have to visit
everyday to sample the desserts. Of the set menu the Sables duo Mousses & Morello, Sable Assorted Fruits Patissiere and Passion Indulgence Slice were
scooped up in seconds. Also on the regular menu though is the Chocolate Orange
Parfait, Blood Orange Chocolate Cake and,
the Triple Choc Mousse which justify a visit in themselves.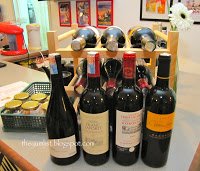 Reasonably Price Wine
The price of wine is quite
salient in a post on Croisette Cafe. The exact same bottles found just down the
road in eateries in commercial centres selling for well over RM100, are
available from RM60 in Croisette Café. A
glass begins at RM12.
Reason to visit: affordable homey French cuisine (and
wine) in a cosy café, excellent value set lunches
Croissette Café
Bistro & Pastry Corner
Cascadium Condominium
Level 3 (swimming pool area)
28 Jalan Penaga Bukit
Bandaraya Bangsar
Malaysia
Michelle 016 330 4477
Pierre 014 665 7944
http://www.facebook.com/Croisettecafe