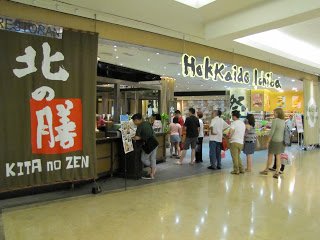 Entrance Small details – leaf shaped wasabi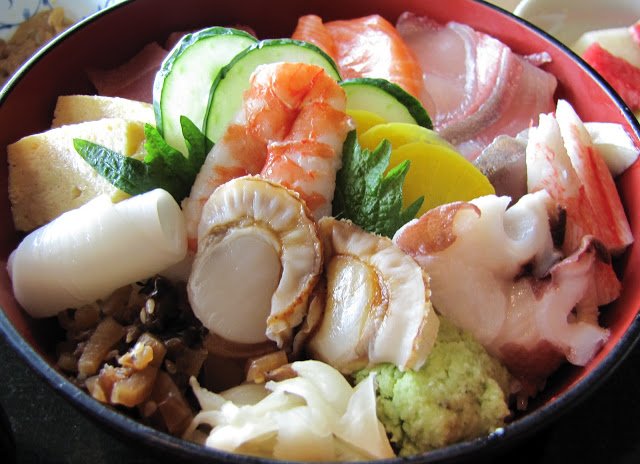 Sashimi on rice
Udon soup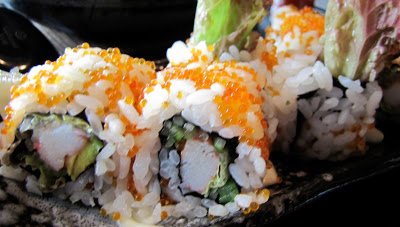 California Rolls
Mini udon and sushi set

A close up of the sushi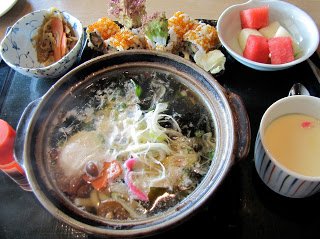 Hokkaido Ichiba in Gardens Mall was streaming with hungry diners when we arrived for a late lunch. Usually put off by crowds, we noticed the fast moving line up and packed tables (a sure sign it's at least fresh, if not even good), so made the decision to stay.
At first glance I thought the prices were a little steep. When I saw the size and tasted the quality of the meals though I realized the meals are actually quite good value. All of the sets were around 30RM. Shame I didn't get a shot of the edamame as they are something special – fresh beans, some still attached to the vine. When our correct orders finally came there were no complaints from any of my dining companions. The California Rolls and Udon Soup were put on the "to order again" list. A well lit booth by the window was also decreed as a table to reserve once more. I can see my Japanese girlfriend turning up her nose now at the choice of a large Japanese chain on The Yum List, but for those not accustomed to eating this cuisine from birth, it tasted pretty good. (sorry Yuka)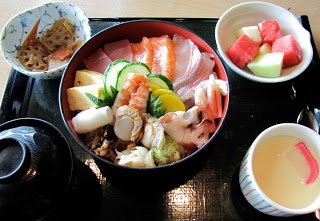 Our meal was wrought with miscommunications in English but misunderstandings were cleared up without a problem. For hiccup free ordering though I recommend pointing to pictures and insisting that your ordered is repeated before the busy waitstaff scoot off.
A handsome looking ice cream parlour next door might entice me back for a future date.

Reason to visit: value for money filling Japanese
Hokkaido Ichiba
The Gardens Mall
T-201 3rd Floor
The Gardens Mall
Mid Valley City
Lingkaran Syed Putra
59200 Kuala Lumpur
+6 03 2283 1060
Open 10am – 10pm