I always enjoy walking into the Living Room at The
Westin. It has a warm, welcoming
atmosphere, which is heightened this Ramadan by the addition of a group of
musicians. Wearing traditional
Malay dress, and focusing on traditional Malay music and songs, they add an
extra soupçon of ambiance to the restaurant. I was wondering what intriguing delights The Westin had in store
for this special buka puasa feast, and
I was immediately aware that there was more hustle and bustle than usual
in the restaurant. This buffet is
HUGE! I've never seen so many
chefs and cooking stations. It was
a little bewildering at first, but before eating, photographer Cheryl Hoffmann and I had a wander round and
discovered so many fantastic food options we were completely spoiled for choice.
You will find a lovely display of Zam-Zam Water, holy
mineral water from Mecca, and a selection of dried fruit. Could there be a more
perfect way to break fast?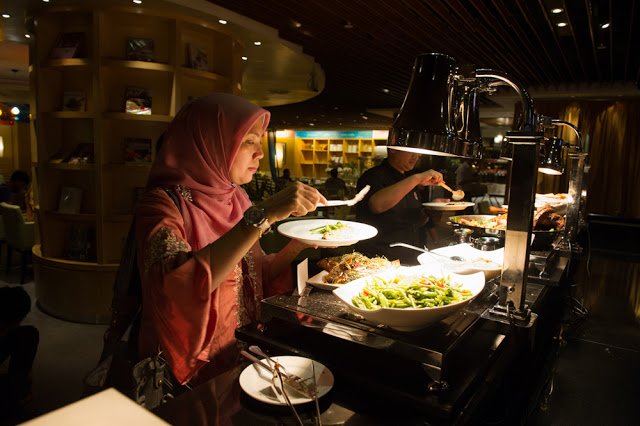 I added sushi and sashimi
and sampled one or two of the numerous varieties of Kerabu – Keli Leleh Sungai
Pahang (Smoked Cat Fish with Spiced Coconut Sauce) and Kerabu Pelam Daging Bakar (Spiced Mango with Grilled Beef Salad). Really, there were too many to mention. There were Western salad choices too and I enjoyed the
Caesar Salad with shrimp…I've never eaten this combination but it's something
I'd like to try at home… and the poached salmon salad was especially delicious. There were also salads from Indonesia
and Thailand, truly something for every palate.
Moving on to hot food,
there were seven varieties of rice including Westin Lamb Biryani, Pulut Rendang
Udang (sticky rice to accompany coconut shrimp curry), Nasi Lemak "Cimput"
(steamed coconut rice with condiments) and Nasi Ayam, Hainan Chicken Rice, much
of it beautifully presented in gigantic bamboo steamers.
The most important Malay dishes were bubbling away in
massive woks, so reminiscent of cooking for special events in the Kampung. There was Gulai Tunjang (braised beef
tendon with candle nuts, turmeric and local bay leaf), Ayam Kampong Gulai Nangka
(chicken and young jack fruit curry), Tulang Rawan Asam, (braised spiced beef
ribs with hot and sour ginger-flower gravy,) Gulai Nenas Ikan Masin (pineapple
with salted fish braised in turmeric and coconut) and Rendang Paru (beef lungs
braised in lemon, galangal and
coconut paste). I tasted each of
these (yes, you can be proud of me, I even had a tiny bit of lung), and even to
my relatively inexperienced palate they were all fabulous.
The Westin Kuala Lumpur
199 Jalan Bukit BIntang,
55100 Kuala Lumpur
Tel: 03-2731-8338