InterContinental Berbuka Puasa 1 Malaysia by Sam Gibbs
Serena Brasserie Intercontinental Hotel Kuala Lumpur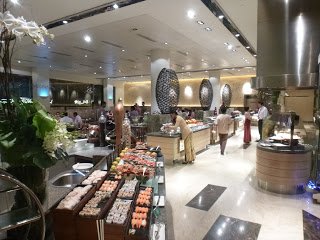 Serena Brasserie InterContinental
Stepping from the well appointed lobby of the
InterContinental Hotel into the Serrena Brasserie is certainly
an experience to behold. The Serena, whilst thronging with hungry clients busily
creating their meals from a galaxy of offerings, still presents a calming and
inviting environment to break fast. From
the sound of the waterfall on the terrace, to the brightly colored fish
meandering through the pond inside the dining area, all make for a pleasing ambience that adds to the novelty of your Berbuka Puasa dining adventure. And
what an adventure it is!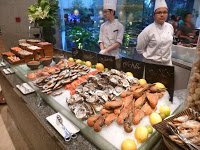 The Sushi and Fresh Seafood Bar.
One must pause a moment to take stock of the tremendous array
of food on offer. Creatively and enticingly laid out before you is a fabulous
selection of culinary achievements that represent not only the traditional
dishes of the Malaysian culture, but an impressive fusion of Western, Mediterranean,
Japanese and even Middle Eastern offerings.
As an almost religious follower of Sushi I started with
delicate slithers of Tuna and Butterfish
washed down with fresh Oysters. I
then moved on to test some of the Mediterranean flavors sampling delicious
black olives the Beef medallions with Rosemary sauce and Ratatouille. Also of note was the pasta bar serving several
varieties of spaghetti and sauces all prepared on the spot.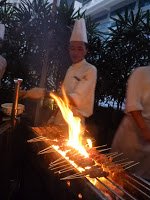 Marinated Satay
Not dwelling too long in Europe I stepped across to Asia and
began my odyssey of amazing dishes from closer to home starting with the
Murtabak and its accompanying thick Dahl and spicy curry sauce. This was being prepared in the outdoor servery
area that is set up like festive outdoor makan malam food stalls. Whilst here I also sampled
the hedonistic Teppenyaki, marinated Satay and one of my recommendations,
the deep fried Sweet Potato enshrouded in a crispy delicate batter from the
Goreng Goreng stall. One will also find whole roast lamb complimented with an
array of condiments and gravies, plus the open grill serving a variety of fresh
fish and seafood.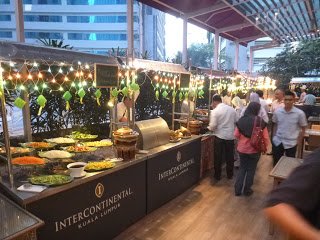 Buka Puasa Festive Ambience
Inside, situated in a special area dedicated to specialties
from various regions of Malaysia, were a series of inviting dishes. On offer
was a delectable Lamb Rendang made with a rich, slightly sweet and spicy saucy
that was simply amazing, Lamb Kurma, Sweet and Sour Prawns and a fabulous Bryani.
In addition I had to sample the delicious Wok Fried Mussels with Kam Heong Sauce.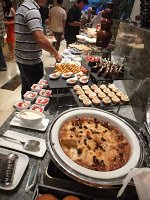 Dessert Heaven
Having done as much as any human could manage with the savory
dishes, a final lap was reserved for the magnificent array of desserts. Here the pastry chefs have gone into
overdrive and delivered a heavenly selection of almost every conceivable
delicacy imaginable. I got stuck on the explosive lemon meringue tarts whilst
not leaving behind the mouthwatering apple crumble and bread and butter
pudding. Also on offer was a
comprehensive array of traditional desserts that included the beautifully
prepared Kuih and of course the ubiquitous ABC from the Ice Kajang stall situated outside.
During the course of this extensive gastronomic adventure I
was able to meet some of the people behind the scenes responsible for
orchestrating this feast. Zoe Chaplin of
Marketing & Communications and a matsaleh veteran of Malaysia informed me
that InterContinental thrives on co-joining expertise from abroad with local
talent. My impressions were well supported whilst later discussing the future
aspirations of the InterContinental's dining services with newly appointed executive
chef Darrel O'Neill. Darrel has extensive experience worldwide citing the
Maldives, Dubai, India and Australia as some of the countries he has worked in.
His aspiration for the InterContinental is clear in that it is proposed to
fully renovate the dining experience and in doing so maintain the InterContinental
at the cutting edge of hoteliery in SE Asia.
Judging by the sense of focus and commitment demonstrated in not only
the culinary effort on show at the
Serena Brasserie, but also with the local
and international staff I met during my visit, I happily conclude that dining at the InterContinental is an
experience well worth embarking on both now and in future.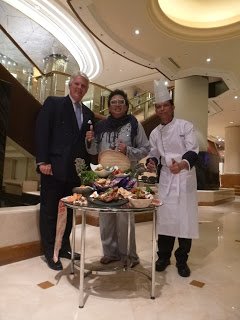 Reason to visit: Experience
the exciting Buka Puasa ambience delivered with flair and style.
Cost 1st and 4th week of Ramadhan RM99 ++
2nd
and 3rd week of Ramadhan RM115++
InterContinental Kuala Lumpur
165 Jalan Ampang,
50450 Kuala Lumpur
Reservations Ph. 603 2161 1111