Fresh juices RM6.90 and Lassi RM5.90
Nasi Ulam RM5.90 (traditional Nyonya dish made with brown rice and packed with fresh herbs)
Mushroom and Broccoli Spaghetti RM8.90
Vietnamese Hand Rolls RM3.90
Spinach Spaghetti RM7.90
Mama's Rice – brown rice with three dishes of the day and soup RM6.90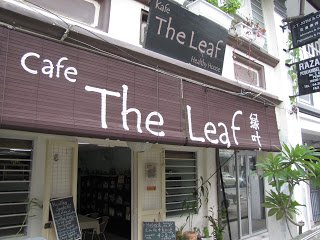 The Leaf
A late night stroll around Little India in Georgetown saw me stumbling across this small cafe, The Leaf Healthy House. Delighted to see brown rice on the menu I vowed a return. Convincing my carnivorous husband and our Tree Monkey friends to give vegetarian a turn, I happily led them back for lunch the following day. Describing themselves as "a natural vegetarian cafe" preparing food "without MSG, no white sugar, no white salt, no artificial colouring or preservatives" I knew I had chosen well.
The simple cafe is clearly visible from the street with a brown roll down awning with 'The Leaf' in large white lettering and pot plants greening the entrance. Inside, the cafe is straightforward. Simple shelving hemmed with organic products and tables seated by rattan chairs and decorated with living plants make up the interior. A quote by Mahatma Gandhi reads, "Earth provides enough to satisfy every man's need. But not every man's greed." A peaceful feeling purveys the room.
Quote from Ghandi
A vibrant blend of juices were our first order. A super combo of beetroot, carrot, celery, lemon and apple made up the Give Me 5 and mango, orange, pineapple and organic honey fashioned the Hi-C Juice. Lassi can be made from any number of seasonal fruits, but the one hubby had this day was a banana version. The food was just as nourishing. The Nasi Ulam made with brown rice was delicious, filling and joyously tickled our insides. The Hand Rolled Vietnamese roll filled with brown rice vermicelli, lettuce, peppers and fungi was refreshing and made special with the green dipping sauce. Vegetarian spaghetti pleased the boys and Mama's Rice featuring brown rice and three home made curries was a lovely treat.
The Leaf is an affordable place for a wholesome, good for you, good for mother nature meal.
Reason to visit: healthy, earth friendly vegetarian meals
The Leaf Healthy House
5 Lebuh Penang
Georgetown
10200 Penang
Malaysia