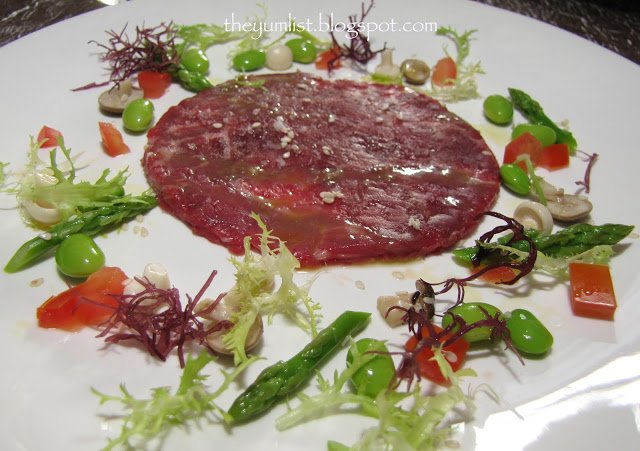 Wagyu Beef Carpaccio with Shimeiji Mushrooms, Micro Greens and Citrus Dressing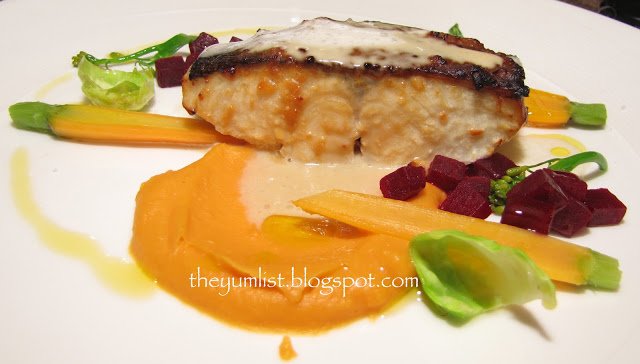 Black Cod with Sweet Potato & Ginger Mousseline, Baby Beets and Citrus Dressing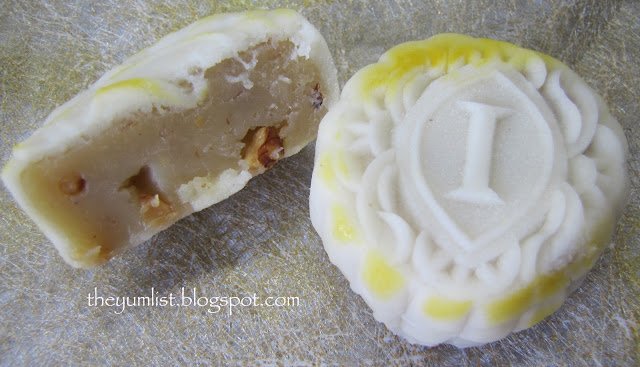 Snowskin Mooncake with White Lotus Paste – A preview of the goodies that will soon be available with mooncake season just around the corner
An Evening Under the Stars with Chef Darrell J. O'Niell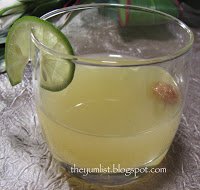 Tropical Masumi
Greeted by cool evening breezes, shimmering waters and a
handsomely dressed table under tropical trees, our initial meeting with the new
executive chef of Intercontinental Kuala Lumpur, Darrell J. O'Neill was a
sensory fulfilling one. The fifth floor of the hotel is filled with lush
gardens, a lagoon shaped pool, bar and covered function area. It is here that
we sampled a taste of what is to come with the introduction of the new
executive chef in an Evening Under the Stars.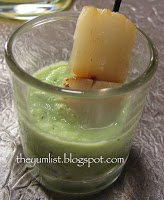 Edamame & Mint Gazpacho
Hand Dived Scallops
Chef Darrell discovered his love of cooking as a child. He
fondly remembers helping his mum bake and prepare the daily meals as a
youngster. His passion for food developed into a culinary career that has taken
him around the globe in many a prestigious position. Overseeing four (!) Michelin starred
restaurants in Atlantis and also leading the team at the famous seven star Burj
Al Arab in Dubai are just two of the highlights. Years later, with a worldwide
resume behind him and formal training in French cookery, he says that he
doesn't like to be defined by one particular cuisine. His inspiration comes
from fresh high quality ingredients prepared to optimize their natural tastes
and textures. With that said though, he
does admit to being influenced by the simplicity of Japanese food and you'll
see a hint or more from this region in his dishes. While taste is obviously important, he finds
presentation equally fundamental. He says that most people first 'taste with
their eyes' building up an expectation before the first bite. Expect to see
this chef in the dining room too. Interacting with guests, educating them, finding
their likes and dislikes and enjoying a connection over good food – he sees
these as vital to his role. In this
Evening Under the Stars, we were able to witness all of these things – pure joy
as he chatted with guests, beautifully presented plates and of course,
exceptional food.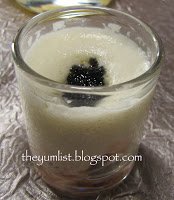 Cauliflower Espuma with
Citrus Lobster & Caviar
Quality ingredients with a Japanese influence were a common
thread to the evening's line up. One of six signature sake cocktails available
at their Japanese restaurant, Tatsu, the Tropical Masumi, was our liquid
libation. Made with Masumi Sake,
pineapple juice, lime, sugar syrup and sour plum, this sweet and sour concoction
was a perfect poolside recharger.
Chicken Satay Slider with Mango
& Coriander Chutney
Edamame and Mint Gazpacho with Hand Dived Scallops was the
first canapé tabled. Roughly blended greens provided a textured base for the
firm sea creatures. This shooter size creation reminded me of an Eastern
version of pea and ham soup. Edamame replaced the peas, scallops the ham and it
was served cold rather than hot. Asian Angus Beef Tartar Crostini continued the
path. Minced herbed beef topped a crunchy bread base forming a contrast of
textures and another resemblance to a western cousin. The Cauliflower Espuma with Citrus Lobster
and Caviar was my favourite and hubby woofed down the bite size burgers of
Chicken Satay Sliders with Mango and Coriander Chutney.
Asian Angus Beef Tartar Crostini
The first plate, Wagyu Beef Carpaccio with Shimeiji
Mushrooms, Micro Greens and Citrus Dressing, saw a thin round of Australian
wagyu beef from Queensland moated by edamame beans, tiny leaves and sprinkled
with sesame seeds and salt. Black Cod aside Sweet Potato and Ginger Mousseline,
Baby Beets, Broccolini and Bonito Foam made a stunning main with the flaky but
firm, flawlessly baked fish contrasting in texture and flavour with the smooth
mash and crisp vegetables.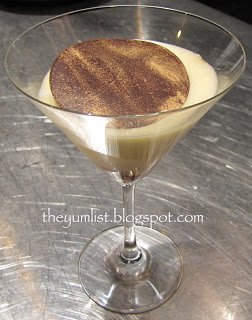 Modern Coconut Tartufo with Kahlua
Dessert was just as pertinent as the preceding courses. The
grand finale, Modern Coconut Tartufo with Kahlua, was a dessert and cocktail in
one. This versatile number could just as
easily be savoured at the bar or at the dining table. Diced mango is topped
with home made coconut ice cream, a Malibu Sabayon, a chocolate sheet and then
drizzled with a Kahlua, rum and espresso sauce generating nirvana in a martini
glass.
Chef Darrell is passionate about food and people. His modern
innovative ideas are sure to take the kitchens of Intercontinental Kuala Lumpur
to a new level of quality and presentation.
Reason to visit: see what exciting things come to pass with a
new chef in town
Intercontinental Kuala Lumpur
165 Jalan Ampang
50450 Kuala Lumpur
Malaysia
+6 03 2782 6321