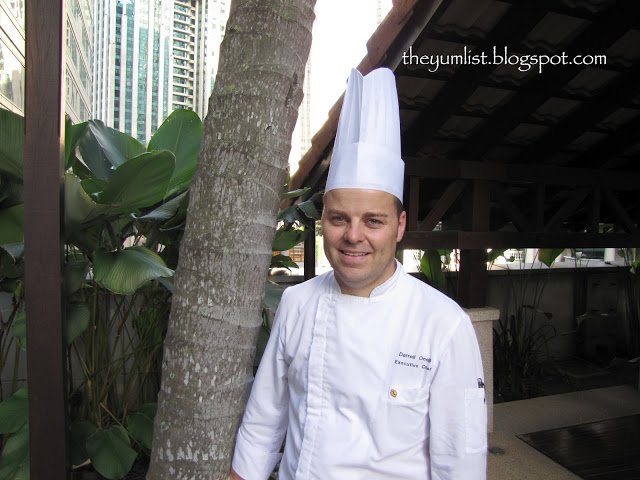 New Executive Chef at Intercontinental Kuala Lumpur, Darrell J. O'Neill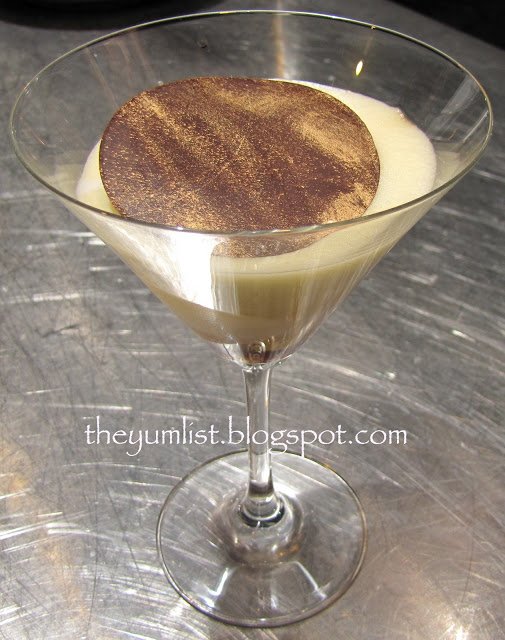 Modern Coconut Tartufo with Kahlua
New executive Chef Darrell J. O'Neill at Intercontinental Kuala Lumpur shares his recipe for Modern Coconut Tartufo with Kahlua with The Yum List. This sweet concoction with Malibu, rum and Kahlua is just as much a cocktail as it is a dessert. Fresh mango cubes are topped with coconut ice cream and drizzled with Malibu Sabayon before being crowned with a chocolate sheet and doused with the liquor espresso mix.
Modern Coconut Tartufo with Kahlua
Portions – 4
Ingredients:
290gm Coconut Ice Cream
320ml Malibu Sabayon
160gm Mango (Diced)
15ml Kahlua
15ml Rum
40ml Espresso
4pc Chocolate Sheets
Gold Leaf
Coconut Ice Cream:
660ml Fresh Milk
2pc Grated Fresh Coconut
550 Water
320 Caster Sugar
70gm Ice Cream Mix Stabilizer
Method:
Combine the water with the grated Coconut and
squeeze out the milk through a strainer into another bowl then add the fresh
milk and half of the sugar and bring to the boil until 80 degrees. Add the
other half of the sugar to the Ice Cream Stabilizer and add to the heated
Coconut milk and stir until dissolved, place bowl into ice to cool down and
then add to ice cream machine to churn.
Malibu Sabayon:
6 Egg Yolks
15ml Water
15ml Malibu
Method:
Place a sauce pan with warm water on a
burner/induction and add your egg yolks to a clean mixing bowl and then place
onto the sauce pan and use as a hot bath, add the water and start to whisk your
egg yolks and after 1 minute add your Malibu and keep whisking until your
sabayon becomes light and airy so you will be able to make your figure of 8
with your whisk.
Intercontinental Kuala Lumpur
165 Jalan Ampang
50450 Kuala Lumpur
Malaysia
+6 03 2782 6321