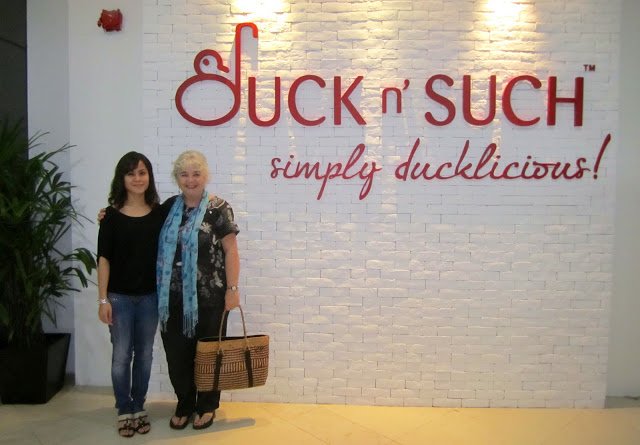 Polly with owner Sharifah Nur Diyana

I've just had lunch at Duck

n' Such, and although there has already been one write-up on The Yum List, we

decided that this newly opened restaurant was worthy of a second review. I feel so enthusiastic about the food

here that I'm already tapping away on my keyboard even though I just returned

home. For background information

about this Halal eatery that has duck as the main focus, please check our

comments on

July 6, 2012

. The

intriguing menu offers adaptations of several popular dishes, many with a duckish

twist. There are Duck Quesadillas,

Duck Burgers, various Duck Pastas and a Minced Duck Chilli. There's even Duck Risotto with

Mushrooms, and the one of the Chef's specialities, Nonya Rendang Duck.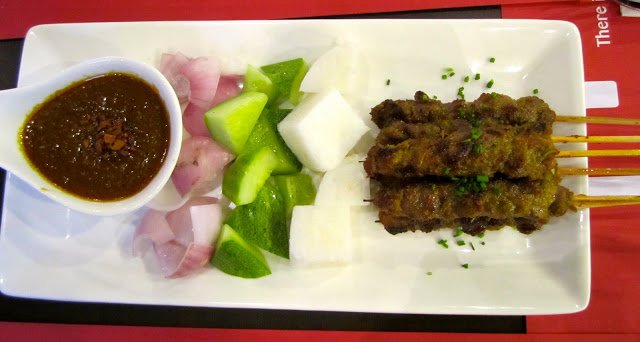 I lunched with a friend Rosemary Chin who contributed the photographs, and we followed recommendations from Head Chef Jasman. We began with one of his favourites, Duck Satay. Now, everyone who knows me well, is aware that Satay would not be my first choice. I always approach meat with suspicion as I hate having to deal with bones, fat skin, gristle and texture that's less than tender. I never order Satay because after grilling, it's pretty hard to know what you're going to be eating until it's in your mouth. So, I took a deep breath, dipped the skewer into the peanutty-coconut sauce and tried a taste. Ooooh, – yum! This was no ordinary Satay; this was lean, tender meat beautifully spiced. Chef Jasman explained that he marinates the duck for 24 hours in ginger, galangal, lemongrass, garlic, red onions and turmeric. The ingredients for the sauce are fairly similar with the addition of a little brown sugar, shredded coconut, chopped roasted peanuts and coconut milk, not too sweet but very delicious. This was a most auspicious start!
Next we tried the Oriental
Herbal Duck Delight. Chef Jasman explained
that he especially enjoys learning about traditional cooking methods, and that
he had been taught the secrets of this soup by a Chinese Chef. Herbal soup is not something I eat very
often, but my Chinese dining companion assured me that for her, it was very
delicious. As for me, I thought
that it was probably very healthy, which is definitely not a bad thing.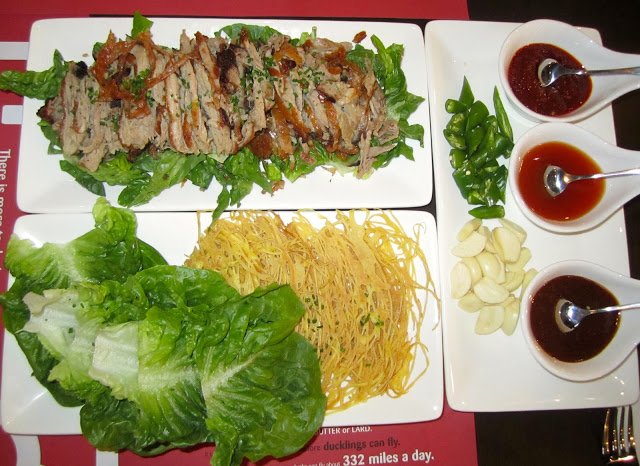 We followed this with the Piece de Resistance, Crispy
Aromatic Duck with Fresh Lettuce Wrap.
This interesting variation on Chinese Duck Pancakes was served with Roti
Jala, garlic and chillies. To create a tasty compilation, I draped a roti jala
over a lettuce leaf base, added the sauce which in my case was all
three, Plum, Sambal and Hoisin with ginger, piled on plenty of lean shredded
duck and voila! I rolled it into
a cigar and basically demolished it.
Much appreciated and highly recommended.
This was only lunch, but we were not quite
finished. Chef Jasman wanted to
share his second favourite dish, Crème Caramel, and as I took a small spoonful
I was aware of the chefs in the kitchen watching in anticipation. I was delighted to give them a
thumbs up and I loved the responding smiles. Oh yes, this dish cannot fail to please. The custard is unusually rich, perhaps
because of the addition of duck eggs, but it's not overly sweet, so the caramel
sauce complements it perfectly. Bravo!
I ended my meal with a Cappuccino, which was most
excellent. No wonder I'm raving
about this restaurant. Really,
everything was superb. It's
important to note that the extensive menu includes several dishes without duck,
so there is something for everyone.
Reason to Visit: For the very best reason to visit any restaurant: the excellent food.
There are lunchtime specials which change daily, offering
a starter, main course and dessert, with special prices for students and
seniors. The restaurant is open from 11am to 10pm and during Ramadhan there
will be a dinner special for buka puasa.
Duck n' Such
G 11-AB Ground Floor
Hartamas Shopping Center
Tel: 03-6143-2286