Greek Salad – generous lumps of feta, juicy greens, ripe tomatoes, and red onion rings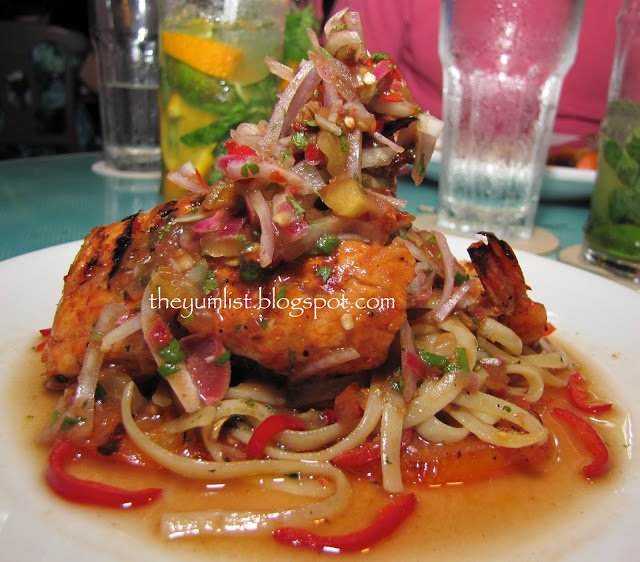 Seafood Linguine with Tamarind Sauce – the tang elevates the flavours of barramundi, prawns & mussels
Vegetarian Bagel – pleased to see some vegetarian options – fries are cooked perfectly but next time I'd ask for salad instead to complete a healthier meal
Onion Marmalade with Calamari – sweet, savory, crisp and mushy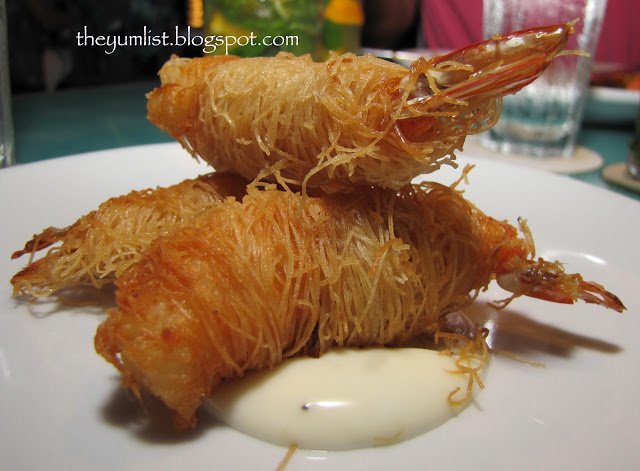 Garlic Olio with Kataifi Prawns – brittle string noodles enwrap deep fried prawns – awesome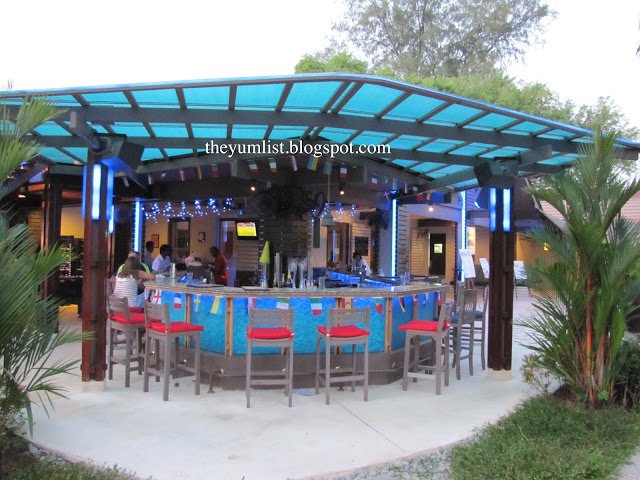 Sigi's Bar and Grill at Shangri La's Golden Sands Resort Penang
Sundowners go down superbly in the peace of Golden Sands Resort while viewing the calm
ocean, sun stained skies, white sand and active water sports. Sweet smiles are exchanged as the hoard of motorized sports
pushers offer parasailing and other uninsured thrills at the resort's edge, as Shangri La guards also smile sweetly and
they quietly retreat. Happy hour prices are a welcome sign that you should stay a little longer at sunset, laid back on
the deck chairs or slouched in the bean bags. Later dine at Sigi's Bar & Grill with sand
between your toes, al fresco style or inside in air conditioned comfort. You
can even have your food on the beach recliner if you choose to continue to chill. In typical Shangri La style, "your wish is our
command" is the motto.
While cocktails are made from prepackaged, not fresh, juices, as I'd prefer, one Long Island Iced Tea had me slurring, suggesting no stinginess with liquor. A Ginger Orange, non alcoholic, Mojito with lime and orange wedges, mint leaves, sugar, lime and orange juices, topped up with ginger beer makes a refreshing drink for all ages. The SBG Mojito with vodka, ginger, brown cane sugar syrup and mint leaves was also well accepted. A host of other drinks can be composed as to your predilection from a well stocked bar. But drinks are not the only reason to amble in.
Sunday evening barbecues are popular events at Sigi's Bar & Grill. A 16kg lamb is roasted over a spit for about four hours in the garden leading up to dinner, emanating warm savory aromas and causing even the full stomached to salivate. Meats are barbecued by request and fresh
salads, pizza and a variety of other items going well with grilled goods are
also at one's disposal. At other times, an a la carte menu is the norm with two different offerings for lunch and dinner. The midday meal consisting more of fast and local food such as burgers and char koay toew, while dinner sees some heavier items introduced such as lamb stew and chicken breast. Sous Chef Bala though insists that the menu is just a guide. He is happy to cook what you have a hankering for – so if you're staying for a few days you are not going to tire of the menu.
Reason to visit: sundowners, meals al fresco style with your toes in the sand
Golden Sands Resort by Shangri La
Jalan Batu Feringgi Beach.
11100 Penang
Malaysia
+6 04 886 1911