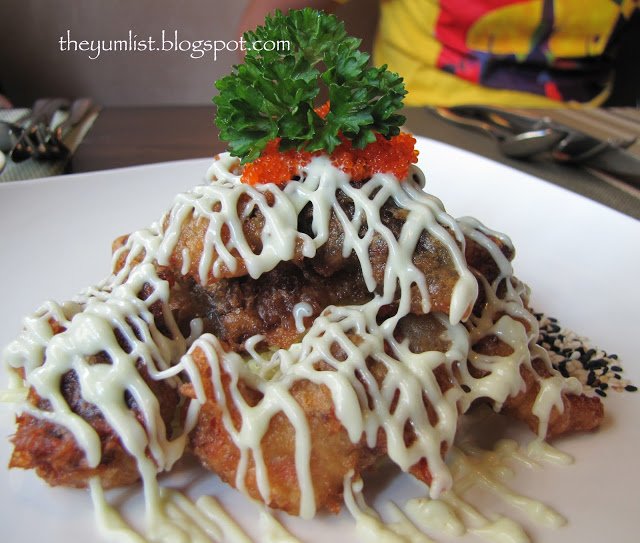 Soft Shell Crab Tempura RM18/26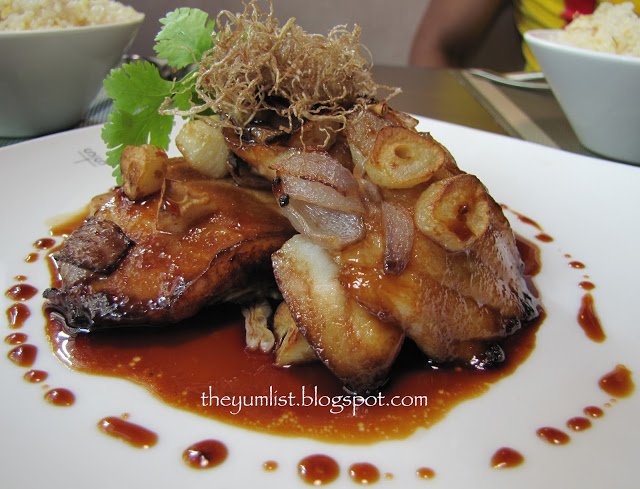 Baked Cod Fish RM30/42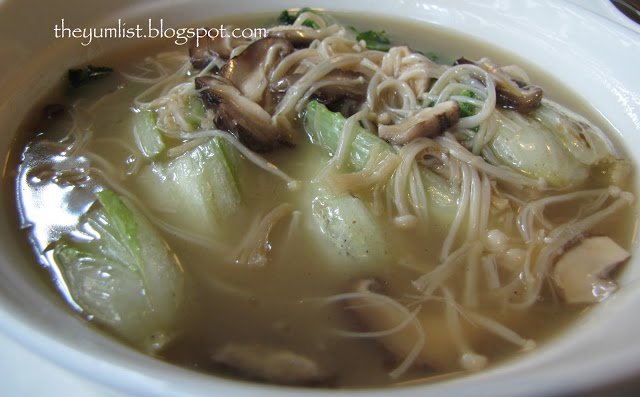 Baby Chinese Cabbage RM14/20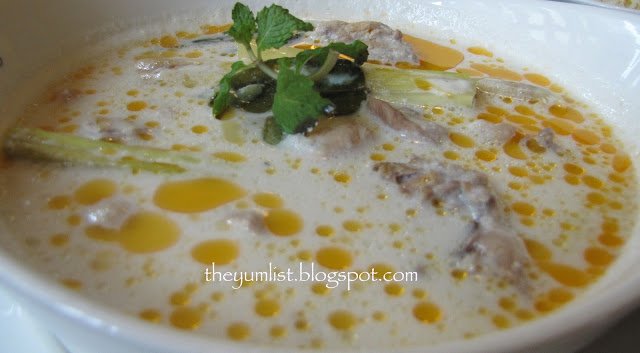 Creamy Coconut Milk Chicken RM16/24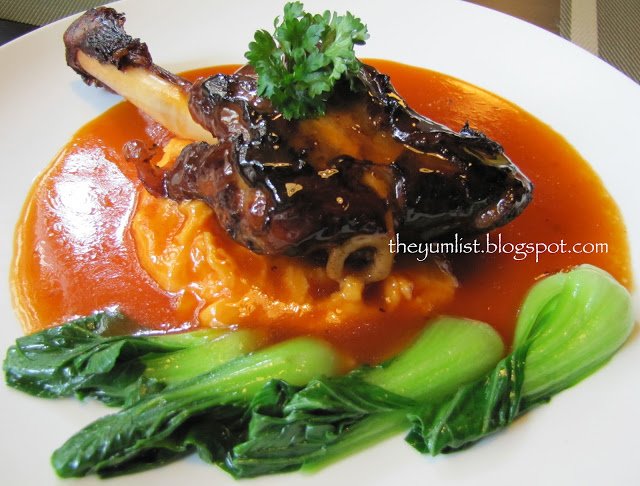 Braised Shanghainese Lamb Shank RM38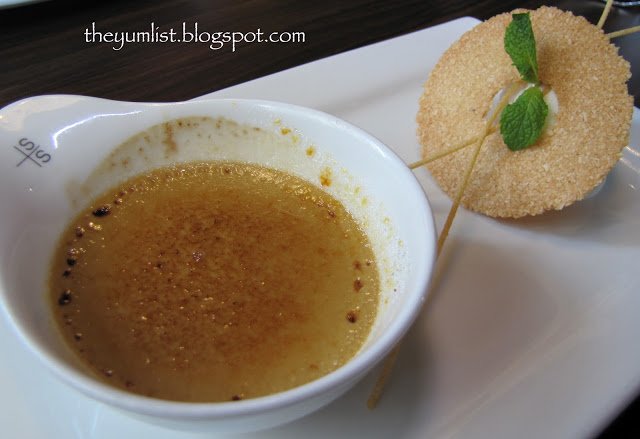 Gula Melaka Crème Brulee RM14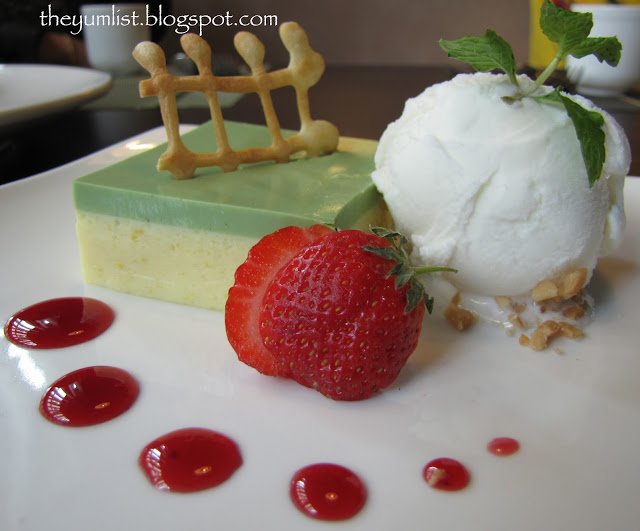 Green Tea and Sweet Corn Pudding RM16
Chocolate Souffle RM16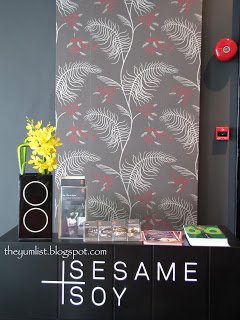 Soy Restaurant at G Hotel came recommended by some expat Penangites as a rare jewel in a box of costume jewelry. Staying on Gurney Drive we'd explored the hawker stalls and, while finding a vibrant scene, were put off by the heat, crowds and durian smells (it's the season for this pungent fruit so street vendors were abound proffering its infamous flesh). Quickly leaving thoughts of betrayal to the street food area, we opted for lunch at this casual dining restaurant.
Chef Chiam is new on board and we reported just days before the launch of his revised menu (due to come out on the 1st of July). Although not all of his revamps were available, we were apprised that his influence was already evident on the current menu including previews of some of what is to come. A fusion of Chinese and Pan Asian cuisine is how the concept is described. When quizzing the waitress about what to order and quickly interjecting my spiel about "no thanks to shark's fin," she looked shocked and disgusted that I would even suggest that it would be on their menu. She assured me that G Hotel is fashionable and would not have anything to do with something so antiquated. Happy. I took her suggestions.
The Soft Shell Crab Tempura came out with a light and lacy batter drizzled with wasabi mayo, crowned with red caviar and parsley and a strip of black and white sesame seeds along the side. This would pair perfectly with an icy cold beer. The Baked Cod Fish knocked our socks off. Bathing in a teriyaki sauce with generous wads of garlic and caramelized
onions, shaved ginger and scallops it was bursting with flavour. The Creamy Coconut Milk Chicken with green chili was rather mild and quite a contrast in comparison to the impact of the previous dish. The Braised Shanghai-ese Lamb Shank with an inkling of star anis was another dish that packed a tasty punch. Succulent flesh fell off the bone onto a creamy mash of potato and
carrot with a gently sweet gravy inundating the plate. Baby Chinese Cabbage with dried scallops, enoki and shitake
mushrooms provided for our vegetable requirement – hubbies fav. Many dishes are available in starter or main portions with prices adjusted accordingly. We like to order the starter size so that we might try more dishes. Dessert did not disappoint. The Chocolate Souffle with mixed berries came with almond and
pistachio ice cream. The balance of hot and cold was heavenly in addition to the gooey rich centre of the souffle. The Green Tea and Sweet Corn pudding with vanilla ice cream was a winner with hubby and we both adored the Gula Melaka Crème Brulee served with a dob of coconut ice cream. Most dishes appear to be naturally flavoured and ingredients were fresh and wholesome.
The Business Set Lunch is very popular. Priced at RM30, guests can choose two dishes from eight options accompanied by soup, rice and a dessert. Group diners have cottoned on to the idea of exploring the menu with friends and will often each order different mains to share across the table. I have to agree with the recommendation that Soy is a diamond in a box of costume jewelry, however, I think the diamonds are only just being uncovered on this island. There are many more to be discovered.
Reason to visit: excellent Asian inspired dishes, good value set lunch, Baked Cod Fish, Gula Melaka Creme Brulee, Braised Shanghai-ese Lamb Shank