Cold cuts, cheese, dips and house made bread
Spaghetti Carbonara
Italian Sausages, Spinach and Potatoes
Spanish Pork Ribs with Salad
Dessert Platter (Clockwise from left) – Creme Brulee, Black Forest Cake, Baci di Dama, Assorted Pastries
The heavenly war causing Creme Brulee – don't be tempted to share – order one all for yourself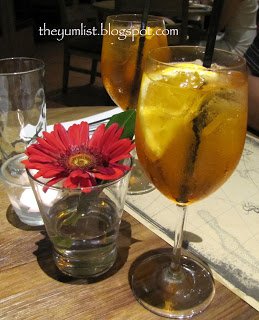 From the snow white facade, to the elevated ceilings, to products for retail sale fringing the walls, Via Pre is all style. Wooden tables, terracotta floors and original ceiling beams cultivate appreciation of heritage and tradition. Bulky heavy metal structures, elongated chalk boards, ornately woven gold painted steelworks and metalliferous lamps ooze industrial chic. Modern pop tunes from Europe and South America palpitate the air. Families, couples and small groups of friends animate the room. There's an energy in the air, reminiscent of an Italian trattoria – lively and captivating. Via Pre is, without doubt, on the "What's hot" list in Penang.
Named after a famous street in Genova for its similar appearance with the harbour front, Via Pre provides Georgetown with traditional Italian cuisine. With Italians heading both the kitchen and the floor, there is no question of authenticity. KLites might recognize the owners from their other restaurant, Vineria in Bangsar. They believe in staying strong in their product and offer no waivering to local taste buds. A blackboard sign clearly declares that no "nasty" food is served on the premises. This includes Nestle, chili and Tabasco. I was hooked before the first bite.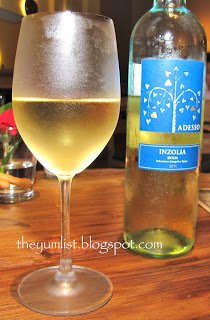 Service was fast. The Italian on duty RUNS the floor. He literally zooms from table to table checking in with his guests, advising on wine selection and making people feel at home. Malaysia has a lot to learn from these guys. Efficient, professional and charm in service is a rare find in these waters. Feeling in competent hands we left the ordering to our host.
We got cracking with a classic Italian aperitivo, Spritz. Aperol, prosecco and a slice of orange serves its purpose well. It's not sweet. It doesn't satisfy. It opens the palate and gets you interested in having some more. While sipping, I browsed the drinks menu to find an excellent selection of Italian wines supplemented with new world wines from Australia, New Zealand and South America, and a couple of old world wines from France thrown in too. Prices started from RM24 for their house wines and went up from there. An impressive collection of grappa caught my eye with no less than 10 varieties!
Antipasti Piemontesi blew us away. Mortadella, salami, ham, Parma ham (salty), San Daniele ham (sweet), Asiago, Grana Padano, spicy Provolone, Fontina, olives, sun dried tomatoes, egg plant anchovy and tomato dip were shadowed by incredible house made bread. Focaccia, rustic, wholewheat and bread sticks are baked fresh daily. The wholewheat bread and egg plant dip are worth ordering extra to take home with you. I'd heard rumours earlier around Penang that Via Pre had a reputation for its cold cuts. I soon understood why as I watched hubby polish off every last morsel of shaved meat, without a word, which is near impossible for this Latino male. Adesso Inzolia Sicilia 2010 is their house white wine. A moderate hay colour with melon and apple on the nose, this fruity white was an easy go between and gently carried us from starter to pasta.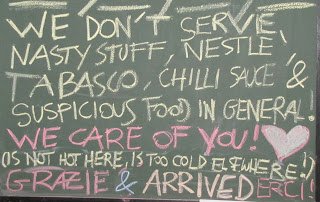 Traditional Carbonara was up next. Made with a base of pepper, egg yolk and pecorino, chewy pork bacon added its own personal zing and texture. You can't go with a halal substitute on this one. The recent beef and turkey bacon versions I've tried just don't compare. It must be pork. The sauce perfectly coated the
spaghetti. The house white wine provided a contrast by
cutting through the creaminess of the sauce cleansing the palate with each
sip.
Switching to a newly arrived Donnafugata Angheli 2008 from Sicily (RM190) we prepared our palates for the main course. Cherries, chocolate and licorice tickled the nose while this blend of merlot and cabernet sauvignon filled the mouth with a good long lingering aftertaste. Salsiccia Alla Griglia or grilled Italian Luganiga sausages were what the red was for. Served with a side of spinach and
potatoes, these familiar bangers tasted like grandma's. We were also lucky enough to arrive the night that they serve Spanish ribs as they are only prepared three times a week. They come with a creole sauce of green onion, carrot and tomato and a salad lightly coated
with balsamic and olive oil teased with black olives and grilled zucchini slices.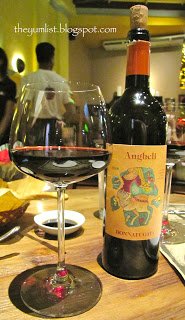 A dessert platter ended our food tour of the menu with four sweets. Rich velvety layers of dark and milk chocolate moistened with Cointreau and Curacao formed the Black Forest Cake. Baci di Dama (Lady's Kiss) was a buttery biscuit, and a variety of bite size mixed pastries were just right for coffee. The show stopper though was a flaming (literally!) Crème Brulee. It came out on fire caramelizing the sugar as it was delivered to create a toffee top protecting a velvety smooth inside. Upon first crack, I could see specks of vanilla bean and I knew I'd have to fight
hubby for this one. He won! I got one
good teaspoon full and then had to scrape the edges. I warn you. No matter how strong your relationship, order one each, don't share! Caffe Vergnano made a decent brew, also available in decaf for light sleepers.
Unquestionably, there is always one more course in a true Italian culinary adventure. You must end with a digestivo. Grappa or Limoncello. Going for the full experience, we had both. Prus, Acquavite de
Pere Distilleria Santa Teresa, grappa made from pear rather than the usual grape, will clear your nostrils and refresh your palate. Luxardo Limoncello liqueur, served straight from the freezer coats your mouth with a nectarous syrup.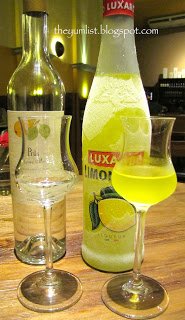 Via Pre warrants a return. A complete dinner, antipasto, take away bread cheese and cold cuts, a glass of wine or just a coffee – you could come for any one of these things by themselves. But do remember, the Creme Brulee is not for sharing.
Reason to visit: authentic Italian cuisine, stylish ambience, antipasto, Italian wine, excellent selection of Grappa, Crème brûlée, cold cuts, house made bread
Penang, Malaysia
+6 04 2619 800