Macaroni Pie – RM35 – Chicken stew with mushrooms and macaroni in a brown sauce baked with an egg white pastry. This dish needs a pre-order time of four hours. The chef makes his own brown sauce from scratch. This comforting, filling homestyle food is perfect for a dimly lit evening, curled up on cushioned chairs with the air con turned up full blast. The soft egg pastry is a softer topping. If you prefer a flakier crust, order the Chicken Pie which is the same filling, just topped with puff pastry instead.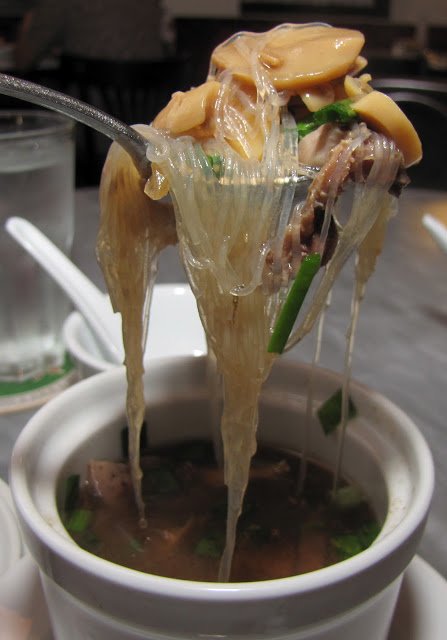 Hainanese Style Mushroom Soup – RM10 – chicken meat, liver and button mushroom in soya bean paste broth with thin rice noodles. A flavourful flu curing broth.
Hainanese Style Deep Fried Spring Rolls – RM6 piece (minimum two piece order) – no ordinary spring rolls – these were enormous and overloaded with cabbage, carrot, chicken, prawns, turnip and mushrooms. A dipping of Worcestershire sauce with onion and chili was tasty but not required.
Hainan Mee – RM12.50 – stir fried yellow noodles with chicken, seafood and vegetables in gravy. Red sambal chili on the side added a balancing zing to the smooth butteriness of the noodles and seafood.
Char Hor Fun – RM15 – stir fried wide rice noodles with chicken, seafood and vegetables in an egg gravy. The manager's favourite is made special with a splash of soy sauce mixed with green chili.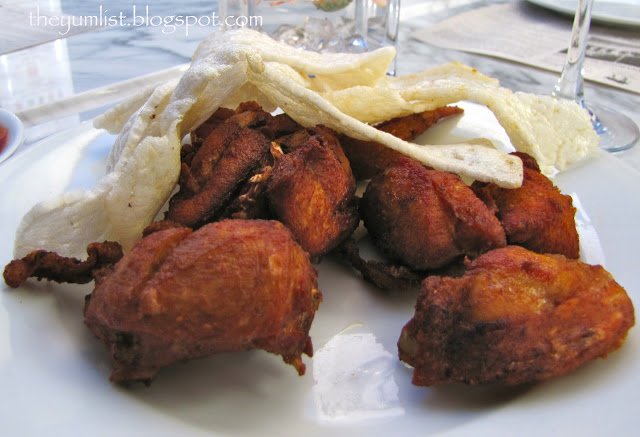 Inchi Kabin – RM12 – Hainanese style deep fried chicken cutlets – So flavourful that the sweet and sour sauce on the side was unnecessary. A very crispy outer and tender juicy middle.
Mojito and house wine – both reasonably priced at RM14 and RM17 respectively *** Please note that since my visit these prices have increased to RM20 due to an increase in supplier charges
Chef Tan Jee Yong PJK – one of the oldest working chefs in Penang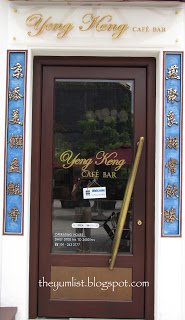 The bar is the centre piece of Yeng Keng Cafe. An enormous skylight above bordered with pot plants showers the restaurant with the suns rays. Bar tenders dressed in waist coats and black and white, have an air of grace and professionalism almost forgotten in modern times. Red velvet bar stools, framed mirrors, antique furniture and the contrast of blue and white walls bring feelings of nostalgia for the past and romantic thoughts of a bygone era. Cocktails are shaken and stirred, not blended. This is a place of class.
The dining area is cozy with marble topped tables, semi circle booths and framed black and white photos from the yesteryears. Placemats appear as old newsprint with guests' comments and stories of Yeng Keng as the top articles. The adjoining courtyard is a popular spot for evening gatherings. With an affordable drinks menu, it sees many travelers and the working class using it as their watering hole of choice. Six bottles of beer can be bought for RM58 nett, wine starts at RM17 per glass or RM80 per bottle and whiskey begins at RM8 for Dewar's White Label. The al fresco heritage setting and reasonable prices have proved very appealing.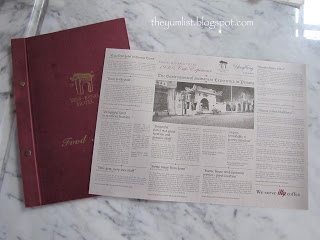 It's a combination of the ambience, reasonable prices and the food that bring people to Yeng Keng. Chef Tan Jee Yong PJK, is one of the oldest working chefs on the island. He proudly whips up a mix of Western and Hainanese cuisine. Above you can see the dishes we tried as per recommendation of our waitstaff in response to our, "Bring us your most popular items," request. The fare that most stood out for us though were the: plump oversized bursting with ingredients Spring Rolls; the crispy cased tender chicken Inchi Kabin and; the comforting home style Macaroni Pie. Remember the Macaroni Pie needs a four hour advance order, so make a table reservation and order the pie at the same time. Of the drinks we were happy to find espresso based Illy coffees and had more than one of the bartender's signature mojitos.
Yeng Keng Cafe also serves breakfast. A mix of Western and local fare is spread around the bar with eggs made to order. The purchase of local foods from the morning market has been a big hit amongst
guests. A dedicated staff member rises early to bring the treats of the day for customers to enjoy in the comfort of the cafe. The Chinese Pancakes with coconut and banana have been a big hit as have been the Nyonya Kueh and Indian Samosas. It's like having your own street food guide for breakfast but
not having to leave the comfort of the clean, cool hotel.
Heritage setting, affordable menu and good food – it's easy to see why Yeng Keng Cafe has a constant crowd.
Reason to visit: Hainanese cuisine, Macaroni Pie, drinks in the courtyard
Yeng Keng Cafe
362 Lebuh Chulia
Georgetown
10200 Penang
Malaysia
+6 04 262 2177