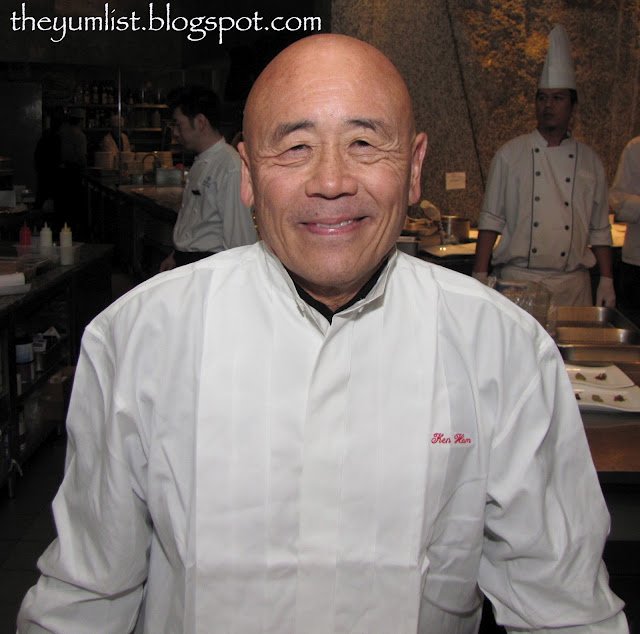 The intelligent, caring and warm hearted, celebrity Chef Ken Hom
Celebrity Chef Ken Hom has published over 34 books printed in 13 different languages and starred in eight television series. He is, what some describe, as the founder of TV cooking shows. Bringing Chinese cuisine into the homes of the west, he is a household name and has broadened the palates of many. While known for his culinary skills, Chef Ken Hom is a passionate contributor to charities and the work of making the world a better place. A strong supporter of
Action Against Hunger
he believes education is imperative. He is ambassador for this group who help families in over 40 countries gain access to clean water and develop sustainable systems as solutions to hunger. The Yum List was fortunate to spend some time with this remarkable man and pick his brain about the future of food and his contributions to socially responsible work.
What charities are you involved in?
The list is long… I shall send it to you 🙂


Why is this work important?
As a known personality, I think it is my responsibility to help speak out on issues that are important: food, women, environment and food practices that are harmful.


What's your idea of a balanced meal?
A very small amount of protein: either chicken or fish or seafood, ideally; lots of vegetables and salad; no dessert or any sugar!


Are there any foods you refuse to eat and why?
Shark fins – unsustainable.
I love tuna but have almost stopped eating it because of the issues surrounding its sustainability.
Whale meat – very un PC (unpolitically correct)


What is your personal philosophy on eating, sustainability and health?
I believe you need to be aware of your environment, to question what you eat, be aware of where your food comes from and how it is grown. If it doesn't feel right, it is not healthy. Moderation is important as well.


What is one thing every reader of The Yum List could do today to make the world a better place?
Be aware and remember that the planet belongs to all of us………not just a group, one nation, or race. If aliens landed on earth, they would look on all humans as one species. We need to also treat other species as we would like to be treated!
Chef Ken Hom's List of Charity Work
Children with
Lukemia (Chef Unite) Private dinner at Ken Hom's home offered as a raffle
prize to raise funds for the charity.
NSPCC
(National Society for the Prevention of Cruelty to Children) – Ken did two Chinese
New Year banquets with Cherie Blair (one of their patrons) to do fundraising
for them – each raised over £30,000
Barnados – Ken
hosted a fundraiser with Cherie Blair, another children's charity for which
Cherie is a patron
Shado – Ken
hosted a fund raiser with Cherie Blair of which she is a patron, we did a fund
raiser for Chinese New Year in Liverpool
(a charity to help families of drug addicts and other unfortunate addicts)
ROC (Research
into Ovarian Cancer) – Ken hosted a fundraiser for this at
Imperial City.
Action Against
Hunger – Ken hosted a Chinese New Year Dinner benefit for the
victims of the Tsunami disaster which raised over £33,000 net for the evening –
Jan 2005
Another charity benefit for Action Against Hunger
raised over £20,000 in May 2006
He has been an Action Against Hunger Ambassador for
this charity for more than three years.
Private dinner at Ken Hom's home offered as a raffle
prize to raise funds for the charity raised £6,000 in 2010
Number of charity dinner events over the years to
raise funds for AAH
Princess of Wales
Hospice in Glasgow – Ken was asked to do this in Chinese New Year and
hosted an evening at a big centre in Glasgow
Jersey Hospice – Ken
hosted two fundraisers in consecutive Chinese New Year dinners in Jersey
Launch Dinner for Alex Ferguson's private charity – The Elizabeth Hardie Ferguson Charitable
Trust. Raised funds for the Trust over the years through many other events.
.
Cherie Blair
Foundation for Woman – fundraiser dinner cooked by Ken
Charity Dinner to raise funds for SCAD Foundation (Soi Cats and Dogs) in Bangkok. The organisation
aims to limit the suffering of stray cats and dogs on the streets of Bangkok.
The evening raised over 350,000 Thai baht, another evening raised over 600,000
Thai baht
Ronald McDonald
House Charities of Hong Kong – Gala Dinner, Oct 30, 2010 Fundraiser
for sick children and their families in Hong Kong. A record HK$3.6 million
raised.
Prostate Cancer
Charity – worked to bring awareness of prostate cancer and the
need for screening
These are the main bigger ones. Ken has hosted for
many smaller charities such as the Islington Chinese Association, The Newcastle
Chinese Association, etc. and makes small donations of his books, etc. to
countless other charities and events. Ken has also recorded a message and done PR to help
raise awareness for the
Environmental Justice Foundation, which is exposing
the exploitation of workers in the tiger prawn industry in Bangladesh and other
eastern prawn farms as well recording for blind children.
What a remarkable man and a model for all humanity. Thank you Ken Home. It was an honour getting to spend some time with you. And, thank you Chef Peter Webber for arranging it.