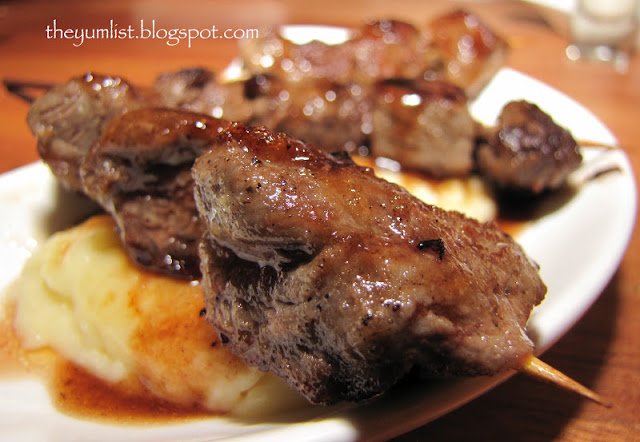 Brocheta de Solomillo con Salsa de Vino Tinto – Skewers of juicy beef tenderloin in a red wine reduction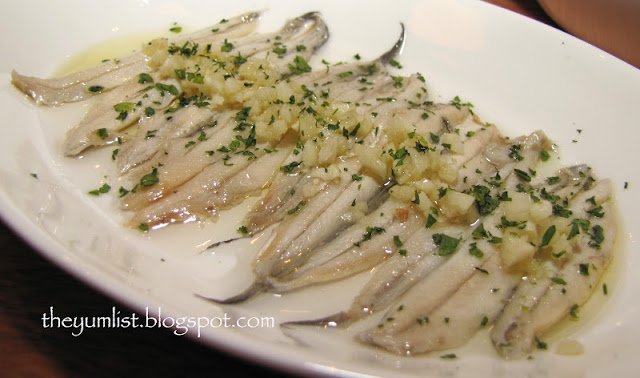 Bocerones en Vinagre – Marinated sardines in white vinegar, garlic and parsley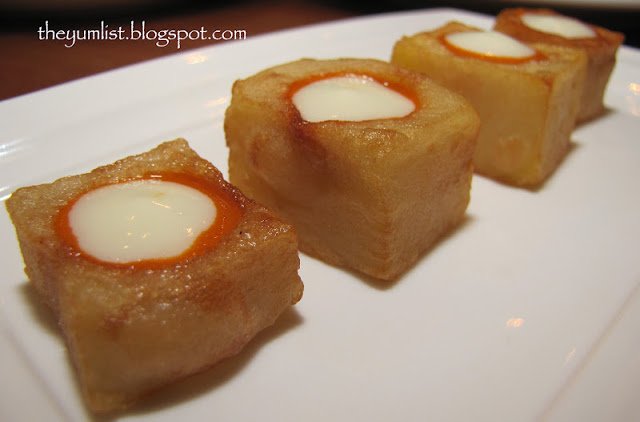 Potatas Bravas al Estilo de Chef – Chef style potatoes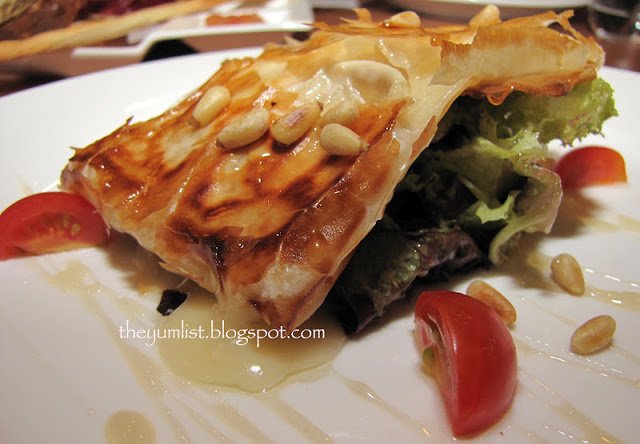 Ensalada de Queso de Cabra Cruijiente, Pinones, Miel y Tomate con Vinagreta de Balsamico – crispy goat cheese salad, pine nuts, honey and tomato balsamic vinaigrette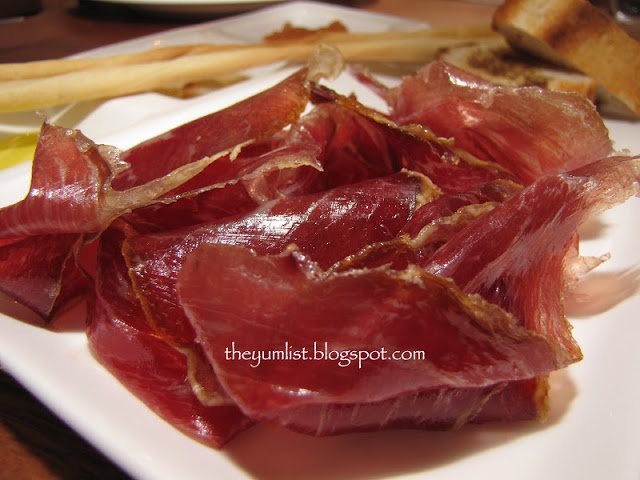 Jamon de Vaca con Ajo Tomate y Pan – 120 day dry aged Spanish beef ham with garlic, rustic tomato and bread.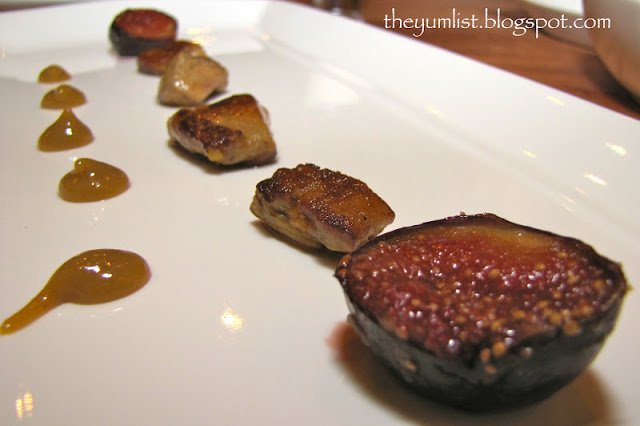 Foie a la Plancha con Higos y Pure de Pasas – Seared foie gras with caramelized figs and sweet drops of pureed sultanas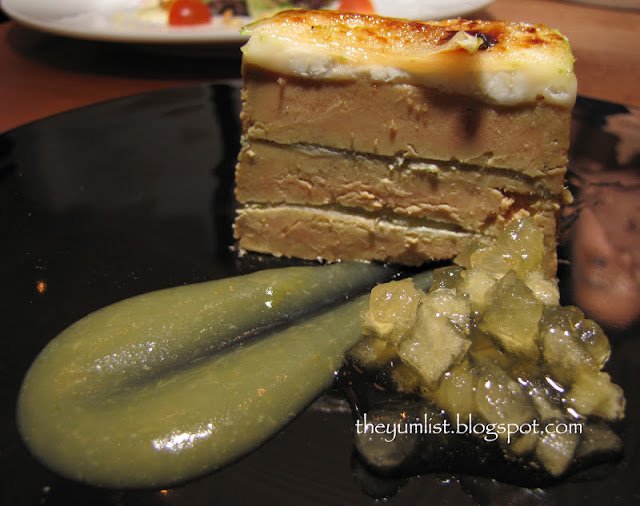 Milhojas de Foie, Queso de Cabra y Manzana Caramelizada – millefuille of foie gras, goat cheese and caramelized apple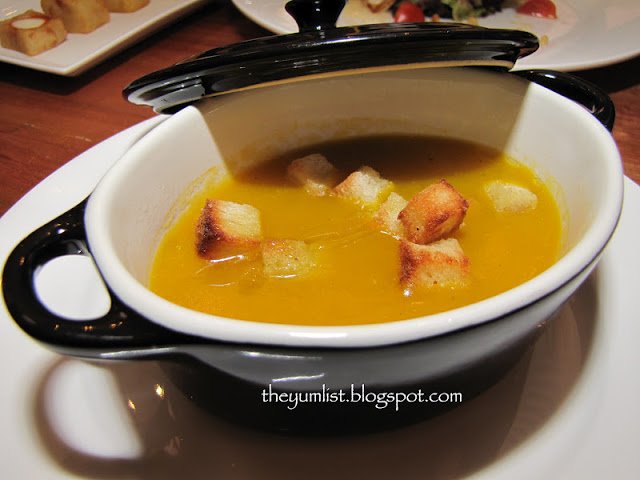 Crema de Calabaza y Jengibre, con Picatostes y Aceite de Trufa – Creamy Pumpkin and Ginger Soup with Truffle Croutons – As I lifted the lid off the black pot the smell of ginger hit my nostrils. Creamy pumpkin was given a pugnacious bite with this root but then balanced again with the oleaginous truffle croutons.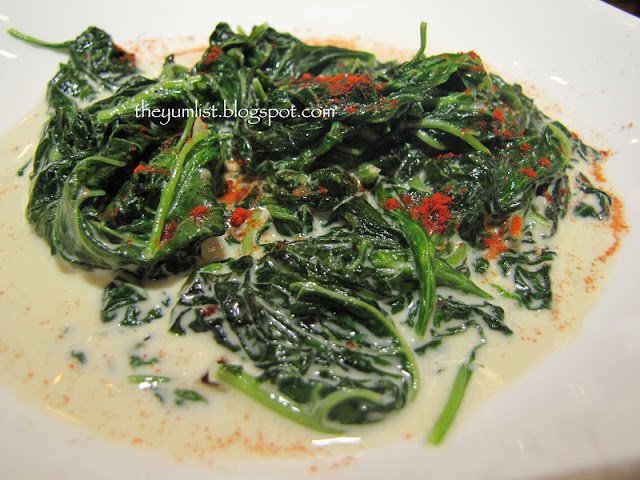 Espinacas a la Crema – Creamed spinach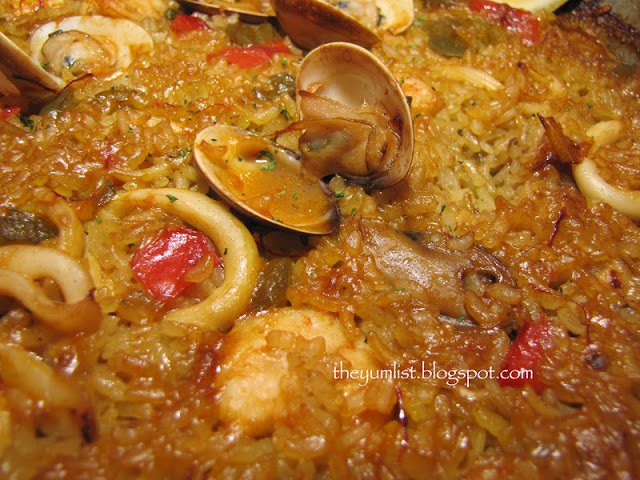 Paella de Marisco – Seafood Paella – Liberal quantities of seafood with sticky rice in a heavy metal pan.
Lemon Pie a la Mediteca – Mediteca Style Lemon Merengue – served in a martini glass, no need for a crust just smooth tangy lemon curd topped with fluffy merengue and fresh berries.
(Mediteca has changed management since this article. We have not yet been back to check out the latest.)
Mediteca, Wine –
Tapas – Deli, Kuala Lumpur
Walking into the sleek industrial ambience of Mediteca, we
heard the familiar cadence of Spanish reverberating from the kitchen. Latin
tunes enlivened the air, and the jovial hubbub of Chef Manuel Lopez only made
the anticipation of the preview of the lastest hip joint to hit the KL dining
scene more exhilarating. Decked with metal bar stools, air con ducting proudly
showing, wood tables and rustic paneling around the bar, the open space of
Mediteca, within clear view and earshot of the kitchen, is a set to be an
exciting place to dine.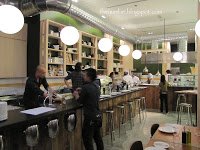 The latest restaurant in Fraser's Place, Mediteca will soon
be serving KLites a fine selection of Spanish/ Mediterranean inspired cuisine.
If the preview is anything to judge by, Mediteca will fast become THE place to
dine in the city centre. As they refine the menu and prices before opening, we
were able to sample an assortment of what is to come and already have some
favourites that we hope will make it to the final cut. Our top picks:
* The Brocheta de
Solomillo con Salsa de Vino Tinto – Generous skewers of juicy beef tenderloin
in a red wine reduction perched atop a creamy bed of mashed potato. What can
only be described as a metrosexual dish – well groomed and smooth but still
masculine and desirable.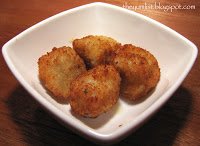 Gorgonzola Croquettes
* Croquetas de Gorgonzola – Gorgonzola croquettes – really,
how can you go wrong with deep fried blue cheese?
* Bocherones en Vinagre – Marinated sardines in white
vinegar, garlic and parsley. Excellent! Like a Spanish woman, both attractive
and acerbic.
* Potatas Bravas al Estilo de Chef – Chef style potatoes
disguised as a cube with a pot of aioli cream in the centre. First bite
triggers a warm stream of mayonnaise to flood your mouth.
* Jamon de Vaca con Ajo Tomate y Pan – 120 day dry aged
Spanish beef ham with garlic, rustic tomato and bread. Being pork free, this is
a virtuous substitute.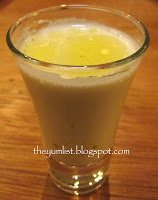 Shot of Almond Soup
* Espinacas a la Crema – Creamed spinach – What better way
to get hubby to eat his greens than by bathing the freshest leaves in a tub of
cream?
Whispers say the wine list, once up and running, will be
just as formidable as the food. Mediteca is definitely a place to keep your eye
on these next few months.
Reason to visit: Authentic Spanish dishes, lively ambience
Mediteca
Groud Floor, Fraser Place
Jalan Perak
Kuala Lumpur
Malaysia