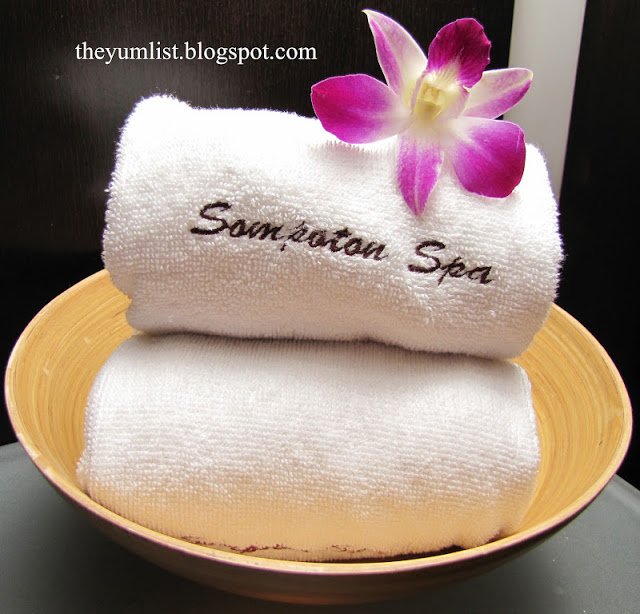 Sompton Spa, InterContinental Kuala Lumpur
Sompoton Spa, InterContinental Kuala Lumpur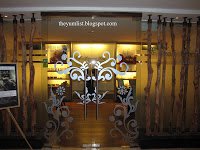 Entrance
Natural wood décor, the sound of trickling water and gentle
Balinese music mark the entrance to Sompoton Spa at the InterContinental Kuala
Lumpur. Greeted by timid smiles and a warm reception, we were seated and
presented with a comprehensive menu from which to choose our package. Elucidation
of the sundry of options, accompanied by a sampling of scrubs and oils, soon
led us to settling upon a package. Hubby signed up for the Recharge, myself for
the Spa Goer.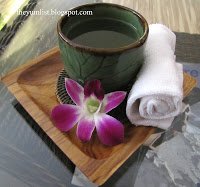 Flower Tea
The Recharge, lasting 80min for RM220, promised a foot bath,
then an exfoliation with Tongkat Ali, a scrub made with "indigenous herbs and
plants that have been used for many generations to improve energy and remove
skin impurities." After showering, the treatment would finish with a Signature
Massage to alleviate tension and fatigue.
My Spa Goer package, RM280 for 8Omin, assured complete
relaxation with a foot ritual, de aging salt mousse and shower, closing with a
Luxury Massage. Wondering what was the difference between the two selections
(other than promises of anti aging), we learned that customer service is the
number one priority and that individual preferences can easily be catered
for. I adapted my combo by choosing a
tropical scented papaya scrub and hubby switched massaged style from the
Signature to the Luxury.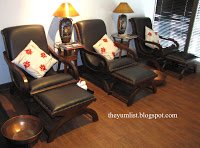 Pedicure and Reflexology Chairs
Massages come in three levels of strength with varying
techniques. The Balinese massage is thought of as gentle and relaxing, the
Luxury is considered medium pressure and the Traditional Malay as the
strongest. There's no hiding that we're finicky when it comes to massage, both
of us choosing the Luxury, a combination of Swedish, Japanese and Malay, but
requesting maximum strength. Before heading off to begin our treatment, the
receptionist reminded us that we could request more or less pressure from the
masseuse at any time.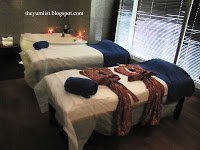 Couples Treatment Room
Guided to a lounge area, a cool towel began to wash away
memories of a long week of work and flower tea warmed our insides reminding us
that the weekend had begun. Draining the last drop of tea, we were then led to
a couple's room furnishing a shower, jacuzzi, sink, two massage beds, two
lounge chairs and a lockable wardrobe. After changing into disposable underwear
and robes we sunk into the lounges where our feet were bathed in flower water
and antiseptic salts, followed by an invigorating tootsie scrub. A choice of
four aromatherapy oils, Rilex, Refresh, Muscle Ease and Rejuvenate, were appraised and we were then on our way to finding peace.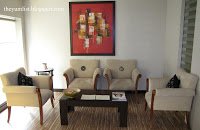 Lounge/ Waiting Area
The whole body exfoliation was next. As we mounted the
plastic lined tables I reminded myself that while I find the act slightly
annoying (sticky, salty goo spread all over the body), I always appreciate that
I've chosen the treatment shortly after I've washed the grains away and am left
with a soft smooth epidermis. Scrubbed from neck to ankle, rinsed in the rain
shower and, back on the just laid table, our breathing slowed as we mentally
prepared for the core of what we had come for, a relaxing, tension easing
massage. The temperature of the room was perfect. Balinese music spun
continuously in the background. Being Friday afternoon, I drifted in and out of
consciousness awakening de-stressed and soothed. Hubby, who was more cognizant,
commented on the strength of his masseuse and even went as far to say that it
was one of the best rub downs he has had.
Ginger tea wrapped up our experience and a heated towel left
us with warm memories.
Reason to visit: Spacious facilities, comprehensive treatment
menu
In house guests receive a 15% discount on spa treatments
Open 10:30am – 11pm
Sompoton Spa
Level 5
InterContinental Kuala Lumpur
165 Jalan Ampang
50450 Kuala Lumpur
Malaysia
+6 03 2161 0939
+6 03 2161 0930