If you're in Ubud, and longing for a perfect Espresso, Cappuccino or Latte, there are many places that serve good coffee, but only one cafe where the coffee will thrill you, and that is Seniman Coffee Studio. Rodney Glick is passionate about coffee, and almost a year ago he opened Seniman with business partner David Sullivan.  Together they make a perfect combo: Rodney the coffee connoisseur and David the designer.  (While these words trip merrily off the tongue, I must add that Rodney is also a designer and I suspect that David knows a great deal about coffee.) Seniman means "artist" in Indonesian and indeed, arriving at the café is rather like visiting an artist's studio.  It's trendy and eye-opening, showing possibilities I'd never thought of, just the way I like my art to be.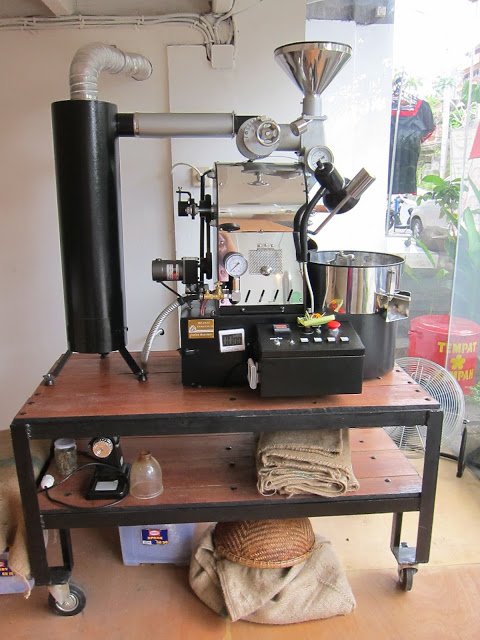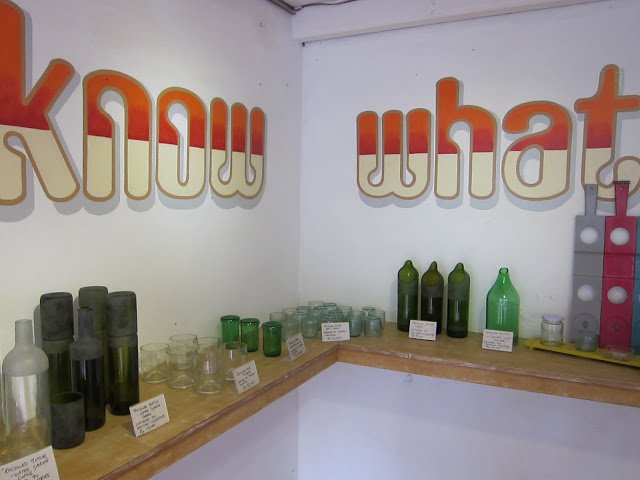 The beautiful coffee roaster is downstairs along with many innovative designs using recycled glass…jugs, glasses and carafes created from wine bottles, and there are dishes made of liquor bottles yes, really; they call it "up-cycling".  There are plastic chairs cleverly transformed into rockers and numerous gadgets for teasing out the perfect cup of Java.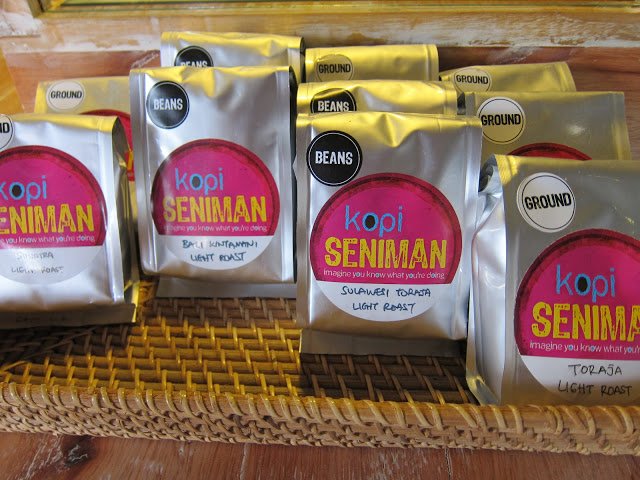 This is where you can buy coffee to take home; you can choose whole beans or it can be ground to your specifications.  All the coffee is organically grown, responsibly sourced and roasted on the premises. The team is currently showcasing varieties from Indonesia: Sumatra, Sulawesi, Bali, Java, Flores and Papua.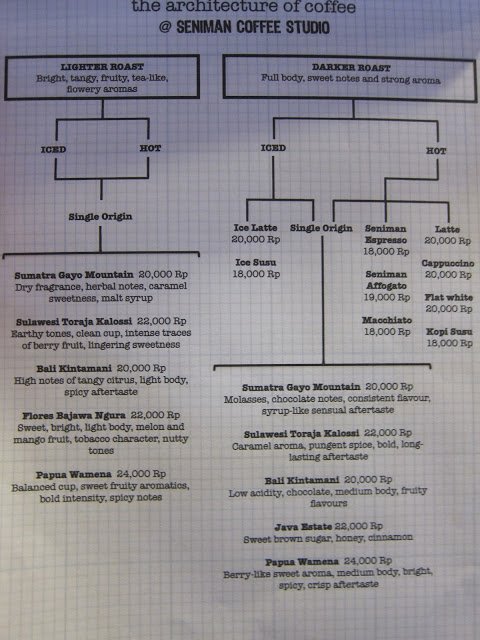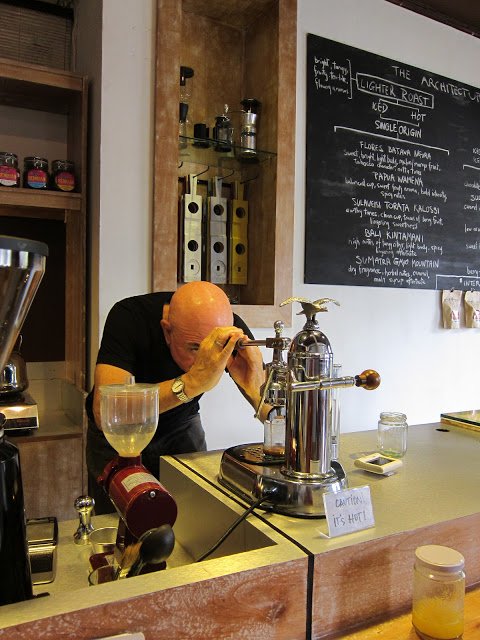 After a good look round the shop, it's upstairs to the main studio to try a brew or two.  If I ever have brain surgery, I can only hope that my body will be treated with as much care as Rodney and his Baristas give their coffee.  They have several ways of brewing, each tailored to the blend of coffee they're working with and the method is decided upon after days, or even weeks, of experimentation.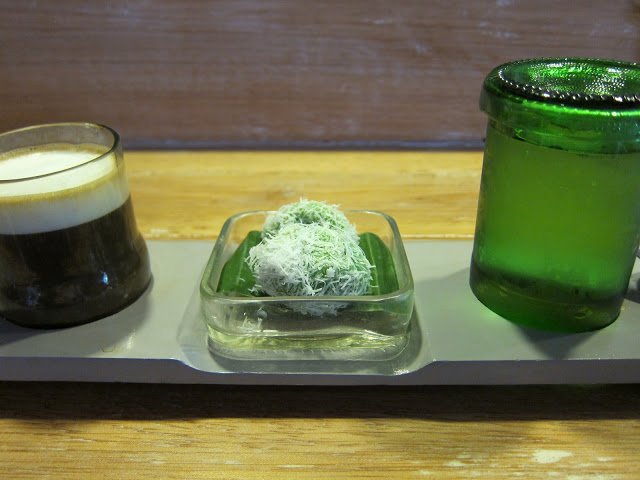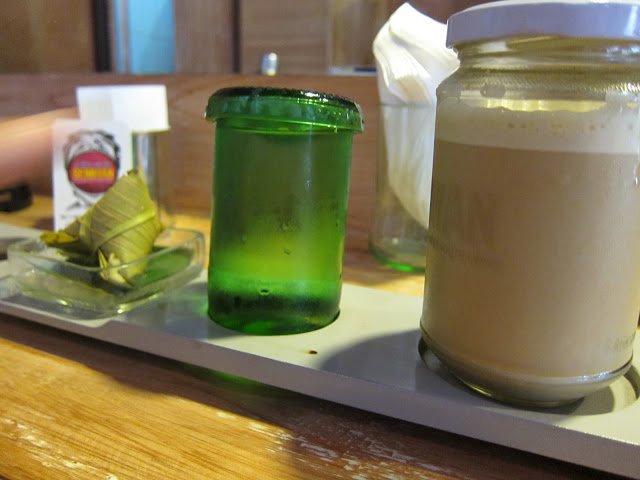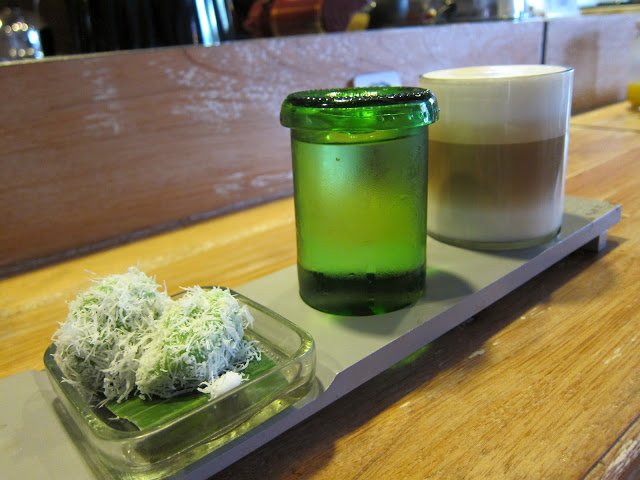 Your beverage will be served on a special platter with a glass of water and one or two little sweet treats.  You can't really do better than that.  Oh, wait a minute… Seniman has another pleasant surprise in store… buy three coffees and the fourth is on the house. What a super deal!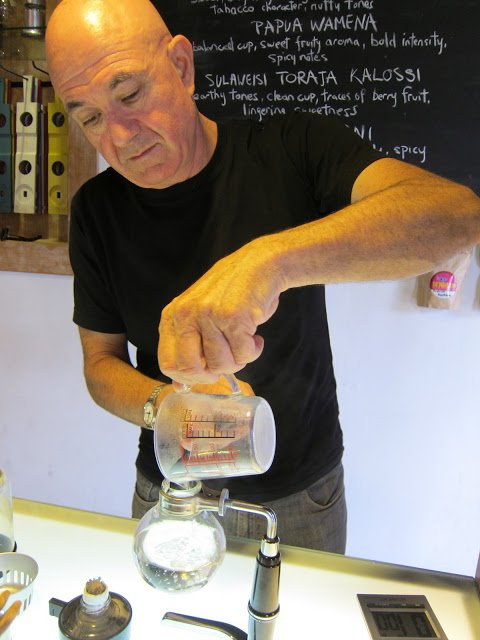 Getting started with the siphon method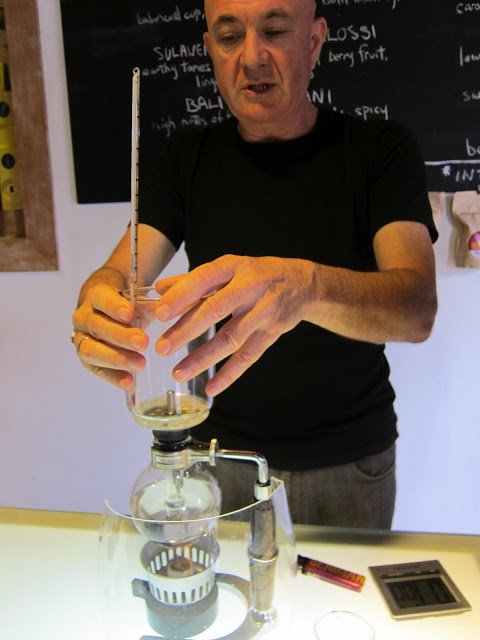 The water temperature has to be perfect.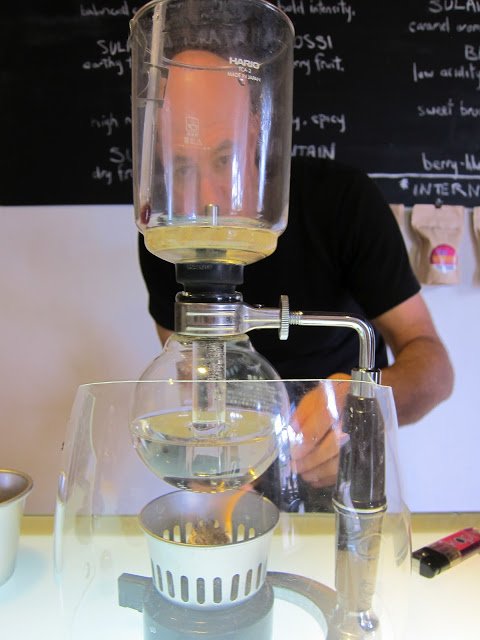 Easy does it…note the protection for customers.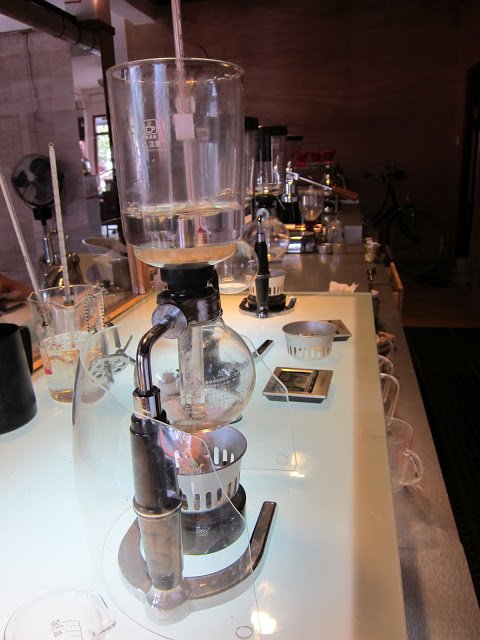 Now the water has been forced into the upper container.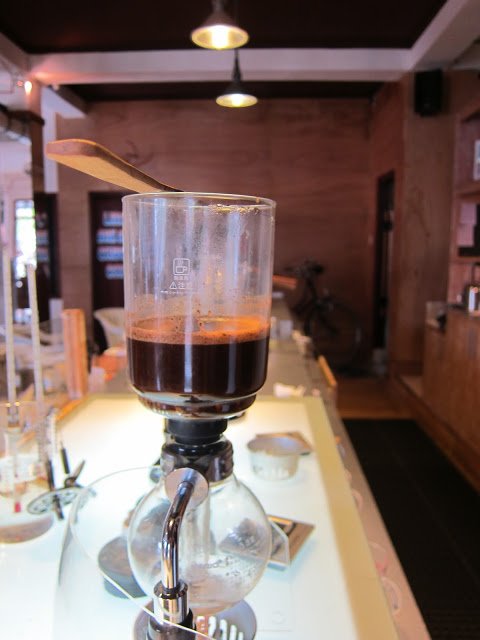 And as if by magic, it becomes coffee!  Note the crema.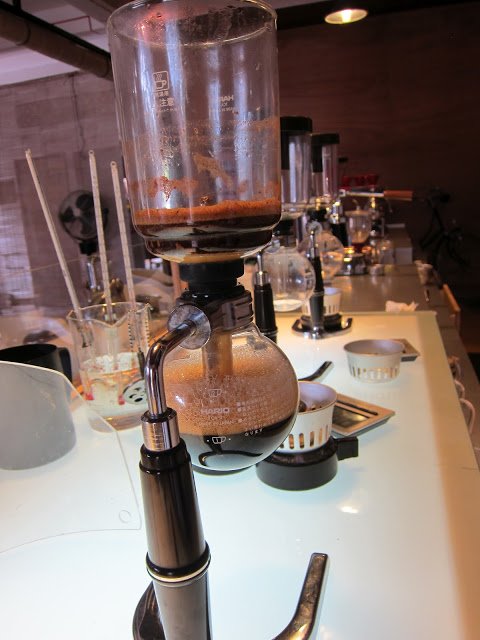 The coffee bubbles down into the lower carafe…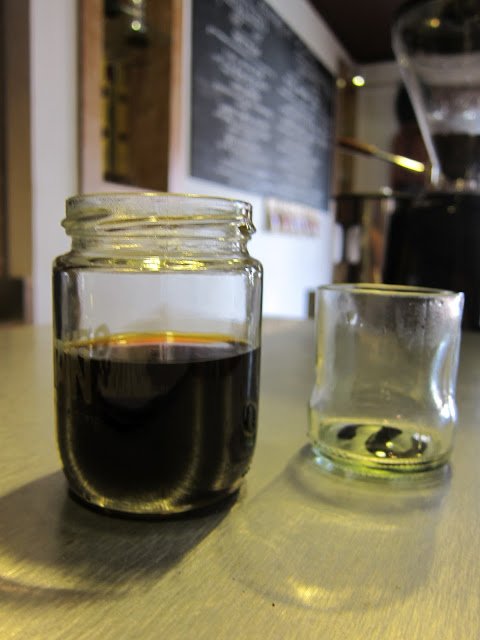 …and here it is, a perfectly brewed light coffee.
I tend to prefer a Cappuccino, but the first time I visited Seniman, it was in the afternoon so I had a Macchiato made with a decaf espresso blend, which I enjoyed very much.  Rodney talked about the lighter roasts, which are more popular in Taiwan and Korea, and he brewed one for us using the siphon method.  It was like tasting wine, full of complex flavours that lingered on the palate and I found it much more appealing than I expected.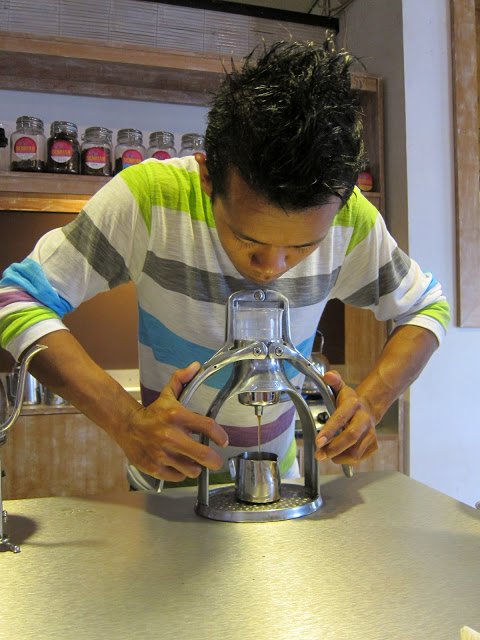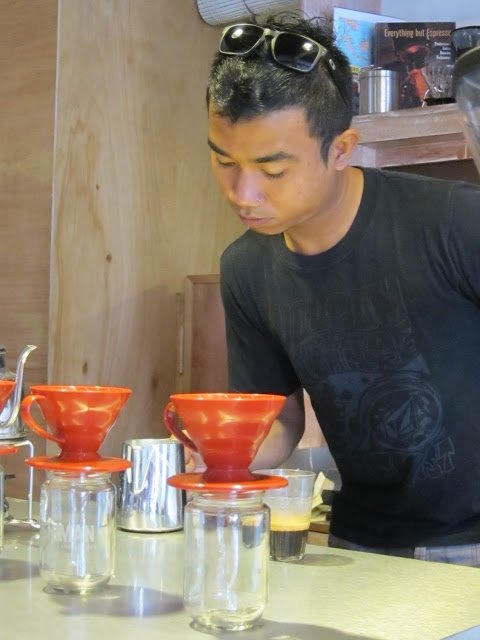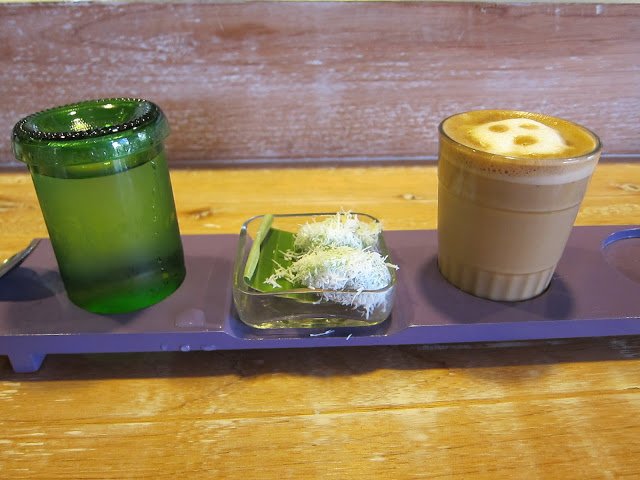 If I drank from the mouth, the eyes got bigger.  If I'd chosen to drink from the eyes, the mouth would have increased in size.  Very clever!
Rodney told me that I should try some of his other dark roasts for a tastier Cap so I returned in the morning for one crafted from Sumatra Gayo Mountain coffee.  Oh yes, this is coffee at its best.
If I'd been able to stay longer in Ubud I would have tried every option, and I'll definitely be back
when I'm next in Bali.  The coffee is reasonably priced between RM6 and 7…actually it's a fantastic deal when you think of the price of good coffee in Malaysia.  I didn't try the food, but the menu includes interesting choices from different regions of Indonesia, "All prepared and presented with a Seniman twist."   There's also a selection of juices, health drinks, beer, wine and specialty teas.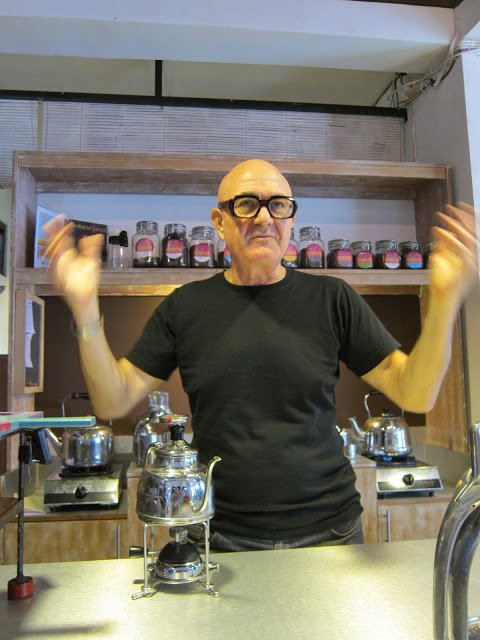 I guarantee that Seniman Coffee Studio will satisfy the most discerning imbiber, and if you have a chance to chat with Rodney, it's certainly worth following his recommendations.  Pay close  attention too… it's fascinating to watch him perform!
Reason to Visit:  Why, for the coffee of course!
Seniman Coffee Studio
Jalan Sriwedari
Ubud, Bali, Indonesia
(30 second walk from Nomad restaurant on the main street, Jalan Raya.)
Business hours – Open 9am – 8pm, 7 days a week