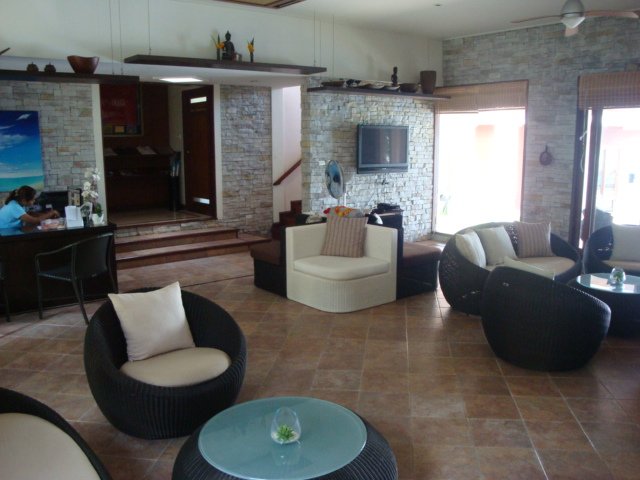 Reception and Lounge Area of Cloud 19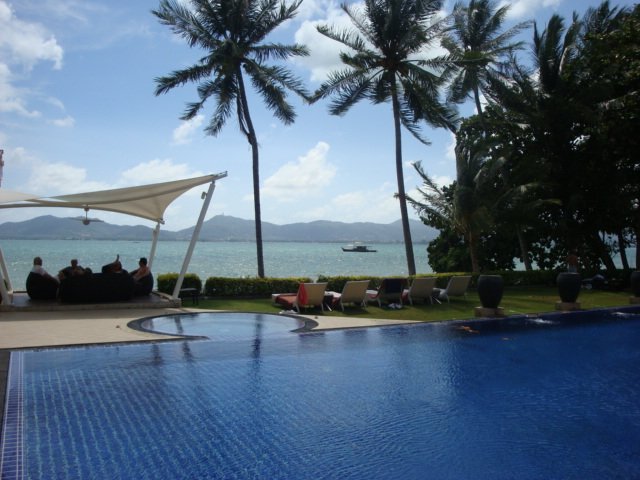 Main pool overlooking Chalong Bay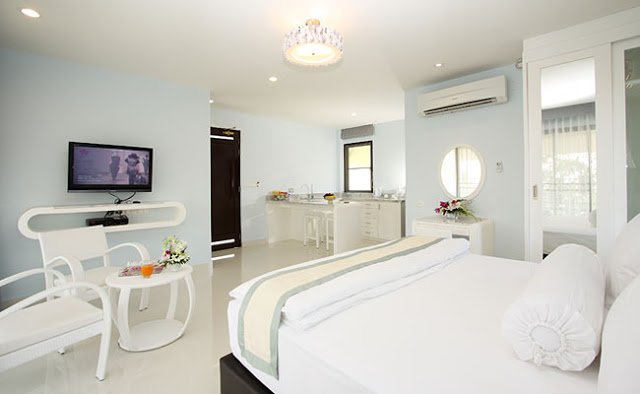 Cloud 19 Deluxe Room
Cloud
19 Beach Retreat, Phuket by Peter Webber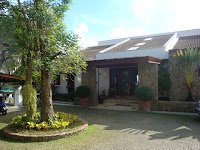 Main Entrance to Cloud 19
If
you're visiting Phuket and wanting to get away from it all Cloud 19 would be
well recommended, "Secretly" located at the south of the island overlooking
Chalong bay, Cloud 19 is a boutique resort with, guess it….19 rooms!
At
the entrance you arrive down a rather steep but beautiful driveway to the main
building and are welcomed by the polite and friendly staff. Different room
types are available to choose from with the "Cloud 19 suite" being the most
luxurious, as well as junior and garden suites and deluxe rooms all with fabulous
views of the ocean. The suites are located at sea level with the rest nestled
on the hill side behind.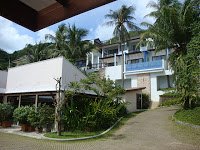 Rooms and Driveway
During my stay I had a deluxe room which was large, modern,
light and comfortable and if you don't fancy the walk down to the main pool for
a dip and sunbathe, the owners have thoughtfully put one right outside your
door which was rather nice I thought.
The
main pool is right by the sea so you can hop from one to the other and has
lovely garden surrounds with sun loungers and a rather hip chill out seating
area where you can enjoy drinks and food, great for watching the sun go down.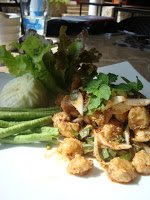 Spicy Snapper Salad
The
restaurant "Lainapa" takes care of all the meals and is by the pool after a
small but pleasant bar area. Breakfast is a la carte with a fair choice
including Thai breakfast specialities, Khao Tom and Fried Rice.
For
lunch and dinner the menu is Thai and European, both I think, very well done
with good selections and good portion size. For this lunch I decided on Thai
and asked the very personable Khun Toon, Hotel Manager to choose a selection of
the chefs' best and was not disappointed.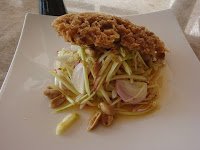 Green Apple Salad with Fluffy Tuna
For
starters we had a selection of 3 appetizers, 'Prawn Crisp' deep fried minced prawns
sandwiched in spring roll wrappers, 'Spicy Snapper' tossed in spicy Thai dressing
with herbs and a Cloud 19 special 'Green Apple Salad with Fluffy Tuna' which
was sublime with the sweet sour from the salad and crispness of the fluffy tuna!
The
main course was 'Jumbo Prawns in Tamarind Sauce' and although I am not normally a fan
of these dear creatures, it was never the less very fresh and delicious as I
must say was all the food and this is not my first time eating here.
For
dessert I have become addicted to their locally made Banoffee ice cream which I
just cannot get enough of, creamy, caramel and a bit of crisp……but I'm just a
sucker for ice cream!
Prawn Crisp
If
you are not staying at Cloud 19 the food is worth a visit alone and has a
decent wine list to go with it and if you'd like to stay on a bit to let
it all go down and enjoy the view they are happy to let you enjoy the pool and
facilities (450 Baht for a full days use).
The
hotel has a small spa which is worth a try and does an After-sun Aloe Vera
Massage which is great after a long day baking in the sun!
Jumbo Prawns in Tamarind Sauce
If
you can drag yourself away from the pool and feel like doing something a bit
more active in your day you can do sea kayaking, cycling and hill running (I enjoyed
a good hike up to nearby Khoa Khad view point for exercise…you can also get
there by car).
Whatever
you do, after a couple of days at Cloud 19, you will leave feeling that little
bit spoiled and relaxed but…. keep this little piece of heaven a secret!
Reason
to visit: To get away from it all with comfortable rooms, good food drinks and
service.
Downside:
Beach is quite rocky in places and the hotel is quite a way from the main
tourist attractions
Room
Prices:
High
Season (Nov-May) Deluxe Rooms from 3,900++ Baht, Suites from 10,000++ Baht
Low
Season Deluxe Rooms from 2,500++ Baht, Suites from 8,000++ Baht
Food
Prices: Med-High Range
Appetizers
from 160 Baht ++
Main
Courses from 280 ++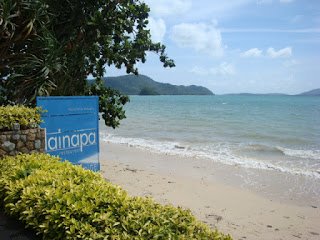 The Beachfront
Cloud 19 Beach Retreat, Phuket, Thailand
30/10
Moo 8, Bor Rae-Ao Yon Road,
Tambon
Wichit,
Amphur
Muang Phuket,
Phuket
83000, Thailand
Telephone:
+66 (0) 76 200 920, +66 (0) 76 200 922
Fax:
+66 (0) 76 200 921