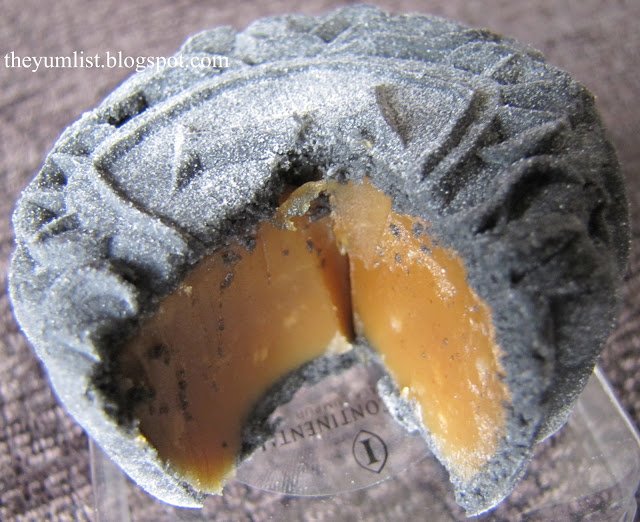 Charcoal Skin and Coffee Mooncake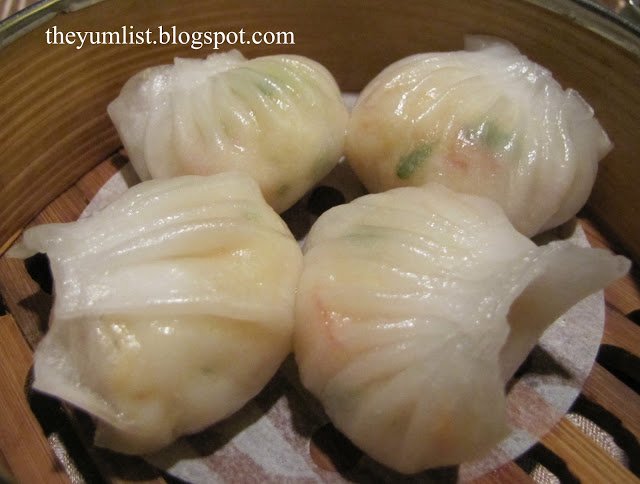 Steamed Chicken Siew Mai with Diced Scallops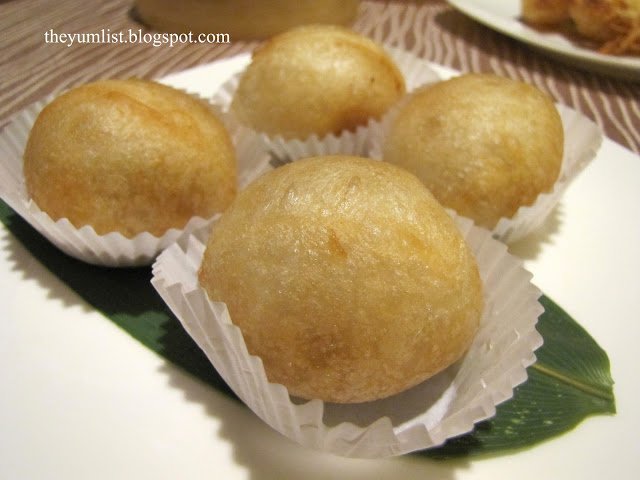 Deep Fried Teow Chew Prawn and Chicken Dumpling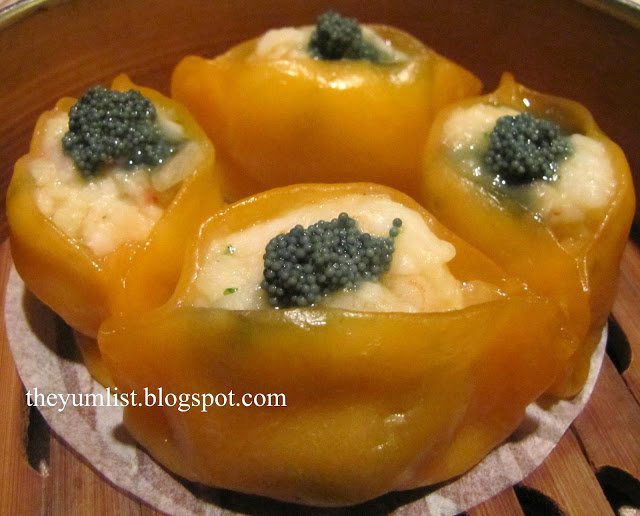 Steamed Hau Kau with Prawn and Chopped Coriander Leaves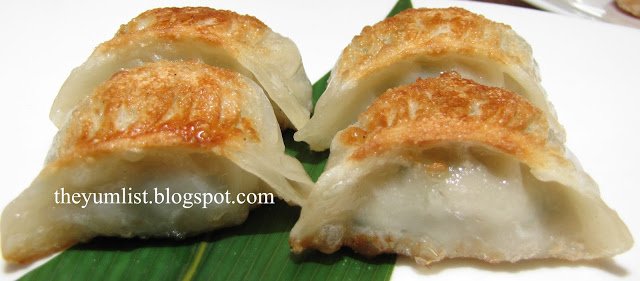 Pan Fried Shanghai Wor Tip with Chicken and Chives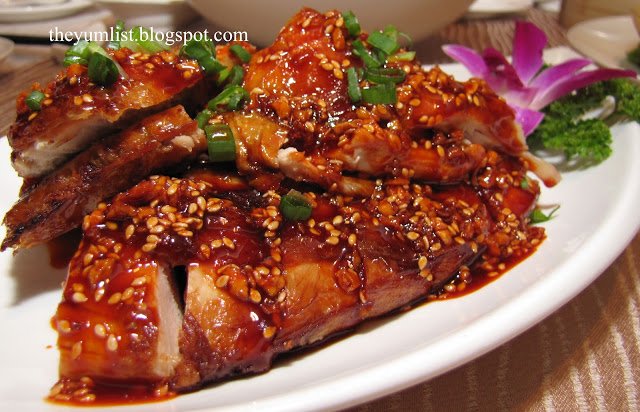 Crispy Roasted Chicken with Fragrant Spicy Sauce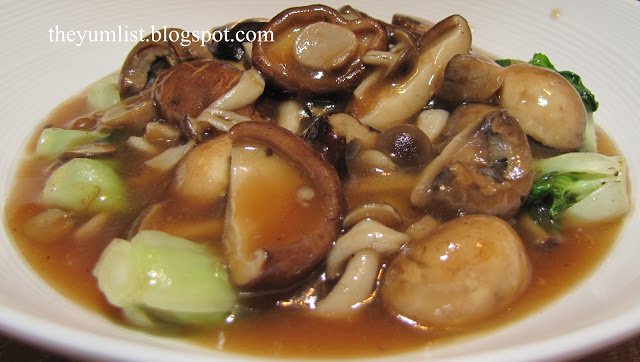 Braised Assorted Mushrooms with Seasonal Vegetables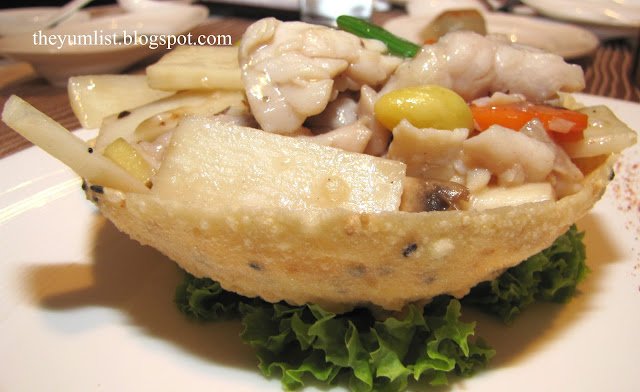 Sauteed Garoupa Fillet with Fresh Wai Sun Herbs and Gingko Nuts
Toh Lee Chinese Restaurant, InterContinental Kuala Lumpur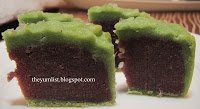 Japanese Sweet Potato and
Spirulina Skin
Mooncake season is upon us, and with it brings a host of
traditional and innovative treats. Chefs try to outcompete each other for the
most imaginative snow skin creation or highly acclaimed traditional lotus paste
with double egg yolk round. Patrons hunt for the best deals and hotels join the
games too, each seeking accolades for the finest packaging. And… of what I've
witnessed so far, InterContinental is leading the pack (…aging).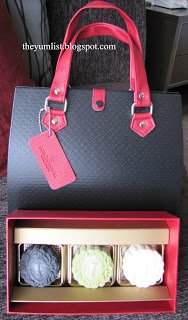 Mooncake Handbag
Red and black handbags, complete with strap, clasp and
label, open up to unveil leveled shelving for housing several mooncakes,
depending on size. This gift wrapping looks so elegant that you might be
tempted to take it for a whirl through the mall or even replace your date for dinner. At any
rate, the presentation of the goodies is worthy of twin purchases, one as a
gift and one to keep for yourself. In this case, the book can be judged by its cover (or the contents by its handbag) – the
treats inside are as equally delightful as their carrier.
My first mooncake experience was just under a decade ago. I
have since grown in leaps and bounds in terms of both my waistline and my Asian
culinary education. I now know to slice a small triangle of mooncake and savour
it with tea, rather than attempting a whopping muffin style bite into the
compacted orb. I've too been enlightened by the knowledge that there are two
basic types that go beyond my initial perception of dense and denser.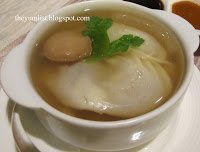 Double Boiled Baby Abalone and
Dried Scallop in Bouillon
Mooncakes can generally be divided into two categories, baked
and snow skin. Toh Lee InterContinental Kuala Lumpur's specialist chef, Lo Tian
Sion, uses no artificial preservatives so the snow skin varieties need
refrigeration and consumption within three days, while the baked numbers, with
the aid of oven heat, are a little sturdier and can last up to a week.
Employing natural ingredients, the mooncakes are lower in sugar and some of the
lighter varieties found around town. Being more of a modern than a traditional
gal, my taste in mooncakes mimics my personality. Noting that the traditional
Baked Lotus Paste with Double Egg Yolk is their best seller, my mouth sought
out the more contemporary snow skins. The Dragon Fruit and Cream Cheese, is a
delicate white snow skin encasing a pink fruity filling with a bundle of cream
cheese at its core. The Baked Japanese Spirulina Skin contains a dense paste of
purple sweet potato and nuts seraped in the nutritionally rich microalga
infused skin. The Charcoal and Coffee mooncake
is just as it sounds and came an equal first place, in my opinion, with its
sister inventions. Chef Lo Tian Sion and hubby are both fans of the durian and
oats.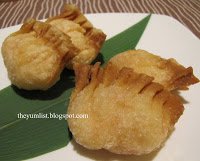 Deep Fried Prawn Dumpling
Another new thing I learned this week is that the set up of
a Chinese kitchen is very different to that of a Western one. Each area is specialized
and it is rare for chefs to cross stations. Chef Lo Tian Sion has been with the
hotel for 18 years since opening and is the king of both mooncakes and dim sum.
A Dim Sum set lunch for RM58++ is a very popular crowd drawer for the middle of
the day. Fortunately, before our mooncake sampling, we were able to fill our
tummies with some of his delights and more from the Cantonese menu.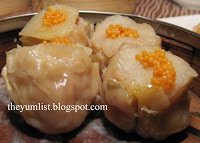 Steamed Seafood Dumpling
with Caviar
Dish after dish arrived and our preconceived 'light lunch
before a mooncake sampling' turned into a three and a half hour culinary
journey, proving that good friends and good food soon
make hours seem like minutes. Beginning with a selection of steamed and fried
dim sum, we whet our appetites with, amongst others, the must order, Steamed
Hau Kau with Prawns and Chopped Coriander Leaves and hubby's favourite, Deep
Fried Teow Chew Prawn and Chicken Dumplings. A hearty soup of Double Boiled
Baby Abalone and Dried Scallops in Bouillon further filled our middles. And,
just when we thought we could eat no more, out came a mouth-watering drove of
mains too handsome to resist. The Crispy Roasted Chicken with Fragrant Spicy
Sauce had popular appeal. The Sauteed Garoupa Fillet with Fresh Wai Sun Herbs
and Gingko Nuts melted upon collision with my tongue with the remains of the herbs
and gingko nuts gradually stringing along. Hubby picked the very last gobbet
off the plate of Braised Assorted Mushrooms with Seasonal Vegetables and, I
relished in the texture of the thick Stir Fried Japanese Udon Noodles and
Chicken Meat. Although about to burst, the Chilled Mango Puree with Pomelo and
Ice Cream was so light and refreshing that it had no trouble finding a space in
our bellies.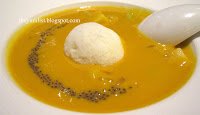 Chilled Mango Puree with Pomelo
and Ice Cream
Toh Lee is undoubtedly one of the best places to get your mooncakes this season and, with rumours of a revamping of the restaurant setting and menu coming up soon, this could be your last chance to try some of chef's dim sum classics.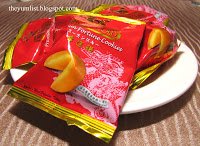 Paying with Citibank, American Express or CIMB Master and
Visa credit cards will earn you varying discounts. Signing up for the hotels loyalty card though
is at no cost and will also offer you dining discounts ranging from 15% to 20%. (The same dining privileges apply at Crowne Plaza Kuala Lumpur, Holiday Inn Kuala Lumpur Glenmarie, Holiday Inn Melaka and Holiday Inn Resort Penang. Contact 03 2782 6325 or email address
[email protected]
for details.)
Reason to visit:
traditional and creative mooncakes, good value dim sum lunches, last chance to
try Toh Lee before it undergoes a revamp and renaming towards the end of the
year
Toh Lee Chinese Restaurant
Level 1
InterContinental Kuala Lumpur
165 Jalan Ampang
50450 Kuala Lumpur
Malaysia
+6 03 2782 6228