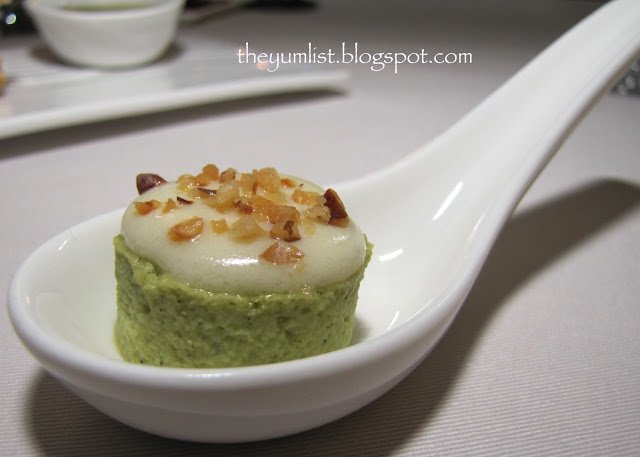 Amuse Bouche – Zucchini Flan topped with Taleggio Cheese Fondue and Crushed Walnuts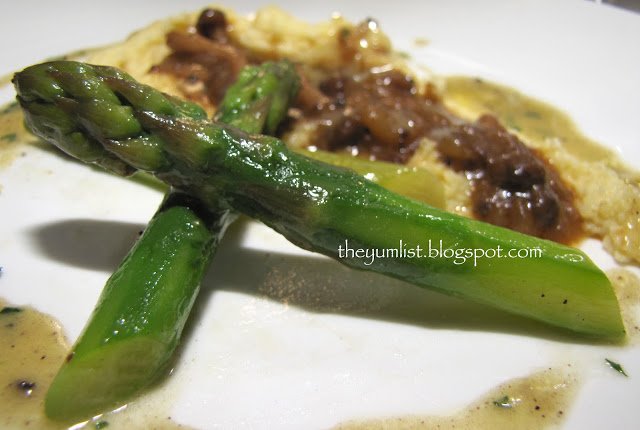 Vegetariano – Green Asparagus Spears with Stewed Wild Mushrooms and Polenta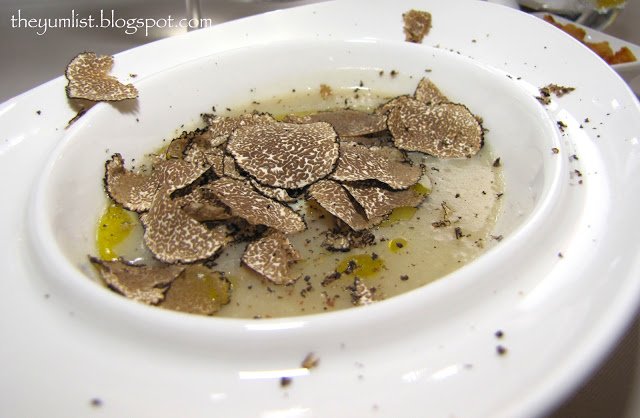 After three grams of truffles have been shaved on top of the soup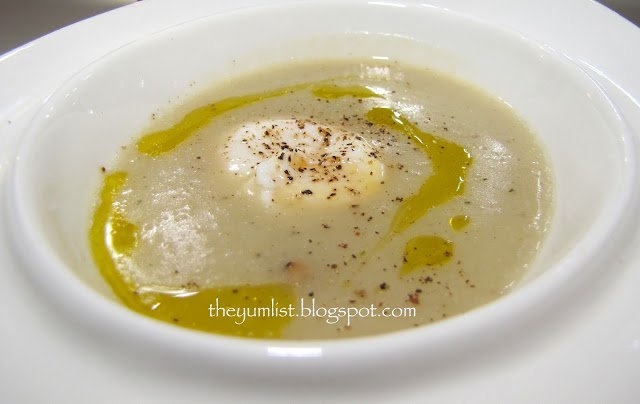 Crema di Patata – Potato Parmantier Soup with Poached Egg Yolk and Black Summer Truffle (before the truffle shavings)
Tagliolini – Buckwheat Tagliolini with Black Summer Truffle and Pike Caviar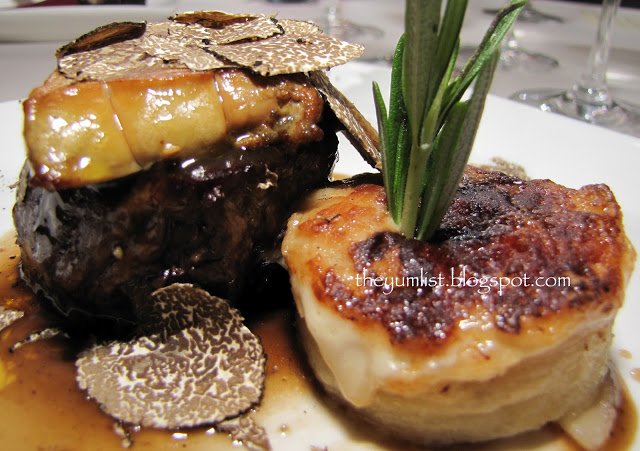 Rossini – Seared Angus Beef Tenderloin with Foie Gras Steak and Truffle Sauce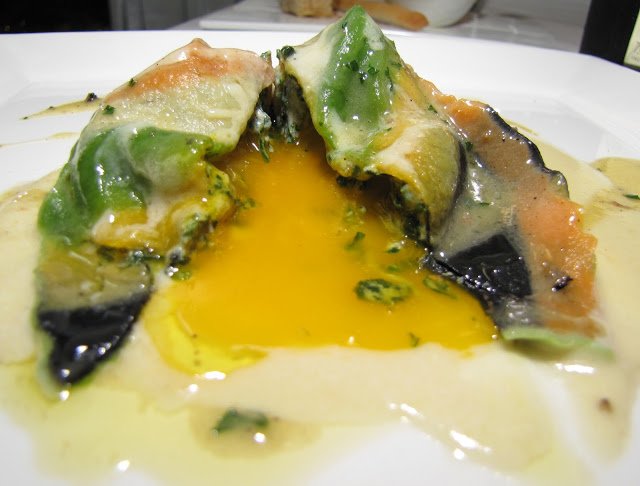 Tri Colour Pasta – not on the menu but a gooey rich treat from the chef
Cioccolato, Molten Lava White Chocolate with Summer Truffle and Crunchy Rum Gelato
Garibaldi presents Alba Black Summer Truffles
Dinner at Garibaldi is always an experience and this month
is no different. Making the best of seasonal produce, the innovative Chef Giuliano
has developed a menu for summer black truffle season. Flown in from Alba, Italy,
these divine delicacies are being used in a menu based in tradition with modern
highlights.

Prosecco
A pre-dinner drink in the lively bar atmosphere of Garibar
is a contrasting entry to the upper, more elegant but still friendly, ambience
of Garibaldi. For an Italian menu laden with generous shavings of black fungus,
there could be no more appropriate start that an effervescent glass of Prosecco.
Expeditious staff had my fingers grasping a chilled glass while hubby parked
the car, affording me a few minutes of palate cleansing, appetite whetting
moments and mental preparation for the feast ahead.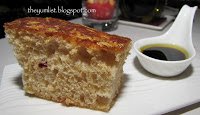 Sun Dried Tomato Focaccia
Hubby arriving, we proceeded upstairs to the cozier, more private
setting of Garibaldi. Having a reservation, we were greeted by name and noted
the attentive, individualized service that the restaurant is known for. Ushered
to our seats, our first choice, still or sparkling water, was offered as a
bouquet of bread sticks bunched in a tall vase in a soil of red salt was rested
on our table. Not being able to decide on what to choose from the a la carte
menu, we went with the chef's tasting sequence and left the wine pairing to
in-house sommelier, Gilbert.
Shortly after ordering, sun dried tomato focaccia arrived
hot from the kitchen with olive oil and balsamic vinegar. An exciting Amuse Bouche followed. A zucchini
flan topped with Taleggio cheese fondue and crushed walnuts had the appearance
of a mini iced cupcake. It disappeared in our mouths just as fast as would have
the cupcake in a six year old's too.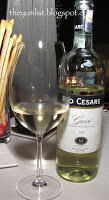 Cortese di Favi
A white wine from Alba Italia proved a perfect start for
truffles from the same region. The Cortese di Favi, Pio Cesare 2009 with its
citrusy presence but slightly earthy tone provided the acidity needed to cut
through the creaminess of our first plate and also a complement to the, difficult
to pair with, asparagus, in, Vegetariano,
Green Asparagus Spears with Stewed Wild Mushrooms and Polenta. The asparagus
was cooked making it tender to bite into with a snappy finish and the polenta
so creamy that at first I mistook it for whipped potatoes. A generous three
grams of black summer truffles are generously hand grated on top of every dish.
The delicate shavings, black around the rim, exposing a patterned whitish
hazelnutty interior deliquesced upon contact with our moist tongues.
Proudly surviving the first challenging asparagus wine
pairing, the sommelier had his work cut out for him with the second dish
featuring a runny poached egg. Both asparagus and egg come with a report card
reading, "does not play well with others," especially in terms of wine matching.
Finding the right buddies, with sufficient strength, endurance and
complementary natures, to put together with the duo is a qualified counselor's
job.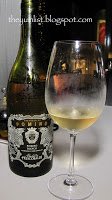 Pomino Bianco
The strong acidity of the Tuscan Pomino Bianco, Castello
Pomino by Frescobaldi proved a capable match for the Crema di Patata – Potato Parmantier Soup with Poached Egg Yolk and
Black Summer Truffle. The strong character of the Italian chardonnay blend
stood up to the thick and smooth soup and its earthy oakiness complemented the
truffle. We enjoyed trying the soup in stages: first, a spoon of soup, then a
sip of wine; then, some croutons providing a buttery crunch, and another sip of
wine; finally, breaking the egg and allowing the yolk to flow into the soup and
more wine. This multi-level dish is best enjoyed slowly so as to appreciate the
complexities of the flavours and textures.
Up next, not on the menu, but a little treat from the chef, was
a multi coloured pasta creation. A pasta
shell naturally coloured with spinach, squid ink and an infusion of vegetable
stock and saffron enveloped a ricotta, spinach and egg yolk filling. Still runny, the bundle is waiting to be
opened and first incision sees the golden liquid stream onto the plate.
Asking for additional minutes between courses we noted the
attentive, but unobtrusive service and smiled at how our glasses were magically
refilled and plates cleared with minimum distraction. We also took a moment to
appreciate the Italian tunes vibrating the air getting you in the mood for romance,
an excellent meal, great wine or all three. It also gave us a little time to
reflect on the meal and think about what makes a memorable tasting menu. For me
the key is a link between dishes. In this case, the truffle connection is
obvious, but the theme also progressed in intensity from lighter to stronger.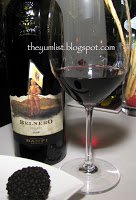 Belnero
A French Champagne, Gosset, was the well chosen palate
cleanser next presented. It also served as a classic pairing with the caviar
and buckwheat in the third dish, Tagliolini
– Buckwheat Tagliolini with Black Summer Truffle and Pike Caviar. The
rustic noodles were rough and earthy providing a contrast to the salty caviar
that popped between my teeth. The Rossini – Seared Angus Beef Tenderloin
with Foie Gras Steak and Truffle Sauce came next and switching to a medium red,
the Belnero 2008 Castello Banfi, was a timely change in colour. Finely
scalloped potatoes were stacked up with a cream cement aside the tender
Australian beef topped with foie gras and truffle shavings. (Absolute
indulgence!!!) Both the starch tower and flesh exuded juices as carved. The relatively young Tuscan blend of Sangiovese
and cabernet sauvignon had a good structure and also enough acidity to provide refreshment,
balancing out the fatty foie gras.
Cioccolato, Molten
Lava White Chocolate with Summer Truffle and Crunchy Rum Gelato was finished
off with a Moscato Di Asti 2010 Balbi Soprani. The lower alcohol content of the
slightly aerated sweet white was appreciated as a lighter finish than the
commonly used dessert wine or fortified liquor. White chocolate is often a
classic pairing for white truffles. The Summer Black Truffle though did well
with the creamy foods throughout the menu and continued to please right through
dessert.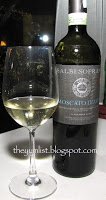 Moscato Di Asti
All dishes come with a rich three grams of truffle shavings.
Available, both via a degustation menu, or a la carte, August is the time to
sample these delicacies while still in season. The five course Black Summer
Truffle tasting menu costs RM230++. The hidden bargain though is the additional
wine pairing for a mere RM65++. If you're going to spend that much on a meal,
you may as well go all out, taking the meal to a much higher complexity with
wine companions.
Don't come to Garibaldi to eat. Come to dine. Come to
savour. Come to explore. Come to experiment and come to learn. The Black Summer
Truffle menu is full of dishes worthy of deeper contemplation. Plan a leisurely
meal allowing the sommelier to guide you into pairings that will elevate an
excellent Italian dinner to an adventure in the forests of Alba.
Reason to visit:
Alba Black Summer Truffle Menu, fine Italian cuisine, excellent service, menus
created by not one but two Italian
chefs
Garibaldi
Italian Restaurant and Bar
Lot G10 & G22 Bangsar Village I
Jalan Telawi Satu
Bangsar Baru
59100 Kuala Lumpur
Malaysia
+6 03 2282 3456