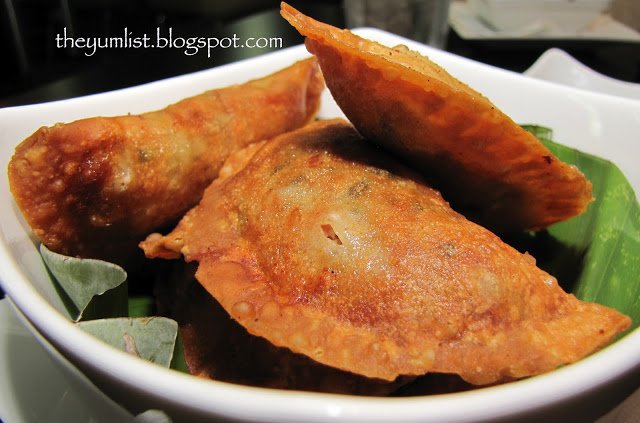 Chinese Dumplings RM14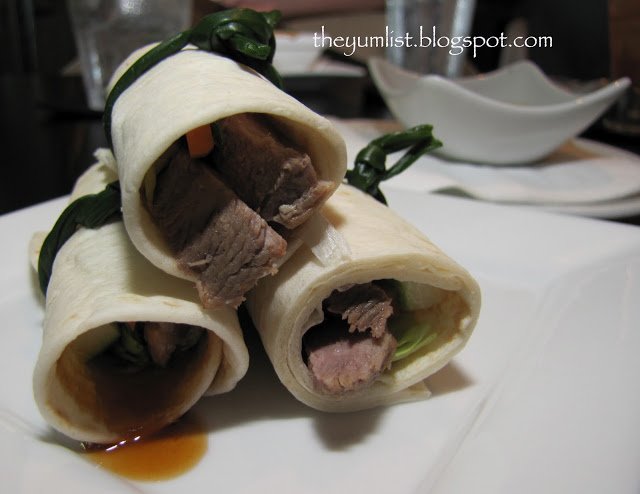 Duck Rolls RM12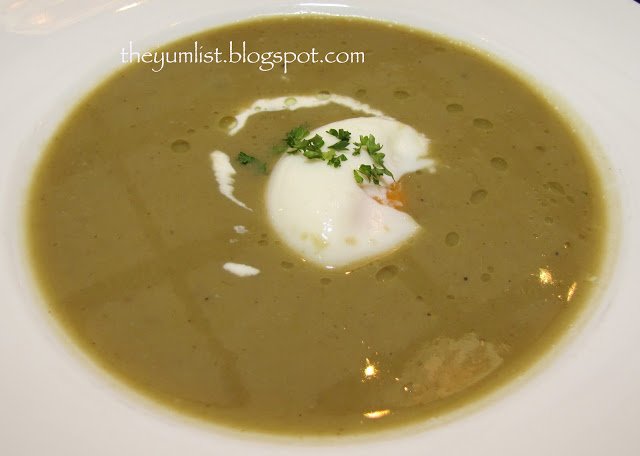 Potato and Leek Soup RM14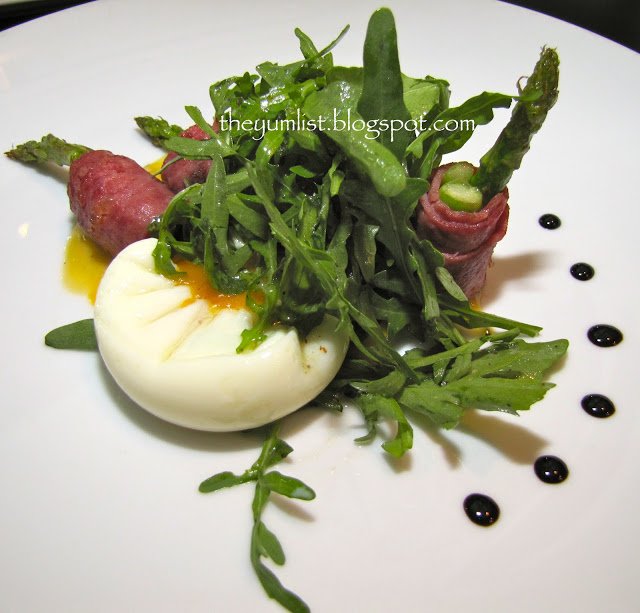 Asparagus and Beef Bacon RM16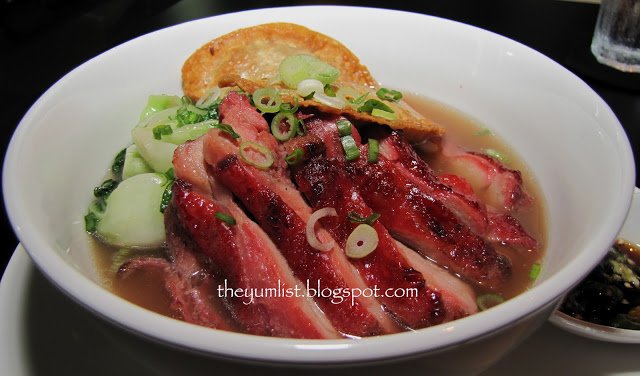 Chicken Char Siew RM20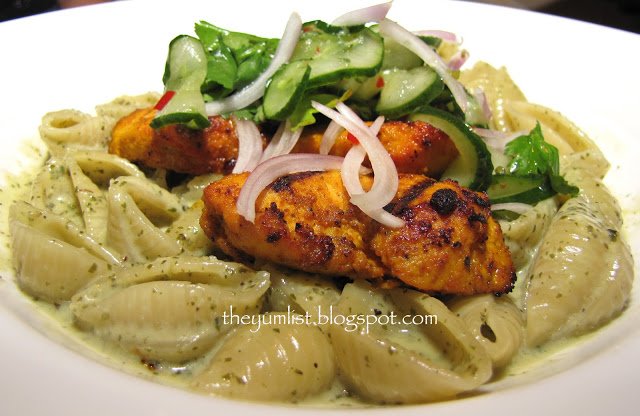 Chicken Tikka Marsala RM26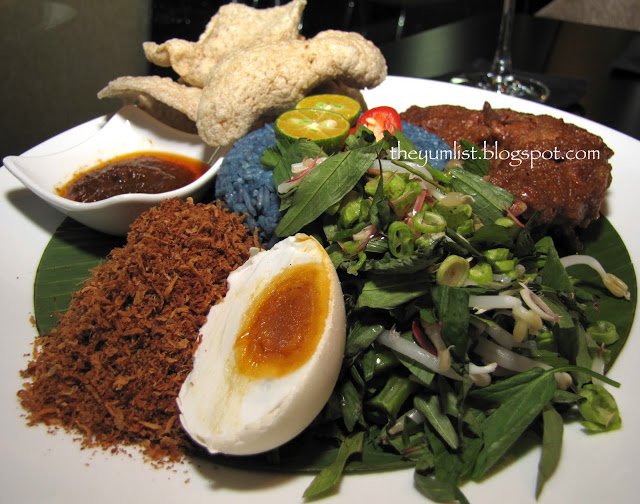 Nasi Kerabu RM24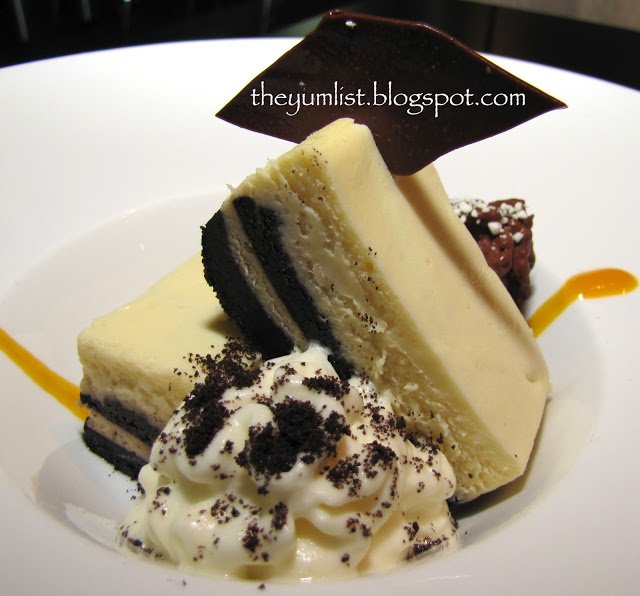 Oreo Cheesecake RM18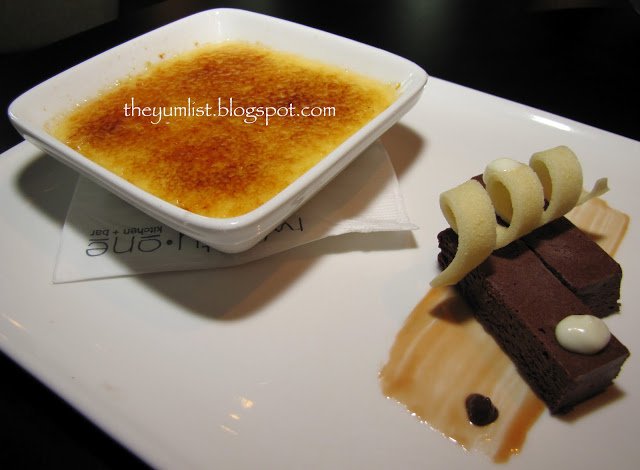 Passionfruit Creme Brûlée RM18
TwentyOne Kitchen+Bar, Changkat Bukit Bintang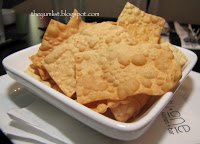 Crispy Crackers
I'd always thought of TwentyOne Kitchen+Bar as a
sophisticated venue for a night out. Hip house music, sleek black surrounds
with a balcony from which to see and be seen and, overflowing with beautiful
people, it's known as one of the hot locations in town to party. Unexpectedly,
I recently learned that their kitchen is worthy of a visit and has some of the
best value lunch deals in town.
Lunches start from a mere RM10 for a main and a drink, and
go up to an affordable RM29++ for a main, dessert and non-alcoholic drink. When
a girlfriend told me about this deal I was imagining some inedible slop, but
was TOLD that I really had to check this place out. Caving under peer pressure,
I'm glad that I did.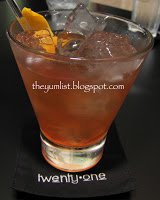 Whiskey Cocktail
Walking into the newly renovated TwentyOne Kitchen+Bar
we immediately began loosening up. A streamlined design, with an uncluttered
space and muted lighting creates a soothing atmosphere. Cushioned chairs and
laid back lounge music upgrade the comfort level. Immediate acknowledgement and
friendly greetings by the wait staff saw us quickly seated with a choice of an
indoor or balcony table. Compromising on my warmer preferences and hubby's
addiction to air con, we sat by the entrance, a glass wall keeping the chilled
air inside but far enough from the cooling system to prevent goosebumps.
Pork free, TwentyOne Kitchen+Bar offers Modern European
cuisine with an Asian influence and a respectable pot of local favourites. A
newly launched menu brings a combination of proven classics and new inventions compiling
the wisdom of chefs from both outlets (Kitchen+Bar –KL and Tables+Terrace -Bangsar). Not in the mood for anything in particular, we ordered a
hodgepodge of Western, Local and Fusion dishes.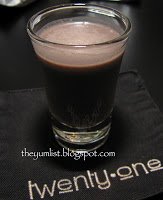 Oreo Vodka Shot
It's rare that hubby and I are both satisfied with menu
offerings, but the crispy deep Fried Chinese Dumplings loaded with savoury
ground chicken and the lighter Duck Spring Rolls with cucumber, carrot and
spring onion cloaked in a flour tortilla accompanied with a dash of hoi sin
sauce saw us both off to blithe beginnings. A Leek and Potato Soup with a
poached egg and tear drops of olive oil was eagerly lapped up and, fresh Asparagus
cooked just enough for a soft bite and snappy finish swathed with Beef Bacon
and a friendly side of a poached egg, balsamic, rocket leaves and béarnaise disappeared not long after.
The mains were approached with just as much enthusiasm.
Chicken Tikka Marsala came with shell pasta debauded with mint yoghurt sauce
and pickled kyuri. A suggestion of spice was stabilized with the velvety
dairy sauce and the mint supplied a graceful tingle. Char Siew Chicken in
Wonton Mee Soup with fried dumplings and pack choy delighted hubby (as
anything char siew style often does) and with the added bonus of the fried
dumplings this soupy noodle bowl was lapped up and an order of seconds taken
home. The Nasi Kerabu with chicken percik, sambal, local four angle bean salad,
fish crackers, blue rice and salted egg completed our mains. Coated with
generous lashings of the percik marinade, the chicken was so succulent that I
imagine if I had picked up the bone the flesh would have fallen right off. For
a taste of Malaysia, this Kelantan dish is an illustrious option.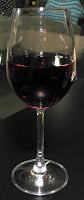 Pinot Noir
Desserts were a pleasing Passionfruit Creme Brulee with dark
chocolate mousse and caramel and an Oreo Cheesecake with mango puree,
chocolate foam and crumble. No MSG is used in the kitchen and everything is
made in house, even the soup stocks and sweets.
Being equally restaurant, equally bar has its advantages,
especially where the drink list is involved. An excellent selection of both classical and
modern designs fill at least half of the menu, while a variety of liquor and
wines take up the rest. Few places possess Happy Hours that offer everything
sold in single serves (beer, cocktails, spirits and wine) one for one. This is
a welcome upbeat from the dreary low quality beer deals of the majority of not-so-Happy
Hours around town. Oreo shots (!), an Auchentoshan Old Fashioned and a
smooth Cono Sur Pinot Noir were cheerful compadres to our meal. More to come on
an intriguing drink selection in future posts.
Reason to visit: Value meal deals in a stylish location.
TwentyOne Kitchen+Bar
20-1 Changkat Bukit Bintang
50200 Kuala Lumpur
Malaysia
+6 03 2142 0021