Royal Langkawi Yacht Club
Bathroom and Edu-Cat Catamaran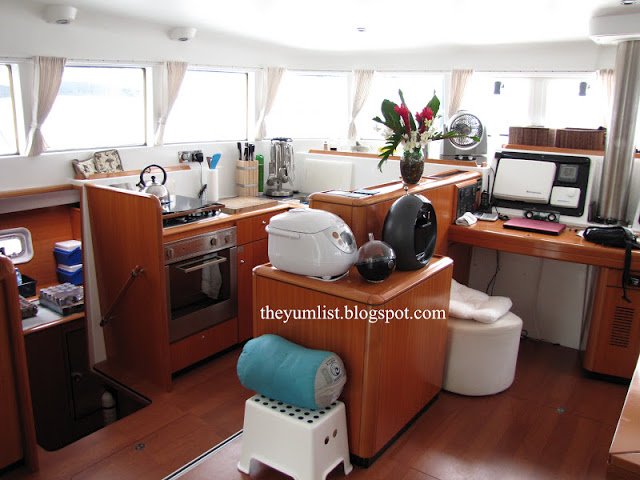 Kitchen and Living Area of the Edu-Cat Catamaran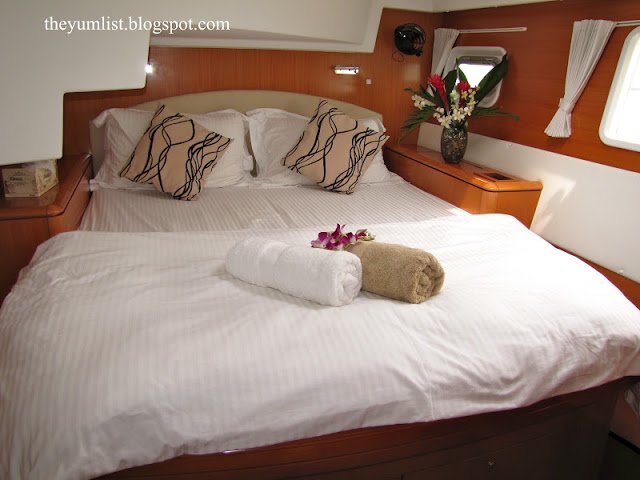 One of the four double bedroomsEdu-Cat – A Luxury Sailing Catamaran for Private Crewed Charter, Langkawi
A recent visit to Langkawi enabled us to catch up with friends David and Gudrun on their 51 foot catamaran, Edu-Cat. Basking in the sunset with some nibbles and a glass (or three) of wine aboard the boat was the perfect ending to our two week stay on the island and a consumate time filler before our evening flight.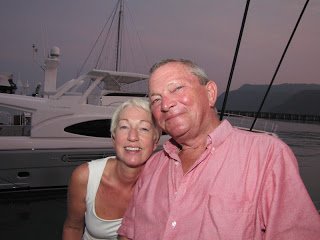 Lovely hosts, Gudrun and David
David first visited Langkawi in the 80's and was not so fond of the place as the water was polluted and the land littered. Gudrun had visited the island 15 years after and "absolutely loved the place." Later on, when the two found each other and moved from Australia to KL, Gudrun begged David for two years to go to, in her opinion, a tropical paradise. Finally for Gudrun's birthday they made a trip and David slowly changed his mind, his impression of the island turning from negative to positive. Learning of the sailing school and making numerous trips around the slew of smaller islands, the place grew on David until his fondness became so strong the couple decided to make Langkawi their home.
Docked in the calm protected area of the Royal Yacht Club, Edu-Cat is a luxury sailing catamaran available for private crewed charter. Sporting four double bedrooms with private ensuites the boat sleeps eight comfortably. Hiring her out for day trips though is a popular activity and in this case up to 30 people can be catered for on board including crew. All inclusive meal and drink packages are available with a talented Thai chef catering to every whim on longer trips. This visit though, we sampled a small snack before take-off and David and Gudrun have kindly shared the recipe below.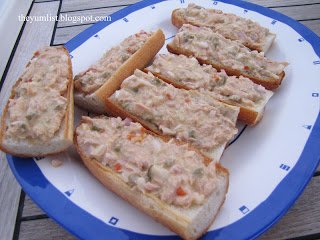 Tuna Baguettes
Tuna Baguettes
Ingredients
1 can tuna
1 medium sized red onion chopped
10 chopped olives
salt and pepper to taste
mayonnaise
baguettes

Method
Mix all ingredients together (except the bread). Add just enough mayonnaise for a creamy consistency and salt and pepper to taste.
Slice baguettes in half lengthwise. Sprinkle with milk.
Bake in a moderate oven until crisp.
Spread tuna mix on top.
Voila!
Reason to visit: A luxury sailing catamaran for private crewed charter
Edu-Cat
Berth 22
Royal Yacht Club
Langkawi, Malaysia
+6017 284 4550
+6 017 284 4590