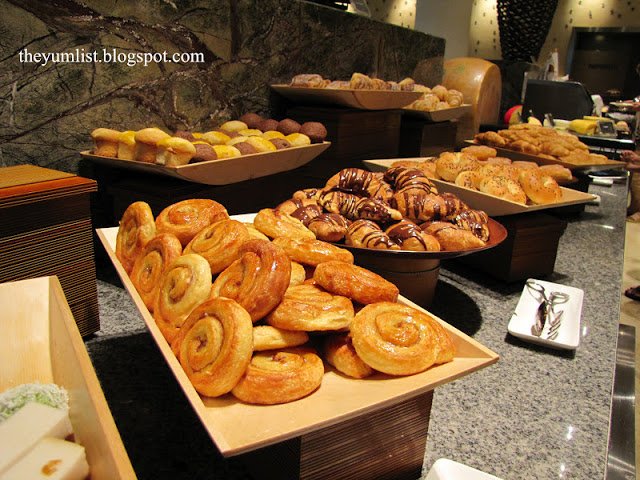 Baked Goods at Serena Brasserie's Breakfast Buffet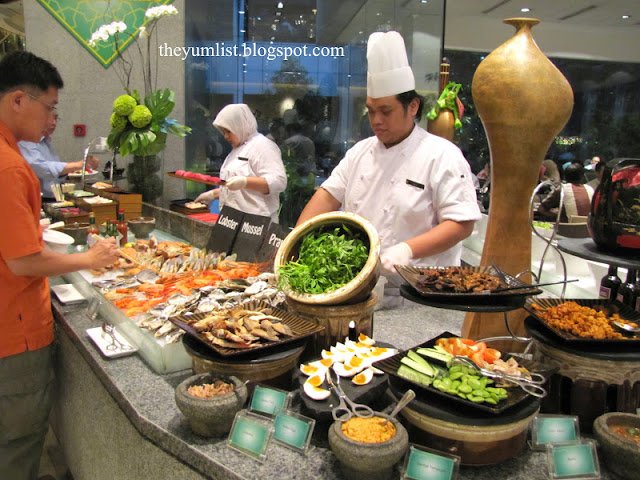 Seafood and Salad at Serena Brasserie's Dinner Buffet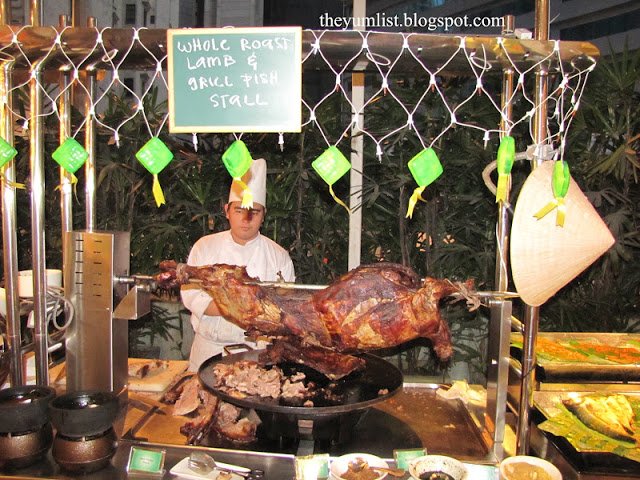 Roast Lamb and Grilled Fish Stall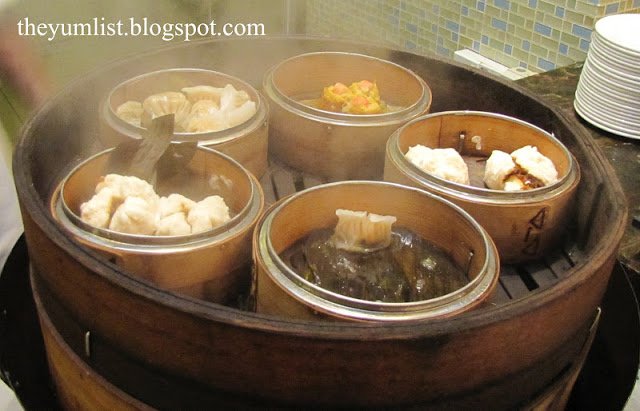 Steaming Dim Sum
Serena Brasserie, InterContinental Hotel Kuala Lumpur
Serena Brasserie, InterContinental Kuala Lumpur's all day
dining restaurant, is a lovely waterside dining spot in the centre of the city.
Glassed walls look out onto a rocky pond lined with lush verdant gardens, palm
trees and a flowing cascade. During peak
periods, ancillary tables are set up in a sheltered area of the lobby next to a
fishpond, also with the benefit of the reverberation of running water.
A busy restaurant is always a good sign and with buffets
even more so important. Quick diminishment of food means fast turn over and
fresh replenishments toted often. As witnessed for both the breakfast and
dinner spreads, the dining area was brimming. Despite the teeming room, staff
briskly found diners tables and managed to maintain warm smiles and patient
attentiveness to all guests. A bustling, chattery restaurant is not always to
everyone's liking, but, as mentioned above, it does mean quick turn around of
food, and a lively vibrant atmosphere.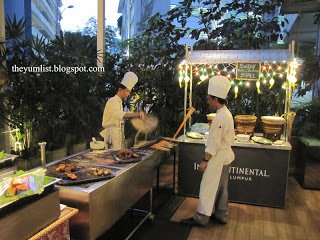 Hawker Stall Set Up
An international spread awaits customers with featured
dishes changing according to the season. Currently catering to Ramadhan, a
tremendous array of local dishes are on display, ready for hungry diners to
break fast. One of the features is a grill section set up outside. Lined up
like hawker stalls, the sweet smell of meat charred by charcoal and an
intriguing wave of smoke drifts through the air. Chefs fan satay and the ais
kacang station whizzes with every cup of shaved ice. Of an endless selection,
it's a burdensome task to attempt to narrow down the most endeared dishes.
Having tasted so many buffets this season, the food, unless exceptional, can
easily blend into one long memory of a months duration. The outdoor stall and
barbecue configuration however, has to be one of the most memorable highlights.
We both were bent for the beef and vegetable teppanyaki straight from the hot
steel plate and, the number of live cooking stations where you could bid your
pleasures. The chef is known for his rendang – tender pieces of meat marinated
and coated in a complexity of spices – and, the variety of crustaceans on ice is
enough to please any seafood aficionado. Coffee cheesecake and fresh fruit were
my favoured sweets and, for hubby, the bread and butter pudding smothered with
vanilla cream sauce was tops. (You'd be surprised at the size of a slice that
can be piled one plate.)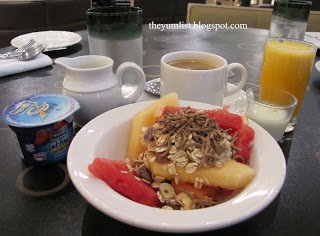 Healthy Breakfast
The breakfast selection is just as impressive as the evening
offerings. Chefs attend egg, dim sum, noodle, pancake and roti canai stations.
Coffee and tea to your liking are whisked directly to your table and you can
choose from a range of ready made juices and lassis or request your own recipe
to be blended live. Wholegrain bread, baked beans, eggs, sautéed mushrooms and
grilled tomatoes, followed by fresh fruit, low fat yoghurt, muesli and numerous
black coffee refills, got my day off to a nutritious start. Hubby dove into the
roti canai, eggs, cold cuts and croissants and, had so many fresh juices that
the attendant must have grown an extra bicep by the time we left.
Breakfast runs from 6– 10am at RM55++ per person. Children 6
– 12 years of age are half price. Buffet dinner runs daily from 7 – 10pm at
RM88++ per person. The Berbuka Puasa buffet is RM99++ until August 20th. Again, children aged 6 – 12 years eat at half price. Signing
up for their loyalty card in advance will afford you various discounts.
Reason to visit: Competitively priced buffets especially
compared with other 5 star hotels in the city centre, waterfall view, exciting
things to come from newly appointed Executive Chef, Darrel J. O'Niell
Serena Brasserie
InterContinental Kuala Lumpur
165 Jalan Ampang
50450 Kuala Lumpur
Malaysia