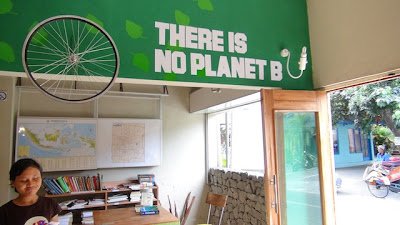 Via Via Cafe in Yoygakarta, Java, Indonesia: THERE IS NO PLANET B!
With a goal to explore sustainability and social
responsibility in South East Asia,
Kenny Peavy and Jamie Raskin
set out from
Thailand on
bicycles made from Bamboo
in late June 2012.
Their destination:
Bali, Indonesia.
Along the way they have discovered communities engaging in
eco-tourism, a school with a recycled playground, University students that made
recycled bicycles from scrap parts and rode them all the way across Malaysia
and a group connecting people with olde fashioned village life in Singapore
called the Ground Up Initiative.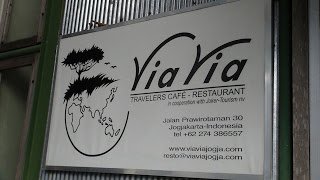 By far, one of their favorite discoveries
was Via Via Travelers Café in Jogjakarta, Indonesia.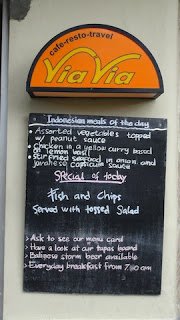 Via Via offers more than delicious food it is also a café with a social conscience.
Their daily menu is complimented by a full array of tours and courses based on sustainable principles with emphasis on respect for local people, their culture and nature.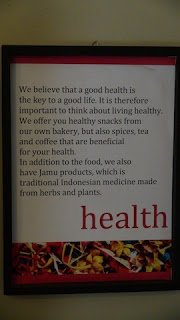 The food they serve is locally sourced and in many cases, organically grown. In every case, their food is healthy and a superb choice for weary travelers.
When GREEN Riders visited Via Via Café they were in the mood for something other than rice. So they INDULGED!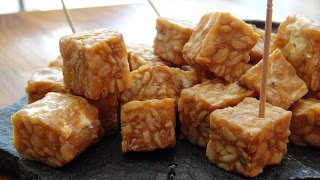 First, an appetizer: fried tempeh served with homemade chili sauce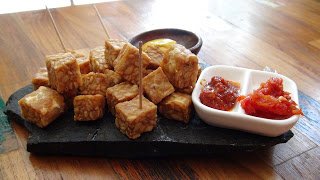 Tempeh is made from fermented soybeans and is a staple in the Indonesian diet. Because it is cheap and a good source of protein it is eaten daily fried, grilled and mixed in with different rice dishes.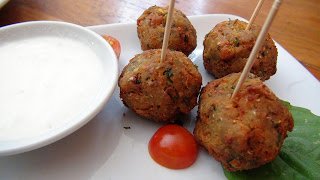 Next up, falafel with yogurt sauce! A mixture of mashed chickpeas and herbs formed into tiny balls and deep-fried. Falafel is not usually found on the menus in Indonesia, which makes it a delightful treat for travelers lucky enough to find themselves at Via Via Café.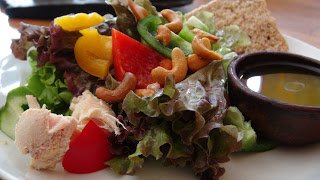 An incredible chicken cashew salad with FRESH
vegetables. When you are on the road
traveling it's sometimes hard to find fresh veggies and raw salad in local
stalls and restaurants. At Via Via Café
you will be treated to cool and crispy salads that hit the spot.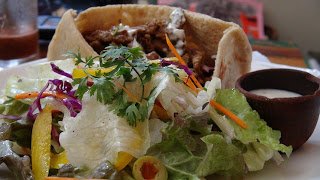 Lamb Rogan Josh served in pita with a crispy side salad
And to finish it off with a delectable lamb Rogan Josh spiced to perfection with a crispy and refreshing salad stuffed inside pita!
So if you find yourself traveling in this part of the world
and want to have a good fresh meal at a café with a conscience or even if you
want to take part in one of their many tours or courses Via Via Travelers Café
is an excellent choice!
Your time will be well spent. Your belly will be full of good food and you
will know your choice has benefited the local community with a socially
responsible and sustainable approach.
Not a bad way to spend an afternoon!
Reason to visit: Socially responsible, environmentally friendly, cozy atmosphere for travellers that want good food with less environmental footprint
For more information about GREEN Riders:
For more information about Via Via Café:
http://www.viaviajogja.com/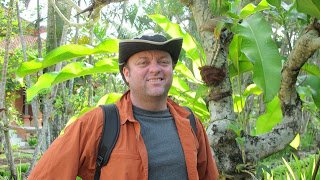 Kenny Peavy – The Yum List Environmental Correspondent
Kenny grew up in rural Georgia, USA running around in the woods flipping over logs looking for creepy crawlies and catching crawdads and minnows in the creeks in his back yard. He always wondered what those things were and how Nature connected them all together to do their work.
He has spent his life exploring the forests, rivers, mountains and oceans of this great big ole world, asking questions about Nature and trying to unravel and understand Nature's mysteries at secrets.
Currently, Kenny serves as Founder and Director of the Environmental Education Alliance of South East Asia (EEASEA website coming soon!) as well as
Earth Matters Consultancy
.
His latest adventure,
GREEN Riders
, found him mounting a bamboo bicycle and riding it from Thailand to Bali, Indonesia while filming a video series about sustainability and social responsibility in South East Asia (
GREEN Riders videos can be seen here!
)
'Til this day he is still trying to unravel Nature's mysteries and find answers to the questions he asked back in rural Georgia nearly three decades ago! But….
One thing he knows for sure: Our daily lifestyle choices, especially the food we grow and eat, have a profound effect on the environment and Nature. Knowing more and learning more about how all things are connected is the key to making wise daily decisions and choices that will lessen our environmental footprint and impact on the planet we all share. EAT WELL! EAT WISE!