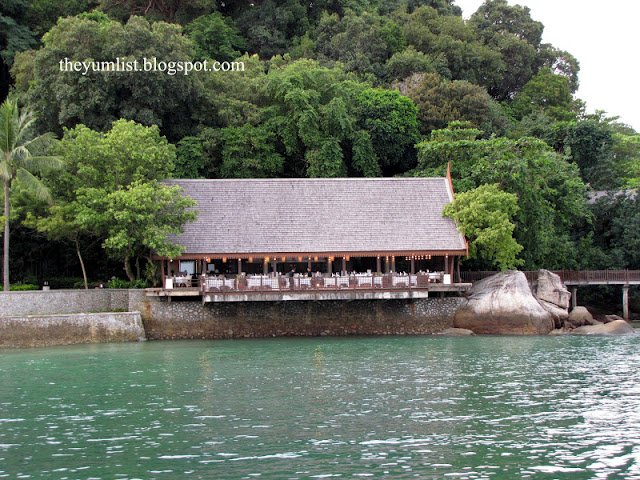 Fisherman's Cove, Pangkor Laut Resort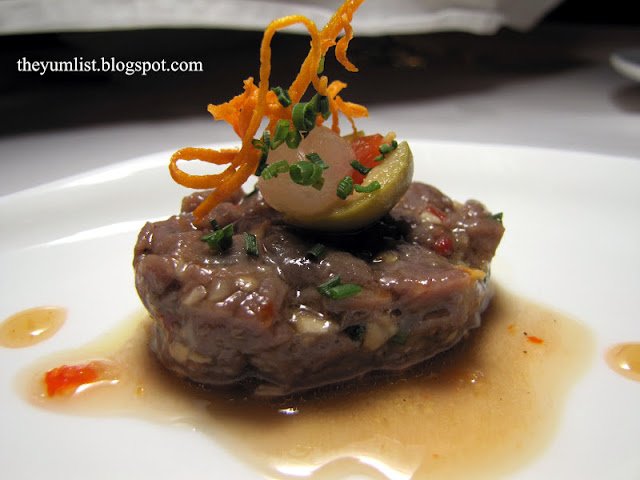 Amuse Bouche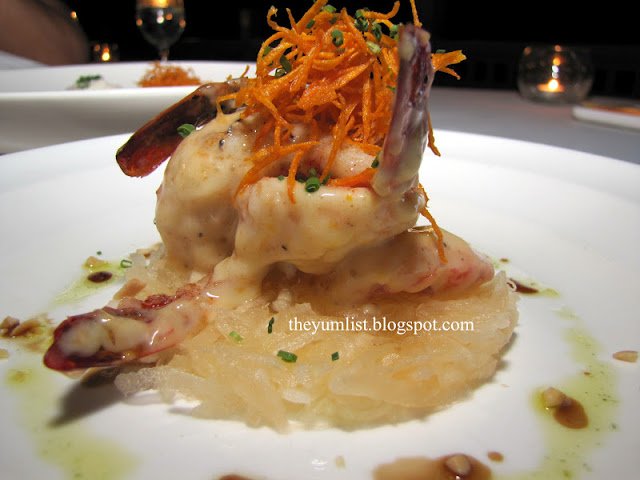 Crystal Prawns with rock melon and roasted walnuts RM50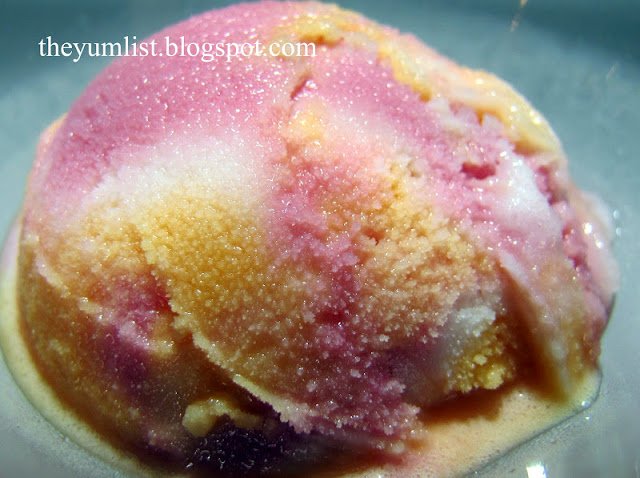 Rainbow Sorbet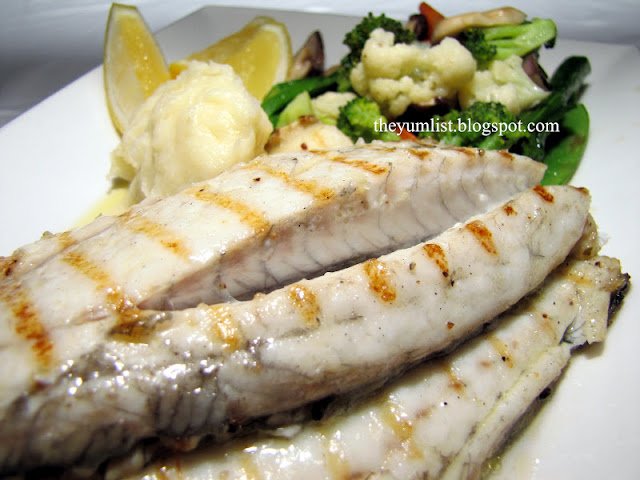 Fillet of Sea Bass char grilled with sea salt (market price)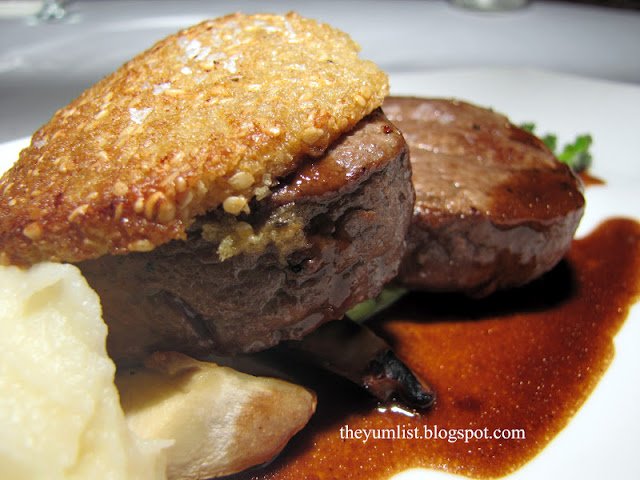 Grain Fed Beef with foie gras butter and abalone mushrooms in a truffle soy reduction RM190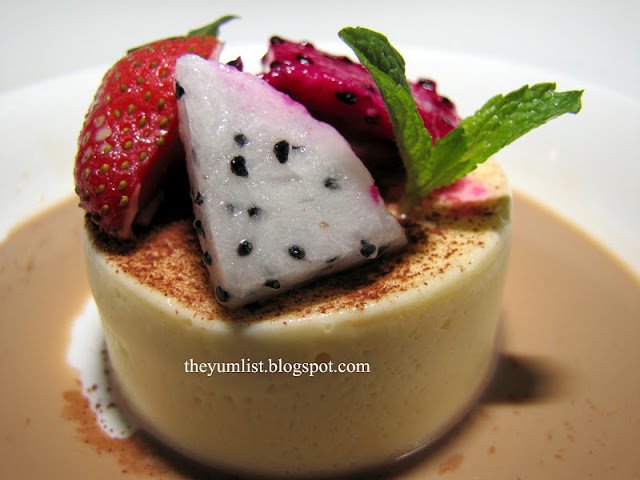 Mascarpone Mousse with Kalua Cream RM50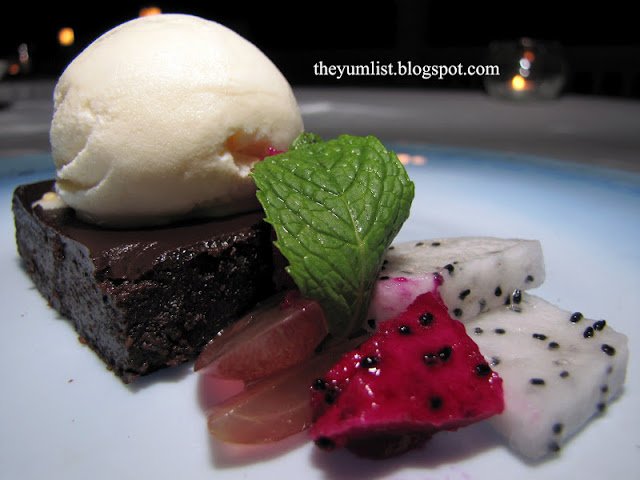 Dark Chocolate Almond Cake RM50
Fisherman's Cove,
Pangkor Laut Resort, Malaysia
The wooden deck of Fisherman's Cove in Malaysia's luxurious Pangkor Laut Resort, juts out over the
undulating sea, making it a romantic scene for dinner. Candlelit tables enriched by
the sound of the sea, light of the moon and, a live musical duo sporting
acoustic guitar and vocals, furnish a splendid backdrop for an amorous evening.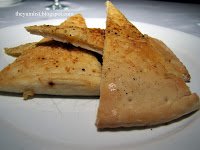 The open kitchen with its pebbled background and low hanging
illumination is the sprightly home of flames and steam. Sea creatures are an
appropriate focus for the setting and, of the plates we tried, animals from the
ocean were our favourites.
Triangles of Paneer Bread with chili flakes, garlic,
Parmesan cheese and olive oil were an atypical beginning. These were so good we
had seconds even though the rest of our meal swiftly reached our table. Also impressive was the Amuse Bouche. Melt in
your mouth strips of Beef Tartar with chili, pickled onion and olives was a spicy
palate opener featuring a tangy vinaigrette.
In line with the wait staff's recommendations we ordered two
seafood dishes to commence. Crystal Prawns with rock melon and roasted walnuts brought peeled tiger prawns with a firm clean bite in a sweet mayonnaise
atop a bed of grated melon with fragments of toasted nuts. The Rock Lobster
Bisque presented a mahogany brown, full flavoured broth sided with lobster
terrine in a creamy sauce and finely shredded saffron fried sweet potato. Both were well prepared, but the Crystal Prawns were what we greedily gobbled
first.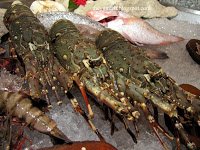 A Rainbow Sorbet of berries cleansed our palates between
starter and main. Done so well, this frosty scoop would also make a refreshing
dessert.
A Fillet of Sea Bass char grilled with sea salt and
partnered with sautéed vegetables, mashed potatoes and a garlic butter sauce
was our top pick of the night. A very generous portion of fish flaked off the
plate and might have made up two portions in another restaurant.
The tender Grain Fed Beef with foie gras butter and abalone
mushrooms in a truffle soy reduction was so soft that I easily reached over to
hubby's plate and sliced it with my fish knife. Although nearing RM200, two
medallions topped with a carpet of crispy foie gras seemed unexpectedly
better value than some of the fine dining steak houses in Kuala Lumpur.
A short list of desserts are home made and accompanied by Baskin Robbins ice cream. The waitress recommended the Dark Chocolate Almond Cake with a glazed cocoa topping and vanilla ice cream. A dense, slightly textured square of cocoa sweetness provided a warm contrast to the creamy cold ball on top. Hubby, as you might
already know, loves all things creamy, so he bid the Mascarpone Mousse with
Kalua Cream and I appreciated a few minutes of silence as he mmmed his was through the dessert.
Following a free flow sunset cruise, we took a decision
highly out of character and decided not to have wine with dinner but sparkling
water instead. The beverage list though is adequate offering a one page menu of
the basics. Aperitif, spirits, cocktails, port, liqueurs, beer, coffees,
fresh juices and wine all make an appearance with a number of choices for each
section.
All in all, prices are not for the faint hearted. Portions
are generous though and comparable to fine dining restaurants in
Kuala Lumpur. While food is good, half the bill must be attributed to the
spectacular seaside setting, privacy and superior service. Various resident's packages at Pangkor Laut Resort include all meals with your accommodation so are well worth looking into.
Reason to visit: romantic dinner lit by the moon with complimentary
sound effects courtesy of the sea. Beef with Foie Gras Butter, Char Grilled Sea
Bass.
Fisherman's Cove
Pangkor Laut Resort
Pangkor Laut Island
32200 Lumut
Perak, Malaysia
+6 05 699 100
YTL Travel Centre
+6 03 2783 1000